Abstract
Building on insights from cognitive psychology and scholarship on decision-making, this article examines the respective role of values and information, and the interaction between them, in the formation of expert judgment. We analyze data from an original expert survey on soil decontamination practices and test several hypotheses found in the literature. While it is common to assume that experts rely primarily on factual information when making decisions, we find that values may also orient the judgment of experts when such information is lacking. In such cases, experts may be influenced by their value predispositions, leading to a wider range of expert assessments. Conversely, the judgment of experts who possess the relevant information tends to converge on the best known outcomes. We thus find that relevant knowledge mediates the role of values in expert judgment. While suggesting that some caution should always be taken when deferring to experts, our findings suggest that governments and the public are justified in taking experts' judgment seriously.
Access options
Buy single article
Instant access to the full article PDF.
USD 39.95
Price excludes VAT (USA)
Tax calculation will be finalised during checkout.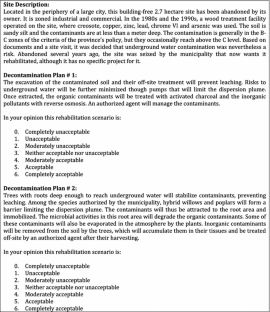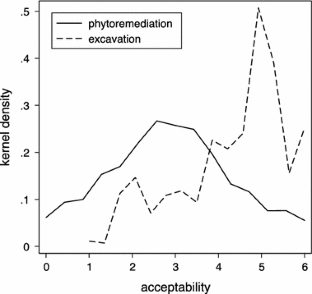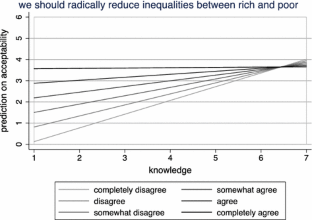 Notes
By valid judgment, we refer to an expert's ability to propose the best known solution to a specific problem. In the context of the present study, decontamination professionals are hired to advise their clients on the most appropriate means of decontaminating their land. The best known solutions in this case are those that are efficient in the sense of maximizing the output/input ratio, ensuring a maximum of efficacy with a minimum of resources.

While conventional excavation is efficacious, it is also very expensive. Phytoremediation for certain pollutants offers an efficacious way to decontaminate land over a longer time period but at much lower cost. For projects that are not time sensitive, phytoremediation may offer the most efficient solution in terms of maximizing the output-to-input ratio.

Baseball cards are a type of collectible trading card related to baseball. Common in countries where baseball is a popular sport (i.e. North America, some parts of Latin America and Japan), baseball cards can be highly sought after and be of significant monetary value.

However, only experts accredited by the province's environment ministry are authorized to certify decontamination plans and evaluations as required by law.
References
Atkinson, M. M. (2013). Policy, politics and political science. Canadian Journal of Political Science, 46(04), 751–772.

Barac, T., Taghavi, S., Borremans, B., Provoost, A., Oeyen, L., Colpaert, J. V., et al. (2004). Engineered endophytic bacteria improve phytoremediation of water-soluble, volatile, organic pollutants. Nature Biotechnology, 22(5), 583–588.

Barke, R. P., & Jenkins-Smith, H. C. (1993). Politics and scientific expertise: Scientists, risk perception, and nuclear waste policy. Risk Analysis, 13, 425–439.

Batty, L. C., & Dolan, C. (2013). The potential use of phytoremediation for sites with mixed organic and inorganic contamination. Critical Reviews in Environmental Science and Technology, 43(3), 217–259.

Bissonnette, L., St-Arnaud, M., & Labrecque, M. (2010). Phytoextraction of heavy metals by two Salicaceae clones in symbiosis with arbuscular mycorrhizal fungi during the second year of a field trial. Plant and Soil, 332(1–2), 55–67.

Blinder, A. S. (1997). Is government too political? Foreign Affairs, 76, 115–126.

Brambor, T., Clark, W. R., & Golder, M. (2006). Understanding interaction models: Improving empirical analyses. Political Analysis, 14, 63–82.

Brunner, R. D., & Ascher, W. (1992). Science and social responsibility. Policy Sciences, 25(3), 295–331.

Campos, V. M., Merino, I., Casado, R., Pacios, L. F., & Gomez, L. (2008). Review: Phytoremediation of organic pollutants. Spanish Journal of Agricultural Research, 6, 38–47.

Chaiken, S., Liberman, A., & Eagly, A. H. (1989). Heuristic and systematic information processing within and beyond the persuasion context. In J. S. Uleman & J. A. Bargh (Eds.), Unintended thought (pp. 212–252). New York: Guilford Press.

Chen, S., Duckworth, K., & Chaiken, S. (1999). Motivated heuristic and systematic processing. Psychological Inquiry, 10(1), 44–49.

Considine, M., Alexander, D., & Lewis, J. M. (2014). Policy design as craft: Teasing out policy design expertise using a semi-experimental approach. Policy Sciences, 47(3), 209–225.

Doyle, C. (2008). La Phytoremédiation: Une Solution À La Contamination Des Sites de Traitement Du Bois? Université de Sherbrooke.

Druckman, J. N., & Bolsen, T. (2011). Framing, motivated reasoning, and opinions about emergent technologies. Journal of Communication, 61(4), 659–688.

Finucane, M. L., Alhakami, A., Slovic, P., & Johnson, S. M. (2000). The affect heuristic in judgments of risks and benefits. Journal of Behavioral Decision Making, 13(1), 1–17.

Flynn, J., Slovic, P., & Mertz, C. K. (1993). Decidedly different: Expert and public views of risks from a radioactive waste repository. Risk Analysis, 13(6), 643–648.

Gottweis, H. (1998). Governing molecules: The discursive politics of genetic engineering in Europe and in the United States. Cambridge: MIT Press.

Haas, P. M. (2004). When does power listen to truth? A constructivist approach to the policy process. Journal of European Public Policy, 11, 569–592.

Henderson, M. (2012). The geek manifesto: Why science matters. London: Bantam.

Ikem, A., & Egiebor, N. O. (2005). Assessment of trace elements in canned fishes (mackerel, tuna, salmon, sardines and herrings) marketed in Georgia and Alabama (United States of America). Journal of Food Composition and Analysis, 18(8), 771–787.

Jasanoff, S. (1990). The fifth branch: Science advisers as policymakers. Cambridge: Harvard University Press.

Jasanoff, S. (2003). (No?) Accounting for expertise. Science and Public Policy, 30(3), 157–162.

Jenkins-Smith, H. C., Silva, C. L., & Murray, C. (2009). Beliefs about radiation: Scientists, the public and public policy. Health Physics, 97(5), 519–527.

Kahan, D. M., Jenkins-Smith, H., & Braman, D. (2011). Cultural cognition of scientific consensus. Journal of Risk Research, 14(2), 147–174.

Kahan, D. M., Peters, E., Wittlin, M., Slovic, P., Ouellette, L. L., Braman, D., et al. (2012). The polarizing impact of science literacy and numeracy on perceived climate change risks. Nature Climate Change, 2, 732–735.

Kahneman, D. (2003). Maps of bounded rationality: Psychology for behavioral economics. American Economic Review, 93(5), 1449–1475.

Lachapelle, E., Montpetit, É., & Gauvin, J.-P. (2014). Public perceptions of expert credibility on policy issues: The role of expert framing and political worldviews. Policy Studies Journal, 42(4), 674–697.

List, J. A. (2002). Preference reversals of a different kind: The 'More is Less' phenomenon. American Economic Review, 92(5), 1636–1643.

Margolis, H. (1996). Dealing with risk: Why the public and the experts disagree on environmental issues. Chicago: University of Chicago Press.

McIntyre, T. (2003). Phytoremediation of heavy metals from soils. In D. T. Tsao (Ed.), Phytoremediation, advances in biochemical engineering/biotechnology (Vol. 78, pp. 97–123). Berlin: Springer.

Mitchell, N. J., Herron, K. G., Jenkins-Smith, H. C., & Whitten, G. D. (2007). Elite beliefs, epistemic communities and the Atlantic divide: Scientists' nuclear policy preferences in the United States and European Union. British Journal of Political Science, 37(04), 753–764.

Montpetit, É. (2011). Scientific credibility, disagreement, and error costs in 17 biotechnology subsystems. Policy Studies Journal, 39(3), 513–533.

Montpetit, É., & Lachapelle, E. (2015). Can policy actors learn from academic scientists? Environmental Politics. doi:10.1080/09644016.2015.1027058.

Nisbet, M. C. (2004). Public opinion about stem cell research and human cloning. Public Opinion Quarterly, 68, 131–154.

Nisbet, M. C. (2005). The competition for worldviews: Values, information, and public support for stem cell research. International Journal of Public Opinion Research, 17, 90–112.

Paarlberg, R. L. (2008). Starved for science: How biotechnology is being kept out of africa. Cambridge, MA: Harvard University Press.

Panagos, P., Van Liedekerke, M., Yigini, Y., & Montanarella, L. (2013). Contaminated sites in Europe: Review of the current situation based on data collected through a European network. Journal of Environmental and Public Health, 2013, 1–11.

Reichenauer, T. G., & Germida, J. J. (2008). Phytoremediation of organic contaminants in soil and groundwater. ChemSusChem, 1(8–9), 708–717.

Rietig, K. (2014). 'Neutral' experts? How input of scientific expertise matters in international environmental negotiations. Policy Sciences, 47(2), 141–160.

Rimkutė, D. (2015). Explaining differences in scientific expertise use: The politics of pesticides. Politics and Governance, 3(1), 114.

Rimkutė, D., & Haverland, M. (2015). How does the European Commission use scientific expertise? Results from a survey of scientific members of the Commission's expert committees. Comparative European Politics, 13(4), 430–449.

Rowe, G., & Wright, G. (2001). Differences in expert and lay judgments of risk: Myth or reality? Risk Analysis, 21(2), 341–356.

Sabatier, P. A., & Zafonte, M. (1995). The views of bay/delta water policy activists on endangered species issues. West/Northwest Journal of Environmental Law and Policy, 2, 131–146.

Sabatier, P. A., & Zafonte, M. (2001). Policy knowledge: Advocacy organizations. In N. J. Smelser & P. B. Baltes (Eds.), International encyclopedia of the social & behavioral sciences (Vol. 17, pp. 11563–11568). Amsterdam: Elsevier.

Salt, D. E., Blaylock, M., Nanda, P. B. A., Kumar, V. D., Ensley, B. D., Chet, I., et al. (1995). Phytoremediation: A novel strategy for the removal of toxic metals from the environment using plants. Nature Biotechnology, 13(5), 468–474.

Schneider, A. L., & Ingram, H. (1997). Policy design for democracy. Lawrence: University of Kansas Press.

Silva, C. L., & Jenkins-Smith, H. C. (2007). The precautionary principle in context: U.S. and E.U. scientists' prescriptions for policy in the face of uncertainty. Social Science Quarterly, 88(3), 640–664.

Silva, C. L., Jenkins-Smith, H. C., & Barke, R. P. (2007). Reconciling scientists' beliefs about radiation risks and social norms: Explaining preferred radiation protection standards. Risk Analysis, 27(3), 755–773.

Simon, H. A. (1945). Administrative behavior. New York: McMillan.

Simon, H. A. (1985). Human nature in politics: The dialogue of psychology with political science. American Political Science Review, 79, 293–304.

Slovic, P., Finucane, M. L., Peters, E., & MacGregor, D. G. (2004). Risk as analysis and risk as feelings: Some thoughts about affect, reason, risk, and rationality. Risk Analysis, 24(2), 311–322.

Tetlock, P. E. (2005). Expert political judgment: How good is it? How can we know?. Princeton, NJ: Princeton University Press.

Vamerali, T., Bandiera, M., & Mosca, G. (2010). Field crops for phytoremediation of metal-contaminated land: A review. Environmental Chemistry Letters, 8(1), 1–17.

Van Metre, P. C., & Mahler, B. J. (2005). Trends in hydrophobic organic contaminants in urban and reference lake sediments across the United States, 1970–2001. Environmental Science and Technology, 39(15), 5567–5574.

Weber, E. U., & Stern, P. C. (2011). Public understanding of climate change in the United States. American Psychologist, 66(4), 315–328.

Weible, C. M., Sabatier, P. A., & Pattison, A. (2010). Harnessing expert-based information for learning and the sustainable management of complex socio-ecological systems. Environmental Science and Policy, 13, 522–534.

Weible, C. M., Siddiki, S. N., & Pierce, J. J. (2011). Foes to friends: Changing contexts and changing intergroup perceptions. Journal of Comparative Policy Analysis, 13, 499–526.

Weiss, C. H. (1979). The many meanings of research utilization. Public Administration Review, 39, 426–431.
Acknowledgments
The authors acknowledge the financial support of Genome Quebec and Genome Canada. They also thank the members of Genorem for their contribution to this research, as well as Patrick Fournier, Patrick Marier, four anonymous reviewers and the editorial team at Policy Sciences for their helpful comments and suggestions. Monika Smaz and Irena Nedeva provided excellent research assistance.
About this article
Cite this article
Montpetit, É., Lachapelle, E. Information, values and expert decision-making: the case of soil decontamination. Policy Sci 49, 155–171 (2016). https://doi.org/10.1007/s11077-015-9225-x
Published:

Issue Date:

DOI: https://doi.org/10.1007/s11077-015-9225-x
Keywords
Expert

Decision-making

Cognitive psychology

Values

Soil contamination