Abstract
Although in recent years great emphasis has been placed on global agreements and national commitments on climate change, ultimately action on mitigation and adaptation must take place at the local level. Many local authorities have to face questions of whether they should develop policies on climate change, and if so, on what evidence should policies be designed and delivered. This paper describes how academic research on the economics of low carbon cities (the 'mini-Stern review') helped create such an evidence base for the Leeds City Region and its constituent local authorities. We describe how the response to the evidence and the pathways to impact were different in the individual local authorities and what this means for our understanding of evidence in local policy making. In terms of Weiss' (Social sciences and modern states: national experiences and theoretical crossroads. Advances in political science, Cambridge University Press, Cambridge, 1991) classification, the study was mainly useful as an argument and idea rather than being used instrumentally. We find that the policy and political context in each authority determines to a large extent whether such an academic study is useable as evidence. The contents and timing of the study need to align with existing policy and/or political agendas: is climate change on the agenda at all, with what priority and how is it framed. We find confirmation of a relationship between the policy problem type and the role of evidence as argument, idea or data. The mini-Stern study itself was just one contribution to wide-ranging processes of informing, convincing, pressurising, etc., not just within the different councils but also within the wider communities. Other contextual factors include composition, agenda and activities of local civil society and the local business community. Finally, it depends on the expertise of policy officers in the councils what use is made of evidence. Making policy takes (much) time, translation and negotiation across levels and sectors. Policy work describes how policy officers bring their diverse forms of knowledge to bear on policy questions; how this work is done is something that is learned from practice rather than from the study.
Access options
Buy single article
Instant access to the full article PDF.
US$ 39.95
Tax calculation will be finalised during checkout.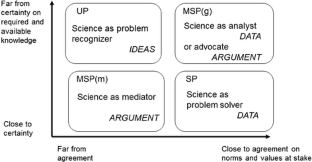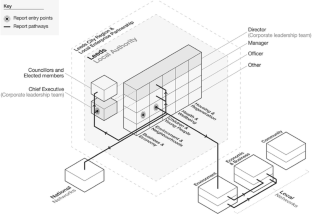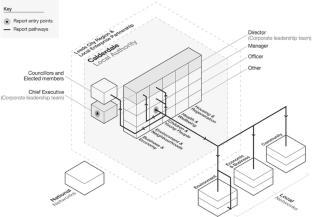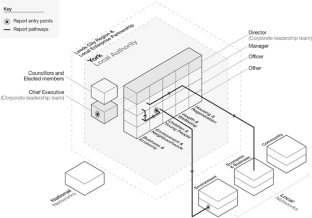 Notes
1.

The latter is evidenced, e.g. in the current UK Research Excellence Framework (REF), the system for assessing the quality of research in UK higher education institutions to be completed in 2014. Evidence of impact on international policy attracts the highest scores, while sub-national impact scores lowest.

2.

The CRC Energy Efficiency Scheme (formerly known as Carbon Reduction Commitment), a mandatory scheme aimed at improving energy efficiency and cutting emissions in large public and private sector organisations through allocation of carbon emission allowances and fines when these are exceeded.

3.

4.

5.

6.

National Index NI185 = percentage CO2 reduction from local authority's own LA operations; NI186 = per capita CO2 emissions in the local area.
References
Brunner, R. D. (2006). A paradigm for practice. Policy Sciences, 39(2), 135–167.

Bulkely, H. (2010). Cities and the governing of climate change. Annual Review of Environment and Resources, 35, 229–253.

CCC (2012) How Local authorities can reduce emissions and manage climate risk. Committee on Climate Change.

Colebatch, H. K. (2005). Policy analysis, policy practice and political science. Australian Journal of Public Administration, 64(3), 14–23.

Colebatch, H. K. (2006). What work makes policy? Policy Sciences, 39, 309–321.

Colebatch, H. K., Hoppe, R., & Noordegraaf, M. (2010). Working for Policy. Amsterdam: Amsterdam University Press.

DCLG (2008). National indicators for local authorities and local authority partnerships: Handbook of definitions. London: Department for Communities and Local Government.

Deloitte (2008) 'Mini-Stern' for Manchester. Assessing the economic impact of EU and UK climate change legislation on Manchester City Region and the North West. Deloitte consultants for Manchester City Region.

Dodman, D. (2009) Blaming cities for climate change? An analysis of urban greenhouse gas emissions inventories. Environment and Urbanisation 2009 (21).

Ezrahi, Y. (1980). Utopian and pragmatic rationalism: The political context of scientific advice. Minerva, 18(1), 110–131.

Fiorino, D. J. (2011). Explaining national environmental performance: Approaches, evidence, and implications. Policy Sciences, 44, 367–389.

Flyvbjerg, B. (2001). Making social science matter: Why social inquiry fails and how it can succeed again. Cambridge: Cambridge University Press.

Freeman, R., & Maybin, J. (2011). Documents, practices and policy. Evidence & Policy, 7(2), 155–170.

Goodin, R. E., & Tilley, C. (2006). The oxford handbook of contextual policy analysis. Oxford: Oxford University Press.

Gouldson, A., Kerr, N., Topi, C., Dawkins, E., Kuylenstierna, J., & Pearce, R. (2012a). The economics of low carbon cities: Approaches to a city-scale mini-stern review. In R. Simpson & M. Zimmerman (Eds.), The economy of green cities: A world compendium on the green urban economy. Berlin: Springer.

Gouldson, A., Kerr, N., Topi, C., Dawkins, E., Kuylenstierna, J., & Pearce, R. (2012b). The economics of low carbon cities. A mini-stern review for the Leeds city region. York: Centre for Low Carbon Futures.

HM Government (2009) The UK low carbon transition plan. National strategy for climate and energy.

HM Government (2011) Unlocking growth in cities.

HM Treasury (2007) Sub-national economic development and regeneration review. HM Treasury.

Hisschemöller, M., Hoppe, R., Groenewegen, P., & Midden, C. J. H. (2001). Knowledge use and political choice: A problem-structuring perspective on real life experiments in extended peer review. In M. Hisschemöller, R. Hoppe, W. N. Dunn, & J. R. Ravetz (Eds.), Knowledge, power, and participation in environmental policy analysis. Policy studies review annual, vol. 12. New Brunswick: Transaction Publishers.

Hoppe, R. (1999). Policy analysis, science and politics: From 'speaking truth to power' to 'making sense together'. Science and Public Policy, 26(3), 201–210.

Hoppe, R. (2005). Rethinking the science-policy nexus: From knowledge utilization and science technology studies to types of boundary arrangements. Poiesis & Praxis, 3(3), 199–215.

Hoppe, R. (2009). Scientific advice and public policy: Expert advisers' and policymakers' discourses on boundary work. Poiesis & Praxis, 6(3–4), 235–263.

Hoppe, R. (2010). Lost in translation? Boundary work in making climate change governable. In P. J. Driessen, P. Leroy, & W. Van Vierssen (Eds.), From climate change to social change. Perspectives on science-policy interactions (pp. 109–130). Utrecht: International Books.

Howlett, M., & Wellstead, A. M. (2011). Policy analysts in the bureaucracy revisited: The nature of professional policy work in contemporary government. Politics and Policy, 49(4), 613–633.

Lasswell, H. D. (1948). Power and personality. New York: Norton & Co.

LCR (2010) Local carbon framework pilot programme funding proposal for a leeds city region low carbon economic analysis. Leeds City Region.

Lejano, R. P., Ingram, H. M., Whiteley, J. M., Torres, D., & Agduma, S. J. (2007). The importance of context: Integrating resource conservation with local institutions. Society & Natural Resources, 20(2), 177–185.

Lejano, R. P., & Shankar, S. (2013). The contextualist turn and schematics of institutional fit: Theory and a case study from Southern India. Policy Sciences, 46(1), 83–102.

Lindblom, C. E., & Cohen, D. K. (1979). Usable knowledge. New Haven: Yale University Press.

Lipsky, M. (1980). Street-level bureaucracy: Dilemmas of the Individual in Public Services. New York: Russell Sage Foundation.

Lundin M, Öberg P (in press) Expert knowledge use and deliberation in local policy making. Policy Sciences.

Majone, G. (1989). Evidence, argument and persuasion in the policy process. New Haven, CT: Yale University Press.

Nutley, S. M., Walter, I., & Davies, H. T. O. (2007). Using evidence: How research can inform public services. Bristol: The Policy Press.

OECD (2010). Cities and climate change. Paris: OECD Publishing.

O'Toole, L. (2010). The ties that bind? Networks, public administration, and political science. Political Science and Politics, 43(1), 7–14.

Pearce W (in prep) The meaning of measurement: why local climate policy needs argument, not data Evidence & Policy.

Radaelli, C. M. (2005). Diffusion without convergence: how political context shapes the adoption of regulatory impact assessment. Journal of European Public Policy, 12(5), 924–943.

Regeneris Consulting (2009) The economic impact of EU and UK climate change legislation on Liverpool and the Liverpool city region.

Sheldon, T. A., Cullum, N., Dawson, D., Lankshear, A., Lowson, K., Watt, I., et al. (2004). What's the evidence that NICE guidance has been implemented? Results from a national evaluation using time series analysis, audit of patients' notes, and interviews. British Medical Journal, 329, 999.

Steelman, T. A., & Wallance, R. L. (2001). Property rights and property wrongs: Why context matters in fisheries management. Policy Sciences, 34(3–4), 357–379.

Stern, N., & HM Cabinet Office Treasury. (2007). The economics of climate change. The stern review. Cambridge: Cambridge University Press.

Storbjörk, S. (2010). 'It takes more to get a ship to change course': Barriers for organizational learning and local climate adaptation in Sweden. Journal of Environmental Policy & Planning, 12(3), 235–254.

UN HABITAT (2011) State of the world's cities 2010/2011: Bridging the urban divide.

Weiss, C. H. (1991). Policy research: Data, ideas or arguments? In P. Wagner, C. H. Weiss, B. Wittrock, & H. Wollman (Eds.), Social sciences and modern states: National experiences and theoretical crossroads. Advances in Political Science (pp. 307–332). Cambridge UK: Cambridge University Press.

Wesselink, A. J., Buchanan, K., Georgiadou, Y., & Turnhout, E. (2013). Technical knowledge, discursive spaces and politics at the science-policy interface. Environmental Science & Policy, 30(1), 1–9.

Wesselink, A. J., de Vriend, H. J., Barneveld, H. J., Krol, M. S., & Bijker, W. E. (2009). Hydrology and hydraulics expertise in participatory processes for climate change adaptation in the Dutch Meuse. Water Science and Technology, 60(3), 583–595.
Acknowledgments
We would like to thank the interviewees for discussing their work with us. We would also like to thank our colleagues Phil Webber and Niall Kerr for their comments and discussions. Anna Wesselink's contribution to this article was financially supported by the European Union (European Commission, European Reintegration Grant PERG08-GA-2010-276934) and by the Higher Education Funding Council for England Strategic Development Fund project 'How modern social science research helps shape public policy, market forces and social understanding: mapping influences and developing metrics for the digital era'.
Appendix: baseline interview protocol
Appendix: baseline interview protocol
Sign consent form
Explain briefly purpose of research.
Interview questions
1.

What is the role/goal of your organisation in the low carbon economy?
For example:
agreed targets for reducing CO2 emissions (NI185 or NI 186?)Footnote 6

reduce own CO2 emissions

use control and influence in their area (planning, transport, …)

deliver/roll out national policy (smart meters, green deal, …)
2.

What are your own tasks regarding the low carbon economy?
For example:
position in organisation

how long have you been doing this?

how big a part of your job is this?
3.

How do you achieve these tasks?
For example:
with whom do you liaise and coordinate on issues related to the low carbon economy (internal & external) + concrete examples

from whom do you experience resistance on issues related to the low carbon economy (internal & external) + concrete examples

what sources of information do you use
4.

Where can you see your organisation's CC agenda going? What impact do you think the mini-Stern study will have?

5.

What is the single most important factor limiting low carbon development, and what is the most important factor driving it?
About this article
Cite this article
Wesselink, A., Gouldson, A. Pathways to impact in local government: the mini-Stern review as evidence in policy making in the Leeds City Region. Policy Sci 47, 403–424 (2014). https://doi.org/10.1007/s11077-014-9196-3
Keywords
Climate change

Low carbon policy

Local government

Evidence-based policy making

Policy work