Abstract
This article analyzes the extent to which public administrators make use of expert knowledge (i.e., research or evaluation reports) when they prepare policy advice, and the extent to which politicians deliberate on the information provided to them by the administrators. The study is based on original, quantitative data from local politics in Sweden. We find that expert-informed policy advice from the administrators and critical reflection by the politicians are more pronounced when there is a lot of public attention. Furthermore, administrators use expert information more when they operate in a context in which there are large political disagreements. However, politicians deliberate less on the administrators' policy advices in such environments. Thus, conflict seems to generate a pressure on the administrators to search for expert knowledge. But at the same time, within a context of political disputes, politicians make less effort to understand and critically reflect over the information provided to them by the administration, and are less inclined to change their opinions even if good arguments are presented to them. Thus, the empirical analysis indicates that what role expertise gets in policy making is very much a consequence of the local political environment.
Access options
Buy single article
Instant access to the full article PDF.
US$ 39.95
Tax calculation will be finalised during checkout.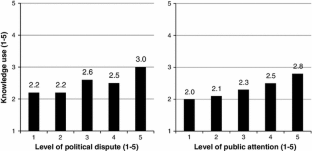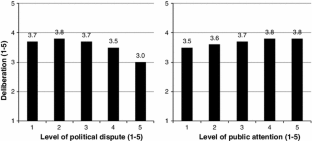 Notes
1.

Note that this definition implies that we are not interested in the expertise of officials and practitioners working with the issues at hand (cf. Weible et al. 2010). Within primary education, for example, we do not count experiences of individual teachers or headmasters, or even the general knowledge of officials at the department of education, as expert knowledge. This kind of expertise is of course an important input to policy processes, but here we focus on a more academic type of expert knowledge.

2.

Although there is a substantial amount of empirical research, the field is usually considered to be underdeveloped (Belkhodja et al. 2007). It is difficult to say what variables affect knowledge use in general, and why they do so.

3.

The level of analysis is the committee/administrative unit. Note that our key variables, such as public attention and political disputes, sometimes or even often might be specific to issue rather than to unit (or context). However, both levels are relevant to analyze. While most prior research focuses on issues, we are interested in the context. In this regard, we examine an equally interesting but not as well-explored level.

4.

 This applies to the other committees studied in this article as well.

5.

We have also collected some data using a questionnaire that we distributed to committee members in certain municipalities. These data are used for robustness checks.

6.

The various analyses are conducted on somewhat fewer observations, due to internal missing values on some variables.

7.

In prior research, additional questions have sometimes been incorporated in the knowledge use index. For instance, Landry et al. (2001, 2003) included a question on whether expert knowledge influences political decisions. But this is not of interest here; whether information is used within the bureaucracy is theoretically different than whether expertise affects politicians' decisions. What is important here is how administrators use expertise when they prepare decisions. This implies that the influence stage is excluded. However, our survey had a question on influence, and as a robustness check we have conducted all analyses incorporating influence: All findings are robust. Moreover, Landry and colleagues ask about reception, that is, the extent to which expert knowledge is viewed as important. We do not have any survey question on reception, but we do not see this as a problem; reception is actually not about the extent to which expertise is used and it is not central to our theoretical concept. Lastly, in the cognition question Landry and colleagues include an idea that the administrators should "understand" research and expert reports. We think that asking about whether administrators understand information means that two different aspects are incorporated in the same survey question (read and understand); it also implies that the question becomes vague. Thus, we did not include this in our survey question on cognition.

8.

To ensure that the items are one-dimensional, we conducted a principal component factor analysis (see "Appendix," Table 8). We have also calculated factor scores from the factor analysis and used them to construct an alternative index that puts different weight on the items (depending on the factor loadings). Such a measure is, however, hard to interpret. Thus, the index based on the factor scores is not reported in the article. However, similar results are produced if we use this alternative measure.

9.

Precisely as in the case of knowledge use, we have conducted a principal components factor analysis to see whether the four items load on a single dimension, which they do (see "Appendix," Table 9). The factor loading of one of the items is lower than the other three (although still rather high). However, we have performed additional analyses to examine whether the results are robust to various definitions of deliberation. First, we have computed an index based on factor scores (i.e., item 4 gets a lower weight in the index). Second, we have excluded item 4 from the index. These analyses yield similar results.

10.

Another survey question concerned perceived media attention to the issues handled in the administration. We have tried to use this question as an alternative definition of public attention and the results are not changed.

11.

If it is random how questions have been interpreted by different managers there are unsystematic measurement errors. These errors do not lead to bias in the results. However, they make it more difficult to get statistically significant results.

12.

See Table 7 for definitions of control variables.

13.

In total, 753 politicians replied.

14.

For instance, leverage- versus squared-residuals plots indicate some observations having more influence on the results than others. But excluding these observations does not alter the conclusions. If anything, the conclusions are strengthened.

15.

We have looked at various plots, for instance, partial regression plots without finding any indication of nonlinearity. Moreover, if we include the quadratic form of political disputes and public attention in the regressions, these coefficients turn out to be far from statistically significant. However, in these models, we have a problem with multicollinerarity (indicated by tolerance tests). This is not surprising, given the close relationship between the variables included in the models. We cannot do much about this, but the graphs are evidenced enough to make us confident in the results.

16.

For instance, we have performed tolerance tests to check for multicollinerarity: When knowledge use is the dependent variable 1/VIF = 0.81 for political dispute and 1/VIF = 0.87 for public attention. When deliberation is the dependent variable, 1/VIF = 0.82 for political dispute and 1/VIF = 0.88 for public attention. Low values (below about 0.20) indicate problems with multicollinearity.
References
Bächtiger, A., Niemeyer, S., Neblo, M., Steenbergen, M. R., & Steiner, J. (2010). Disentangle diversity in deliberative democracy: Competing theories, their blind spots and complementarities. Journal of Political Philosophy, 18(1), 32–63.

Bäck, H. (2005). Borgmästarens makt. Kommunal ekonomi och politik, 9(1), 7–36.

Barabas, J. (2004). How deliberation affects policy opinions. American Political Science Review, 98(4), 687–701.

Barrling Hermansson, K. (2004). Partikulturer. Uppsala: Acta Universitatis Upsaliensis.

Belkhodja, O., Amara, N., Landry, R., & Ouimet, M. (2007). The extent and organizational determinants of research utilization in Canadian health services organizations. Science Communication, 28(3), 377–417.

Björklund, A., Edin, P.-A., Fredriksson, P., & Krueger, A. (2004). "Education, equality, and efficiency—an analysis of Swedish school reforms during the 1990s", Report 2004:1, Institute for Labour Market Policy Evaluation, Uppsala.

Boswell, C. (2008). The political functions of expert knowledge: Knowledge and legitimation in European Union immigration policy. Journal of European Public Policy, 15(4), 471–488.

Boswell, C. (2009). The political uses of expert knowledge. Immigration policy and social research. Cambridge: Cambridge University Press.

Bovens, M. (2007). Public Accountability. In E. Ferlie, L. E. Lynn, & C. Pollitt (Eds.), The Oxford handbook of public management. New York: Oxford University Press.

Burstein, P. (2003). The impact of public opinion on public policy: A review and an agenda. Political Research Quarterly, 56(29), 29–40.

Chambers, S. (1998). Contract or conversation? Theoretical lessons from the Canadian constitutional crisis. Politics & Society, 26(1), 143–172.

Chambers, S. (2005). Measuring publicity's effect: Reconciling empirical research and normative theory. Acta Politica, 40(2), 255–266.

Christiano, T. (2012). Rational deliberation among experts and citizens. In J. Parkinson & J. Mansbridge (Eds.), Deliberative systems. Cambridge: Cambridge University Press.

Dahl, R. A. (1989). Democracy and its critics. New Haven: Yale University Press.

Davies, H., Nutely, S. M., & Smith, P. C. (2000). What works? Evidence-based policy and practice in public services. Bristol: Policy Press.

Demir, T., & Nyhan, R. C. (2008). The politics-administrative dichotomy: An empirical search for correspondence between theory and practice. Public Administration Review, 68(1), 81–96.

Drori, G. S., & Meyer, J. W. (2008). Scientization: Making a world safe for organizing. In M.-L. Djelic & K. Sahlin-Andersson (Eds.), Transnational governance. Institutional dynamics of regulation. Cambridge: Cambridge University Press.

Dryzek, J. S. (2010). Rhetoric in democracy: A systematic appreciation. Political Theory, 38(3), 319–339.

Dryzek, J. S., & Niemeyer, S. (2010). Foundations and frontiers in deliberative governance. Oxford: Oxford University Press.

Eckerberg, K., & Mineur, E. (2003). The use of local sustainability indicators: Case studies in Two Swedish municipalities. Local Environment, 8(6), 591–614.

Elster, J. (1989). Deliberation and constitution-making. In J. Elster (Ed.), Deliberative democracy. Cambridge: Cambridge University Press.

Fisher, F., & Gottweis, H. (2012). The argumentative turn revisited. Policy as communicative practice. New York: Duke University Press.

Flyvbjerg, B. (1998). Rationality & power. Democracy in practice. Chicago: Chicago University Press.

Flyvbjerg, B. (2001). Making social science matter. Why social inquiry fails and how it can succeed again. Cambridge: Cambridge University Press.

Gastil, J., Knobloch, K., & Kelly, M. (2012). Evaluating deliberative public events and projects. In T. Nabachi, et al. (Eds.), Democracy in motion. Oxford: Oxford University Press.

Goodin, R. E. (1995). Utilitarianism as a public philosophy. New York: Cambridge University Press.

Gutmann, A., & Thompson, D. F. (1996). Democracy and disagreement. Cambridge: Harvard University Press.

Howlett, M. (2009). Policy analytical capacity and evidence-based policy-making: Lessons from Canada. Canadian Public Administration, 52(2), 153–175.

Howlett, M., & Wellstead, A. M. (2011). Policy analysts in the bureaucracy revisited: The nature of professional policy work in contemporary government. Politics & Policy, 49(4), 613–633.

Jennings, E. T., Jr, & Hall, J. L. (2012). Evidence-based practice and the use of information in state agency decision making. Journal of Public Administration Research and Theory, 22(2), 245–266.

Knott, J., & Wildavsky, A. (1980). If dissemination is the solution, what is the problem? Knowledge: Creation Diffusion, Utilization, 1(4), 537–578.

Landry, R., Lamari, M., & Amara, N. (2001). Utilization of social science research knowledge in Canada. Research Policy, 30, 333–349.

Landry, R., Lamari, M., & Amara, N. (2003). The extent and determinants of the utilization of university research in government agencies. Public Administration Review, 63(2), 192–205.

Lester, J. P. (1993). The utilization of policy analysis by state agency officials. Knowledge: Creation Diffusion, Utilization, 14(3), 267–290.

Lidström, A. (1996). Kommunsystem i Europa. Stockholm: Publica.

Lindblom, C. E., & Woodhouse, E. J. (1993). The policy-making process (3rd ed.). Upper Saddle River: Prentice Hall Inc.

Lundin, M. (2007). Explaining cooperation: How resource interdependence, goal congruence, and trust affect joint actions in policy implementation. Journal of Public Administration Research and Theory, 17(4), 651–672.

Mahon, R., & MacBride, S. (2009). Standardizing and disseminating knowledge: The role of the OECD in global governance. European Political Science Review, 1(1), 83–101.

Mandell, M., & Sauter, V. (1984). Approaches to the study of information utilization in public agencies. Knowledge: Creation Diffusion, Utilization, 6(2), 145–163.

Mansbridge, J. (2003). Rethinking representation. American Political Science Review, 97(4), 515–528.

Montpetit, É. (2011). Scientific credibility, disagreement, and error costs in 17 biotechnology policy subsystems. Policy Studies Journal, 39(3), 513–533.

Montpetit, É. (2012). Does holding beliefs with conviction prevent policy actors from adopting a compromising attitude? Political Studies, 60(3), 621–642.

Mörk, E. (2011). Från försörjningsstöd till arbete—Hur kan vägen underlättas?, Rapport 2011:6, Institute for Labour Market Policy Evaluation, Uppsala.

Mulgan, G. (2005). Government, knowledge and the business of policy making: The potential and limits of evidence-based policy. Evidence & Policy, 1(2), 215–226.

Naurin, D. (2009). Most common when least important: Deliberation in the European Union council of ministers. British Journal of Political Science, 40(1), 31–50.

Papadopolus, Y. (2012). On the embeddedness of deliberative systems: Why elitist innovations matter more. In J. Parkinson & J. Mansbridge (Eds.), Deliberative systems. Cambridge: Cambridge University Press.

Parkinson, J., & Mansbridge, J. (2012). Deliberative systems. Cambridge: Cambridge University Press.

Power, M. (2003). The audit explosion. Law and Policy, 25(3), 185–202.

Røiseland, A. (2011). Understanding local governance: Institutional forms of collaboration. Public Administration, 89(3), 879–893.

Sabatier, P. A., & Jenkins-Smith, H. C. (1993). Policy change and learning: An advocacy coalition approach. Boulder CO: Westview Press.

Steenbergen, M., Bächtiger, A., Spröndli, M., & Steiner, J. (2003). Measuring political deliberation: A discourse quality index. Comparative European Politics, 1, 21–48.

Steiner, J., Bächtiger, A., Spörndli, M., & Steenbergen, M. R. (2004). Deliberative politics in action. Analysing parliamentary discourse. Cambridge: Cambridge University Press.

Thompson, D. F. (2008). Deliberative democratic theory and empirical political science. Annual Review of Political Science, 11, 497–520.

Torgerson, D. (1986). Between knowledge and politics: Three faces of policy analysis. Policy Sciences, 19, 33–59.

Turner, S. (2001). What is the problem with experts? Social Studies of Science, 31(1), 23–49.

Walgrave, S., Soroka, S., & Nuytemans, M. (2008). The mass media's political agenda-setting power: A longitudinal analysis of media, parliament, and government in Belgium (1993 to 2000). Comparative Political Studies, 41(6), 814–836.

Weible, C. M. (2008). Expert-based information and policy subsystems: A review and synthesis. Policy Studies Journal, 36(4), 615–635.

Weible, C. M. (2011). Political-administrative relations in collaborative environmental management. International Journal of Public Administration, 34(7), 424–435.

Weible, C. M., Heikkila, T., deLeon, P., & Sabatier, P. A. (2012). Understanding and influencing the policy process. Policy Sciences, 45, 1–21.

Weible, C. M., Pattison, A., & Sabatier, P. A. (2010). Harnessing expert-based information for learning and the sustainable management of complex socio-ecological systems. Environmental Science & Policy, 13, 522–534.

Weiss, C. (1989). Congressional committees and users of analysis. Journal of Policy Analysis and Management, 8(3), 411–433.

Workman, S., Jones, B. D., & Jochim, A. E. (2009). Information processing and policy dynamics. Policy Studies Journal, 37(1), 75–92.
Acknowledgments
This article is financed by the Swedish Council for Working Life and Social Research. We are thankful for comments from Chris Ansell, Bo Bengtsson, Carl Dahlström, Karl-Oskar Lindgren as well as the participants at the seminars at the Nordic Congress on Local Government Research in Odense, November 2010; the conference on "Knowledge and Politics" in Uppsala, March 2011; the Department of Political Science at University of Gothenburg, April 2011; the Institute for Evaluation of Labour Market and Education Policy (IFAU) in Uppsala, June 2011; and the Nordic Political Science Congress (NOPSA) in Vaasa, August 2011. We would also like to thank our two research assistants Cecilia Josefsson and Jonas Thelander for their great effort helping us collect data, and the respondents to our survey questions.
About this article
Cite this article
Lundin, M., Öberg, P. Expert knowledge use and deliberation in local policy making. Policy Sci 47, 25–49 (2014). https://doi.org/10.1007/s11077-013-9182-1
Keywords
Expert knowledge

Policy making

Political disputes

Public attention

Deliberation

Local government

Sweden