Abstract
In this paper, two alternative front suspension systems and their influence on motorcycle nonlinear dynamics are investigated. Based on an existing high-fidelity motorcycle mathematical model, the front end is modified to accommodate both Girder and Hossack suspension systems. Both of them have in common a double wishbone design that varies the front end geometry on certain manoeuvrings and, consequently, the machine's behaviour. The kinematics of the two systems and their impact on the motorcycle performance are analysed and compared to the well-known telescopic fork suspension system. Stability study for both systems is carried out by combination of nonlinear dynamical simulation and root-loci analysis methods.
Access options
Buy single article
Instant access to the full article PDF.
US$ 39.95
Tax calculation will be finalised during checkout.
Subscribe to journal
Immediate online access to all issues from 2019. Subscription will auto renew annually.
US$ 119
Tax calculation will be finalised during checkout.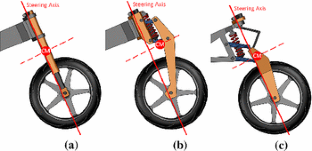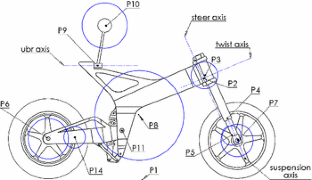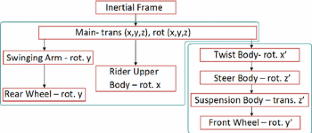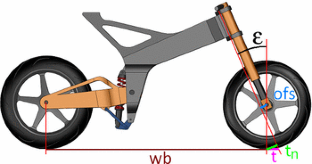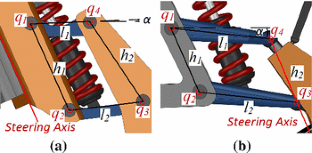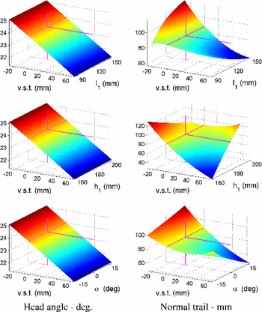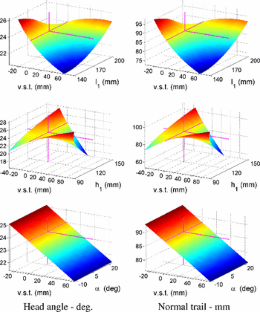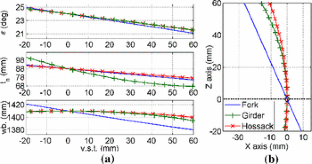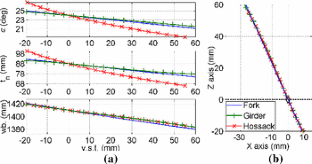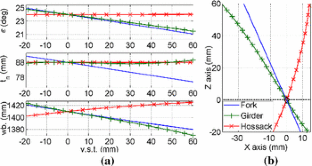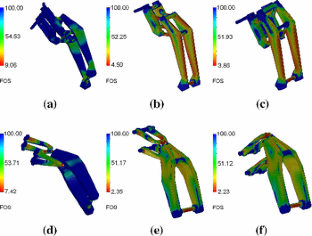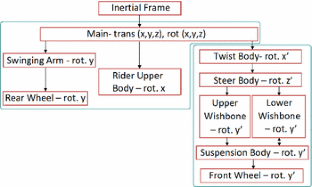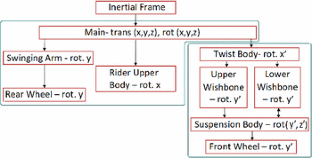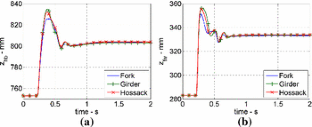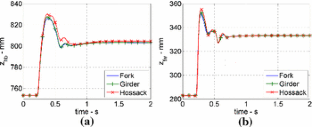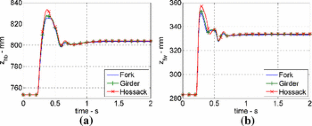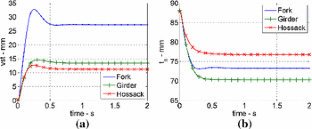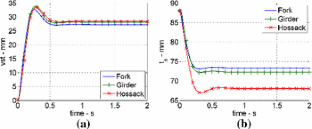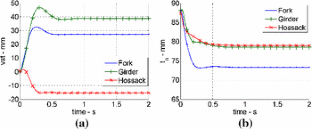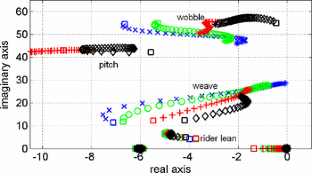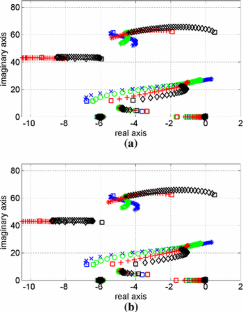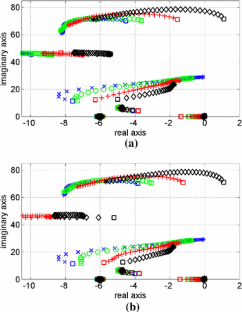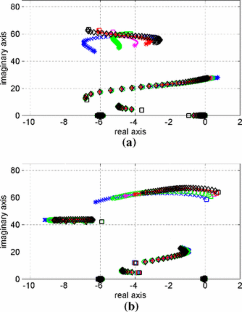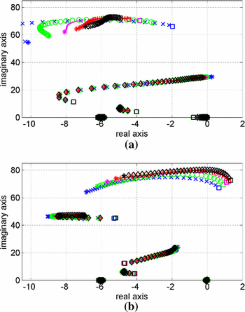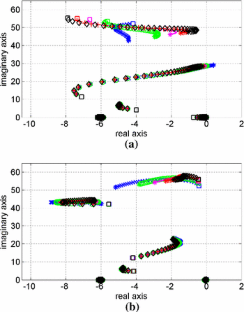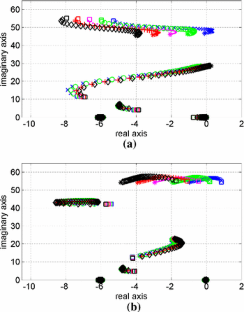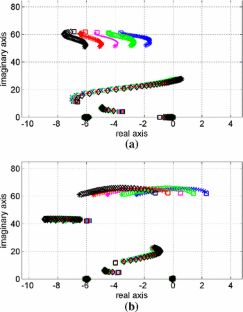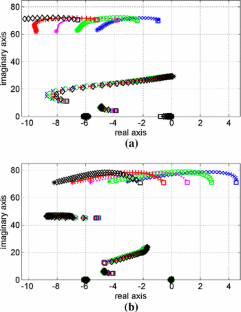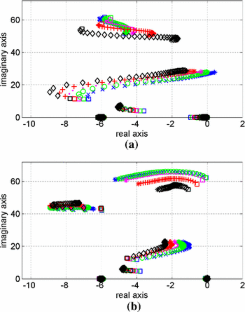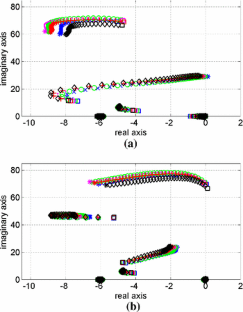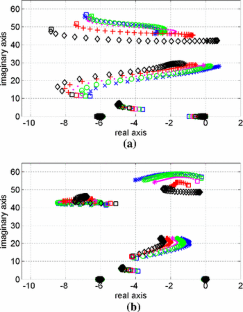 References
1.

Cooper, K.: The effects of aerodynamics on the performance and stability of high speed motorcycles. In: 2nd AIAA Symp. Aerodynamics Sport Competition Automobiles (1974)

2.

Cossalter, V.: Motorcycle Dynamics, 2nd edn. Lulu.com, Morrisville (2006)

3.

Dassault Systems: solidworks. www.solidworks.com. Accessed 20 Nov 2017

4.

Evangelou, S.: The control and stability analysis of two-wheeled road vehicles. Ph.D. thesis, University of London (2003)

5.

Evangelou, S., Limebeer, D., Tomas-Rodriguez, M.: Suppression of burst oscillations in racing motorcycles. In: 2010 49th IEEE Conference on Decision and Control (CDC), pp. 5578–5585 (2010)

6.

Evangelou, S., Limebeer, D.J., Rodriguez, M.T.: Influence of road camber on motorcycle stability. J. Appl. Mech. 75(6), 061020 (2008)

7.

Evangelou, S., Limebeer, D.J.N., Sharp, R.S., Smith, M.C.: Mechanical steering compensators for high-performance motorcycles. J. Appl. Mech. 74(2), 332–346 (2006)

8.

Evangelou, S., Tomas-Rodriguez, M.: Motorcycle dynamic modes and passive steering compensation. In: Tanelli, M., Corno, M., Saveresi, S. (eds.) Modelling, Simulation and Control of Two-Wheeled Vehicles, 1st edn, pp. 221–241. Wiley, Hoboken (2014)

9.

Evangelou, S.A., Limebeer, D.J.N., Tomas-Rodriguez, M.: Suppression of burst oscillations in racing motorcycles. J. Appl. Mech. 80(1), 011003–011016 (2012)

10.

Foale, T.: Motorcycle Handling and Chassis Design: The Art and Science, 2nd edn. Benidoleig, Alicante, Spain (2002)

11.

Koenen, C.: The dynamic behaviour of motorcycles when running straight ahead and when cornering. Ph.D. thesis, Delft University of Technology (1983)

12.

Limebeer, D.J.N., Sharp, R.S., Evangelou, S.: The stability of motorcycles under acceleration and braking. J. Mech. Eng. Sci. 215(9), 1095–1109 (2001)

13.

Mavroudakis, B., Eberhard, P.: Analysis of alternative front suspension systems for motorcycles. Veh. Syst. Dyn. 44, 679–689 (2006)

14.

Mechanical Simulation Corporation: VehicleSim technology. www.carsim.com. Accessed 20 Nov 2017

15.

Pacejka, H.B.: Tire and Vehicle Dynamic, vol. 2, revised edn. Elsevier, Amsterdam (2002)

16.

Pacejka, H.B., Bakker, E.: The magic formula tyre model. Veh. Syst. Dyn. 21, 1–18 (1992)

17.

Roe, G.E., Thorpe, T.E.: A solution of the low-speed wheel flutter instability in motorcycles. J. Mech. Eng. Sci. 18(2), 57–65 (1976)

18.

Shaeri, A., Limebeer, D.J.N., Sharp, R.S.: Nonlinear steering oscillations of motorcycles. In: 43rd IEEE Conference on Decision and Control, 2004. CDC, vol. 1, pp. 773–778 (2004)

19.

Sharp, R.S., Evangelou, S., Limebeer, D.J.N.: Multibody aspects of motorcycle modelling with special reference to Autosim. In: Ambrósio, J.A.C. (ed.) Advances in Computational Multibody Systems, pp. 45–68. Springer, Dordrecht (2005)

20.

Sharp, R.S.: The stability and control of motorcycles. J. Mech. Eng. Sci. 13(5), 316–329 (1971)

21.

Sharp, R.S.: Motorcycle steering control by road preview. J. Dyn. Syst. Meas. Control 129(4), 373–382 (2007)

22.

Sharp, R.S.: Rider control of a motorcycle near to its cornering limits. Veh. Syst. Dyn. 50(8), 1–16 (2012)

23.

Sharp, R.S., Evangelou, S., Limebeer, D.J.N.: Advances in the modelling of motorcycle dynamics. Multibody Syst. Dyn. 12(3), 251–283 (2004)
About this article
Cite this article
Moreno Ramírez, C., Tomás-Rodríguez, M. & Evangelou, S.A. Dynamic analysis of double wishbone front suspension systems on sport motorcycles. Nonlinear Dyn 91, 2347–2368 (2018). https://doi.org/10.1007/s11071-017-4017-9
Received:

Accepted:

Published:

Issue Date:
Keywords
Motorcycle

Vehicle dynamics

Mathematical modelling

Stability analysis

Suspension systems