Abstract
Socio-natural disasters can have profound consequences for countries exposed to natural hazards. Consequently, Disaster Risk Reduction (DRR) management and the development of techniques to measure social vulnerability, such as the Social Vulnerability Index (SoVI), are critical to comprehending and mitigating risk factors. However, the impact of considering different spatial scales to understand and analyze social vulnerability remains largely unknown. The objective of this research is to identify the factors that determine social vulnerability in Chile, the implications of using four different territorial scales, differentiating for urban/rural territory, and the implications in DRR. The research considers the SoVI method, using the national census and the socioeconomic household survey to construct 25 variables at the zone/locality levels, and the use of a GIS platform. On average, eight vulnerability components are defined per model, with an average explanatory variance of 71%. Our analysis shows that social vulnerability in Chile is highly conditioned by access to basic services, low educational level, quality of housing, and income levels. Furthermore, the use of SoVI has made it possible to determine that the use of different territorial scales is an opportunity and a tool for decision-makers that should be investigated for planning purposes and the design of DRR policies.
This is a preview of subscription content,
to check access.
Access this article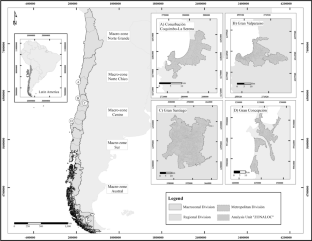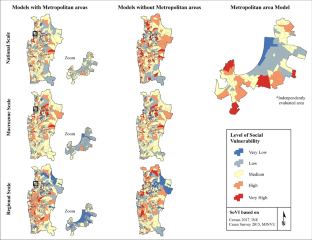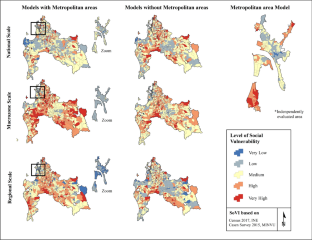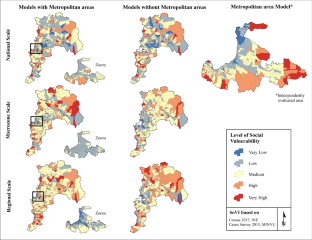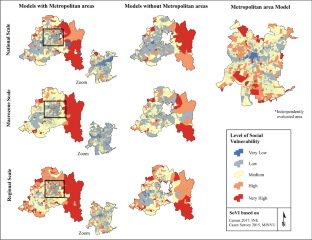 Similar content being viewed by others
References
Adger N (2006) Vulnerability. Glob Environ Chang 16(3):268–281. https://doi.org/10.1016/j.gloenvcha.2006.02.006

Adger N, Brooks N, Bentham G, Agnew M, Eriksen S (2004) New indicators of vulnerability and adaptive capacity. Tyndall Centre for Climate Change Research. Technical Report 7, Norwich

Aránguiz R, Shibayama T, Yamazaki Y (2014) Tsunamis from the Arica-Tocopilla source region and their effects on ports of central Chile. Nat Hazards 71(1):175–202

Arenas F, Lagos M, Hidalgo R (2010) Los riesgos naturales en la planificación territorial In: Lagos M, Hidalgo R(eds) Santiago, Chile : Pontificia universidad católica de Chile, Centro de políticas públicas UC

Birkmann J (2007) Risk and vulnerability indicators at different scales: applicability, usefulness and policy implications. Environ Hazards 7(1):20–31. https://doi.org/10.1016/j.envhaz.2007.04.002

Bronfman N, Repetto P, Guerrero N, Castañeda J, Cisternas P (2021) Temporal evolution in social vulnerability to natural hazards in Chile. Nat Hazards. https://doi.org/10.1007/s11069-021-04657-1

Bündnis Entwicklung Hilft (2019) World risk report 2019: focus water supply. Bündnis Entwicklung Hilft and institute for international law of peace and armed conflict (IFHV)

Campos F (2010) Febrero y marzo hacen lo que quieren. Posibles réplicas para la planificación territorial del evento sísmico de concepción 27 de febrero de 2010 INVI. 25(68): 69–76

Camus P, Arenas F, Lagos M, Romero A (2016) Visión histórica de la respuesta a las amenazas naturales en Chile y oportunidades de gestión del riesgo de desastre. Rev De Geogr Norte Gd 64:9–20

Chamorro A, Echaveguren T, Allen E, Contreras M, Dagá J, de Solminihac H, Lara LE (2020) Sustainable risk management of rural road networks exposed to natural hazards: application to volcanic lahars in Chile. Sustainability. https://doi.org/10.3390/su12176774

Contreras D, Chamorro A, Wilkinson S (2020) The spatial dimension in the assessment of urban socio-economic vulnerability related to geohazards. Nat Hazards Earth Syst Sci J 20:1–43. https://doi.org/10.5194/nhess-20-1663-2020

Corporación Nacional de Fomento (2013) Geografía Económica de Chile, Tomo I (Sagredo R (ed); 1a. ed.195). Cámara chilena de la construcción, Pontificia Universidad Católica de Chile, Dirección de Bibliotecas Archivos y Museos

Cutter SL (1996) Vulnerability to environmental hazards. Prog Hum Geogr 20(4):529–539. https://doi.org/10.1177/030913259602000407

Cutter SL, Boruff BJ, Shirley W (2003) Social Vulnerability to Environmental Hazards. Soc Sci Q 84(2):242–261

Cutter SL, Emrich CT, Morath DP, Dunning CM (2013) Integrating social vulnerability into federal flood risk management planning. J Flood Risk Manag 6:332–344. https://doi.org/10.1111/jfr3.12018

Cutter SL, Ash KD, Emrich CT (2014) The geographies of community disaster resilience. Glob Environ Chang 29:65–77. https://doi.org/10.1016/j.gloenvcha.2014.08.005

Cutter SL, Finch C (2008) Temporal and spatial changes in social vulnerability to natural hazards. Proceedings of the national academy of sciences of the United States of America, 105(7): 2301–2306. http://www.jstor.org.pucdechile.idm.oclc.org/stable/25451461

Darrah SE, Shennan-Farpón Y, Loh J, Davidson NC, Finlayson CM, Gardner RC, Walpole MJ (2019) Improvements to the wetland extent trends (WET) index as a tool for monitoring natural and human-made wetlands. Ecol Ind 99:294–298. https://doi.org/10.1016/j.ecolind.2018.12.032

Donoso G, Calderón C, Silva M (2015) Informe final de evaluación infraestructura hidráulica de agua potable rural (APR). https://www.dipres.gob.cl/597/articles-141243_informe_final.pdf

Fatemi F, Ardalan A, Aguirre B, Mansouri N, Mohammadfam I (2017) Social vulnerability indicators in disasters: findings from a systematic review. Int J Disaster Risk Reduct 22:219–227. https://doi.org/10.1016/j.ijdrr.2016.09.006

Fekete A, Damm M, Birkmann J (2010) Scales as a challenge for vulnerability assessment. Nat Hazards 55(3):729–747. https://doi.org/10.1007/s11069-009-9445-5

Fekete A, Asadzadeh A, Contreras D, Hamhaber J, Sandholz S, Sett D (2022) Urban and rural interdependencies: infrastructure services. In: McGee T (Ed), Handbook of environmental hazards and society, pp 213–228

Frigerio I, De Amicis M (2016) Mapping social vulnerability to natural hazards in Italy: a suitable tool for risk mitigation strategies. Environ Sci Policy 63:187–196. https://doi.org/10.1016/J.ENVSCI.2016.06.001

Frigerio I, Ventura S, Strigaro D, Mattavelli M, Amicis MD, Mugnano S, Boffi M (2016) A GIS-based approach to identify the spatial variability of social vulnerability to seismic hazard in Italy. Appl Geogr 74:12–22. https://doi.org/10.1016/j.apgeog.2016.06.014

Guillard-Gonçalves C, Cutter SL, Emrich CT, Zêzere JL (2014) Application of social vulnerability index (SoVI) and delineation of natural risk zones in Greater Lisbon, Portugal. J Risk Res. https://doi.org/10.1080/13669877.2014.910689

Hidalgo R, Arenas F (2009) Del país urbano al país metropolitano. Transformaciones recientes en las ciudades chilenas. In: Hidalgo R, Carlos DM, Arenas F (eds), Chile: del país urbano al país metropolitano. (GeoLibros). Pontificia Universidad Católica de Chile. https://institutoclaret.cl/wp-content/uploads/2020/05/CUARTO-A-B_Material-Historia-PD1.pdf

Hidalgo R, Zunino HM (2011) La urbanización de las áreas periféricas en santiago y valparaíso: el papel de las relaciones de poder en el dibujo de la geografía socioresidencial. EURE 37:79–105. https://doi.org/10.4067/S0250-71612011000200004

Instuto Nacional de Estadísticas (INE) (2018) Síntesis resultados censo 2017. http://www.censo2017.cl/descargas/home/sintesis-de-resultados-censo2017.pdf

Kappes MS, Keiler M, von Elverfeldt K, Glade T (2012) Challenges of analyzing multi-hazard risk: a review. Nat Hazards 64(2):1925–1958. https://doi.org/10.1007/s11069-012-0294-2

Khan S (2012) Vulnerability assessments and their planning implications: a case study of the Hutt valley New Zealand. Nat Hazards 64(2):1587–1607

Koks EE, Jongman B, Husby TG, Botzen WJW (2015) Combining hazard, exposure and social vulnerability to provide lessons for flood risk management. Environ Sci Policy 47:42–52. https://doi.org/10.1016/j.envsci.2014.10.013

Lavell A, Maskrey A (2014) The future of disaster risk management. Environ Hazards 13(4):267–280. https://doi.org/10.1080/17477891.2014.935282

Lee Y-J (2014) Social vulnerability indicators as a sustainable planning tool. Environ Impact Assess Rev 44:31–42. https://doi.org/10.1016/j.eiar.2013.08.002

Loyola BM, Cutter SL, Emrich CT (2016) Social vulnerability to natural hazards in Brazil. Int J Disaster Risk Sci 7(2):111–122. https://doi.org/10.1007/s13753-016-0090-9

Mansilla P, Fuenzalida M (2010) Procesos de desarrollo urbano regional y exclusión territorial: nuevas formas de urbanización en el área metropolitana de valparaíso. Estudio de caso ciudad de curauma. Rev INVI 25:103–123. https://doi.org/10.4067/S0718-83582010000200003

Martínez C (2014) Factores de vulnerabilidad y reconstrucción posterremoto en tres localidades costeras chilenas: ¿generación de nuevas áreas de riesgo? Bull De L'inst Fr D'études and 43(3):529–558. https://doi.org/10.4000/bifea.5956

Martínez C, Aránguiz R (2016) Riesgo de tsunami y planificación resiliente de la costa chilena: la localidad de Boca Sur, San Pedro de la paz (37° S). Rev De Geog Norte Gd. https://doi.org/10.4067/S0718-34022016000200004

Martínez C, Rojas O, Aránguiz R, Belmonte A, Altamirano Á, Flores P (2012) Riesgo de tsunami en caleta Tubul, región del biobío: escenarios extremos y transformaciones territoriales posterremoto. Rev De Geogr Norte Gd. https://doi.org/10.4067/S0718-34022012000300006

Martínez C, Rojas O, Villagra P, Aránguiz R, Sáez-Carrillo K (2017) Risk factors and perceived restoration in a town destroyed by the 2010 Chile tsunami. Nat Hazard 17(5):721–734. https://doi.org/10.5194/nhess-17-721-2017

Martínez C, Cienfuegos R, Inzunza S, Urrutia A, Guerrero N (2020) Worst-case tsunami scenario in Cartagena bay, central Chile: challenges for coastal risk management. Ocean Coast Manag 185:105060. https://doi.org/10.1016/j.ocecoaman.2019.105060

Martínez C, Vicuña M, Guerrero N, Orellana V (2019) Natural risks in Chile: history, approaches and future challenges. In: Alaniz A (ed), Chile: environmental history, perspectives and challenges. https://novapublishers.com/shop/chile-environmental-history-perspectives-and-challenges/

Mcentire DA (2005) Why vulnerability matters. Disaster Prev Manag: Int J 14(2):206–222. https://doi.org/10.1108/09653560510595209

Menoni M, ParkerTapsell B (2012) Assessing multifaceted vulnerability and resilience in order to design risk-mitigation strategies. Nat Hazards 64:2057–2082. https://doi.org/10.1007/s11069-012-0134-4

Ministerio del Medio Ambiente (2018) Cuarto reporte del estado del medio ambiente. 978–956–7204–74–8

Molinos-Senante M, Muñoz S, Chamorro A (2019) Assessing the quality of service for drinking water supplies in rural settings: a synthetic index approach. J Environ Manag 247:613–623. https://doi.org/10.1016/j.jenvman.2019.06.112

Palermo D, Nistor I, Saatcioglu M, Ghobarah A (2013) Impact and damage to structures during the 27 February 2010 Chile tsunami. Can J Civ Eng 40(8):750–758

Pelling M (2003) The vulnerability of cities: natural disasters and social resilience. Earthscan

Rahman S, Kausel T (2013) Coastal community resilience to tsunami: a study on planning capacity and social capacity, Dichato, Chile. IOSR J Humanit Soc Sci 12(6):55–63

Rofi A, Doocy S, Robinson C (2006) Tsunami mortality and displacement in Aceh province Indonesia. Disasters 30(3):340. https://doi.org/10.1111/j.0361-3666.2005.00324.x

Rojas O, Sáez K, Martínez C, Jaque E (2014) Efectos socioambientales post-catástrofe en localidades costeras vulnerables afectadas por el tsunami del 27/02/2010 en Chile. Interciencia 39(6):383–390

Rojas C, De la Barrera F, Aránguiz T, Munizaga J, Pino J (2017) Efectos de la urbanización sobre la conectividad ecológica de paisajes metropolitanos. Rev Univ De Geogr 26:155–182

Romero H (2014) Vulnerabilidad, resiliencia y ordenamiento territorial de los desastres socionaturales en Chile. Poliígonos 26:87–110

Ruan X, Hogben P (2007) Topophilia and topophobia: reflections on twentieth century human habitats. Routledge

Salinas E, Pérez L (2011) Procesos urbanos recientes en el área metropolitana de concepción: transformaciones morfológicas y tipologías de ocupación. Rev De Geogr Norte Gd. https://doi.org/10.4067/S0718-34022011000200006

Schmidtlein MC, Deutsch RC, Piegorsch WW, Cutter SL (2008) A sensitivity analysis of the social vulnerability index. Risk Anal 28(4):1099–1114. https://doi.org/10.1111/j.1539-6924.2008.01072.x

Tate E (2012) Social vulnerability indices: a comparative assessment using uncertainty and sensitivity analysis. Nat Hazards 63(2):325–347. https://doi.org/10.1007/s11069-012-0152-2

Tate E, Cutter SL, Berry M (2010) Integrated multihazard mapping. Environ Plann B Plann Des 37(4):646–663. https://doi.org/10.1068/b35157

UNDRR, United Nations Office for Disaster Risk Reduction (2022) Global assessment report on disaster risk reduction 2022: Our world at risk: transforming governance for a resilient future. Geneva. https://www.undrr.org/media/79595/download

UNISDR, United Nations International Strategy for Disaster Reduction (2015) Global Assessment report on disaster risk reduction. Geneva, Switzerland: United Nations office for disaster risk reduction (UNISDR)

United Nations (2007) World economic and social survey 2007: development in an ageing world. https://www.un.org/en/development/desa/policy/wess/wess_archive/2007wess.pdf

Superintendencia de Valores y Seguros de Chile (SVS) (2012) Terremoto 2010: Análisis e impacto del 27-F en el mercado asegurador. https://www.svs.cl/portal/publicaciones/610/articles-15031_doc_pdf.pdf

Villalobos P (2017) Envejecimiento y cuidados a largo plazo en Chile: desafíos en el contexto de la OCDE. Rev Panam de Salud Pública. https://doi.org/10.26633/RPSP.2017.86

Wallemacq P, Below R, McLean D (2018) Economic losses, poverty and disasters (1998–2017). https://www.undrr.org/publication/economic-losses-poverty-disasters-1998-2017

WHO-UNICEF (2017) Progress on drinking water, sanitation and hygiene: 2017 update and SDG baselines. https://www.unicef.org/publications/files/%0AProgress_on_Drinking_Water_Sanitation_and_Hygiene_2017.pdf

Zhou Y, Li N, Wu W, Wu J, Shi P (2014) Local spatial and temporal factors influencing population and societal vulnerability to natural disasters. Risk Anal: off Publ Soc Risk Anal 34(4):614. https://doi.org/10.1111/risa.12193
Funding
This work was supported by the National Agency for Research and Development of Chile (ANID) through the following programs: Research Center for Integrated Disaster Risk Management (CIGIDEN) FONDAP [grant numbers ANID/FONDAP/1522A0005]; FONDEF [grant number ANID/FONDEF/ID14I20309]; and FONDECYT [grant numbers ANID/FONDECYT/1181754].
Ethics declarations
Conflict of interest
The authors have no competing interests to declare that are relevant to the content of this article.
Additional information
Publisher's Note
Springer Nature remains neutral with regard to jurisdictional claims in published maps and institutional affiliations.
Rights and permissions
Springer Nature or its licensor (e.g. a society or other partner) holds exclusive rights to this article under a publishing agreement with the author(s) or other rightsholder(s); author self-archiving of the accepted manuscript version of this article is solely governed by the terms of such publishing agreement and applicable law.
About this article
Cite this article
Guerrero, N., Contreras, M., Chamorro, A. et al. Social vulnerability in Chile: challenges for multi-scale analysis and disaster risk reduction. Nat Hazards 117, 3067–3102 (2023). https://doi.org/10.1007/s11069-023-05978-z
Received:

Accepted:

Published:

Issue Date:

DOI: https://doi.org/10.1007/s11069-023-05978-z
Keywords