Abstract
In March 2018, a large fissure closely parallel to the eastern rift belt of the East African Rift (EAR) system in Kenya emerged across the highway near Mai Mahiu town. It raises the possibility of rift tectonics aided by subsurface erosion. A thorough investigation was made based on remote sensing-based lineament analysis, land surface deformation by spaceborne geodetic techniques, and rainfall pattern vs denudational processes in the affected area in relation to local geology to adjudge the cause of the aseismic fissure. By conventional and advanced differential interferometric SAR (DInSAR and ADInSAR) and GNSS data analyses aided by the knowledge of generalised rift direction obtained from remote-sensing based lineament analysis, we inferred miniature dike intrusion and reactivation of pre-existing fault in a transiently elevated extensional regime. Episodic magmatic inflation in the Mt Longonot volcano and sudden increase in hydrological loading due to prolonged torrential rainfall led to the elevated extension and fracturing of the magma chamber, which prompted to miniature dyke intrusion along the pre-existing NNW-SSE fault, reactivation of faults and fractures and subtle rifting on SW dipping normal fault. Further, internal erosion in porous and permeable sandy soil and volcaniclastic deposits led to cavity formation along the reactivated weak plane, which finally led to the emergence of the ground fissure. In this paper, we presented our observations on volcano movements (due to magmatic inflation), reactivation of the pre-existing fault(s)/fracture(s) and, finally, their linkage with the formation of the surface fissure in an area with favourable geomorphology, rock and soil properties for internal erosion during heavy torrential rainfall.
This is a preview of subscription content,
to check access.
Access this article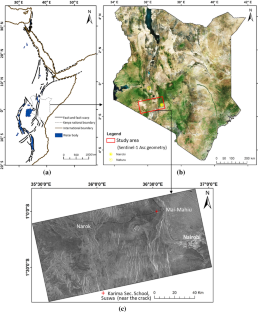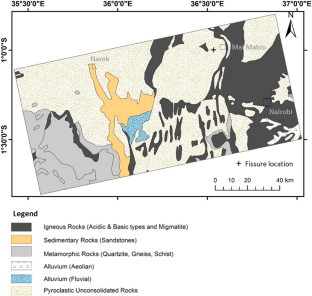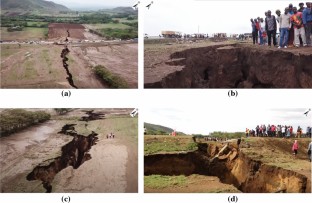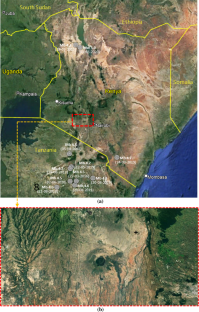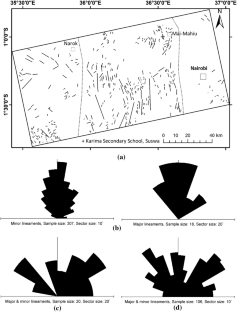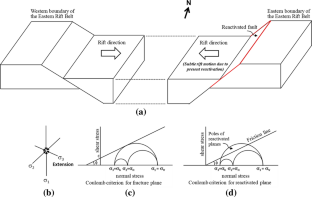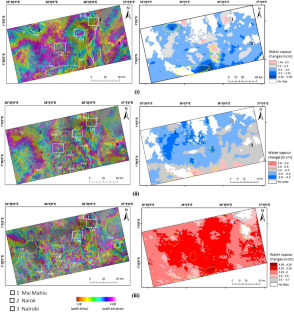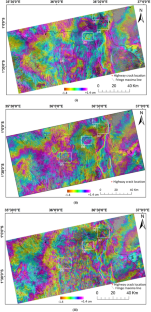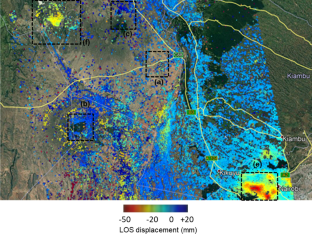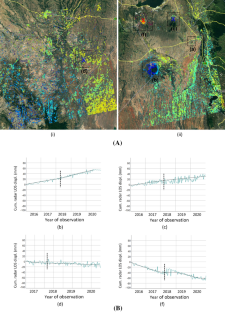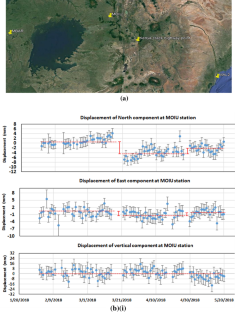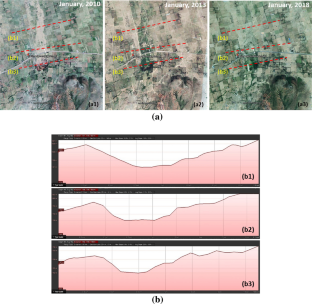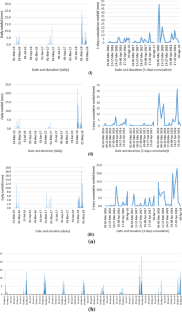 References
Albino F, Biggs J (2021) Processed InSAR images over the volcanoes of the East African Rift. British Geological Survey. https://doi.org/10.5285/e7c3177b-4c73-4c20-961f-03afd09ccf69. https://www2.bgs.ac.uk/nationalgeosciencedatacentre/citedData/catalogue/e7c3177b-4c73-4c20-961f-03afd09ccf69.html

Ayalew L, Yamagishi H, Ugawa N (2004) Landslide susceptibility mapping using GIS-based weighted linear combination, the case in Tsugawa area of Agano River, Niigata Prefecture, Japan. Landslides 1:73–81. https://doi.org/10.1007/s10346-003-0006-9

Baer G, Hamiel Y, Shamir G, Nof R (2008) Evolution of a magma-driven earthquake swarm and triggering of the nearby Oldoinyo Lengai eruption, as resolved by InSAR, ground observations and elastic modeling, East African Rift, 2007. Earth Planet Sci Lett 272:339–352. https://doi.org/10.1016/j.epsl.2008.04.052

Biggs J, Anthony EY, Ebinger CJ (2009) Multiple inflation and deflation events at Kenyan volcanoes. East Afr Rift Geol 37(11):979–982

Biggs J, Bastow I, Keir D, Lewi E (2011) Pulses of deformation reveal frequently recurring shallow magmatic activity beneath the main Ethiopian Rift. Geochem Geophys Geosyst. https://doi.org/10.1029/2011GC003662

Biggs J, Chivers M, Hutchinson MC (2013) Surface deformation and stress interactions during the 2007–2010 sequence of earthquake, dyke intrusion and eruption in northern Tanzania. Geophys J Int 195(1):16–26

Chorowicz J (2005) The East African rift system. J Afr Earth Sc 43(1–3):379–410

Crosetto M, Monserrat O, Cuevas-González M, Devanthéry N, Crippa B (2016) Persistent scatterer interferometry: a review. ISPRS J Photogramm Remote Sens 115:78–89

Drury S (1994) Image interpretation in geology (3rd Ed.), Blackwell Science, Malden, p 321

Ferretti A, Prati C, Rocca F (2001) Permanent scatterers in SAR interferometry. IEEE Trans Geosci Remote Sens 39(1):8–20

Ferretti A, Monti-Guarnieri A, Prati C, Rocca F, Massonnet D (2007) InSAR Principles: Guidelines for SAR interferometry processing and interpretation. In: Fletcher K (ed), ESA Publications, TM-19, ESA: The Netherlands

Foster S, Tuinhof A (2006) The role of groundwater in the water-supply of Greater Nairobi, Kenya. Kenya Ministry of Water and Irrigation, Nairobi, Kenya

Foster AN, Jackson JA (1998) Source parameters of large African earthquakes:implications for crustal rheology and regional kinematics. Geophys J Int 134(2):422–448

Herring T, King R, Mcclusky S (2008) Introduction to GAMIT/GLOBK, Release 10.3, 36p. (https://www.researchgate.net/publication/239532748_Introduction_to_GAMIT)

Hooper A, Zebker H, Segall P, Kampes B (2004) A new method for measuring deformation on volcanoes and other natural terrains using InSAR persistent scatterers. Geophys Res Lett 31(23):1–5

Kampes BM, Hanssen RF (2004) Ambiguity resolution for permanent scatterer interferometry. IEEE Trans Geosci Remote Sens 42(11):2446–2453

Kim J, Kim DJ, Kim SW, Won JS, Moon WM (2007) Monitoring of urban land surface subsidence using PSInSAR. Geosci J 11(1):59–73

Mwangi M (2007). Geothermal development in protected areas: Kenyan experience. Geothermal training programme on "Geothermal Development in Central America - Resource Assessment and Environmental Management, United Nations University and LaGeo, San Salvador, El Salvador (25 November – 1 December, 2012). Geothermal Development in Central America – Resource Assessment and Environmental Management, organised by UNU-GTP and LaGeo, in San Salvador, El Salvador, 25 November.

Mwangi-Gachau E (2012). Expansion of geothermal development in environmentally significant areas: The case of Olkaria geothermal Project in Hell's Gate National Park, Kenya. Report, Olkaria Geothermal Project, Kenya Electricity Generating Company Limited (KenGen). (https://www.geothermal-energy.org/pdf/IGAstandard/ARGeo/2012/Mwangi-Gachau.pdf)

Oiro S, Comte JC, Soulsby C, MacDonald A, Canute M (2020) Depletion of groundwater resources under rapid urbanisation in Africa: recent and future trends in the Nairobi Aquifer system. Kenya, Hydrogeology Journal,. https://doi.org/10.1007/s10040-020-02236-5

Perissin D, Wang T (2012) Repeat-Pass SAR Interferometry with partially coherent targets. IEEE Trans Geosci Remote Sens 50(1):271–280

Sabins FF (1996) Remote sensing: principles and interpretations, 3rd edn. W. H. Freeman, US

Saemundsson K (2010). East African Rift System - an overview, Presented at Short Course V on Exploration for Geothermal Resources, organised by UNU-GTP, GDC and KenGen, at Lake Bogoria and Lake Naivasha, Kenya, Oct. 29-Nov. 19, 2010 (https://orkustofnun.is/gogn/unu-gtp-sc/UNU-GTP-SC-11-18.pdf)

Sahadevan DK, Pandey AK, Malik K, Maisnam D (2019) Chasm at East African Suswa Rift: possible explanations. J Indian Soc Remote Sens 47:1773–1780. https://doi.org/10.1007/s12524-019-01016-3

Saria E, Calais E, Stamps DS, Delvaux D, Hartnady CJH (2014) Present-day kinematics of the East African Rift. J Geophys Res Solid Earth 119(4):3584–3600

Seemann S W, Borbas E E, Li J, Menzel W P, Gumley L E (2006). MODIS atmospheric profile retrieval algorithm theoretical basis document. ATBD-MOD-07, NASA Goddard Space Flight Center: Greenbelt, MD

Sobrino JA, Jiménez-Muñoz JC, Mattar C, Sòria G (2014) Evaluation of Terra/MODIS atmospheric profiles product (MOD07) over the Iberian Peninsula: a comparison with radiosonde stations. Int J Digit Earth 8(10):771–783

Stamps DS, Calais E, Saria E, Hartnady C, Nocquet J-M, Ebinger CJ, Fernandes RM (2008) A kinematic model for the East African Rift. Geophys Res Lett 35:L05304. https://doi.org/10.1029/2007GL032781

Survey of Kenya (1962). National Atlas of Kenya: geological map, chief geologist mines and geological department, Survey of Kenya, Nairobi

Valenta J, Verner K, Martínek K, Hroch T, Buriánek D, Megerssa LA, Boháč J, Kassa M, Legesse F, Yakob M, Kebede B, Málek J (2021) Ground fissures within the Ethiopian main rift: tectonic, lithological and piping controls. Earth Surf Proc Land 46:3158–3174. https://doi.org/10.1002/esp.5227

Vasconcelos A, Martín Serrano MA, Sánchez J, Kuijper D, Marc X (2015) Sentinel-1 reference orbit acquisition manoeuvre campaign. In: Proceedings 25th international symposium on space flight dynamics–25th ISSFD, October 2015, Munich, Germany 2015

Werner C, Wegmuller U, Strozzi T, Wiesmann A (2003) Interferometric point target analysis for deformation mapping. IEEE International Geoscience and Remote Sensing Symposium. Proceedings (IEEE Cat. No.03CH37477). https://doi.org/10.1109/igarss.2003.1295516

Xiong X, Eplee Jr, RE, Sun J, Patt F S, Angal A, McClain C R (2009). Characterisation of MODIS and SeaWiFS solar diffuser on-orbit degradation. In: Butler JJ, Xiong X, Gu X (ed) SPIE Proceedings, Earth Observing Systems XIV, 7452

Yeats R (2015) Earthquake time bombs, 1st edn. Cambridge University Press, USA
Acknowledgements
We acknowledge institutional support of Indian Institute of Remote Sensing (Indian Space Research Organisation) for providing working facility for this research. The authors acknowledge Mr. Amit Kumar Shrivastava, Scientific Assistant, Geosciences Department, Indian Institute of Remote Sensing, for his help and support in satellite data downloading and map preparation.
Funding
No fund was available for this study except for laboratory support from the host institution for carrying out the research.
Ethics declarations
Conflict of interest
The authors declare that they have no competing financial interests or personal relationships that could have appeared to influence the work reported in this paper.
Ethical approval
On behalf of all the authors, the corresponding author certifies that the authors have no affiliation with or involvement in any organisation or entity with any financial interest or non-financial interest in the subject matter or materials discussed in this manuscript.
Additional information
Publisher's Note
Springer Nature remains neutral with regard to jurisdictional claims in published maps and institutional affiliations.
Supplementary Information
Below is the link to the electronic supplementary material.
Rights and permissions
Springer Nature or its licensor holds exclusive rights to this article under a publishing agreement with the author(s) or other rightsholder(s); author self-archiving of the accepted manuscript version of this article is solely governed by the terms of such publishing agreement and applicable law.
About this article
Cite this article
Chatterjee, R.S., Kumar, K., Pranjal, P. et al. Magmatic inflation, miniature dyke intrusion and prolonged torrential rainfall led to the emergence of the 2018 aseismic fissure in Kenya. Nat Hazards 115, 565–591 (2023). https://doi.org/10.1007/s11069-022-05566-7
Received:

Accepted:

Published:

Issue Date:

DOI: https://doi.org/10.1007/s11069-022-05566-7
Keywords