Abstract
Natural and anthropogenic hazards are increasingly becoming commonplace due to climate change and population pressures. The state of Texas is particularly vulnerable to these hazards and is ranked first in the USA due to the immense variety and frequency of large-scale events. While much research has looked at the immediate impacts these incidents have on mental health, little research has addressed the effects of compounding and repeated exposure to hazards. This cross-sectional study (N = 1224) collected survey data from a representative sample within the Houston Metropolitan Statistical Area. Utilizing the 12 item Short Form Health Survey version 2, a general composite score assessing mental health was compared against the type and frequency of hazard exposures. Findings revealed an observed reduction in mental health scores as participants had repeated exposures to major disasters. Further, the only significant result (p < 0.001) in dictating a reduced mental health scores was repeat exposure to hazards even after adjusting for demographic data and socioeconomic variables. This research reveals the long-term mental impact hazard exposures can have and underscores the need for target public health interventions and engaged community efforts.
Access options
Buy single article
Instant access to the full article PDF.
USD 39.95
Price excludes VAT (USA)
Tax calculation will be finalised during checkout.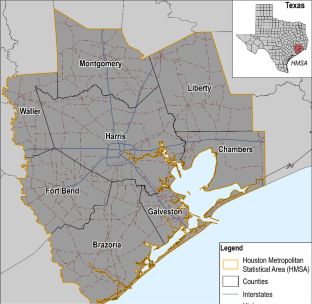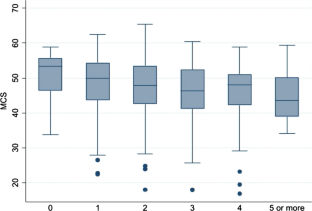 Availability of data and materials
Data will be made available for any reasonable request.
References
Adams V, Van Hattum T, English D (2009) Chronic disaster syndrome: displacement, disaster capitalism, and the eviction of the poor from New Orleans. Am Ethnol 36(4):615–636

Burkle FM Jr (1996) Acute-phase mental health consequences of disasters: implications for triage and emergency medical services. Ann Emerg Med 28(2):119–128

(CDC), C. f. D. C. a. P (n.d.) Caring for children in a disaster. Retrieved from https://www.cdc.gov/childrenindisasters/features/disasters-mental-health.html

Centers for Disease Control and Prevention, C (2004) Rapid assessment of the needs and health status of adults after Hurricane Charley—Charlotte, Desoto, and Hardee Counties, Florida, August 27–31, 2004. Retrieved from https://www.cdc.gov/mmwr/preview/mmwrhtml/mm5336a2.htm#tab

FEMA (n.d.) Declared disasters: FEMA.gov. Retrieved from https://www.fema.gov/disasters/disaster-declarations

Galea S, Nandi A, Vlahov D (2005) The epidemiology of post-traumatic stress disorder after disasters. Epidemiol Rev 27(1):78–91

Goldmann E, Galea S (2014) Mental health consequences of disasters. Annu Rev Public Health 35:169–183

Grant B, Stinson F, Hasin D, Dawson D, Chou P, Anderson K (2004) Immigration and lifetime prevalence of DSM-IV psychiatric disorders among Mexican Americans and non-Hispanic whites in the United States results from the National Epidemiologic Survey on alcohol and related conditions. Arch Gen Psychiatry 1226(12):1233. https://doi.org/10.1001/archpsyc.61.12.1226

Jia Z, Tian W, Liu W, Cao Y, Yan J, Shun Z (2010) Are the elderly more vulnerable to psychological impact of natural disaster? A population-based survey of adult survivors of the 2008 Sichuan earthquake. BMC Public Health 10(1):172

Karamustafalioglu OK, Zohar J, Güveli M, Gal G, Bakim B, Fostick L, Karamustafalioglu N, Sasson Y (2006) Natural course of posttraumatic stress disorder: a 20-month prospective study of Turkish earthquake survivors. J Clin Psychiatry. https://doi.org/10.4088/JCP.v67n0604

Karsten J, Hartman CA, Smit JH, Zitman FG, Beekman AT, Cuijpers P, van der Does AJW, Ormel J, Nolen WA, Penninx BW (2011) Psychiatric history and subthreshold symptoms as predictors of the occurrence of depressive or anxiety disorder within 2 years. Br J Psychiatry 198(3):206–212

Kessler RC, Sonnega A, Bromet E, Hughes M, Nelson CB (1995) Posttraumatic stress disorder in the National Comorbidity Survey. Arch Gen Psychiatry 52(12):1048–1060

Larson CO (2002) Use of the SF-12 instrument for measuring the health of homeless persons. Health Serv Res 37(3):733–750

Maclean JC, Popovici I, French MT (2016) Are natural disasters in early childhood associated with mental health and substance use disorders as an adult? Soc Sci Med 151:78–91

Makwana N (2019) Disaster and its impact on mental health: a narrative review. J Fam Med Primary Care 8(10):3090

Maltz M (2019) Caught in the eye of the storm: the disproportionate impact of natural disasters on the elderly population in the United States. Elder LJ 27:157

Math SB, Nirmala MC, Moirangthem S, Kumar NC (2015) Disaster management: mental health perspective. Indian J Psychol Med 37(3):261

McFarlane AC, Williams R (2012) Mental health services required after disasters: learning from the lasting effects of disasters. Depression Res Treat. https://doi.org/10.1155/2012/970194

McLaughlin KA, Berglund P, Gruber MJ, Kessler RC, Sampson NA, Zaslavsky AM (2011) Recovery from PTSD following hurricane Katrina. Depress Anxiety 28(6):439–446

(NASA), N. A. a. S. A (2017) Natural and manmade hazards in the State of Texas. Retrieved from: https://nisar.jpl.nasa.gov/files/nisar/NISAR_Applications_Hazards_Texas.pdf

Neria Y, Nandi A, Galea S (2008) Post-traumatic stress disorder following disasters: a systematic review. Psychol Med 38(4):467–480

O'donnell ML, Forbes D (2016) Natural disaster, older adults, and mental health—a dangerous combination. Int Psychogeriatr 28(1):9–10

Oiamo TH, Luginaah IN, Baxter J (2015) Cumulative effects of noise and odour annoyances on environmental and health related quality of life. Soc Sci Med 146:191–203

Peek L, Abramson DM, Cox RS, Fothergill A, Tobin J (2018) Children and disasters. In: Handbook of disaster research. Springer, Cham, pp 243–262

Salyers MP, Bosworth HB, Swanson JW, Lamb-Pagone J, Osher FC (2000) Reliability and validity of the SF-12 health survey among people with severe mental illness. Med Care 38:1141–1150

Sansom G, Parra J, Nieto Y, Arellano Y, Berke P, McDonald T, Shipp E, Horney J (2017) The impacts of exposure to environmental risk on physical and mental health in a small geographic community in Houston, TX. J Community Health. https://doi.org/10.1007/s10900-017-0322-y

Sansom G, Kirsch K, Horney J (2020) Using the 12-item Short Form Health Survey (SF-12) to assess self rated health of an engaged population impacted by Hurricane Harvey, Houston, TX. BMC Public Health (springer Nature) 20:257. https://doi.org/10.1186/s12889-020-8349-

Tarlov A, Ware J, Greenfield S, Nelson E, Perrin E, Zubkoff M (1989) The medical outcomes study an application of methods for monitoring the results of medical care. AMA 262(7):925–930

Tierney KJ (2000) Controversy and consensus in disaster mental health research. Prehosp Disaster Med 15(4):55–61

Tol WA, Van Ommeren M (2012) Evidence-based mental health and psychosocial support in humanitarian settings: gaps and opportunities. Royal College of Psychiatrists

Tyhurst J (1951) Individual reactions to community disaster: the natural history of psychiatric phenomena. Am J Psychiatry 107(10):764–769

U.S. Census Bureau (2019) Quick facts: Houston city, TX. Retrieved from https://www.census.gov/quickfacts/houstoncitytexas

USCG National Response Center (NRC) (n.d.) CY 2020 report. Retrieved from https://nrc.uscg.mil/Default.aspx

Ware JE, Kosinski M, Dewey JE (2000) How to score version 2 of the SF-12 health survey (standard & acute forms). Quality Metric Incorporated, Lincoln

Woodhall-Melnik J, Grogan C (2019) Perceptions of mental health and wellbeing following residential displacement and damage from the 2018 St. John River Flood. Int J Environ Res Public Health 16(21):4174

World Health Organization, W. (n.d.). Environmental Health in Emergencies. Retrieved from https://www.who.int/environmental_health_emergencies/natural_events/en/
Funding
This research was funded by the National Academies of Sciences, Engineering, and Medicine's Gulf Research Early-Career Fellowship Program.
Ethics declarations
Conflict of interest
The authors declare no conflict of interest.
Consent to participate
All participants provided written consent to participate.
Consent for publication
Not applicable.
Ethical approval
Ethical guidance and approval was obtained from the Texas A&M University Institutional Review Board (IRB2019-1550M).
Additional information
Publisher's Note
Springer Nature remains neutral with regard to jurisdictional claims in published maps and institutional affiliations.
About this article
Cite this article
Sansom, G.T., Thompson, C., Sansom, L. et al. Compounding impacts of hazard exposures on mental health in Houston, TX. Nat Hazards 111, 2809–2818 (2022). https://doi.org/10.1007/s11069-021-05158-x
Received:

Accepted:

Published:

Issue Date:

DOI: https://doi.org/10.1007/s11069-021-05158-x
Keywords
Mental health

SF12

Hazards

Natural disaster