Abstract
Federally funded housing buyout programs are the dominant method of government-supported retreat in the USA. Done correctly, buyouts can reduce pre-disaster vulnerability and facilitate post-disaster recovery. However, the success of buyout programs hinges on successful coordination and implementation by local administrators, who represent buyout participants, manage the buyout process at the community level, and connect them to state and federal resources. Because of this, trust between local administrators and the members of their communities is crucial for project participation and successful outcomes. While local administrators play a critical role in the buyout program, their role in building trust throughout the process has been an understudied aspect of the buyout literature. To address this gap, our paper examines the perceptions of local buyout administrators related to trust. This is done through a study of the conditions following Hurricane Matthew's landfall in North Carolina, USA, in 2016 using in-depth interviews with 18 local HMGP administrators, and an analysis of over 300 local newspaper articles to study how trust is built and lost in the buyout process. Our findings indicate that a lack of program clarity, unclear communication about the program's guidelines across all levels of governments, and extended time frames deteriorated public trust in a manner that hindered program success and diminished program results.
Access options
Buy single article
Instant access to the full article PDF.
USD 39.95
Price excludes VAT (USA)
Tax calculation will be finalised during checkout.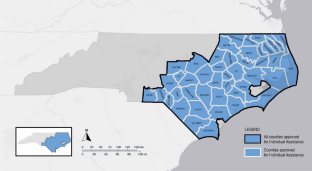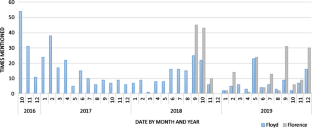 References
Adams WC (2015) Conducting semi-structured interviews. In: Newcomer KE, Hatry HP, Wholey JS (eds) Handbook of practical program evaluation, 4th edn. John Wiley & Sons Inc, Hoboken, pp 492–505

Binder SB, Greer A (2016) The devil is in the details: linking home buyout policy, practice, and experience after hurricane sandy. Politics Gov 4(4):97–106. https://doi.org/10.17645/pag.v4i4.738

Binder SB, Baker CK, Barile JP (2015) Rebuild or relocate? Resilience and postdisaster decision-making after hurricane sandy. Am J Commun Psychol 56(1–2):180–196. https://doi.org/10.1007/s10464-015-9727-x

Binder SB, Greer A, Zavar E (2020) Home buyouts: a tool for mitigation or recovery? Disaster Prev Manag Int J 29(4):497–510. https://doi.org/10.1108/DPM-09-2019-0298

Blair E (2015) A reflexive exploration of two qualitative data coding techniques. J Methods Meas Soc Sci 6(1):14–29. https://doi.org/10.2458/v6i1.18772

Cohen J (1960) A coefficient of agreement for nominal scales. Educ Psychol Meas 20:37–46

Corbin J, Strauss A (1990) Grounded theory research: procedures, canons, and evaluation criteria. Qual Sociol 13(1):3–21

de Vries DH, Fraser J (2007) Internal migration through buyouts after natural disasters: Hurricane Floyd in Eastern North Carolina (1999). In: Population association of america 2007 annual meeting. https://doi.org/10.13140/RG.2.1.2805.6565.

de Vries DH, Fraser JC (2012) Citizenship rights and voluntary decision making in post-disaster U.S. floodplain buyout mitigation programs. Int J Mass Emerg Disasters 30(1):1–33

DeJonckheere M, Vaughn LM (2019) Semistructured Interviewing in primary care research: a balance of relationship and rigour. Fam Med Commun Health 7(2):1–8. https://doi.org/10.1136/fmch-2018-000057

Department of Commerce (2017) State of North Carolina CDBG-DR Action Plan. North Carolina Emergency Management. https://files.nc.gov/rebuildnc/documents/matthew/hurricane_matthew_nc_cdbg_dr_actionpaln_final.pdf.

FEMA (2000) FEMA, North Carolina Approve More Than 1,000 Buyouts. Federal Emergency Management Agency. 2000. https://www.fema.gov/news-release/2000/04/19/fema-north-carolina-approve-more-1000-buyouts

FEMA (2016) Designated Areas: Disaster 4285. Federal Emergency Management Agency. 2016. https://www.fema.gov/disaster/4285/designated-areas

Fielding NG (2012) Triangulation and mixed methods designs: data integration with new research technologies. J Mixed Methods Res 6(2):124–136. https://doi.org/10.1177/1558689812437101

Flick U (2009) An intoduction to qualitative research, 4th edn. SAGE Publications Ltd., New York

Fraser J, Elmore R, Godschalk D, Rohe W (2003) Implementing floodplain land acquisition programs in urban localities. The Center for Urban & Regional Studies, University of North Carolina at Chapel Hill FEMA

Friedman B, Wenger D (1986) Local and national media coverage of disaster. J Mass Emerg Disasters 4(3):27–50

Glasser BG, Strauss AL (1967) The Discovery of Grounded Theory: Strategies for Qualitative Research (Reprinted 2006). Aldine Transaction, New Brunswick (USA)

Greer A, Binder SB (2017) A historical assessment of home buyout policy: are we learning or just failing? Hous Policy Debate 27(3):372–392. https://doi.org/10.1080/10511482.2016.1245209

Greer A, Trainor J, Mcneil S (2019) Re-Interpreting the empirical record. Int J Mass Emerg Disasters 37(2):197–226

Howell J, Elliott JR (2019) Damages done: the longitudinal impacts of natural hazards on wealth inequality in the United States. Soc Probl 66(3):448–467. https://doi.org/10.1093/socpro/spy016

IPCC (2018) Global warming of 1.5 °C." Inergovernmental panel on climate change. http://www.ipcc.ch/report/sr15/.

Ji H, Lee D (2021) Disaster risk reduction, community resilience, and policy effectiveness: the case of the hazard mitigation grant program in the United States. Disasters 45(2):378–402. https://doi.org/10.1111/disa.12424

Kasperson RE, Golding D, Tuler S (1992) Social distrust as a factor in siting hazardous facilities and communicating risks. J Soc Issues 48(4):161–187

Kick EL, Fraser JC, Fulkerson GM, Mckinney LA, de Vries DH (2011) Repetitive flood victims and acceptance of FEMA mitigation offers: an analysis with community-system policy implications. Disasters 35(3):510–539. https://doi.org/10.1111/j.1467-7717.2011.01226.x

Kihslinger R, Salvesen D, Streitwieser A, Lerner M, Moraga-Lewy N, James-Kavanaugh K, Anagnost J, Chandler T, Foster C, Liu S (2017) Floodplain buyouts: an action guide for local governments on how to maximize community benefits, habitat connectivity, and resilience. http://repo.floodalliance.net/jspui/handle/44111/2484

Lynn KA (2017) Who defines 'whole': an urban political ecology of flood control and community relocation in Houston, Texas. J Political Ecol 24:951–967

Mach KJ, Kraan CM, Neil Adger W, Buhaug H, Burke M, Fearon JD, Field CB et al (2019a) Climate as a Risk factor for armed conflict. Nature. https://doi.org/10.1038/s41586-019-1300-6

Mach KJ, Kraan CM, Hino M, Siders AR, Johnston EM, Field CB (2019) "Managed retreat through voluntary buyouts of flood-prone properties. Sci Adv 5(10):1–9. https://doi.org/10.1126/sciadv.aax8995

McHugh ML (2012) Lessons in biostatistics interrater reliability : the kappa statistic. Biochem Med 22(3):276–82

North Carolina Climate Office (2019) Hurricanes: statistics. North Carolina State University. http://climate.ncsu.edu/climate/hurricanes/statistics

Ozawa CP (2018) Planning resilient communities: insights from experiences with risky technologies. Collab Resil. https://doi.org/10.7551/mitpress/8752.003.0005

Paton D (2007) Preparing for natural hazards: the role of community trust. Disaster Prev Manag Int J 16(3):370–379. https://doi.org/10.1108/09653560710758323

Perry RW, Lindell MK (1997) Principles for managing community relocation as a hazard mitigation measure. J Conting Cris Manag 5(1):49–59. https://doi.org/10.1111/1468-5973.00036

Rausch AS (2013) The regional newspaper in post-disaster coverage : trends and frames of the great east Japan disaster, 2011. Keio Commun Rev 35:35–50

Rose A, Porter K, Dash N, Bouabid J, Huyck C, Whitehead J, Shaw D et al (2007) Benefit-cost analysis of FEMA hazard mitigation grants. Nat Hazard Rev 8(4):97–111. https://doi.org/10.1061/(ASCE)1527-6988(2007)8:4(97)

Salvesen D, BenDor TK, Kamrath C, Ganser B (2018) Are floodplain buyouts a smart investment for local governments?" https://collaboratory.unc.edu/files/2018/09/Project-Report-Floodplain-Buyout.pdf

Saunders W, Smith G (2020) Spend to save: investigating the property acquisition process for risk reduction in aotearoa New Zealand. https://doi.org/10.21420/6GR9-EE44.

Siders ARR, Hino M, Mach KJ (2019) The case for strategic and managed climate retreat. Science 365(6455):761–63. https://doi.org/10.1126/science.aax8346

Sipe N, Vella K (2014) Relocating a flood-affected community: good planning or good politics? J Am Plann As 80(4):400–412. https://doi.org/10.1080/01944363.2014.976586

Slovic P (1987) Perception of risk. Adv Sci 236(4799):280–85

Slovic P (1993) Perceived risk, trust, and democracy. Risk Anal 13(6):675–682. https://doi.org/10.1142/s0219455418500049

Smith G (2014) Applying hurricane recovery lessons in the United States to climate change adaptation: Hurricanes Fran and Floyd in North Carolina, USA. In: Glavovic B, Smith G (eds) Adapting to climate change: lessons from natural hazards planning. Springer, Dordrecht, pp 1–461

Smith G, Lyles W, Berke P (2013) The role of the states in building local capacity and commitment for hazard mitigation planning. Pdf. Int J Mass Emerg Disasters 31(2):178–203

Smith G, Saunders W, Vila O, Gyawali S, Bhattarai S, Lawdley E, Smith G (2021) A comparative analysis of hazard-prone housing acquisition programs in US and New Zealand communities. J Environ Stud Sci 11(3):392–403

VERBI Software (2019) MAXQDA 2020, VERBI Software, Berlin

Stemler S (2001) An overview of content analysis. Pract Assess Res Eval. https://doi.org/10.7275/z6fm-2e34

Wachinger G, Renn O, Begg C, Kuhlicke C (2013) The risk perception paradox-implications for governance and communication of natural hazards. Risk Anal 33(6):1049–1065. https://doi.org/10.1111/j.1539-6924.2012.01942.x

Weber A, Moore R (2019) Going under: long wait times for post-flood buyouts leave homeowners underwater. https://www.nrdc.org/resources/going-under-long-wait-times-post-flood-buyouts-leave-homeowners-underwater

Wenger DE, Quarantelli EL (1989) Local mass media operations, problems and products. In: Disasters. Disaster research center i. http://udspace.udel.edu/handle/19716/1266

Williams M, Moser T (2019) The Art of coding and thematic exploration in qualitative research. Int Manag Rev 15(1):45–55

Zavar E, Hagelman III RR (2016) Land use change on U. S. floodplain buyout sites. Disaster Prev Manag 25(3):360–374. https://doi.org/10.1108/DPM-01-2016-0021
Acknowledgements
This paper is based upon work graciously supported by the North Carolina Community Foundation Disaster Relief Fund.
Additional information
Publisher's Note
Springer Nature remains neutral with regard to jurisdictional claims in published maps and institutional affiliations.
About this article
Cite this article
Schwaller, N.L., Campbell, L., Nguyen, M.T. et al. (Mis)trusting the process: how post-disaster home buyout processes can degrade public trust. Nat Hazards 111, 2681–2702 (2022). https://doi.org/10.1007/s11069-021-05153-2
Received:

Accepted:

Published:

Issue Date:

DOI: https://doi.org/10.1007/s11069-021-05153-2
Keywords
Buyouts

Hurricanes

Local governance

Recovery

Trust