Abstract
Rainfall is the key climatic variable, on which water availability, food security and livelihood depend, especially in an agrarian society like the northeast region of India. It is an ecologically sensitive zone, harbouring world's three biodiversity hotspots and the world's highest rainfall zone. Therefore, the assessment of variability and trend in the rainfall regime in this region is imperative. The present study focuses on testing the homogeneity status and prevalent trends in the long-term rainfall data at five different locations in North-East India, namely Cherrapunji, Dibrugarh, Guwahati, Kailashahar and Tulihal. The impact of rainfall variability on groundwater level was further investigated. The estimation of precipitation concentration index and standard precipitation anomaly was also carried out to investigate the intra-annual variability and drought conditions in this region. The results indicate the homogeneous nature of rainfall time series at 99% significance level at all the sites with low coefficient of variance (CV, %) at Dibrugarh in monsoon and annual rainfall series. The precipitation concentration index values show high intra-annual variability in the rainfall data. Decadal and annual standard precipitation anomaly values indicate the presence of extreme and severe drought conditions in the last two decades. The trend analysis results display the presence of significant negative trends in monsoonal and annual rainfall at Dibrugarh. During pre-monsoon season, all the sites exhibiting positive drift with only Guwahati and Tulihal have significant trends (at 90% significance level). Monthly rainfall trend analysis results revealed strong and significant (95%) negative trends during peak monsoon months of July at Dibrugarh and Guwahati and with 85% significance level at Cherrapunji (which was the world's highest rainfall zone in recent past). The impact assessment results indicate a direct association between rainfall and groundwater at lag2, i.e., the impact of any change in the rainfall amount on groundwater in a given area may be evident after two seasons. The results revealed an enhancement of 1.0 ± 0.1, 1.1 ± 0.2, 0.9 ± 0.2 mm in the groundwater level for each mm increase in the rainfall at DBR, GHY and KSH, respectively. At CHR, the relation was evident only after 10 seasons because of excessive rainfall and runoff. The results had significant bearing for the policy makers and farming community in the region for better planning of crop cultivation in order to adapt to the changing climate in this region.
Access options
Buy single article
Instant access to the full article PDF.
USD 39.95
Price includes VAT (USA)
Tax calculation will be finalised during checkout.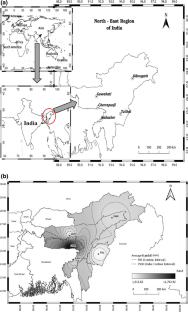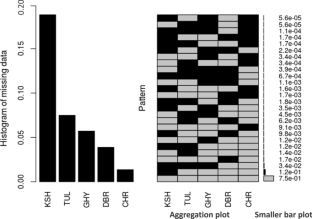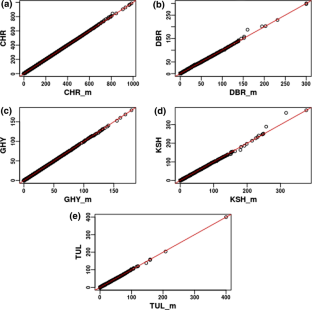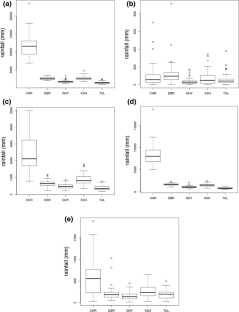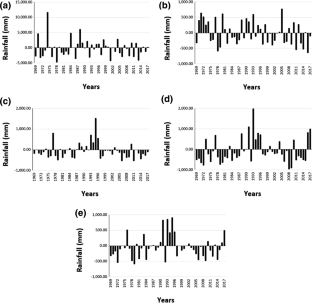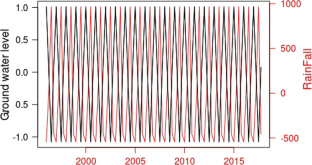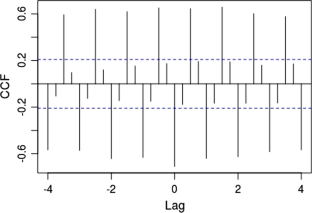 Data availability
The data used in this study were procured from India Meteorological Department (IMD), Pune, and Water Resources Information System (https://indiawris.gov.in/wris/#/groundWater). These are the public repositories maintained by the government of India.
References
Aayog N, govt. of India (2019) Composite water management index. Ministry of Jal Shakti and Ministry of Rural Development, Govt. of India. Composite Water Resources Management: Performance of States (niti.gov.in), accessed on 19 February, 2021

Ahmad NH, Deni SM (2013) Homogeneity test on daily rainfall series for Malaysia. Matematika 29:141–150

Ahmed K, Shahid S, Ismail T et al (2018) Absolute homogeneity assessment of precipitation time series in an arid region of Pakistan. Atmosfera 31:301–316

Alexandersson H (1986) A homogeneity test applied to precipitation data. J Climatol 6:661–675

Asfaw A, Simane B, Hassen A, Bantider A (2018) Variability and time series trend analysis of rainfall and temperature in northcentral Ethiopia: a case study in Woleka sub-basin. Weather Clim Extrem 19:29–41. https://doi.org/10.1016/j.wace.2017.12.002

Awan JA, Bae DH, Kim KJ (2015) Identification and trend analysis of homogeneous rainfall zones over the East Asia monsoon region. Int J Climatol 35:1422–1433. https://doi.org/10.1002/joc.4066

Bates BC, Chandler RE, Bowman AW (2012) Trend estimation and change point detection in individual climatic series using flexible regression methods. J Geophys Res 117:1–9. https://doi.org/10.1029/2011JD017077

Beaulieu C, Chen J, Sarmiento JL (2012) Change-point analysis as a tool to detect abrupt climate variations. Philos Trans R Soc A Math Phys Eng Sci 370:1228–1249. https://doi.org/10.1098/rsta.2011.0383

Bingham C, Nelson LS (1981) An approximation for the distribution of the von neumann ratio. Technometrics 23:285–288. https://doi.org/10.1080/00401706.1981.10487651

Böhm R, Auer I, Brunetti M et al (2001) Regional temperature variability in the European Alps: 1760–1998 from homogenized instrumental time series. Int J Climatol 21:1779–1801. https://doi.org/10.1002/joc.689

Buishand TA (1982) Some methods for testing the homogeneity of rainfall records. J Hydrol 58:11–27

Busuioc A, Von SH (1996) Changes in the winter precipitation in Romania and its relation to the large-scale circulation. Tellus 48:538–552

Climate Vulnerability Assessment for the Indian Himalayan Region (2018) https://dst.gov.in/sites/default/files/IHCAP_Climate Vulnerability Assessment_30Nov2018_Final_aw.pdf

Chu H, Wei J, Qiu J et al (2019) Identification of the impact of climate change and human activities on rainfall-runoff relationship variation in the Three-River Headwaters region. Ecol Indic 106:105516. https://doi.org/10.1016/j.ecolind.2019.105516

Collins M, Knutti R, Arblaster J, et al. (2013) Long-term climate change: projections, commitments and irreversibility. In: Climate Change 2013 the Physical Science Basis: Working Group I Contribution to the Fifth Assessment Report of the Intergovernmental Panel on Climate Change. pp 1029–1136

Costa AC, Soares A (2009) Homogenization of climate data: review and new perspectives using geostatistics. Math Geosci 41:291–305. https://doi.org/10.1007/s11004-008-9203-3

Craddock JM (1979) Methods of comparing annual rainfall records for climatic purposes. Weather 34:332–346. https://doi.org/10.1002/j.1477-8696.1979.tb03465.x

Das S, Tomar CS, Saha D et al (2015) Trends in rainfall patterns over North-East India during 1961–2010. Int J Earth Atmos Sci 2:37–48

Dash SK, Sharma N, Pattnayak KC et al (2012) Temperature and precipitation changes in the north-east India and their future projections. Glob Planet Change 98–99:31–44. https://doi.org/10.1016/j.gloplacha.2012.07.006

De Carvalho JRP, Almeida Monteiro JEB, Nakai AM, Assad ED (2017) Model for multiple imputation to estimate daily rainfall data and filling of faults. Rev Bras Meteorol 32:575–583. https://doi.org/10.1590/0102-7786324006

Deka RL, Mahanta C, Pathak H et al (2013) Trends and fluctuations of rainfall regime in the Brahmaputra and Barak basins of Assam, India. Theor Appl Climatol 114:61–71. https://doi.org/10.1007/s00704-012-0820-x

Deka RL, Mahanta C, Nath KK, Dutta MK (2015) Spatio-temporal variability of rainfall regime in the Brahmaputra valley of North East India. Theor Appl Climatol. https://doi.org/10.1007/s00704-015-1452-8

Dikshit KR, Dikshit JK (2014) Weather and climate of North-East India. In: North-East India: Land, People and Economy. pp 149–173

Feidas H, Noulopoulou C, Makrogiannis T, Bora-Senta E (2007) Trend analysis of precipitation time series in Greece and their relationship with circulation using surface and satellite data: 1955–2001. Theor Appl Climatol 87:155–177. https://doi.org/10.1007/s00704-006-0200-5

Gharphalia BJ, Deka RL, Islam AN et al (2018) Variability and trends of rainfall events in the Brahmaputra Valley of Assam, India. Int J Curr Microbiol Appl Sci 7:1902–1912

González-Rouco JF, Jiménez JL, Quesada V, Valero F (2001) Quality control and homogeneity of precipitation data in the southwest of Europe. J Clim 14:964–978

Ground Water Year Book- India 2017–18. http://cgwb.gov.in/Ground-Water/Groundwater%20Year%20Book%202017-18.pdf

Guerreiro SB, Kilsby CG, Serinaldi F (2014) Analysis of time variation of rainfall in transnational basins in Iberia: Abrupt changes or trends? Int J Climatol 34:114–133. https://doi.org/10.1002/joc.3669

Guhathakurta P, Rajeevan M (2008) Trends in the rainfall pattern over India. Int J Climatol 28:1453–1469. https://doi.org/10.1002/joc.1640

Harel O, Zhou X-H (2007) Multiple imputation: review of theory, implementation and software. Stat Med 26:3057–3077. https://doi.org/10.1002/sim.2787

IPCC (2007a) Climate Change 2007: Impact, adaptation and vulnerability. Contribution of working group II to the fourth assessment report of the intergovernmental panel on climate change

IPCC (2007b) Climate Change 2007: synthesis report

Jain SK, Kumar V, Saharia M (2013) Analysis of rainfall and temperature trends in northeast India. Int J Climatol 33:968–978. https://doi.org/10.1002/joc.3483

Jaiswal RK, Lohani AK, Tiwari HL (2015) Statistical analysis for change detection and trend assessment in climatological parameters. Environ Process 2:729–749. https://doi.org/10.1007/s40710-015-0105-3

Kendall MG (1975) Rank correlation methods. Charles Griffin

Kowarik A, Templ M (2016) Imputation with the R package VIM. J Stat Softw 74:1–16

Kumar V, Jain SK, Singh Y (2010) Analysis of long-term rainfall trends in India. Hydrol Sci J 55:484–496. https://doi.org/10.1080/02626667.2010.481373

Lal M (2011) Implications of climate change in sustained agricultural productivity in South Asia. Reg Environ Chang 11:79–94. https://doi.org/10.1007/s10113-010-0166-9

Little RJA, Rubin DB (2002) Statistical Analysis with Missing Data, 2nd edn

Longobardi A, Villani P (2009) Trend analysis of annual and seasonal rainfall time series in the Mediterranean area. Int J Climatol. https://doi.org/10.1002/joc.2001

Longobardi A, Villani P (2010) Trend analysis of annual and seasonal rainfall time series in the Mediterranean area. Int J Climatol 30:1538–1546. https://doi.org/10.1002/joc.2001

MacDonald AM, Bonsor HC, Ahmed KM et al (2016) Groundwater quality and depletion in the Indo-Gangetic Basin mapped from in situ observations. Nat Geosci. https://doi.org/10.1038/NGEO2791

Mahanta R, Sarma D, Choudhury A (2013) Heavy rainfall occurrences in northeast India. Int J Climatol 33:1456–1469. https://doi.org/10.1002/joc.3526

Mann HB (1945) Nonparametric tests against trend. Econometrica 13:245–259

Maragatham RS (2012) Trend analysis of rainfall data- a comparative study of existing methods. Int J Phys Math Sci 2:13–18

Mojid M, Rashid M (1994) Groundwater level fluctuation and its response to rainfall and river stage at Comilla sadar thana. Bangladesh J Agril Sci 21(2):385–392

Mojid M, Talukder MSU, Ahmed M, Alam MS (1994) Recharge and depletion characteristics of muktagacha aquifer. Bangladesh J Agril Sci 21(1):49–59

Mooley DA, Parthasarathy B (1983) Indian summer monsoon and El Nino. 121:339–352

Muluneh A, Biazin B, Stroosnijder L et al (2015) Impact of predicted changes in rainfall and atmospheric carbon dioxide on maize and wheat yields in the Central Rift Valley of Ethiopia. Reg Environ Chang 15:1105–1119. https://doi.org/10.1007/s10113-014-0685-x

Murata F, Terao T, Fujinami H et al (2017) Dominant synoptic disturbance in the extreme rainfall at Cherrapunji, Northeast India, based on 104 years of rainfall data (1902–2005). J Clim 30:8237–8251. https://doi.org/10.1175/JCLI-D-16-0435.1

Partal T, Kahya E (2006) Trend analysis in Turkish precipitation data. Hydrol Process 20:2011–2026. https://doi.org/10.1002/hyp.5993

Parthasarathy B, Mooley DA (1978) Some features of a long homogeneous series of Indian summer monsoon rainfall. 771–781

Parthasarathy B, Dhar ON (1974) Secular variations of regional rainfall over India. Q J R Meteorol Soc 100:245–257. https://doi.org/10.1002/qj.49710042411

Peña-Arancibia JL, Mainuddin M, Ahmad MD, Hodgson G, Murad KFI, Ticehurst C, Maniruzzaman M, Mahboob MG, Kirby JM (2020) Groundwater use and rapid irrigation expansion in a changing climate: hydrological drivers in one of the world's food bowls. J Hydrol 581:124300. https://doi.org/10.1016/j.jhydrol.2019.124300

Pettitt AN (1979) A non-parametric approach to the change-point problem. J Appl Stat 28:126–135

Pohlert T (2018) Non-parametric trend tests and change-point detection. 1–18

R Core Team (2020) A language and environment for statistical computing. R foundation for statistical computing

Ravindranath NH, Rao S, Sharma N et al (2011) Climate change vulnerability profiles for North East india. Curr Sci 101:384–394

Reeves J, Chen J, Wang XL et al (2007) A review and comparison of changepoint detection techniques for climate data. J Appl Meteorol Climatol 46:900–915. https://doi.org/10.1175/JAM2493.1

Rubin DB (1987) Multiple imputation for nonresponse in surveys

Said M, Komakech HC, Munishi LK, Muzuka ANN (2019) Evidence of climate change impacts on water, food and energy resources around Kilimanjaro, Tanzania. Reg Environ Chang 19:2521–2534. https://doi.org/10.1007/s10113-019-01568-7

Salas JD (1993) Analysis and modeling of hydrological time series. In: Maidment DR (ed) Handbook of hydrology. McGraw Hill, New York, pp 19.1–19.72

Schönwiese C-D, Rapp J (1997) Climate trend Atlas of Europe based on observations 1891–1990

Sen PK (1968) Estimates of the regression coefficient based on Kendall's Tau. J Am Stat Assoc 63:1379–1389. https://doi.org/10.1080/01621459.1968.10480934

Sheikh MM, Manzoor N, Ashraf J et al (2015) Trends in extreme daily rainfall and temperature indices over South Asia. Int J Climatol 35:1625–1637. https://doi.org/10.1002/joc.4081

Starkel L, Singh S (eds) (2004) Rainfall, runoff and soil erosion in the globally extreme humid area. Cherrapunji region, India

Subbaramayya I, Naidu CV (1992) Spatial variations and trends in the Indian monsoon rainfall. Int J Climatol 12:597–609

Suescún D, Villegas JC, León JD et al (2017) Vegetation cover and rainfall seasonality impact nutrient loss via runoff and erosion in the Colombian Andes. Reg Environ Chang 17:827–839. https://doi.org/10.1007/s10113-016-1071-7

Tomozeiu R, Busuioc A, Marletto V et al (2000) Detection of changes in the summer precipitation time series of the region Emilia-Romagna, Italy. Theor Appl Climatol 67:193–200

van Buuren S, Groothuis-Oudshoorn K (2011) Mice: multivariate imputation by chained equations in R. J Stat Softw 45:1–67

Verstraeten G, Poesen J, Demarée G, Salles C (2006) Long-term (105 years) variability in rain erosivity as derived from 10-min rainfall depth data for Ukkel (Brussels, Belgium): implications for assessing soil erosion rates. J Geophys Res 111:1–11. https://doi.org/10.1029/2006JD007169

Villarini G, Smith JA, Baeck ML et al (2011) On the frequency of heavy rainfall for the Midwest of the United States. J Hydrol 400:103–120. https://doi.org/10.1016/j.jhydrol.2011.01.027

Viste E, Korecha D, Sorteberg A (2013) Recent drought and precipitation tendencies in Ethiopia. Theor Appl Climatol 112:535–551. https://doi.org/10.1007/s00704-012-0746-3

von Neumann J (1941) Distribution of the ratio of the mean square successive difference to the variance. Ann Math Stat 12:367–395

Wiebe AJ, Rudolph DL (2020) On the sensitivity of modelled groundwater recharge estimates to rain gauge network scale. J Hydrol 585:124741. https://doi.org/10.1016/j.jhydrol.2020.124741

Wijngaard JB, Klein Tank AMG, Können GP (2003) Homogeneity of 20th century European daily temperature and precipitation series. Int J Climatol 23:679–692. https://doi.org/10.1002/joc.906
Acknowledgements
The authors would like to acknowledge the India Meteorological Department (IMD), Pune for providing the necessary data for this study. We also like to thank Tezpur University, Assam, India, for providing institutional support and fellowship during this study.
Funding
Two of the authors have received institutional support and fellowship from Tezpur University, Assam, India, during the course of this study.
Ethics declarations
Conflict of interest
The authors have no conflicts of interest to declare that are relevant to the content of this article.
Additional information
Publisher's Note
Springer Nature remains neutral with regard to jurisdictional claims in published maps and institutional affiliations.
Supplementary Information
Below is the link to the electronic supplementary material.
About this article
Cite this article
Borah, P., Hazarika, S. & Prakash, A. Assessing the state of homogeneity, variability and trends in the rainfall time series from 1969 to 2017 and its significance for groundwater in north-east India. Nat Hazards (2021). https://doi.org/10.1007/s11069-021-05068-y
Received:

Accepted:

Published:
Keywords
Precipitation concentration index

Standard precipitation anomaly

Homogeneity test

Rainfall trend

Groundwater

North-east India