Abstract
This study reconstructs the coastal subsidence over the past 1300 years in a mangrove region along the coast of the Ganges–Brahmaputra Delta, an area not affected by anthropogenic interference. The relative sea level (RSL) history is based on radiocarbon and luminescence ages measured on 108 submerged kilns and in situ mangrove stumps. While the regional, long-term average subsidence rate is calculated to be 2.7 ± 0.3 mm/yr, modern RSL (including eustacy, isostasy, ocean level, and subsidence) rises by 8.7 ± 0.4 mm/yr. This rate has been balanced by natural sediment accretion so far. A reduction in sediment supply by engineering projects along rivers and coasts may, however, accelerate coastal inundation and retreat. Subsidence has accelerated during specific episodes since the eighth century. A major land-sinking event happened in the eighteenth century, with a downward displacement of 1–2 m, depending on geographic area. We propose that the subduction-related 1762 Arakan earthquake caused this sudden lowering. Prior to this event, RSL was nearly stable for 900 years. An earlier major subsidence event occurred around 900 CE, when the land suddenly sank by about 1 m, which also coincided with a major earthquake along the Arakan coast. Event-driven, sudden, significant subsidence, thus, needs to be considered a potential major hazard for coastal Bangladesh.
Access options
Buy single article
Instant access to the full article PDF.
USD 39.95
Price includes VAT (USA)
Tax calculation will be finalised during checkout.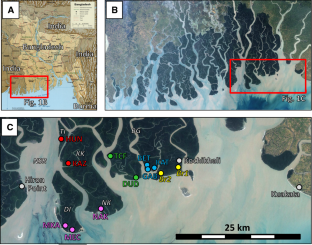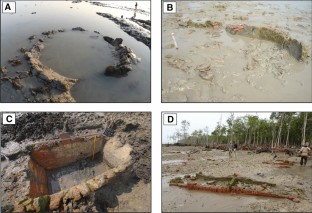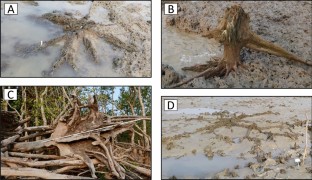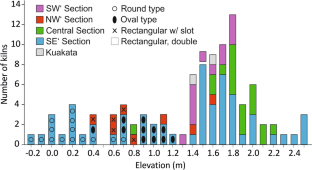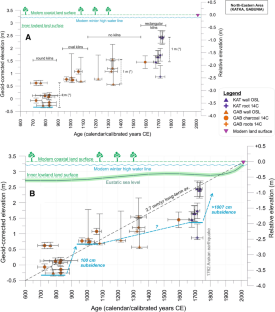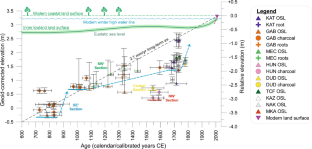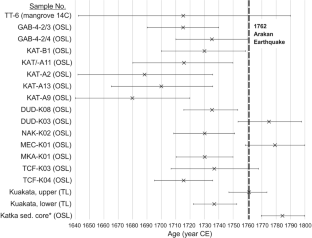 References
Alam E, Dominey-Howes D (2014) An analysis of the AD1762 earthquake and tsunami in SE Bangladesh. Nat Hazards 70:903–933. https://doi.org/10.1007/s11069-013-0841-5

Alam M, Alam MM, Curray JR, Chowdhury MLR, Gani MR (2003) An overview of the sedimentary geology of the Bengal basin in relation to the regional tectonic framework and basin-fill history. Sed Geol 155:179–208. https://doi.org/10.1016/S0037-0738(02)00180-X

Allison MA (1998) Historical changes in the Ganges-Brahmaputra delta front. J Coast Res 14:1269–1275

Allison M, Kepple E (2001) Modern sediment supply to the lower delta plain of the Ganges-Brahmaputra river in Bangladesh. Geo-Mar Lett 21:66–74. https://doi.org/10.1007/s003670100069

Allison MA, Khan SR, Goodbred SL, Kuehl SA (2003) Stratigraphic evolution of the late Holocene Ganges-Brahmaputra lower delta plain. Sed Geol 155:317–342. https://doi.org/10.1016/S0037-0738(02)00185-9

Anwar MS, Takewaka S (2014) Analyses on phenological and morphological variations of mangrove forests along the southwest coast of Bangladesh. J Coast Conserv 18(4):339–357. https://doi.org/10.1007/s11852-014-0321-4

Auerbach LW, Goodbred SL Jr, Mondal DR, Wilson CA, Ahmed KR, Roy K, Steckler MS, Small C, Gilligan JM, Ackerly BA (2015) Flood risk of natural and embanked landscapes on the Ganges-Brahmaputra tidal delta plain. Nat Clim Change 5:153–157. https://doi.org/10.1038/nclimate2472

Aung TT, Satake K, Okamura Y, Shishikura M, Swe W, Saw H, Swe TL, Tun ST, Aung T (2008) Geologic evidence for three great earthquakes in the past 3400 years off Myanmar. J Earthq Tsunami 02:259–265. https://doi.org/10.1142/S1793431108000335

Barua DP (1990) Suspended sediment movement in the estuary of the Ganges-Brahmaputra-Meghna river system. Mar Geol 91:243–253

Barua DK, Kuehl SA, Miller RL, Moore WS (1994) Suspended sediment distribution and residual transport in the coastal ocean off the Ganges-Brahmaputra river mouth. Mar Geol 120:41–61. https://doi.org/10.1016/0025-3227(94)90076-0

Bhattacharya JP, Giosan L (2003) Wave-influenced deltas: geomorphological implications for facies reconstruction. Sedimentology 50(1):187–210. https://doi.org/10.1046/j.1365-3091.2003.00545.x

Bilham R (1994) The 1737 Calcutta earthquake and cyclone evaluated. Bull Seismol Soc Am 84(5):1650–1657

Bomer EJ, Wilson CA, Hale RP, Hossain ANM, Rahman FMA (2020) Surface elevation and sedimentation dynamics in the Ganges-Brahmaputra tidal delta plain, Bangladesh: evidence for mangrove adaptation to human-induced tidal amplification. CATENA 187:104312. https://doi.org/10.1016/j.catena.2019.104312

Brammer H (2014) Bangladesh's dynamic coastal regions and sea-level rise. Climate Risk Man 1:51–62. https://doi.org/10.1016/j.crm.2013.10.001

Bricheno LM, Wolf J, Islam S (2016) Tidal intrusion within a mega delta: an unstructured grid modelling approach. Estuar Coastal Shelf Sci 182:12–26. https://doi.org/10.1016/j.ecss.2016.09.014

Brown S, Nicholls RJ (2015) Subsidence and human influences in mega deltas: the case of the Ganges–Brahmaputra–Meghna. Sci Tot Env 527–528:362–374. https://doi.org/10.1016/j.scitotenv.2015.04.124

Chamberlain EL, Wallinga J, Reimann T, Goodbred SL, Steckler MS, Shen X, Sincavage R (2017) Luminescence dating of delta sediments: novel approaches explored for the Ganges-Brahmaputra-Meghna Delta. Quat Geochron 41:97–111. https://doi.org/10.1016/j.quageo.2017.06.006

Chamberlain EL, Goodbred SL, Hale R, Steckler MS, Wallinga J, Wilson C (2020a) Integrating geochronologic and instrumental approaches across the Bengal Basin. Earth Surf Proc Landforms 45:56–74. https://doi.org/10.1002/esp.4687

Chamberlain EL, Mehta JM, Reimann T, Wallinga J (2020b) A geoarchaeological perspective on the challenges and trajectories of Mississippi delta communities. Geomorph 360:107132. https://doi.org/10.1016/j.geomorph.2020.107132

Church JA, Clark PU, Cazenave A et al (2013) Sea level change. In: Stocker TF, Qin D, Plattner G-K et al (eds) Climate change 2013: the physical science basis. Contribution of working group I to the fifth assessment report of the intergovernmental panel on climate change. Cambridge University Press, Cambridge

Colarossi D, Duller GAT, Roberts HM, Tooth HM, Lyons R (2015) Comparison of paired quartz OSL and feldspar post-IR IRSL dose distributions in poorly bleached fluvial sediments from South Africa. Quat Geochron 30:233–238. https://doi.org/10.1016/j.quageo.2015.02.015

Cummins PR (2007) The potential for giant tsunamigenic earthquakes in the northern Bay of Bengal. Nature 449:75–78. https://doi.org/10.1038/nature06088

Day JW, Gunn JD, Folan WJ, Yáñez-Arancibia A, Horton BP (2012) The influence of enhanced post-glacial coastal margin productivity on the emergence of complex societies. J Island Coast Archaeol 7(1):23–52. https://doi.org/10.1080/15564894.2011.650346

Denzau H, Neumann-Denzau G, Gerngross P (2015) Sundarbans Atlas. Bangladesh forest compartment, maps and gazetteer. Soc Env Hum Dev, Dhaka, p 172

Dillehay TD, Bonavia D, Goodbred SL, Pino M, Vásquez V, Tham TR (2012) A late Pleistocene human presence at Huaca Prieta, Peru, and early Pacific Coastal adaptations. Quat Res 77(3):418–423. https://doi.org/10.1016/j.yqres.2012.02.003

Du Q, Li LF (2018) Temporal-spatial distribution features in the root system of individual Sonneratia apelta and Avicennia marina plants. Acta Ecol Sin 38(17):6055–6062

Duller GAT (2008) Luminescence dating: guidelines on using luminescence dating in archaeology. Swindon Engl Heri. https://doi.org/10.1002/jqs.1328

Dunn FE, Nicholls RJ, Darby SE, Cohen S, Zarfl C, Fekete BM (2018) Projections of historical and 21st century fluvial sediment delivery to the Ganges-Brahmaputra-Meghna, Mahanadi, and Volta deltas. Sci Tot Env 642:105–116. https://doi.org/10.1016/j.scitotenv.2018.06.006

Durcan JA, King GE, Duller GAT (2015) DRAC: dose rate and age calculator for trapped charge dating. Quat Geochr 28:54–61. https://doi.org/10.1016/j.quageo.2015.03.012

Ellison AM, Mukherjee BB, Karim A (2000) Testing patterns of zonation in mangroves: scale dependence and environmental correlates in the Sundarbans of Bangladesh. J Ecol 88(5):813–824. https://doi.org/10.1046/j.1365-2745.2000.00500.x

Ericson J, Vorosmarty C, Dingman S, Ward L, Meybeck M (2006) Effective sea-level rise and deltas: causes of change and human dimension implications. Glob Planet Change 50:63–82. https://doi.org/10.1016/j.gloplacha.2005.07.004

Frechen M, Schweitzer U, Zander A (1996) Improvements in sample preparation for the fine grain technique. Ancient TL 14:15–17

Frechen M, Zander A, Cílek V, Lozek V (1999) Loess chronology of the last interglacial/glacial cycle in Bohemia and Moravia, Czech Republic. Quat Sci Rev 18:1467–1493. https://doi.org/10.1016/S0277-3791(98)00087-0

Ghosh M, Kumar L, Roy C (2016) Mapping long-term changes in Mangrove species composition and distribution in the Sundarbans. Forests 7:305. https://doi.org/10.3390/f7120305

Goodbred SL, Kuehl SA (2000) The significance of large sediment supply, active tectonism, and eustasy on margin sequence development: late quaternary stratigraphy and evolution of the Ganges-Brahmaputra delta. Sed Geol 133:227–248. https://doi.org/10.1016/S0037-0738(00)00041-5

Goodbred SL, Kuehl SA, Steckler MS, Sarker MH (2003) Controls on facies distribution and stratigraphic preservation in the Ganges-Brahmaputra delta sequence. Sed Geol 155:301–316. https://doi.org/10.1016/S0037-0738(02)00184-7

Goodbred SL, Paolo PM, Ullah MS, Pate RD, Khan SR, Kuehl SA, Singh SK, Rahaman W (2014) Piecing together the Ganges-Brahmaputra-Meghna River delta: use of sediment provenance to reconstruct the history and interaction of multiple fluvial systems during Holocene delta evolution. Geol Soc Amer Bull 126:1495–1510. https://doi.org/10.1130/B30965.1

Grall C, Steckler MS, Pickering JL, Goodbred SL, Sincavage R, Paola C, Akhter SH, Spiess V (2018) A base-level stratigraphic approach to determining Holocene subsidence of the Ganges–Meghna–Brahmaputra delta plain. Earth Planet Sci Let 499:23–36. https://doi.org/10.1016/j.epsl.2018.07.008

Hale RP, Bain R, Goodbred SL Jr, Best J (2019) Observations and scaling of tidal mass transport across the lower Ganges-Brahmaputra delta plain: implications for delta management and sustainability. Earth Surf Dyn 7:231–245. https://doi.org/10.5194/esurf-2018-66

Hamilton HC (1853) Notes on the manufactures of salt in the Tumlook Agency. Selections from the Records of the Bengal Government, No. XIII, Thos. Jones, "Calcutta Gazette" Office, Calcutta, 43 pp

Hamlington BD, Frederikse T, Nerem RS, Fasullo JT, Adhikari S (2020) Investigating the acceleration of regional sea-level rise during the satellite altimeter era. Geophys Res Lett 47(5):e2019GL086528. https://doi.org/10.1029/2019GL086528

Hanebuth T, Stattegger K, Grootes PM (2000) Rapid flooding of the Sunda Shelf: a late-glacial sea-level record. Science 288(5468):1033–1035. https://doi.org/10.1126/science.288.5468.1033

Hanebuth TJ, Stattegger K, Bojanowski A (2009) Termination of the last glacial maximum sea-level lowstand: the Sunda-Shelf data revisited. Glob Planet Change 66(1–2):76–84. https://doi.org/10.1016/j.gloplacha.2008.03.011

Hanebuth T, Kudrass H, Linstädter J, Islam B, Zander A (2013) Rapid coastal subsidence in the central Ganges-Brahmaputra delta (Bangladesh) since the 17th century deduced from submerged salt-producing kilns. Geology 41:987–990. https://doi.org/10.1130/G34646.1

Higgins SA, Overeem I, Steckler MS, Syvitski JPM, Seeber L, Akhter SH (2014) InSAR measurements of compaction and subsidence in the Ganges-Brahmaputra Delta, Bangladesh: compaction and subsidence in the GBD. J Geophys Res Earth Surf 119:1768–1781. https://doi.org/10.1002/2014JF003117

Hoque M, Alam M (1997) Subsidence in the lower deltaic areas of Bangladesh. Mar Geod 20(1):105–120. https://doi.org/10.1080/01490419709388098

Hossain M (2015) Handbook of selected plant species of the Sundarbans and the embankment ecosystem. GIZ and Bangladesh Forest Department, Dhaka, p 115

Hübscher C, Spieß V (2005) Forced regression systems tracts on the Bengal Shelf. Mar Geol 219(4):207–218. https://doi.org/10.1016/j.margeo.2005.06.037

Iftekhar MS, Islam MR (2004) Degeneration of Bangladesh's Sundarbans mangroves: a management issue. Int Forest Rev 6(2):123–135. https://doi.org/10.1505/ifor.6.2.123.38390

Islam MS, Tooley MJ (1999) Coastal and sea-level changes during the Holocene in Bangladesh. Quat Int 55:61–75. https://doi.org/10.1016/S1040-6182(98)00025-1

Islam MA, Al-Mamun A, Hossain F, Quraishi SB, Naher K, Khan R, Das S, Tamim U, Hossain SM, Nahid F (2017) Contamination and ecological risk assessment of trace elements in sediments of the rivers of Sundarban mangrove forest Bangladesh. Mar Poll Bull 124(1):356–366. https://doi.org/10.1016/j.marpolbul.2017.07.059

Iyengar RN, Sharma D, Siddqui JM (1999) Earthquake history of India in Medieval Times. Indian J Hist Sci 34(3):182–237

Karim MF, Mimura N (2008) Impacts of climate change and sea-level rise on cyclonic storm surge floods in Bangladesh. Glob Env Change 18(3):490–500. https://doi.org/10.1016/j.gloenvcha.2008.05.002

Karpouzoglou T, Tri VPD, Ahmed F, Warner J, Hoang L, Nguyen TB, Dewulf A (2019) Unearthing the ripple effects of power and resilience in large river deltas. Env Sci Pol 98:1–10. https://doi.org/10.1016/j.envsci.2019.04.011

Kaye CA, Barghoorn ES (1964) Late quaternary sea-level change and crustal rise at Boston, Mas-sachusetts, with notes on the autocompaction of peat. Geol Soc Am Bull 75(2):63–80

Kemp AC, Horton BP, Donnelly JP, Mann ME, Vermeer M, Rahmstorf S (2011) Climate related sea-level variations over the past two millennia. Proc Nat Acad Sci 108:11017–11022. https://doi.org/10.1073/pnas.1015619108

Khan SR, Islam B (2008) Holocene stratigraphy of the lower Ganges-Brahmaputra river delta in Bangladesh. Front Earth Sci China 2:393–399. https://doi.org/10.1007/s11707-008-0051-8

Kirwan ML, Guntenspergen GR, d'Alpaos A, Morris JT, Mudd SM, Temmerman S (2010) Limits on the adaptability of coastal marshes to rising sea level. Geophys Res Lett 37(23):L23401. https://doi.org/10.1029/2010GL045489

Kopp RE, Horton BP, Kemp AC, Tebaldi C (2015) Past and future sea-level rise along the coast of North Carolina, USA. Climatic Change 132(4):693–707

Krien Y, Karpytchev M, Ballu V, Becker M, Grall C, Goodbred S, Calmant S, Shum CK, Khan Z (2019) Present-day subsidence in the Ganges-Brahmaputra-Meghna delta: eastern amplification of the holocene sediment loading contribution. Geophys Res Lett 46:10764–10772. https://doi.org/10.1029/2019GL083601

Kudrass HR, Machalett B, Palamenghi L, Meyer I, Zhang W (2018) Sediment transport by tropical cyclones recorded in a submarine canyon off Bangladesh. Geo-Mar Lett 38(6):481–496. https://doi.org/10.1007/s00367-018-0550-x

Kuehl SA, Hariu TM, Moore WS (1989) Shelf sedimentation off the Ganges-Brahmaputra river system: evidence for sediment bypassing to the Bengal fan. Geology 17(12):132–1135. https://doi.org/10.1130/0091-7613(1989)017%3c1132:SSOTGB%3e2.3.CO;2

Kusche J, Uebbing B, Rietbroek R, Shum CK, Khan ZH (2016) Sea level budget in the Bay of Bengal (2002–2014) from GRACE and altimetry. J Geophys Res Oceans 121:1194–1217. https://doi.org/10.1002/2015JC011471

Loucks C, Barber-Meyer S, Hossain AA, Barlow A, Chowdhury RM (2010) Sea level rise and tigers: predicted impacts to Bangladesh's Sundarbans mangroves. Clim Change 98:291–298. https://doi.org/10.1007/s10584-009-9761-5

Louwe Kooijmans LP, Knip A (1974) The Rhine/Meuse delta: four studies on its prehistoric occupation and Holocene geology. Analecta Praehist Leidensia 7:416

Madsen AT, Buylaert J-P, Murray AS (2011) Luminescence dating of young coastal deposits from New Zealand using feldspars. Geochron 38(4):378–390. https://doi.org/10.1016/j.quageo.2018.01.006

Michels KH, Kudrass HR, Hübscher C, Suckow A, Wiedicke M (1998) The submarine delta of the Ganges–Brahmaputra: cyclone-dominated sedimentation patterns. Mar Geol 149:133–154. https://doi.org/10.1016/S0025-3227(98)00021-8

Milliman JD, Farnsworth KL (2011) River Discharge to the Coastal Ocean: a global synthesis. Cambridge University Press, Cambridge, UK, p 383. https://doi.org/10.1017/CBO9780511781247

Mirza MMQ, Warrick RA, Ericksen NJ (2003) The implications of climate change on floods of the Ganges, Brahmaputra and Meghna rivers in Bangladesh. Clim Change 57(3):287–318. https://doi.org/10.1023/A:1022825915791

Mondal DR, McHugh CM, Mortlock RA, Steckler MS, Mustaque S, Akhter SH (2018) Microatolls document the 1762 and prior earthquakes along the southeast coast of Bangladesh. Tectonophys 745(1962):213. https://doi.org/10.1016/j.tecto.2018.07.020

Murray AS, Wintle AG (2000) Luminescence dating of quartz using an improved single-aliquot regenerative-dose protocol. Rad Measurem 32:57–73. https://doi.org/10.1016/S1350-4487(99)00253-X

Nelson MS, Gray HJ, Johnson JA, Rittenour TM, Feathers JK, Mahan SA (2015) User guide for luminescence sampling in archaeological and geological contexts. Adv Archaeol Prac 3:166–177. https://doi.org/10.7183/2326-3768.3.2.166

Nott J (2010) A theory (involving tropical cyclones) on the formation of coarse-grained sand beach ridges in NE Australia. In Bishop, P. and Pillans, B. (eds). Australian Landscapes. Geol Soc London, Spec Pub 346:7–22. Doi: https://doi.org/10.1144/SP346.2-0305-8719/10

Palamenghi L, Schwenk T, Spiess V, Kudrass HR (2011) Seismostratigraphic analysis with centennial to decadal time resolution of the sediment sink in the Ganges-Brahmaputra subaqueous delta. Cont Shelf Res 31:712–730. https://doi.org/10.1016/j.csr.2011.01.008

Pate RD, Goodbred SL Jr, Khan SR (2009) Delta double-stack: juxtaposed Holocene and Pleistocene sequences from the Bengal Basin, Bangladesh. Sed Record 7(3):4–9. https://doi.org/10.2110/sedred.2009.3.4

Pethick J, Orford JD (2013) Rapid rise in effective sea-level in southwest Bangladesh: its causes and contemporary rates. Glob Planet Change 111:237–245. https://doi.org/10.1016/j.gloplacha.2013.09.019

Pickering JL, Goodbred SL Jr, Beam JC, Ayers JC, Covey AK, Rajapara HM, Singhvi AK (2018) Terrace formation in the upper Bengal basin since the Middle Pleistocene: Brahmaputra fan delta construction during multiple highstands. Basin Res 30:550–567. https://doi.org/10.1111/bre.12236

Proske U, Heslop D, Hanebuth TJ (2009) Salt production in pre-Funan Vietnam: archaeomagnetic reorientation of briquetage fragments. J Archaeol Sci 36(1):84–89. https://doi.org/10.1016/j.jas.2008.07.012

Rahman AF, Dragoni D, El-Masri B (2011) Response of the Sundarbans coastline to sea level rise and decreased sediment flow: a remote sensing assessment. Remote Sens Env 115(12):3121–3128. https://doi.org/10.1016/j.rse.2011.06.019

Reimann T, Tsukamoto S (2012) Dating the recent past (<500) by post-IR IRSL feldspar–examples from the North Sea and Baltic Sea coast. Quat Geochron 10:180–187. https://doi.org/10.1016/j.quageo.2012.04.011

Reimer PJ, Bard E, Bayliss A, Beck JW, Blackwell PG, Ramsey CB, Buck CE, Cheng H, Edwards RL, Friedrich M, Grootes PM (2013) IntCal13 and Marine13 radiocarbon age calibration curves 0–50,000 years cal BP. Radiocarb 55(4):1869–1887. https://doi.org/10.2458/azu_js_rc.55.16947

Riedesel S, Brill D, Roberts HM, Duller GAT, Garrett E, Zander A, King GE, Tamura T, Burow C, Cunningham A, Seeliger M, De Batist M, Heyvaert VMA, Fujiwara O, Brückner H (2018) Single-grain feldspar luminescence chronology of historical extreme wave event deposits recorded in a coastal lowland, Pacific coast of central Japan. Quat Geochron 45:37–49. https://doi.org/10.1016/j.quageo.2018.01.006

Rogers KG, Goodbred SL Jr (2010) Mass failures associated with the passage of a large tropical cyclone over the swatch of no ground submarine canyon (Bay of Bengal). Geology 38(11):1051–1054. https://doi.org/10.1130/G31181.1

Rogers KG, Goodbred SL, Mondal DR (2013) Monsoon sedimentation on the 'abandoned' tide-influenced Ganges-Brahmaputra delta plain. Estuar Coast Shelf Sci 131:297–309. https://doi.org/10.1016/j.ecss.2013.07.014

Rovere A, Stocchi P, Vacchi M (2016) Eustatic and relative sea level changes. Current Climat Change Rep 2(4):221–231. https://doi.org/10.1007/s40641-016-0045-7

Sarker MH, Akter J, Rahman MM (2013) Century-scale dynamics of the Bengal Delta and future development. In: Proceedings of the Int Conf Water Flood Managem. 91–104

Sincavage R, Goodbred S, Pickering J (2018) Holocene Brahmaputra river path selection and variable sediment bypass as indicators of fluctuating hydrologic and climate conditions in Sylhet Basin Bangladesh. Basin Res 30(2):302–320. https://doi.org/10.1111/bre.12254

Somayajulu YK, Murty VSN, Sarma YVB (2003) Seasonal and inter-annual variability of surface circulation in the Bay of Bengal from TOPEX/Poseidon altimetry. Deep Sea Res Part II Top Stud Oceanogr 50:867–880. https://doi.org/10.1016/S0967-0645(02)00610-0

Stanley DJ, Hait AK (2000) Holocene Depositional Patterns, Neotectonics and Sundarban Mangroves in the Western Ganges-Brahmaputra Delta. J Coast Res 16:26–39. https://www.jstor.org/stable/4300009

Steckler MS, Akhter SH, Seeber L (2008) Collision of the Ganges-Brahmaputra delta with the Burma Arc: implications for earthquake hazard. Earth Planet Sci Lett 273:367–378. https://doi.org/10.1016/j.epsl.2008.07.009

Steckler MS, Mondal DR, Akhter SH, Seeber L, Feng L, Gale J, Hill EM, Howe M (2016) Locked and loading megathrust linked to active subduction beneath the Indo-Burman Ranges. Nat Geosci 9(8):615–618. https://doi.org/10.1038/ngeo2760

Syvitski JP, Kettner AJ, Overeem I, Hutton EW, Hannon MT, Brakenridge GR, Day J, Vörösmarty C, Saito Y, Giosan L, Nicholls RJ (2009) Sinking deltas due to human activities. Nat Geosci 2(10):681–686. https://doi.org/10.1038/ngeo629

Tamura T (2012) Beach ridges and prograded beach deposits as palaeoenvironment records. Earth Sci Rev 114(3–4):279–297. https://doi.org/10.1016/j.earscirev.2012.06.004

Tessler ZD, Vörösmarty CJ, Overeem I, Syvitski JPM (2018) A model of water and sediment balance as determinants of relative sea level rise in contemporary and future deltas. Geomorph 305:209–220. https://doi.org/10.1016/j.geomorph.2017.09.040

Thompson PR, Widlansky MJ, Leuliette E, Sweet W, Chambers DP, Hamlington BD, Jevrejeva S, Marra JJ, Merrifield MA, Mitchum GT, Nerem RS (2019) Sea level variability and change [in State of the Climate in 2018]. Bull Am Meteorol Soc 99(8):84–87

Tomlinson PB (2016) The botany of mangroves, 2nd edn. Cambridge University Press, 432 pp. ISBN 9781107080676

Van Asselen S, Stouthamer E, Van Asch TWJ (2009) Effects of peat compaction on delta evolu-tion: a review on processes, responses, measuring and modeling. Earth Sci Rev 92(1–2):35–51

Wiedicke M, Kudrass HR, Hübscher C (1999) Oolitic beach barriers of the last Glacial sea-level lowstand at the outer Bengal shelf. Mar Geol 157:7–18. https://doi.org/10.1016/S0025-3227(98)00162-5

Wilson CA, Goodbred SL (2015) Construction and maintenance of the Ganges-Brahmaputra Meghna delta: linking process, morphology, and stratigraphy. Ann Rev Mar Sci 7:67–88. https://doi.org/10.1146/annurev-marine-010213-135032

Woodroffe CD, Rogers K, McKee KL, Lovelock CE, Mendelssohn IA, Saintilan N (2016) Mangrove sedimentation and response to relative sea-level rise. Ann Rev Mar Sci 8:243–266. https://doi.org/10.1146/annurev-marine-122414-034025

Zaman AM, Molla MK, Pervin IA, Rahman SMM, Haider AS, Ludwig F, Franssen W (2017) Impacts on river systems under 2 °C warming: Bangladesh case study. Climate Serv 7:96–114. https://doi.org/10.1016/j.cliser.2016.10.002

Zander A, Strebler D, Classen E, Rethemeyer J, Brückner H (2019) Roman traces in Germania magna: new thermoluminescence and pIRIR290 data from a lime kiln at Bergisch Gladbach, Germany. Archaeome 61:506–518. https://doi.org/10.1111/arcm.12435
Acknowledgements
The project was supported by the German Research Foundation (DFG; HA 4317/8-1). We thank Badrul Islam (University of Rajshahi) and Shohrap Uddin (Cumilla University) for their geological and archeological expertise during the field campaign. We also thank the students from the Department of Geology at the University of Dhaka and Kamrul Islam (Institute of Water Modelling) for their support during the geodetic survey. Hasan Mehedi (Bangladesh Forest Department) helped us a lot with detailed advices on the protected Sundarbans; we also appreciate Md. Yunus Ali, Chief Conservator of the Forest Department, for gratefully providing us with the Permission of Research. Syed Riazul Huq and the crew of M/V BHELA of provided us with great logistic support. We thank Elizabeth L. Chamberlain for her highly valuable suggestions and comments, and also acknowledge Jakob Wallinga for his review.
Funding
This study was funded by the German Research Foundation (DFG; Project # HA 4317/8–1).
Ethics declarations
Conflict of interest
There is no conflict of interest.
Additional information
Publisher's Note
Springer Nature remains neutral with regard to jurisdictional claims in published maps and institutional affiliations.
Supplementary Information
Below is the link to the electronic supplementary material.
About this article
Cite this article
Hanebuth, T.J.J., Kudrass, H.R., Zander, A.M. et al. Stepwise, earthquake-driven coastal subsidence in the Ganges–Brahmaputra Delta (Sundarbans) since the eighth century deduced from submerged in situ kiln and mangrove remnants. Nat Hazards (2021). https://doi.org/10.1007/s11069-021-05048-2
Received:

Accepted:

Published:
Keywords
Ganges–Brahmaputra river delta

Coastal subsidence

Earthquakes

Sea level indicators

Mangrove