Abstract
In this study, temporal trend analysis was conducted on the annual and quarterly meteorological variables of Lanzhou from 1951 to 2016, and a weighted Markov model for extremely high temperature prediction was constructed. Several non-parametric methods were used to analyse the trend of meteorological variables. Considering that sequence autocorrelation may affect the accuracy of the trend test, we performed an autocorrelation test and carried out trend analysis for sequences with autocorrelation after removing correlation. The results show that the maximum temperature, minimum temperature and average temperature in Lanzhou all have a significant upward trend and show different performances in each season. In detail, the trend of maximum temperature in the summer is not significant, while the upward trend of minimum temperature in the winter is the most significant, which leads to more and more "warm winter" phenomenon. Finally, we construct a weighted Markov prediction model for extremely high temperature and obtain the conclusion that the prediction results by the model are consistent with the actual situation.
Access options
Buy single article
Instant access to the full article PDF.
USD 39.95
Price excludes VAT (USA)
Tax calculation will be finalised during checkout.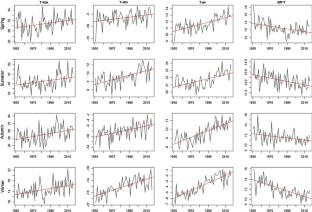 References
Bonsal BR, Zhang X, Laea V (2001) Characteristics of daily and extreme temperatures over Canada. J Climate 14(9):1959–1976

Chen S, Kuo C, Yu P (2009) Historical trends and variability of meteorological droughts in Taiwan/tendances historiques et variabilité des sécheresses météorologiques à taiwan. Hydrol Sci J 54(3):430–441

Gocic M, Trajkovic S (2013) Analysis of changes in meteorological variables using Mann–Kendall and Sen's slope estimator statistical tests in Serbia. Global Planet Change 100:172–182

Gong Z, Chen C, Ge X (2013) Risk prediction of low temperature in Nanjing city based on grey weighted Markov model. Nat Hazards 71(2):1159–1180

He Y, Zhang Y (2005) Climate change from 1960 to 2000 in the Lancang river valley, China. Mt Res Dev 25(4):341–348

Kendall MG (1975) Rank correlation measures. Charles Griffin, London

Koutsoyiannis D (2003) Climate change, the Hurst phenomenon, and hydrological statistics. Hydrol Sci J 48(1):3–24

Liu W, Zhang L et al (2016) Analysis of hot weather and high temperature days in the summer of Gansu province from 1981 to 2010. J Lanzhou University (Nat Sci) 52(4):475–478

Mann HB (1945) Nonparametric tests against trend. Econometrica 13(3):245–259

Masseran N (2015) Markov chain model for the stochastic behaviors of wind-direction data. Energy Convers Manage 92:266–274

Meena DM (2020) Rainfall statistical trend and variability detection using Mann–Kendall test, Sen's slope and coefficient of variance: a case study of Udaipur district (1957–2016). Appl Ecol Environ Sci 8(1):34–37

Partal T (2017) Multi-annual analysis and trends of the temperatures and precipitations in west Anatolia. J Water Climate Change 8(3):456–473

Pettitt AN (1979) A non-parametric approach to the change-point problem. J R Stat Soc Ser C (Appl Stat) 28(2):126–135

Salas J, Delleur J, Yevjevich V (1985) Applied modeling of hydrologic time series, Water Resources Publications

Sayemuzzaman M, Jha MK (2014) Seasonal and annual precipitation time series trend analysis in North Carolina, USA. Atmos Res 137:183–194

Sen PK (1968) Estimates of the regression coefficient based on Kendall's tau. J Am Stat Assoc 63(324):1379–1389

Sharma CS, Panda SN, Pradhan RP, Singh A, Kawamura A (2016) Precipitation and temperature changes in eastern India by multiple trend detection methods. Atmos Res 180:211–225

Shi Y, Zhao J (2014) Study on spatial-temporal characteristics of extreme temperature in arid areas of northwest China. J Lanzhou Univ (Nat Sci) 50(4):529–533

Sonali P, Kumar DN (2013) Review of trend detection methods and their application to detect temperature changes in India. J Hydrol 476:212–227

Tian Y, Shen H, Zhang L, Lv X (2010) Utility water supply forecast via a gm(1,1) weighted Markov chain. J Zhejiang Univ Sci A 11(9):677–682

von Storch H (1995) Misuses of statistical analysis in climate research. In: von Storch H, Navarra A (eds) Analysis of climate variability. Springer, Heidelberg

Yacoub E, Tayfur G (2018) Trend analysis of temperature and precipitation in Trarza region of Mauritania. J Water Climate Change 10(3):484–493

Zhai P, Pan X (2003) Change in extreme temperature and precipitation over northern china during the sencond half of the 20 century. Acta Geographica Sinica 58(S1):1–10
Acknowledgements
Thanks to Lanzhou Central Meteorological Observatory of Gansu Province for providing the original data for the research in this paper.
Ethics declarations
Conflict of interests
As far as we know, there are no competing economic interests or personal relationships that may affect the work described in this paper. We like to declare that the work was original research that has not been published previously, and not under consideration for publication elsewhere, in whole or in part. The data in this paper are the original observation data, and all the relevant codes are written by the author. If there is any need, you can contact the author via email.
Additional information
Publisher's Note
Springer Nature remains neutral with regard to jurisdictional claims in published maps and institutional affiliations.
About this article
Cite this article
Pang, Z., Wang, Z. Temperature trend analysis and extreme high temperature prediction based on weighted Markov Model in Lanzhou. Nat Hazards 108, 891–906 (2021). https://doi.org/10.1007/s11069-021-04711-y
Received:

Accepted:

Published:

Issue Date:

DOI: https://doi.org/10.1007/s11069-021-04711-y
Keywords
Meteorological variables

Trend analysis

Mann–Kendall test

Weighted Markov model