Abstract
How do people and communities respond to catastrophes? A natural disaster is a type of external, quasi-random and unexpected catastrophic shock that generates psychological, social and economic implications. Using detailed county level administrative data of charitable contributions, crime and natural hazards in the USA in the recent decade, we empirically identify and quantify the causal effect of natural disasters on prosocial and antisocial behavioral reactions. Our main finding is that while monetary contributions decline in the local affected community in the aftermath of natural disasters, the neighboring and more distant communities react by increasing their charitable giving. Additionally, we find that in the affected community, natural disasters effect crime negatively, dispelling popular conceptions regarding looting, and that while federal assistance crowds out charitable contributions, it does not change the residents reaction to natural disasters.
Access options
Buy single article
Instant access to the full article PDF.
USD 39.95
Price includes VAT (USA)
Tax calculation will be finalised during checkout.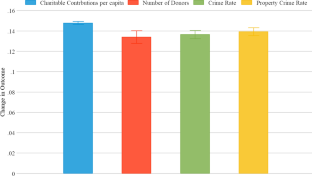 Notes
1.

A traumatic event is defined by its capacity to evoke terror, fear, helplessness or horror in the face of a threat to life or a serious injury (American Psychiatric Association, 1994. Diagnostic and statistical manual of mental disorders (4th ed.). Washington, DC).

2.

In certain cases, the deterioration of wealth and its effect on the affected community is so great as to yield a decrease in charity within the community affected (De Alessi 1967).

3.

We refer to philanthropic donations as monetary donations to qualified organizations in the USA by individuals who itemize deductions.

4.

The classic economic theory would suggest that shortage in supply of goods would lead to an increase in prices, given demand remains the same.

5.

In this study, our specifications rely on reduced form models. Such models do not allow to pinpoint the exact underlying mechanisms at play, and therefore, several possible mechanisms remain partially or entirely plausible.

6.

Loayza et al. (2012) argue this notion. They conclude that disasters do affect economic growth, but not always negatively, with effects that differ across types of disasters, economic sectors and developing and developed countries. A meta-analyses study by Lazzaroni and Bergeijk (2014) indicates that disasters have a negative impact in average in terms of direct costs.

7.

Nonprofits' net assets and revenue found to be positively correlated with disaster event damage levels.

8.

9.

We followed SOI's recommendations and instructions to aggregate the data to the county level.

10.

In 2015, total charitable contributions by individuals and households were estimated at $264.58 billion, 82% of which was itemized (Giving USA 2016). Any interpretation of our findings should be limited to those individuals who itemize deductions.

11.

12.

13.

All monetary variables are indexed by the CPI to 2015 dollars.

14.

A contemporaneous model was estimated as well, yielding qualitatively similar results, and is available upon request from the authors.

15.

This approach is practical as more than 95% of counties are located at a distance of up to 3000 km from each other.

16.

As our data are aggregated at the county level, one should be careful extrapolating our findings on the individual level.

17.

This is an approximation, as each county is also the neighbor of its neighbors. The spatial econometrics literature shows that our approach is a reasonable approximation (Elhorst 2014).

18.

This does not mean that counties with higher share of college graduates contribute less. It is rather more likely that our fixed effect model is not suitable for testing variables with relatively low within county variation. For a detailed discussion, see section 1 of the online appendix.

19.

For example, an ecological fallacy could occur if highly educated individuals increase their donations, but at the same time, counties with a higher share of highly educated people also tend to suffer from more severe economic downturn than those with lower education pulling the average contribution down. If that were the case the decrease in contributions in these counties should not be attributed to the highly educated individuals.

20.

Much like the cautionary note following the education variable discussion. This analysis does not suggest that republican counties contribute the same amount. It is rather more likely that our fixed effect model is not suitable for testing variables with relatively low within county variation. For a detailed discussion, see section 1 of the online appendix.

21.

Violent crimes include murder, rape, robbery and aggravated assault. Property crime includes burglary, larceny and motor vehicle thefts.

22.

Column 2 does not include a separate coefficient for income inequality as the data are only available for a limited number of time periods. Consequently, the variation of this variable within counties is very low (SD = 1.25) compared to the variation between counties (SD = 3.16). We therefore chose to use the level of this variable in 2014 as a measure of each county's income inequality. Thus, in our analysis, this variable is time-invariant, and is collinear with the county fixed effects.

23.

There is no coefficient for the religious diversity index as there is no temporal variation at the county level, and the data were collected only for 2010. The variable is thus time-invariant and collinear with the county fixed effects.

24.

The religious groups are: Catholics, Eastern Orthodox Christians, Eastern Religions (Buddhism, Hinduism, etc.), Jews, Mormons, Muslims, Protestants and others.

25.

Due to lack of temporal variation in our religiosity variables, we are unable to test the mechanism that natural disasters affect charitable contributions by their effect on religiosity.

26.

For example, can the private sector replace government support to charities (Khanna and Todd 1998).

27.

Formally, a governor must first request a declaration, and the president may grant or deny it.

28.

29.

When models 1 and 2 are estimated with the number of victims of natural disasters instead of number of events, the federal assistance coefficients remain virtually identical. The results are available upon request.

30.

One should be careful interpreting this finding as a relationship between natural disasters and charitable giving on the individual level, since the data are aggregated on the county level and is subject to "ecological Fallacy" risk.

31.

Unlike the monetary data which were retrieved from administrative datasets, volunteering data are based on surveys and questionnaires and therefore may be subject to a survey bias.

32.

33.
References
Abadie A, Athey S, Imbens GW, Wooldridge J (2017) When should you adjust standard errors for clustering? NBER Working Paper Series, (24003). https://doi.org/10.3386/w24003

Aldrich DP, Meyer MA (2015) Social capital and community resilience. Am Behav Sci 59(2):254–269. https://doi.org/10.1177/0002764214550299

Bacon R, Finke R, Jones D (2018) Merging the religious congregations and membership studies: a data file for documenting American religious change. Rev Relig Res. https://doi.org/10.1007/s13644-018-0339-4

Barrera MJ (1998) Models of social support and life stress: beyond the buffering hypothesis. In: Cohen LH (ed) Life events and psychological functioning : theoretical and methodological issues. Sage Publications, Thousand Oaks, p 273

Barsky L, Trainor J, Torres M (2006) Disaster realities in the aftermath of hurricane katrina: revisiting the looting myth. Quick Res Report 184(184):7

Barton A (1969) Rural sociology communities in disaster. A sociological analysis of collective stress situations. Doubleday, Garden City, NY Doubleday

Bekkers R (2001) Giving time and/or money: trade-off or spill-over? Working Paper, pp 1–19

Bekkers R, Schuyt T (2008) And who is your neighbor? Explaining denominational differences in charitable giving and volunteering in the Netherlands. Rev Relig Res 50(1):74–96

Bekkers R, Wiepking P (2007) Generosity and philanthropy a literature review. SSRN Electron J. https://doi.org/10.2139/ssrn.1015507

Belasen AR, Polachek SW (2009) How disasters affect local labor markets: the effects of hurricanes in Florida. J Hum Resour 44(1):251–276. https://doi.org/10.3368/jhr.44.1.251

Berrebi Claude, Ostwald J (2013) Exploiting the chaos: terrorist target choice following natural disasters. South Econ J 79(4):793–811. https://doi.org/10.4284/0038-4038-2012.268

Berrebi C, Yonah H (2016) Terrorism and philanthropy: the effect of terror attacks on the scope of giving by individuals and households. Public Choice 169(3–4):171–194. https://doi.org/10.1007/s11127-016-0375-y

Berrebi Claude, Yonah H (2020) Crime and philanthropy: prosocial and antisocial responses to mass shootings. Vict Offenders 00(00):1–27. https://doi.org/10.1080/15564886.2020.1787281

Bonanno GA, Galea S, Bucciarelli A, Vlahov D (2007) What predicts psychological resilience after disaster? The role of demographics, resources, and life stress. J Consult Clin Psychol 75(5):671–682. https://doi.org/10.1037/0022-006X.75.5.671

Bonanno GA, Brewin CR, Kaniasty K, La Greca AM (2010) Weighing the costs of disaster: consequences, risks, and resilience in individuals, families, and communities. Psychol Sci Public Interest Suppl 11(1):1–49. https://doi.org/10.1177/1529100610387086

Brown PH, Minty JH (2008) Media coverage and charitable giving after the 2004 Tsunami. Southern Econ J. https://doi.org/10.2307/20112025

Campbell D, Maclachlan M, Carr SC (2001) Attributing "third world poverty" in Australia and Malawi: a case of donor bias? J Appl Soc Psychol 31:409–430. https://doi.org/10.1111/j.1559-1816.2001.tb00203.x

Cavallo A, Cavallo E, Rigobon R (2014) Prices and supply disruptions during natural disasters. Rev Income Wealth 60(Specialissue2):S449–S471. https://doi.org/10.1111/roiw.12141

Chamlee-Wright E, Storr VH (2010) The political economy of hurricane katrina and community rebound. Edward Elgar, Northhampton. https://doi.org/10.4337/9781849806541.00001

Cheung C-K, Chan C-M (2000) Social-cognitive factors of donating money to charity, with special attention to an international relief organization. Eval Program Plan 23(2):241–253. https://doi.org/10.1016/S0149-7189(00)00003-3

Cutter SL (2016) The landscape of disaster resilience indicators in the USA. Nat Hazards 80(2):741–758. https://doi.org/10.1007/s11069-015-1993-2

Dacy DC, Kunreuther H (1969) The economics of natural disasters implications for Federal policy. Free Press, New York

De Alessi L (1967) A utility analysis of post-disaster co-operation. Public Choice 3(1):85–90. https://doi.org/10.1007/BF01719138

de Wit A, Bekkers R (2016) Government support and charitable donations: a meta-analysis of the crowding-out hypothesis. J Public Adm Res Theory 27(2):44. https://doi.org/10.1093/jopart/muw044

Douty CM (1972) Disasters and charity: some aspects of cooperative economic behavior. Am Econ Rev 62(4):580–590

Drabek TE, Key WH (1986) Conquering disaster: family recovery and long-term consequences. Irvington Publishers, New York

Dynes RR (1970) Organized behavior in disaster. Heath Lexington Books, Lexington

Dynes RR, Quarantelli EL (1971) Community conflict: its absence and its presence in natural disasters. Disaster Research Center, Newark

Elhorst JP (ed) (2014) Handbook of research methods and applications in economic geography spatial econometrics. Springer, Berlin, Heidelberg

Enders W, Sandler T (2003) What do we know about the substitution effect in transnational terrorism? In: Silke A (ed) Research on terrorism: trends, achievements and failures. Routledge, London, pp 119–137

Erikson KT (1976) Disaster at Buffalo Creek. Loss of communality at Buffalo Creek. Am J Psych 133(3):302–305

Evans CA, Evans GR, Mayo L (2017) Charitable giving as a luxury good and the philanthropic sphere of influence. Voluntas 28(2):556–570. https://doi.org/10.1007/s11266-016-9778-0

Fischer HW (1998) Response to disaster: fact versus fiction & its perpetuation: the sociology of disaster. University Press of America, Lanham, Maryland

Freeman RB (1997) Working for nothing: the supply of volunteer labor. J Labor Econ 15(1):S140–S166. https://doi.org/10.1086/209859

Giving USA (2016) Giving USA 2016: The annual report on philanthropy for the Year 2015. Giving USA

Hazards & Vulnerability Research Institute (2016) The spatial hazard events and losses database for the United States, Version 15.2. Columbia, SC: University of South Carolina

Hirshleifer J (1983) From weakest-link to best-shot: the voluntary provision of public goods. Public Choice 41(3):371–386. https://doi.org/10.1007/BF00141070

Hobfoll SE (1989) Conservation of resources. a new attempt at conceptualizing stress. Am Psychol 44(3):513–524

Holman EA, Garfin DR, Silver RC (2014) Media's role in broadcasting acute stress following the Boston Marathon bombings. Proc Natl Acad Sci 111(1):93–98. https://doi.org/10.1073/pnas.1316265110

Kaniasty K (2012) Predicting social psychological well-being following trauma: the role of postdisaster social support. Psychol Trauma Theory Res Pract Policy 4(1):22–33. https://doi.org/10.1037/a0021412

Kaniasty K, Norris FH (2004) Social support in the aftermath of disasters, catastrophes, and acts of terrorism: altruistic, overwhelmed, uncertain, antagonistic, and patriotic communities. Bioterror Psychol Public Health Interv. https://doi.org/10.1037//1089-2680.6.4.307

Khanna J, Todd S (2000) Partners in giving: the crowding-in effects of UK government grants. Europ Econ Rev 44(8):1543–1556

Lakdawalla D, Zanjani G (2005) Insurance, self-protection, and the economics of terrorism. J Public Econ 89(9–10):1891–1905. https://doi.org/10.1016/j.jpubeco.2004.06.008

Lazarus RS, Folkman S (1984) Stress, appraisal, and coping. Springer, Berlin

Lazzaroni S, van Bergeijk PAG (2014) Natural disasters' impact, factors of resilience and development: a meta-analysis of the macroeconomic literature. Ecol Econ. https://doi.org/10.1016/j.ecolecon.2014.08.015

Lee L, Piliavin JA, Call VRA (1999) Giving time, money, and blood: similarities and differences. Soc Psychol 62(3):276–290

Lindell MK, Prater CS (2003) Assessing community impacts of natural disasters. Nat Hazards Rev. https://doi.org/10.1061/(ASCE)1527-6988(2003)4:4(176)

Loayza NV, Olaberría E, Rigolini J, Christiaensen L (2012) Natural disasters and growth: going beyond the averages. World Dev. https://doi.org/10.1016/j.worlddev.2012.03.002

Margolis MF, Sances MW (2017) Partisan differences in nonpartisan activity: the case of charitable giving. Polit Behav 39(4):839–864. https://doi.org/10.1007/s11109-016-9382-4

Muller A, Kräussl R (2011) Doing good deeds in times of need: a strategic perspective on corporate disaster donations. Strateg Manag J. https://doi.org/10.1002/smj.917

Pena AA, Zahran S, Underwood A, Weiler S (2014) Effect of natural disasters on local nonprofit activity. Growth Change 45(4):590–610. https://doi.org/10.1111/grow.12056

Quarantelli EL, Dynes RR (1985) Community response to disasters

Reed A, Kay A, Finnel S, Aquino K, Levy E (2016) I don't want the money, I just want your time: how moral identity overcomes the aversion to giving time to prosocial causes. J Pers Soc Psychol 110(3):435–457. https://doi.org/10.1037/pspp0000058

Samuels WJ, Puro E (1991) The problem of price controls at the time of natural disasters. Rev Soc Econ 49(1):62–75. https://doi.org/10.1080/00346769100000004

Schlenger WE, Caddell JM, Ebert L, Jordan BK, Rourke KM, Wilson D et al (2002) Psychological reactions to terrorist attacks: findings from the national study of Americans' reactions to September 11. JAMA J Am Med Assoc 288(5):581–588. https://doi.org/10.1001/jama.288.5.581

Schuster MA, Stein BD, Jaycox LH, Collins RL, Marshall GN, Elliott MN, Berry SH (2001) A national survey of stress reactions after the September 11, 2001, terrorist attacks. N Engl J Med 345(20):1507–1512. https://doi.org/10.1108/eb056998

Shughart WF (2006) Katrinanomics: the politics and economics of disaster relief. Public Choice 127(1–2):31–53. https://doi.org/10.1007/s11127-006-7731-2

Shultz JM, Thoresen S, Flynn BW, Muschert GW, Shaw JA, Espinel Z et al (2014) Multiple vantage points on the mental health effects of mass shootings. Curr Psych Rep 16(9):469. https://doi.org/10.1007/s11920-014-0469-5

Silver RC, Holman EA, McIntosh DN, Poulin M, Gil-Rivas V (2002) Nationwide longitudinal study of psychological responses to September 11. JAMA J Am Med Assoc 288(10):1235–1244. https://doi.org/10.1001/jama.288.10.1235

Simpson EH (1949) Measurement of diversity. Nature. https://doi.org/10.1038/163688a0

Sinding Bentzen J (2019) Acts of god? Religiosity and natural disasters across subnational world districts∗. Econ J. https://doi.org/10.1093/ej/uez008

Spencer N, Polachek S, Strobl E (2016) How do hurricanes impact scholastic achievement? A Caribbean perspective. Nat Hazards 84(2):1437–1462. https://doi.org/10.1007/s11069-016-2494-7

Taylor VA (1976) Delivery of mental health services in the Xenia tornado: a collective behavior analysis of an emergent system response. Ohio State University

Tierney KJ (2001) Strength of a city: a disaster research perspective on the world trade center attack. Disaster Research Center, Newark

Tierney K, Bevc C, Kuligowski E (2006) Metaphors matter: disaster myths, media frames, and their consequences in hurricane katrina. Ann Am Acad Polit Soc Sci 604(1):57–81. https://doi.org/10.1177/0002716205285589

Tilcsik A, Marquis C (2013) Punctuated generosity: how mega-events and natural disasters affect corporate philanthropy in U.S. Communities. Adm Sci Q. https://doi.org/10.1177/0001839213475800

Wilkinson RG, Pickett K (2009) The spirit level: why greater equality makes societies stronger. Bloomsbury Press, New York

Zagefka H, Noor M, Brown R, de Moura GR, Hopthrow T (2011) Donating to disaster victims: responses to natural and humanly caused events. Eur J Soc Psychol 41(3):353–363. https://doi.org/10.1002/ejsp.781
Acknowledgements
We thank our colleagues at the Hebrew University's School of Public Policy and Economics Department for their useful discussions and feedback. We also thank the participants of the Lilly Family School of Philanthropy at Indiana University seminars for useful comments and suggestions. Claude Berrebi is grateful for the warm hospitality of the Princeton School of Public and International Affairs (SPIA) and Princeton's Empirical Studies of Conflict Project (ESOC) at Princeton University while he was working on this research.
Additional information
Publisher's Note
Springer Nature remains neutral with regard to jurisdictional claims in published maps and institutional affiliations.
Authors are listed alphabetically.
Electronic supplementary material
Below is the link to the electronic supplementary material.
About this article
Cite this article
Berrebi, C., Karlinsky, A. & Yonah, H. Individual and community behavioral responses to natural disasters. Nat Hazards 105, 1541–1569 (2021). https://doi.org/10.1007/s11069-020-04365-2
Received:

Accepted:

Published:

Issue Date:
Keywords
Natural hazards

Charitable giving

Crime

Panel data

Natural disasters

Philanthropy

Prosocial behavior

Antisocial behavior

United States