Abstract
We investigated the response of a tidal lagoon system to a unique situation of relative sea-level change induced by powerful earthquakes (up to Mw 7.1) on the east coast of New Zealand in 2010–2011. Spatiotemporal impacts were quantified using airborne light detection and ranging (LiDAR) datasets complemented by hydrodynamic modelling and evaluation of anthropogenic influences. Ground-level changes included examples of uplift and extensive subsidence (ca. 0.5 m) associated with intertidal area reductions, particularly in supratidal zones. 'Coastal squeeze' effects occurred where incompatible infrastructure prevented upland ecosystem movement with relative sea-level rise. Despite large-scale managed retreat, legacy effects of land-filling have reduced the reversibility of human modifications, impairing system resiliency through poor land-use design. Elsewhere, available space in the intertidal range shows that natural environment movement could be readily assisted by simple engineering techniques though is challenged by competing land-use demands. Quantification of gains and losses showed that lagoon expansion into previously defended areas is indeed required to sustain critical habitats, highlighting the importance of a whole-system view. Identifiable coastal planning principles include the need to assess trade-offs between natural and built environments in the design of hazard management plans, requiring greater attention to the natural movement of ecosystems and areas involved. Treating these observations as a scenario illustrates the mechanisms by which coastal squeeze effects may develop under global sea-level rise, but our purpose is to help avoid them by identifying appropriate human responses. We highlight the need for an improved focus on whole-system resilience, and the importance of disaster recovery processes for adaptation to climate change.
Access options
Buy single article
Instant access to the full article PDF.
USD 39.95
Price excludes VAT (USA)
Tax calculation will be finalised during checkout.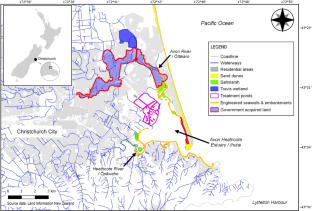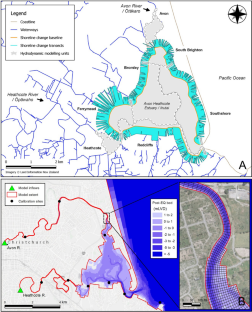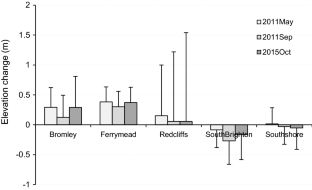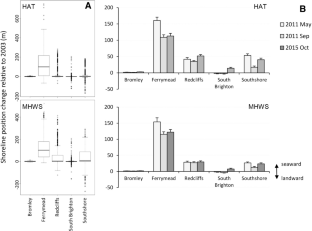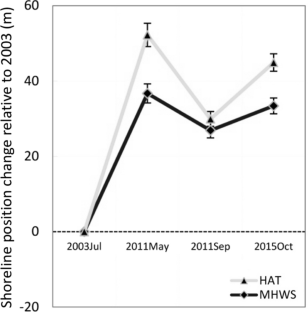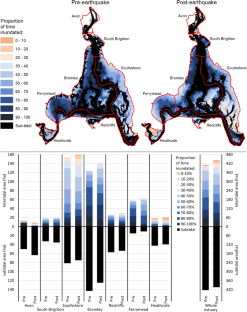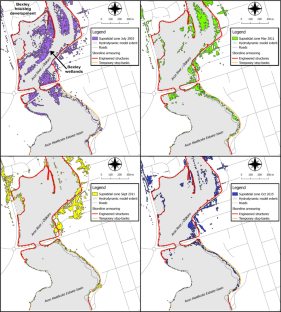 References
Al Mukaimi ME, Dellapenna TM, Williams JR (2018) Enhanced land subsidence in Galveston Bay, Texas: interaction between sediment accumulation rates and relative sea level rise. Estuar Coast Shelf Sci 207:183–193. https://doi.org/10.1016/j.ecss.2018.03.023

Albert S, Leon JX, Grinham AR, Church JA, Gibbes BR, Woodroffe CD (2016) Interactions between sea-level rise and wave exposure on reef island dynamics in the Solomon Islands. Environ Res Lett 11(5):54011. https://doi.org/10.1088/1748-9326/11/5/054011

Albert S, Saunders MI, Roelfsema CM, Leon JX, Johnstone E, Mackenzie JR, Woodroffe CD et al (2017) Winners and losers as mangrove, coral and seagrass ecosystems respond to sea-level rise in Solomon Islands. Environ Res Lett 12(9):94009. https://doi.org/10.1088/1748-9326/aa7e68

Barbier EB, Hacker SD, Kennedy C, Koch EW, Stier AC, Silliman BR (2011) The value of estuarine and coastal ecosystem services. Ecol Monogr 81(2):169–193. https://doi.org/10.1890/10-1510.1

Bardsley DK, Sweeney SM (2010) Guiding climate change adaptation within vulnerable natural resource management systems. Environ Manage 45(5):1127–1141. https://doi.org/10.1007/s00267-010-9487-1

Barlow NLM, Shennan I, Long AJ (2012) Relative sea-level response to little ice age ice mass change in south central Alaska: reconciling model predictions and geological evidence. Earth Planet Sci Lett 315–316:62–75. https://doi.org/10.1016/j.epsl.2011.09.048

Beavan J, Motagh M, Fielding EJ, Donnelly N, Collett D (2012) Fault slip models of the 2010–2011 Canterbury, New Zealand, earthquakes from geodetic data and observations of postseismic ground deformation. NZ J Geol Geophys 55(3):207–221. https://doi.org/10.1080/00288306.2012.697472

Berry A, Fahey S, Meyers N (2013) Changing of the guard: adaptation options that maintain ecologically resilient sandy beach ecosystems. J Coastal Res 29(4):899–908. https://doi.org/10.2112/JCOASTRES-D-12-00150.1

Bradley BA, Quigley MC, Van Dissen RJ, Litchfield NJ (2014) Ground motion and seismic source aspects of the Canterbury earthquake sequence. Earthq Spectra 30(1):1–15. https://doi.org/10.1193/030113EQS060M

Canterbury Geotechnical Database (2014) Verification of LiDAR acquired before and after the Canterbury Earthquake Sequence. CGD Technical Specification 03 April 2014. p 52. Canterbury Geotechnical Database, Christchurch

Cazenave A, Cozannet GL (2014) Sea level rise and its coastal impacts. Earth's Future 2(2):15–34. https://doi.org/10.1002/2013EF000188

Cazenave A, Llovel W (2010) Contemporary sea level rise. Ann Rev Mar Sci 2(1):145–173. https://doi.org/10.1146/annurev-marine-120308-081105

Chapman PM (2012) Management of coastal lagoons under climate change. Estuar Coast Shelf Sci 110:32. https://doi.org/10.1016/j.ecss.2012.01.010

Cohen-Shacham E, Andrade A, Dalton J, Dudley N, Jones M, Kumar C, Walters G et al (2019) Core principles for successfully implementing and upscaling Nature-based Solutions. Environ Sci Policy 98:20–29. https://doi.org/10.1016/j.envsci.2019.04.014

Costanza R, d'Arge R, de Groot R, Farber S, Grasso M, Hannon B, van den Belt M et al (1998) The value of the world's ecosystem services and natural capital. Ecol Econ 25(1):3–15. https://doi.org/10.1016/S0921-8009(98)00020-2

Crossland AC (2013) Wetland bird monitoring at the Avon-Heathcote Estuary and Bromley Oxidation Ponds, Christchurch : August 2009 to July 2010. Notornis 60(2):151–157

Day JW, Britsch LD, Hawes SR, Shaffer GP, Reed DJ, Cahoon D (2000) Pattern and process of land loss in the Mississippi Delta: a spatial and temporal analysis of wetland habitat change. Estuaries 23(4):425–438. https://doi.org/10.2307/1353136

Delaney S, Scott D (2006) Waterbird Population Estimates, 4th edn. Wetlands International, Wageningen, The Netherlands

Duarte CM (2014) Global change and the future ocean: a grand challenge for marine sciences. Front Mar Sci. https://doi.org/10.3389/fmars.2014.00063

Duarte CM, Borja A, Carstensen J, Elliott M, Krause-Jensen D, Marbà N (2015) Paradigms in the recovery of estuarine and coastal ecosystems. Estuaries Coasts 38(4):1202–1212. https://doi.org/10.1007/s12237-013-9750-9

Folke C (2006) Resilience: the emergence of a perspective for social–ecological systems analyses. Glob Environ Change 16(3):253–267. https://doi.org/10.1016/j.gloenvcha.2006.04.002

Füssel HM (2007) Adaptation planning for climate change: concepts, assessment approaches, and key lessons. Sustain Sci 2(2):265–275. https://doi.org/10.1007/s11625-007-0032-y

Gedan KB, Kirwan ML, Wolanski E, Barbier EB, Silliman BR (2011) The present and future role of coastal wetland vegetation in protecting shorelines: answering recent challenges to the paradigm. Clim Change 106(1):7–29. https://doi.org/10.1007/s10584-010-0003-7

Glavovic BC, Saunders WSA, Becker JS (2010) Land-use planning for natural hazards in New Zealand: the setting, barriers, 'burning issues' and priority actions. Nat Hazards 54(3):679–706. https://doi.org/10.1007/s11069-009-9494-9

Green JMH, Sripanomyom S, Giam X, Wilcove DS, Fuller R (2015) The ecology and economics of shorebird conservation in a tropical human-modified landscape. J Appl Ecol 52(6):1483–1491. https://doi.org/10.1111/1365-2664.12508

Gunderson LH, Allen CR, Holling CS (2010) Foundations of ecological resilience. Island Press, Washington

Hällfors MH, Vaara EM, Hyvärinen M, Oksanen M, Schulman LE, Siipi H, Lehvävirta S (2014) Coming to terms with the concept of moving species threatened by climate change – A systematic review of the terminology and definitions. PLoS ONE 9(7):e102979. https://doi.org/10.1371/journal.pone.0102979

Hicks DM (1998) Sediment budgets for the Canterbury Coast—a review, with particular reference to the importance of river sediment. Report CHC98/2 prepared for Canterbury Regional Council. NIWA, Christchurch

Hughes MW, Quigley MC, van Ballegooy S, Deam BL, Bradley BA, Hart DE, Measures R (2015) The sinking city: earthquakes increase flood hazard in Christchurch New Zealand. GSA Today 25(3–4):4–10

Hume TM, Snelder T, Weatherhead M, Liefting R (2007) A controlling factor approach to estuary classification. Ocean Coast Manag 50(11):905–929. https://doi.org/10.1016/j.ocecoaman.2007.05.009

IPCC (2013) Climate change 2013: the physical science basis. In: Stocker, Qin, Plattner, Tignor, Allen, Boschung, Nauels, Xia, Bex, Midgley (eds) Working group contribution to the fifth assessment report of the intergovernmental panel on climate change. Cambridge University Press, Cambridge

Jackson CW, Alexander CR, Bush DM (2012) Application of the AMBUR R package for spatio-temporal analysis of shoreline change: Jekyll Island, Georgia, USA. Comput Geosci 41:199–207. https://doi.org/10.1016/j.cageo.2011.08.009

Jacoby G, Carver G, Wagner W (1995) Trees and herbs killed by an earthquake around 300 yr ago at Humboldt Bay. Calif Geol 23(1):77

Joll D, Ngā Papatipu Rūnanga Working Group (2013) Mahaanui Iwi Management Plan 2013. Mahaanui Kurataiao Ltd., Ōtautahi Christchurch

Jones MB, Marsden ID (2007) Life in the Estuary: Illustrated guide and ecology. Canterbury University Press, Christchurch, p 179

Kabisch N, Frantzeskaki N, Pauleit S, Naumann S, Davis M, Artmann M, Bonn A et al (2016) Nature-based solutions to climate change mitigation and adaptation in urban areas: perspectives on indicators, knowledge gaps, barriers, and opportunities for action. Ecology and Society 21(2):39. https://doi.org/10.5751/ES-08373-210239

Kaiser A, Holden C, Beavan J, Beetham D, Benites R, Celentano A, Zhao J et al (2012) The Mw 6.2 Christchurch earthquake of February 2011: preliminary report. N Z J Geol Geophys 55(1):67. https://doi.org/10.1080/00288306.2011.641182

Kennish MJ (1986) Ecology of estuaries. CRC Press, Boca Raton

Kennish MJ (2002) Environmental threats and environmental future of estuaries. Environ Conserv 29(1):78–107. https://doi.org/10.1017/s0376892902000061

Kirk RM (1979) Dynamics and management of sand beaches in southern Pegasus Bay. Morris and Wilson Consulting Engineers Limited, Christchurch

Kirwan ML, Megonigal JP (2013) Tidal wetland stability in the face of human impacts and sea-level rise. Nature 504(7478):53–60. https://doi.org/10.1038/nature12856

Lang M, Orchard S, Falwasser T, Rupene M, Williams C, Tirikatene-Nash N, Couch R (2012) State of the Takiwā 2012 -Te Ähuatanga o Te Ihutai. Cultural Health Assessment of the Avon-Heathcote Estuary and its Catchment. Mahaanui Kurataiao Ltd., Christchurch, p 41

Lichter M, Vafeidis AT, Nicholls RJ, Kaiser G (2011) Exploring data-related uncertainties in analyses of land area and population in the "Low-Elevation Coastal Zone" (LECZ). J Coastal Res 27(4):757–768. https://doi.org/10.2112/JCOASTRES-D-10-00072.1

LINZ (2016) Christchurch 0.075m Urban Aerial Photos (2015–16). Imported on Oct. 3, 2016 from 6993 GeoTIFF sources in NZGD2000 / New Zealand Transverse Mercator 2000

LINZ (2017) Canterbury—Christchurch and Selwyn LiDAR 1m DEM (2015). Accessed 3 March 2019 from https://data.linz.govt.nz/layer/53587-canterbury-christchurch-and-selwyn-lidar-1m-dem-2015/

LINZ (2018a) Local mean sea level datums. Updated 22 March 2018. Accessed 4 April 2019 from https://www.linz.govt.nz/data/geodetic-system/datums-projections-and-heights/

LINZ (2018) New Zealand Nautical Almanac, 2018/2019 edition, NZ 204. Land Information New Zealand, Wellington, p 271

Macreadie PI, Nielsen DA, Kelleway JJ, Atwood TB, Seymour JR, Petrou K, Ralph PJ et al (2017) Can we manage coastal ecosystems to sequester more blue carbon? Front Ecol Environ 15(4):206–213. https://doi.org/10.1002/fee.1484

Martínez ML, Intralawan A, Vázquez G, Pérez-Maqueo O, Sutton P, Landgrave R (2007) The coasts of our world: Ecological, economic and social importance. Ecol Econ 63(2):254–272. https://doi.org/10.1016/j.ecolecon.2006.10.022

Martinez ML, Mendoza-Gonzalez G, Silva-Casarin R, Mendoza-Baldwin E (2014) Land use changes and sea level rise may induce a "coastal squeeze" on the coasts of Veracruz, Mexico. Glob Environ Change 29:180. https://doi.org/10.1016/j.gloenvcha.2014.09.009

McGranahan G, Balk D, Anderson B (2007) The rising tide: assessing the risks of climate change and human settlements in low elevation coastal zones. Environ Urban 19(1):17–37. https://doi.org/10.1177/0956247807076960

Measures R, Bind J (2013) Hydrodynamic model of the avon heathcote estuary: model build and calibration, NIWA client report CHC2013-116. NIWA, Christchurch, p 29

Morton RA, Bernier JC, Kelso KW, Barras JA (2010) Quantifying large-scale historical formation of accommodation in the Mississippi Delta. Earth Surf Proc Land 35(14):1625–1641. https://doi.org/10.1002/esp.2000

Nicholls RJ, Hanson SE, Lowe JA, Warrick RA, Lu X, Long AJ (2014) Sea-level scenarios for evaluating coastal impacts. Wiley Interdiscip Rev Clim Change 5(1):129–150. https://doi.org/10.1002/wcc.253

Nicholls RJ, Marinova N, Lowe JA, Brown S, Vellinga P, Gusmão DD, Richard SJT et al (2011) Sea-level rise and its possible impacts given a 'beyond 4°C world' in the twenty-first century. Philos Trans Math Phys Eng Sci 369(1934):161–181. https://doi.org/10.1098/rsta.2010.0291

Nicholls RJ, Wong PP, Burkett V, Woodroffe CD, Hay J (2008) Climate change and coastal vulnerability assessment: scenarios for integrated assessment. Sustain Sci 3(1):89–102. https://doi.org/10.1007/s11625-008-0050-4

Orchard S (2011) Implications of the New Zealand Coastal Policy Statement for New Zealand communities. Report prepared for Environment and Conservation Organisations of New Zealand, Wellington, p 46

Orchard S (2017) Floodplain restoration principles for the Avon-Ōtākaro Red Zone. Case studies and recommendations. Report prepared for Avon Ōtākaro Network, Christchurch, p 40

Pauling C, Lenihan TM, Rupene M, Tirikatene-Nash N, Couch R (2007) State of the Takiwā -Te Ähuatanga o Te Ihutai Cultural Health Assessment of the Avon-Heathcote Estuary and its Catchment. Te Rūnanga o Ngāi Tahu, Christchurch, p 35

Pendleton LH (2008) The economic and market value of coasts and estuaries: what's at stake. Restore America's Estuaries, Arlington, p 182

Perkins MJ, Ng TPT, Dudgeon D, Bonebrake TC, Leung KMY (2015) Conserving intertidal habitats: What is the potential of ecological engineering to mitigate impacts of coastal structures? Estuar Coast Shelf Sci 167:504–515. https://doi.org/10.1016/j.ecss.2015.10.033

Phan LK, Jaap SMVTDV, Stive MJF (2015) Coastal mangrove squeeze in the Mekong Delta. J Coast Res 31(2):233–243. https://doi.org/10.2112/JCOASTRES-D-14-00049.1

Polasky S, Carpenter SR, Folke C, Keeler B (2011) Decision-making under great uncertainty: environmental management in an era of global change. Trends Ecol Evol 26(8):398–404. https://doi.org/10.1016/j.tree.2011.04.007

Potter SH, Becker JS, Johnston DM, Rossiter KP (2015) An overview of the impacts of the 2010–2011 Canterbury earthquakes. Int J Disaster Risk Reduct 14(1):6–14. https://doi.org/10.1016/j.ijdrr.2015.01.014

QGIS Development Team (2019) QGIS Geographic Information System. Open Source Geospatial Foundation Project. https://qgis.org

Quigley MC, Bastin S, Bradley BA (2013) Recurrent liquefaction in Christchurch, New Zealand, during the Canterbury earthquake sequence. Geology 41(4):419–422. https://doi.org/10.1130/G33944.1

Quigley MC, Hughes MW, Bradley BA, van Ballegooy S, Reid C, Morgenroth J, Pettinga JR et al (2016) The 2010–2011 canterbury earthquake sequence: environmental effects, seismic triggering thresholds and geologic legacy. Tectonophysics 672–673:228–274. https://doi.org/10.1016/j.tecto.2016.01.044

R Core Team (2017) R: a language and environment for statistical computing. R foundation for statistical computing. Vienna, Austria

Reed DJ (1990) The impact of sea-level rise on coastal salt marshes. Prog Phys Geogr 14(4):465–481. https://doi.org/10.1177/030913339001400403

Reed DJ, Wood RM, Best J (1988) Earthquakes, rivers and ice: scientific research at the Laguna San Rafael, Southern Chile, 1986. Geogr J 154(3):392–405. https://doi.org/10.2307/634611

Renaud FG, Sudmeier-Rieux K, Estrella M, Nehren U, SpringerLink. (2016) Ecosystem-based disaster risk reduction and adaptation in practice, vol 42. Springer International Publishing, Cham

Robins PE, Skov MW, Lewis MJ, Giménez L, Davies AG, Malham SK, Jago CF et al (2016) Impact of climate change on UK estuaries: a review of past trends and potential projections. Estuar Coast Shelf Sci 169:119–135. https://doi.org/10.1016/j.ecss.2015.12.016

Robinson K, Hughes M, Cubrinovski M, Orense R, Taylor M (2012) Lateral spreading and its impacts in urban areas in the 2010–2011 Christchurch earthquakes. NZ J Geol Geophys 55(3):255. https://doi.org/10.1080/00288306.2012.699895

Rogers K, Kelleway JJ, Saintilan N, Megonigal JP, Adams JB, Holmquist JR, Woodroffe CD et al (2019) Wetland carbon storage controlled by millennial-scale variation in relative sea-level rise. Nature 567(7746):91–95. https://doi.org/10.1038/s41586-019-0951-7

Saunders MI, Saunders MI, Albert S, Albert S, Roelfsema CM, Roelfsema CM, Mumby PJ et al (2016) Tectonic subsidence provides insight into possible coral reef futures under rapid sea-level rise. Coral Reefs 35(1):155–167. https://doi.org/10.1007/s00338-015-1365-0

Schleupner C (2008) Evaluation of coastal squeeze and its consequences for the Caribbean island Martinique. Ocean Coast Manag 51(5):383–390. https://doi.org/10.1016/j.ocecoaman.2008.01.008

Schmidt CW (2015) Delta subsidence: An imminent threat to coastal populations. Environ Health Perspect 123(8):A204–A209. https://doi.org/10.1289/ehp.123-A204

Schuerch M, Spencer T, Temmerman S, Kirwan ML, Wolff C, Lincke D, Brown S et al (2018) Future response of global coastal wetlands to sea-level rise. Nature 561(7722):231–234. https://doi.org/10.1038/s41586-018-0476-5

Storms JEA, Blaauw M, Wallace DJ, van Dam RL, Meijneken C, Klerks CJW, Snijders EMA et al (2008) Mississippi Delta subsidence primarily caused by compaction of Holocene strata. Nat Geosci 1(3):173–176. https://doi.org/10.1038/ngeo129

Tau TM, Goodall A, Palmer D, Tau R (1990) Te Whakatau Kaupapa—the Ngāi Tahu resource management strategy for the Canterbury Region. Aoraki Press, Ōtautahi Christchurch

Thrush SF, Townsend M, Hewitt JE, Davies K, Lohrer AM, Lundquist C, Dymond J et al (2013) The many uses and values of estuarine ecosystems ecosystem services in New Zealand–conditions and trends. Manaaki Whenua Press, Lincoln

Turner BA (1978) Man-made disasters. London, England, New York, vol 53. Wykeham Publications, London

UNEP (2010) Ecosystem-based Adaptation Programme Paris, France: United Nations Environment Programme

Woodley K (2012) Shorebirds of New Zealand: sharing the margins. Puffin, Auckland

Zeldis J, Skilton J, South P, Schiel D (2011) Effects of the Canterbury earthquakes on Avon-Heathcote Estuary/Ihutai ecology. Environment Canterbury Report No. U11/14. Environment Canterbury, Christchurch, p 27

Zharikov Y, Milton DA (2009) Valuing coastal habitats: predicting high-tide roosts of non-breeding migratory shorebirds from landscape composition. Emu Austral Ornithol 109(2):107–120. https://doi.org/10.1071/MU08017
Acknowledgements
We thank the Ngāi Tahu Research Centre, Brian Mason Scientific and Technical Trust, and National Institute for Water and Atmospheric Research (NIWA) for funding support. We thank Jochen Bind for assisting the development of bathymetric datasets, and the Ministry of Business, Innovation and Employment (MBIE) and Environment Canterbury for funding the original hydrodynamic model.
Ethics declarations
Conflict of interest
The authors declare that they have no conflict of interest.
Additional information
Publisher's Note
Springer Nature remains neutral with regard to jurisdictional claims in published maps and institutional affiliations.
Electronic supplementary material
Below is the link to the electronic supplementary material.
About this article
Cite this article
Orchard, S., Hughey, K.F.D., Measures, R. et al. Coastal tectonics and habitat squeeze: response of a tidal lagoon to co-seismic sea-level change. Nat Hazards 103, 3609–3631 (2020). https://doi.org/10.1007/s11069-020-04147-w
Received:

Accepted:

Published:

Issue Date:

DOI: https://doi.org/10.1007/s11069-020-04147-w
Keywords
Resilience

Risk management

Disaster recovery

Climate change adaptation

Socio-ecological systems

Tipping points