Abstract
As a concept, social vulnerability describes combinations of social, cultural, economic, political, and institutional processes that shape socioeconomic differentials in the experience of and recovery from hazards. Quantitative measures of social vulnerability are widely used in research and practice. In this paper, we establish criteria for the evaluation of social vulnerability indicators and apply those criteria to the most widely used measure of social vulnerability, the Social Vulnerability Index (SoVI). SoVI is a single quantitative indicator that purports to measure a place's social vulnerability. We show that SoVI has some critical shortcomings regarding theoretical and internal consistency. Specifically, multiple SoVI-based measurements of the vulnerability of the same place, using the same data, can yield strikingly different results. We also show that the SoVI is often misaligned with theory; increases in variables that contribute to vulnerability, like the unemployment rate, often decrease vulnerability as measured by the SoVI. We caution against the use of the index in policy making or other risk-reduction efforts, and we suggest ways to more reliably assess social vulnerability in practice.
Access options
Buy single article
Instant access to the full article PDF.
US$ 39.95
Tax calculation will be finalised during checkout.
Subscribe to journal
Immediate online access to all issues from 2019. Subscription will auto renew annually.
US$ 119
Tax calculation will be finalised during checkout.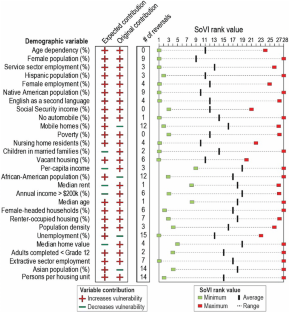 Notes
1.

The SoVI is constructed using over two dozen variables; the specific formulation varies over time and application. For those familiar with principal components analysis, the index is constructed by summing the first n components of from PCA. This yields a continuous numeric score. The original formulation of SoVI retained 11 components retaining 76% of the variance in the original data set.

2.
References
Adger N (2006) Vulnerability. Glob Environ Change 16(3):268–281

Amec-Foster-Wheeler (2016) City and county of Denver hazard mitigation plan. http://www.denvergov.org/content/dam/denvergov/Portals/428/documents/Denver%20HMP%20Public%20Review%20Draft.pdf. Accessed 12 Dec 2018

Beccari B (2016) A comparative analysis of disaster risk, vulnerability and resilience composite indicators. PLOS Curr Disasters. https://doi.org/10.1371/currents.dis.453df025e34b682e9737f95070f9b970

Birkmann J (2006) Measuring vulnerability to promote disaster-resilient societies: conceptual frameworks and definitions. Measuring vulnerability to natural hazards: towards disaster resilient societies, chapter 1:9–79

Birkmann J (2007) Risk and vulnerability indicators at different scales—applicability, usefulness and policy implications. Environ Hazards 7:20–31

Birkmann J (2013) Data, indicators and criteria for measuring vulnerability: theoretical bases and requirements. In: Birkmann J (ed) Measuring vulnerability to natural hazards: towards disaster resilient societies, chapter 2, 2nd edn. United Nations University Press, pp 80–106

Birkmann J, Wisner B (2006) Measuring the unmeasurable: the challenge of vulnerability. UNU-EHS

Borden K, Schmidtlein M, Emrich C, Piergorsch W, Cutter S (2007) Vulnerability of U.S. cities to environmental hazards. J Homel Secur Emerg Manag 4(2):5

Buckle P, Mars G, Smale S (2000) New approaches to assessing vulnerability and resilience. Aust J Emerg Manag 15(2):8–14

Cardona O (2004) The need for rethinking the concepts of vulnerability and risk from a holistic perspective: a necessary review and criticism for effective risk management. In: Bankoff G, Frerks G, Hilhorst D (eds) Mapping vulnerability: disasters, development and people, Chapter 3. Earthscan, London, pp 37–51

Chang S, Yip J, van Zijll de Jong S, Chaster R, Lowcock A (2015) Using vulnerability indicators to develop resilience networks: a similarity approach. Nat Hazards 78(3):1827–1841

Chen W, Cutter S, Emrich C, Shi P (2013) Measuring social vulnerability to natural hazards in the Yangtze River Delta region, China. Int J Disaster Risk Sci 4(4):169–181

Clark D, Davies W, Johnston R (1974) The application of factor analysis in human geography. The Statistician 23(3/4):259–281

Clark G, Moser S, Ratick S, Dow K, Meyer W, Emani S, Jin W, Kasperson J, Kasperson R, Schwarz H (1998) Assessing the vulnerability of coastal communities to extreme storms: the case of Revere, MA, USA. Mitig Adapt Strateg Glob Change 3(1):59–82

Cronbach L, Meehl P (1955) Construct validity in psychological test. Psychol Bull 52(4):281–302

Cutter S, Finch C (2008) Temporal and spatial changes in social vulnerability to natural hazards. Proc Natl Acad Sci 105(7):2301–2306

Cutter S, Boruff B, Shirley W (2003) Social vulnerability to environmental hazards. Soc Sci Q 84(2):242–261

Cutter S, Emrich C, Morath D, Dunning C (2013) Integrating social vulnerability into federal flood risk management planning. J Flood Risk Manag 6:332–344

De Oliveira Mendes J (2009) Social Vulnerability Indexes as planning tools: beyond the preparedness paradigm. J Risk Res 12(1):43–58

Dunning CM, Durden S (2011) Social vulnerability analysis methods for Corps planning. US Army Corps of Engineers

Dunning CM, Durden SE (2013) Social vulnerability analysis: a comparison of tools. Institute for Water Resources

Emrich CT, Morath DP, Morath GC, Reeves R (2014) Climate-sensitive hazards in Florida: identifying and prioritizing threats to build resilience against climate effects. Hazard and Vulnerability Research Institute, Columbia

European Commission Composite Indicators Research Group (2016) What is a composite indicator? Retrieved 01 March, 2017, from https://composite-indicators.jrc.ec.europa.eu/?q=content%2Fwhat-composite-indicator

Fekete A (2012) Spatial disaster vulnerability and risk assessments: challenges in their quality and acceptance. Nat Hazards 61(3):1161–1178

Finch C, Emrich C, Cutter S (2010) Disaster disparities and differential recovery in New Orleans. Popul Environ 31(4):179–202

Flanagan B, Gregory E, Hallisey E, Heitgerd J, Lewis B (2011) A Social Vulnerability Index for disaster management. J Homel Secur Emerg Manag 8(1):3

Gall M (2007) Indices of social vulnerability to natural hazards: a comparative evaluation. ProQuest

Guillard-Goncalves C, Cutter S, Emrich C, Zezere J (2015) Application of Social Vulnerability Index (SoVI) and delineation of natural risk zones in Greater Lisbon, Portugal. J Risk Res 18(5):651–674

Holand I, Lujala P (2013) Replicating and adapting an index of social vulnerability to a new context: a comparison study for Norway. Prof Geogr 65(2):312–328

Holand IS, Lujala P, Rød JK (2011) Social vulnerability assessment for Norway: a quantitative approach. Norsk Geografisk Tidsskrift - Norwegian Journal of Geography 65(1):1–17. https://doi.org/10.1080/00291951.2010.550167

Hummel B, Cutter S, Emrich C (2016) Social vulnerability to natural hazards in Brazil. Int J Disaster Risk Sci 7(2):111–122

Janson CG (1980) Factorial social ecology: an attempt at summary and evaluation. Ann Rev Sociol 6(1):433–456

Johnson D, Stanforth A, Lulla V, Luber G (2012) Developing an applied extreme heat vulnerability index utilizing socioeconomic and environmental data. Appl Geogr 35(1):23–31

Jones B, Andrey J (2007) Vulnerability index construction: methodological choices and their influence on identifying vulnerable neighbourhoods. Int J Emerg Manag 4(2):269–295

King L (1966) Cross-sectional analysis of Canadian urban dimensions—1951 and 1961. Can Geogr 10:205–224

King D, MacGregor C (2000) Using social indicators to measure community vulnerability to natural hazards. Aust J Emerg Manag 15:52–57

Kleinosky L, Yarnal B, Fisher A (2007) Vulnerability of Hampton Roads, Virginia to storm-surge flooding and sea-level rise. Nat Hazards 40(1):43–70

Laska S, Morrow B (2007) Social vulnerabilities and Hurricane Katrina—an unnatural disaster in New Orleans. Marine Technol Soc J 40(4):16–26

Morrow B (1999) Identifying and mapping community vulnerability. Disasters 23(1):1–18

Ngo E (2003) When disasters and age collide—reviewing vulnerability of the elderly. Nat Hazards Rev 2(2):80–89

Organisation for Economic Co-Operation and Development, & Joint Research Centre of the European Commission (2008) Handbook on constructing composite indicators. Retrieved March 1, 2017, from OECD. http://www.oecd.org/std/leading-indicators/42495745.pdf

Oulahen G et al (2015) Unequal vulnerability to flood hazards: "ground truthing" a Social Vulnerability Index of five municipalities in Metro Vancouver, Canada. Ann Assoc Am Geogr 105(3):473–495

OXFAM America (OXFAM) (2009) Exposed: social vulnerability and climate change in the US southeast, p 20. http://adapt.oxfamamerica.org/resources/Exposed_Report.pdf. Accessed 12 Dec 2018

Palm R, Caruso D (1972) Factor labelling in factorial ecology. Ann Assoc Am Geogr 62(1):122–133

Polsky C, Neff R, Yarnal B (2007) Building comparable global change vulnerability assessments: the vulnerability scoping diagram. Glob Environ Change 17(3):472–485

Rees P (1970) Concepts of social space. In: Berry B, Horton F (eds) Geographic perspectives on urban systems. Prentice Hall, NJ

Rufat S (2013) Spectroscopy of urban vulnerability. Ann Am Assoc Geogr 103(3):505–525

Rufat S, Tate E, Emrich C, Antonelli G (2019) How valid are social vulnerability models? Ann Am Assoc Geogr 109(4):1131–1158

Schmidtlein M, Deutsch R, Piegorsch W, Cutter S (2008) A sensitivity analysis of the Social Vulnerability Index. Risk Anal 28(4):1099–1114

Schweikert A, Espinet X, Chinowsky P (2017) The triple bottom line: bringing a sustainability framework to prioritize climate change investments for infrastructure planning. Sustain Sci 13:377. https://doi.org/10.1007/s11625-017-0431-7

South Carolina Emergency Management Division (2008) State of South Carolina Hazards Assessment 2008. http://webra.cas.sc.edu/hvri/docs/SCEMD_Report_2008.pdf. Accessed 12 Dec 2018

Spielman SE, Folch D, Nagle N (2014) Causes and patterns of uncertainty in the american community survey. Appl Geograp 46:147–157

State of South Carolina (2017) Hazard mitigation plan. https://www.scemd.org/media/1391/sc-hazard-mitigation-plan-2018-update.pdf. Accessed 12 Dec 2018

Stevens SS (1946) On the theory of scales of measurement. Science 103(2684):677–680

Tate E (2012) Social vulnerability indices: a comparative assessment using uncertainty and sensitivity analysis. Nat Hazards 63(2):325–347

Turner B II, Kasperson R, Matson P, McCarthy J, Corell R, Christensen L, Eckley N, Kasperson J, Luers A, Martello M, Polsky C, Pulsipher A, Schiller A (2003) Framework for vulnerability analysis in sustainability science. Proc Natl Acad Sci USA 100:8074–8079

Tyler S, Moench M (2012) A framework for urban climate resilience. Clim Dev 4(4):311–326

U.S. Environmental Protection Agency (2015) Climate change in the United States—benefits of global action. Benefits of Global Action. Environmental Protection Agency, Office of Atmospheric Programs. EPA 430-R-15-001, p 94

U.S. Census Bureau (2013) 2008–2012 American Community Survey 5-year estimates. Retrieved from https://factfinder.census.gov/faces/nav/jsf/pages/searchresults.xhtml?refresh=t. Accessed 12 Dec 2018

Wood N, Burton C, Cutter S (2010) Community variations in social vulnerability to Cascadia-related tsunamis in the U.S. Pacific Northwest. Nat Hazards 52(2):369–389

Wood N, Jones J, Spielman S, Schmidtlein M (2015) Community clusters of tsunami vulnerability in the US Pacific Northwest. Proc Natl Acad Sci 112(17):5353–5359. https://doi.org/10.1073/pnas.1420309112
Acknowledgements
To facilitate advances to current practice and to allow replication of our results, all of the code and data used in this analysis is open source and available at (https://github.com/geoss/sovi-validity). Funding was provided by the US National Science Foundation (Award No. 1333271) and the U.S. Geological Survey Land Change Science Program.
Additional information
Publisher's Note
Springer Nature remains neutral with regard to jurisdictional claims in published maps and institutional affiliations.
Electronic supplementary material
Below is the link to the electronic supplementary material.
About this article
Cite this article
Spielman, S.E., Tuccillo, J., Folch, D.C. et al. Evaluating social vulnerability indicators: criteria and their application to the Social Vulnerability Index. Nat Hazards 100, 417–436 (2020). https://doi.org/10.1007/s11069-019-03820-z
Received:

Accepted:

Published:

Issue Date:
Keywords
Social vulnerability

Evaluation

Social indicators