Abstract
Indian coasts are often influenced by life-threatening water levels caused by tropical cyclones. To have a better long-term planning for the coastal districts due to tropical cyclones, the extreme water levels for different climate change scenarios are important to compute. For this, finite-element mesh is generated with high resolution near the coast to simulate maximum water elevations (MWE) as a response to the nonlinear storm surge interaction at the time of local high tide. Based on the historical cyclone data (1891–2016), the return periods are calculated using the values of pressure drop of the cyclones for each maritime state along the Indian coasts. Synthetic tracks are also generated based on inverse distance weighted method using the inventory of cyclone tracks, ensuring that each coastal district is covered. Experiments are carried out for each return period with possible climate change scenarios by considering wind enhancement of 7% (moderate scenario) and of 11% (extreme scenario) over the normal (present) scenario. The simulations for MWE are performed at every 10 km along the Indian coast. The computed averaged extreme water levels of about 10 m are simulated in the northernmost part of the east coast and Gulf of Khambhat in the west coast of India. An average increase of about 20% and 30% in MWE is estimated in the moderate and extreme climate change scenarios, respectively. The southern Indian peninsular region is seen significantly affected from the extreme scenario.
Access options
Buy single article
Instant access to the full article PDF.
USD 39.95
Price excludes VAT (USA)
Tax calculation will be finalised during checkout.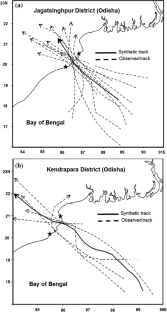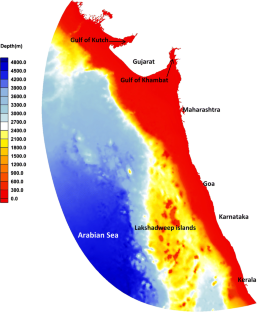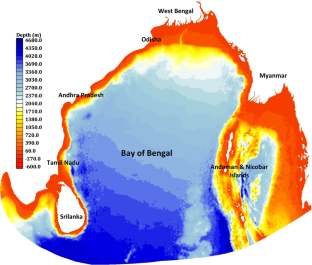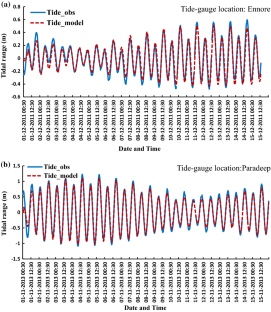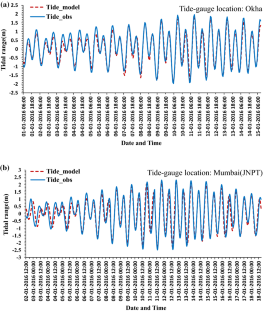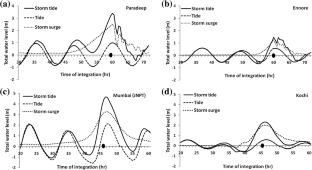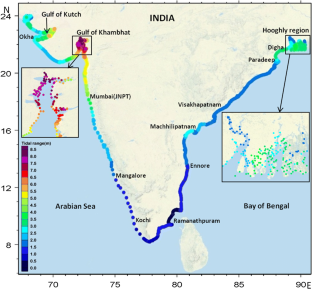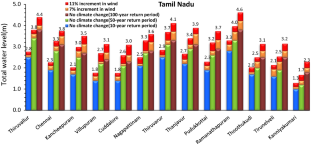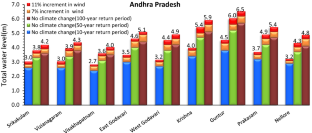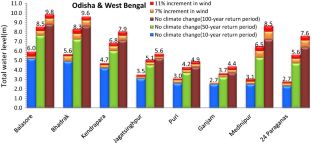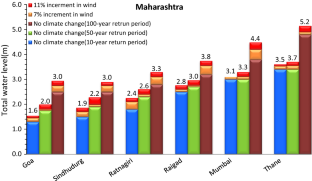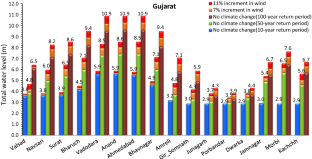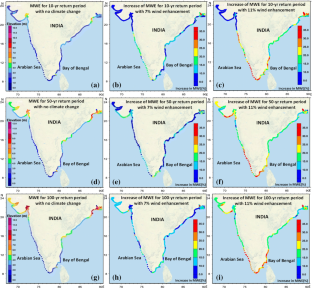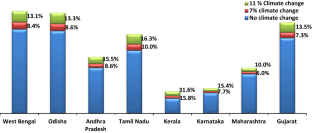 References
Black KP, Baba M, Kurian NP, Urich P, Narayan B, Stanley DO, Mathew J (2017) Climate change adaptation guidelines for coastal protection and management in India, vol 2 Appendix. ADB TA-8652 IND

BMTPC Vulnerability Atlas of India (2006) Earthquake, windstorm and flood hazard maps and damage risk to housing. Building Materials and Technology Promotion Council, Ministry of Housing and Urban Poverty Alleviation, Government, of India, Delhi

Chittibabu P, Dube SK, Macnabb JB, Murty TS, Rao AD, Mohanty UC, Sinha PC (2004) Mitigation of flooding and cyclone hazard in Orissa, India. Nat Hazards 31(2):455–485

Dube SK, Sinha PC, Rao AD, Rao GS (1985) Numerical modelling of storm surges in the Arabian Sea. Appl Math Model 9(4):289–294

Dube SK, Rao AD, Sinha PC, Murty TS, Bahulayan N (1997) Storm surge in the Bay of Bengal and Arabian Sea the problem and its prediction. Mausam 48(2):283–304

Dube SK, Chittibabu P, Sinha PC, Rao AD, Murty TS (2004) Numerical modelling of storm surge in the head Bay of Bengal using location specific model. Nat Hazards 31(2):437–453

Dube SK, Jain I, Rao AD, Murty TS (2009) Storm surge modelling for the Bay of Bengal and Arabian Sea. Nat Hazards 51(1):3–27

Evan AT, Camargo SJ (2011) A climatology of Arabian Sea cyclonic storms. J Clim 24(1):140–158

Evan AT, Kossin JP, Ramanathan V (2011) Arabian Sea tropical cyclones intensified by emissions of black carbon and other aerosols. Nature 479(7371):94

Farhadzadeh A, Gangai J (2017) Numerical modeling of coastal storms for ice-free and Ice-covered Lake Erie. J Coast Res 33(6):1383–1396

Garratt JR (1977) Review of drag coefficients over oceans and continents. Mon Weather Rev 105(7):915–929

Giardino A, Elias E, Arunakumar A, Karunakar K (2014) Tidal modelling in the Gulf of Khambhat based on a numerical and analytical approach. Indian J Mar Sci 43(7):106–111

Gray WM (1968) Global view of the origin of tropical disturbances and storms. Mon weather Rev 96:669–700

Gumbel EJ (1958) Statistics of extremes. Columbia University Press, New York, p 375

Hoarau K, Bernard J, Chalonge L (2012) Intense tropical cyclone activities in the northern Indian Ocean. Int J Climatol 32(13):1935–1945

Horsburgh KJ, Wilson C (2007) Tide-surge interaction and its role in the distribution of surge residuals in the North Sea. J Geophys Res 112:C08003. https://doi.org/10.1029/2006JC004033

IPCC (2007) Climate Change 2007: impacts, adaptation and vulnerability: contribution of Working Group II to the fourth assessment report of the Intergovernmental Panel. Genebra, Suíça. https://doi.org/10.1256/004316502320517344

IPCC (2013a) Climate phenomena and their relevance for future regional climate change, Sec 14.6, Chapter 14, pp 1248–1251

IPCC (2013b) Climate phenomena and their relevance for future regional climate change—supplementary material, Sec 14.SM.4, pp 14SM-8–14SM-9

Jain I, Rao AD, Jitendra V, Dube SK (2010) Computation of expected total water levels along the east coast of India. J Coast Res 26:681–687

Jelesnianski CP, Taylor AD (1973) NOAA technical memorandum, ERL WMPO-3. NOAA, Washington, DC

Johns B, Ali MA (1980) The numerical modelling of storm surges in the Bay of Bengal. Q J R Meteorol Soc 106(447):1–18

Johns B, Rao AD, Dube SK, Sinha PC (1985) Numerical modelling of tide-surge interaction in the Bay of Bengal. Philos Trans R Soc Lond A 313(1526):507–535

Knutson TR, McBride JL, Chan J, Emanuel K, Holland G, Landsea C, Sugi M (2010) Tropical cyclones and climate change. Nat Geosci 3:157–163

Le Provost C, Bennett AF, Cartwright DE (1995) Ocean tides for and from TOPEX/POSEIDON. Science 267(5198):639–642

Luettich RA Jr, Westerink JJ, Scheffner NW (1992) ADCIRC: an advanced three-dimensional circulation model for shelves, coasts, and estuaries. Report 1. Theory and methodology of ADCIRC-2DDI and ADCIRC-3DL (No. CERC-TR-DRP-92-6). Coastal Engineering Research Center, Vicksburg

Mohanty UC, Gopalakrishnan SG (eds) (2016) Advanced numerical modeling and data assimilation techniques for tropical cyclone predictions. Springer, Berlin

Mohapatra M, Sharma M (2015) Characteristics of surface wind structure of tropical cyclones over the north Indian Ocean. J Earth Syst Sci 124(7):1573–1598

Mohapatra M, Mandal GS, Bandyopadhyay BK, Tyagi A, Mohanty UC (2012) Classification of cyclone hazard prone districts of India. Nat Hazards 63(3):1601–1620

Murakami H, Vecchi GA, Underwood S (2017) Increasing frequency of extremely severe cyclonic storms over the Arabian Sea. Nat Clim Change 7(12):885

Nayak S, Bhaskaran PK (2014) Coastal vulnerability due to extreme waves at Kalpakkam based on historical tropical cyclones in the Bay of Bengal. Int J Climatol 34(5):1460–1471

Poulose J, Rao AD, Bhaskaran PK (2018) Role of continental shelf on non-linear interaction of storm surges, tides and wind waves: An idealized study representing the west coast of India. Estuar Coast Shelf Sci 207:457–470

Rao AD, Chittibabu P, Murty TS, Dube SK, Mohanty UC (2007) Vulnerability from storm surges and cyclone wind fields on the coast of Andhra Pradesh, India. Nat Hazards 41(3):515–529

Rao AD, Jain I, Murthy MR, Murty TS, Dube SK (2009) Impact of cyclonic wind field on interaction of surge–wave computations using finite-element and finite-difference models. Nat Hazards 49(2):225–239

Rao AD, Jain I, Venkatesan R (2010) Estimation of extreme water levels due to cyclonic storms: a case study for Kalpakkam coast. Int J Ocean Clim Syst 1(1):1–14

Rao AD, Murty PLN, Jain I, Kankara RS, Dube SK, Murty TS (2013) Simulation of water levels and extent of coastal inundation due to a cyclonic storm along the east coast of India. Nat Hazards 66(3):1431–1441

Rao AD, Poulose J, Upadhyay P, Mohanty S (2015) Local-scale assessment of tropical cyclone induced storm surge inundation over the coastal zones of India in probabilistic climate risk scenario. In: Ravela S, Sandu A (eds) Dynamic data-driven environmental systems science. DyDESS 2014. Lecture Notes in Computer Science, vol 8964. Springer, Cham, pp 79–88

Rupp JA, Lander MA (1996) A technique for estimating recurrence intervals of tropical cyclone-related high winds in the tropics: results for Guam. J Appl Meteorol 35(5):627–637

Sahoo B, Bhaskaran PK (2016) Assessment on historical cyclone tracks in the Bay of Bengal, east coast of India. Int J Climatol 36(1):95–109

Sahoo B, Bhaskaran PK (2018) A comprehensive data set for tropical cyclone storm surge-induced inundation for the east coast of India. Int J Climatol 38(1):403–419

Sarthi PP, Agrawal A, Rana A (2015) Possible future changes in cyclonic storms in the Bay of Bengal, India under warmer climate. Int J Climatol 35(7):1267–1277

Sharma M, Mohapatra M (2017) Standard operation procedure for tropical cyclone vital parameters over North Indian Ocean. In: Mohapatra M, Bandyopadhyay B, Rathore L (eds) Tropical cyclone activity over the North Indian Ocean. Springer, Cham, pp 367–381

Sindhu B, Suresh I, Unnikrishnan AS, Bhatkar NV, Neetu S, Michael GS (2007) Improved bathymetric datasets for the shallow water regions in the Indian Ocean. J Earth Syst Sci 116(3):261–274

Srinivasa Kumar T, Murty PLN, Pradeep Kumar M, Krishna Kumar M, Padmanabham J, Kiran Kumar N, Mohanty P (2015) Modeling storm surge and its associated inland inundation extent due to very severe cyclonic storm Phailin. Mar Geodesy 38(4):345–360

Sun Y, Zhong Z, Li T, Yi L, Hu Y, Wan H, Li Q (2017) Impact of ocean warming on tropical cyclone size and its destructiveness. Sci Rep 7(1):8154

Testut L, Unnikrishnan AS (2016) Improving modeling of tides on the continental shelf off the west coast of India. J Coast Res 32(1):105–115

Weber DD, Englund EJ (1994) Evaluation and comparison of spatial interpolators II. Math Geol 26(5):589–603

Westerink JJ, Luettich RA, Baptists AM, Scheffner NW, Farrar P (1992) Tide and storm surge predictions using finite element model. J Hydraul Eng 118(10):1373–1390

Westerink JJ, Luettich RA Jr, Scheffner N (1993) ADCIRC: an advanced three-dimensional circulation model for shelves, coasts, and estuaries. Report 3. Development of a tidal constituent database for the western north Atlantic and Gulf of Mexico (No. CERC-TR-DRP-92-6). Coastal Engineering Research Center, Vicksburg

Williams J, Horsburgh KJ, Williams JA, Proctor RN (2016) Tide and skew surge independence: new insights for flood risk. Geophys Res Lett 43(12):6410–6417
Acknowledgments
We are very thankful to FCG ANZDEC LIMITED for their financial support to do this project. We are also very grateful of Indian Institute of Technology Delhi HPC facility and Department of Science and Technology, Government of India for giving financial support (DST-FIST, 2014) for computational resources.
Additional information
Publisher's Note
Springer Nature remains neutral with regard to jurisdictional claims in published maps and institutional affiliations.
About this article
Cite this article
Rao, A.D., Upadhaya, P., Pandey, S. et al. Simulation of extreme water levels in response to tropical cyclones along the Indian coast: a climate change perspective. Nat Hazards 100, 151–172 (2020). https://doi.org/10.1007/s11069-019-03804-z
Received:

Accepted:

Published:

Issue Date:

DOI: https://doi.org/10.1007/s11069-019-03804-z
Keywords