Abstract
This paper compares energy consumption (electricity, gasoline, and gas) by rural migrant workers and urban residents with a hukou (a China-specific household registration system) and influential factors (including quality-of-life [QOL]-related factors, built environment, and individual and household attributes) in China. A questionnaire survey was conducted in Dalian (a coastal city) in 2014 and in Guiyang (an inland city) in 2015, respectively. A zero-inflated negative binomial (ZINB) model was applied to understand whether and how much people consume a certain type of energy. The results showed that built environment explains 8.4–21.8% and 6.3–41.4% of the total variance in energy consumption by rural migrant workers and urban residents with a hukou. The corresponding variance related to QOL-related factors was 9.1–15.8% and 4.1–22.6%, respectively. The built environment was mostly associated with electricity consumed by urban residents with a hukou, while its influences on other types of energy consumption were moderate. Mixed effects of both built environment and QOL-related factors on reducing energy consumption were observed. Thus, it is context-sensitive whether and how much compact city development and social security policy affect residents' energy consumption.
Access options
Buy single article
Instant access to the full article PDF.
USD 39.95
Price excludes VAT (USA)
Tax calculation will be finalised during checkout.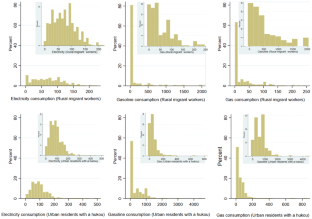 References
Anderson JE, Wulfhorst G, Lang W (2015) Energy analysis of the built environment—a review and outlook. Renew Sustain Energy Rev 44:149–158

Chan KW, Zhang L (1999) The hukou system and rural–urban migration in China: processes and changes. China Q 160:818–855

Chen Q, Song Z (2014) Accounting for China's urbanization. China Econ Rev 30:485–494

Cheng Z, Wang H (2013) Do neighbourhoods have effects on wages? A study of migrant workers in urban China. Habitat Int 38:222–231

Cheng Z, Nielsen I, Smyth R (2014) Access to social insurance in urban China: a comparative study of rural–urban and urban–urban migrants in Beijing. Habitat International 41:243–252

Cui Y, Tani M, Nahm D (2012) The determinants of employment choice of rural migrant workers in China: SOEs and non-SOEs. Procedia Econ Finance 1:98–107

Ding C, Liu C, Zhang Y, Yang J, Wang Y (2017) Investigating the impacts of built environment on vehicle miles traveled and energy consumption: differences between commuting and non-commuting trips. Cities 68:25–36

Dreger C, Zhang Y (2017) The Hukou impact on the Chinese wage structure. Discussion papers 1660, DIW Berlin, German Institute for Economic Research

Fan J-L, Liao H, Tang B-J, Pan S-Y, Yu H, Wei Y-M (2016) The impacts of migrant workers consumption on energy use and CO emissions in China. Nat Hazards 81(2):725–743

Greene WH (1994) Accounting for excess zeros and sample selection in Poisson and negative binomial regression models. Working paper EC-94-10, Department of Economics, Stern School of Business, New York University. http://ideas.repec.org/p/ste/nystbu/94-10.html. Accessed 22 July 2018

Jiang Y, Zhang J, Jin X, Ando R, Chen L, Shen Z, Ying J, Fang Q, Sun Z (2017) Rural migrant workers' intentions to permanently reside in cities and future energy consumption preference in the changing context of urban China. Transp Res Part D: Transp Environ 52(B):600–618

Liu S, Xie F, Zhang H, Guo S (2014) Influences on rural migrant workers' selection of employment location in the mountainous and upland areas of Sichuan, China. J Rural Stud 33:71–81

Lu L, Gong X, Zeng J (2016) Health status and migration: a propensity score matching with difference-in-difference regression approach. Lancet 388(Supplement 1):S60

National Bureau of Statistics of China (2017) Statistical Communique of the People's Republic of China on the 2017 National Economic and Social Development. http://www.stats.gov.cn/english/pressrelease/201802/t20180228_1585666.html. Accessed 22 July 2018

Ning G, Qi W (2017) Can self-employment activity contribute to ascension to urban citizenship? Evidence from rural-to-urban migrant workers in China. China Econ Rev 45:219–231

Shen H, Chen Y, Russell AG, Hu Y, Shen G, Yu H, Henneman LRF, Rua M, Huang Y, Zhong Q, Chen Y, Li Y, Zou Y, Zeng EY, Fan R, Tao S (2018) Impacts of rural worker migration on ambient air quality and health in China: from the perspective of upgrading residential energy consumption. Environ Int 113:290–299

Wang P, Liu Z, Yang R (2017) An empirical study on rural household energy consumption influencing factors about migrant workers in the country. J Energy Nat Resour 6(4):52–57

Ward IC (2008) What are the energy and power consumption patterns of different types of built environment? Energy Policy 36(12):4622–4629

Wei T, Zhu Q, Glomsrød S (2014) Energy spending and household characteristics of floating population: evidence from Shanghai. Energy Sustain Dev 23:141–149

Xie Y, Jiang Q (2016) Land arrangements for rural–urban migrant workers in China: findings from Jiangsu Province. Land Use Policy 50:262–267

Xu L, Paterson AD, Turpin W, Xu W (2015) Assessment and Selection of competing models for zero-inflated microbiome data. PLoS ONE 10(7):e0129606. https://doi.org/10.1371/journal.pone.0129606

Yau K-K-W, Wang K, Lee AH (2003) Zero-inflated negative binomial mixed regression modeling of over-dispersed count data with extra zeros. Biomet J 45(4):437–452

Yu B (2012) Integrated analysis on household energy consumption behavior across residential and transport sectors: model development and applications. Doctoral Dissertation, Graduate School for International Development and Cooperation, Hiroshima University, Japan

Yu B, Zhang J, Fujiwara A (2012a) A household time use and energy consumption model with multiple behavioral interactions and zero-consumption. Environ Plan B 40(2):330–349

Yu B, Zhang J, Fujiwara A (2012b) Analysis of the residential location choice and household energy consumption behavior by incorporating multiple self-selection effects. Energy Policy 46:319–334

Yu B, Zhang J, Fujiwara A (2013) Rebound effects caused by the improvement of vehicle energy efficiency: an analysis based on an SP-off-RP survey. Transp Res Part D 24:62–68

Zhang J (2014) Revisiting the residential self-selection issues: a life-oriented approach. J Land Use Transp 7(3):29–45

Zhang J (2017b) Life-oriented behavioral research for urban policy. Springer, Tokyo

Zhang M, Song Y, Li P, Li H (2016a) Study on affecting factors of residential energy consumption in urban and rural Jiangsu. Renew Sustain Energy Rev 53:330–337

Zhang L, Sharpe RV, Li S, Darity WA (2016b) Wage differentials between urban and rural–urban migrant workers in China. China Econ Rev 41:222–233

Zhao C, Zhou X, Wang F, Jiang M, Hesketh T (2017) Care for left-behind children in rural China: a realist evaluation of a community-based intervention. Child Youth Serv Rev 82:239–245

Zhong B, Liu T, Chan SSM, Jin D, Hu C-Y, Dai J, Chiu HFK (2015) Prevalence and correlates of major depressive disorder among rural-to-urban migrant workers in Shenzhen, China. J Affect Disord 183:1–9

Zhu P, Zhao S, Wang L, Yammahi SA (2017) Residential segregation and commuting patterns of migrant workers in China. Transp Res Part D: Transp Environ 52:586–599

Zhu Y, Hu X, Yang B, Wu G, Wang Z, Xue Z, Shi J, Ouyang X, Liu Z, Rosenheck R (2018) Association between migrant worker experience, limitations on insurance coverage, and hospitalization for schizophrenia in Hunan Province, China. Schizophr Res 197:93–97
Acknowledgement
This research has been financially supported by a Grants-in-Aid for Scientific Research (B), Japan Society for the Promotion of Science (JSPS) (No. 26303003) and a Grants-in-Aid for Scientific Research (A), JSPS (No. 15H02271).
Additional information
Publisher's Note
Springer Nature remains neutral with regard to jurisdictional claims in published maps and institutional affiliations.
About this article
Cite this article
Jiang, Y., Zhang, L. & Zhang, J. Energy consumption by rural migrant workers and urban residents with a hukou in China: quality-of-life-related factors and built environment. Nat Hazards 99, 1431–1453 (2019). https://doi.org/10.1007/s11069-019-03802-1
Received:

Accepted:

Published:

Issue Date:

DOI: https://doi.org/10.1007/s11069-019-03802-1
Keywords