Abstract
In China, Energy transition was proposed in the "12th Five-Year Plan" and gained resilient support by "Energy Revolution" announced by President Xi Jinping in 2014. In Paris Agreement, there are targets set up for 2100 to be well below 2 °C, with ambitious target on 1.5 °C. China signed the agreement and will support the global target. In the meantime, large-scale actions were initiated in 2013 by the national action plan on air pollution control for the period from 2013 to 2017. None of these strategies has clear long-term target. In our studies, energy transition will be decided by the long-term target of CO2 emission reduction, air pollutant reduction, and energy security. This paper will present the analysis from IPAC model, by setting up reduction target for CO2 emission under the global 2 °C and 1.5 °C target. Energy transition, CO2 emission, and air pollutant reduction will be discussed based on these targets. For air pollutants, SO2, NOx, PM2.5, black carbon, and mercury will be included. From the results, there will be a significant energy transition by large-scale use of renewable energy, nuclear and the share of coal will be reduced to less than 20% in 2050 from 66% in 2015. Energy transition will also contribute to a drastic reduction in air pollutants.
This is a preview of subscription content,
to check access.
Access this article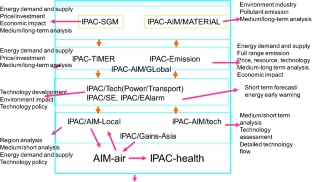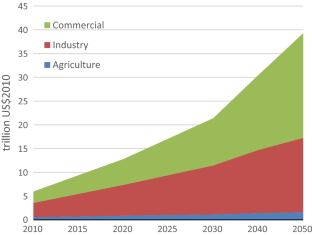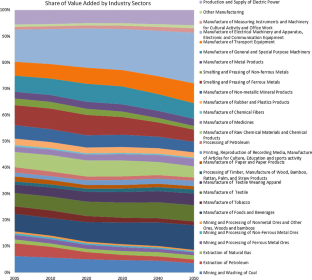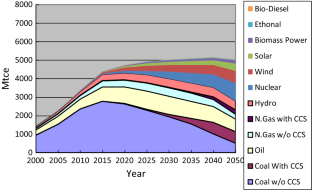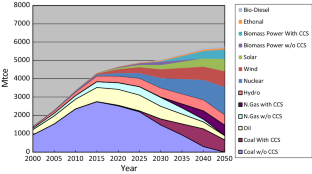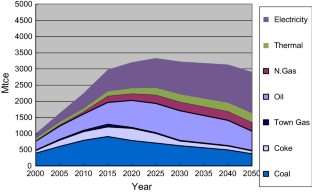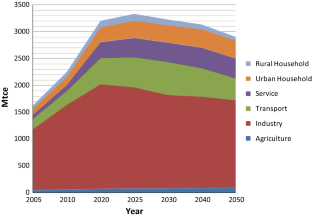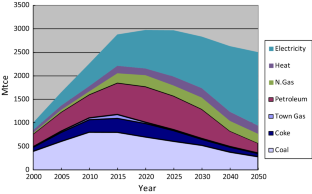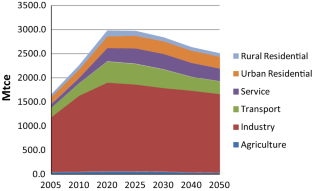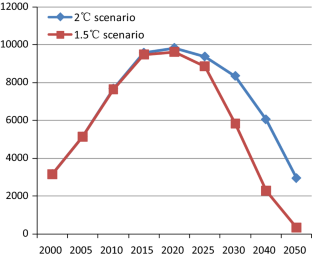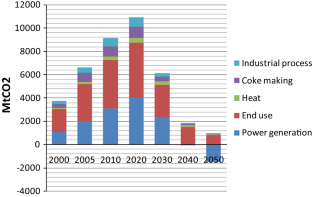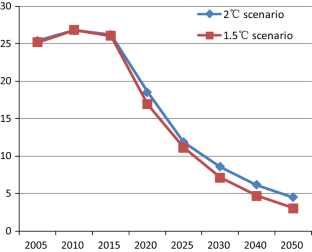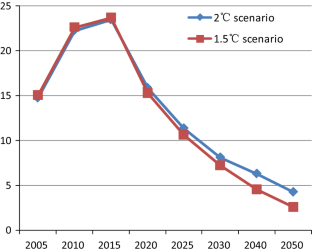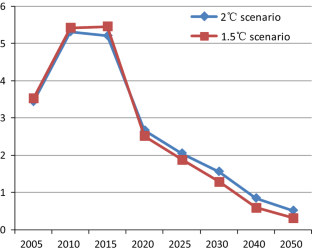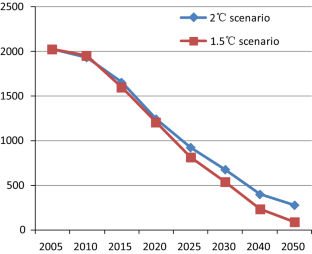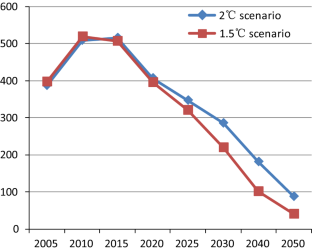 Similar content being viewed by others
References
IPCC (2014) Climate change mitigation, AR5 of IPCC WGIII. http://www.ipcc.ch/report/ar5/wg3/

Jiang K (2014) Secure low-carbon development in China. Carbon Manag 3(4):333–335

Jiang K, Hu X (2006) Energy demand and emissions in 2030 in China: scenarios and policy options. Environ Econ Policy Stud 7(3):233–250

Jiang K, Xiulian H, Matsuoka Y, Morita T (1998) Energy technology changes and CO2 emission scenarios in China. Environ Econ Policy Stud 1(2):141–160

Jiang K, Liu Q, Zhuang X, Xiulian H (2010) Technology road map for low carbon society in China. J Renew Sustain Energy 2(3):031008

Jiang K, Zhuang X, Miao R, He C (2013) China's role in attaining the global 2 °C target. Clim Policy 13(sup01):55–69

Jiang K-J, Zhuang X, He C-M, Liu J, Xiang-Yang X, Chen S (2016) China's low-carbon investment pathway under the 2 °C scenario. Adv Clim Change Res 7(4):229–234

Jiang K, He C, Dai H, Liu J, Xu X (2018) Emission scenario analysis for China under the global 1.5°C target. Carbon Manag 9(5):481–491

Kriegler E, Bauer N, Baumstark L, Fujimori S, Luderer G, Rogelj J et al (2018) Pathways limiting warming to 1.5 °C: a tale of turning around in no time? Philos Trans 376(2119):20160457

Liu MM, Huang YN, Jin Z, Liu XY, Bi J, Jantunen MJ (2017) Estimating health co-benefits of greenhouse gas reduction strategies with a simplified energy balance based model: the Suzhou city case. J Clean Prod 142:3332–3342

McCollum DL et al (2017) Connecting the sustainable development goals by their energy inter-linkages. Environ Res Lett 13(3):033006

NEA (2011) National 11th five year plan on energy. National Administration of Energy, Beijing

Rogelj J, Schaeffer M, Friedlingstein P, Gillett NP, van Vuuren DP, Riahi K, Allen M, Knutti R (2016) Differences between carbon budget estimates unravelled. Nat Clim Change 6(3):245–252

Rogelj J, Popp A, Calvin KV, Luderer G, Emmerling J, Gernaat D et al (2018) Scenarios towards limiting global mean temperature increase below 1.5 °C. Nat Clim Change 8(4):325–332

State Council of the People's Republic of China (2013) Action plan for the prevention and control of air pollution

State Council MOE (2018) Environment report of China 2018. Ministry of Environment Protection, Beijing

Streets DG, Gupta S, Waldhoff ST, Wang MQ, Bond TC, Yiyun B (2001) Black carbon emissions in China. Atmos Environ 35(25):4281–4296

Tian H, Zhao D, Wang Y (2011) Air pollutant emission inventory from biomass burning in China. Acta Sci Circumst 31(2):349–357

UNFCCC (2015) Paris agreement. UNFCCC, Bonn

Vuuren DP, van Soest H, Riahi K, Clarke L, Krey V, Kriegler E, Rogelj J, Schaeffer M, Tavoni M (2016) Carbon budgets and energy transition pathways. Environ Res Lett 11(7):075002

Vuuren DP et al (2017) Energy, land-use and greenhouse gas emissions trajectories under a green growth paradigm. Global Environ Change 42:237–250

Wang S, Wang HM, Zhu FH, Chen H, Sun XL, Zou Y, Liu G (2011) Mercury emission characteristics from coal-fired power plants based on actual measurement. Environ Sci 32(1):34–38

Wang Y, Ji J, Yi H, Chen W, Hao C, Teng Q (2015) Study on characteristic of black carbon emission from diesel vehicles in China in 2013. Environ Sustain Dev 40(2):45–47

Wang X, Yan L, Lei Y, He K, He J (2016) Estimation of primary particulate emission from steel industry in China. Acta Sci Circumst 36(8):3033–3039

Xue W, Fu F, Wang J, He K, Lei Y et al (2014) Modeling study on atmospheric environmental capacity of major pollutants constrained by PM2.5 compliance of Chinese cities. China Envrion Sci 34(10):2490–2496

Yang W, Li J, Zhu L, Wang Z (2013) Comparison of anthropogenic emission inventories of China mainland. Res Environ Sci 26(7):703–711

Zhang N, Qin Y, Xie S (2013) Spatial distribution of black carbon emission in China. Chin Sci Bull 58(31):1855–1864

Zhang SH, Worrell E, Crijns-Graus W, Krol M, de Bruine M, Geng GP, Wagner F, Cofala J (2016) Modeling energy efficiency to improve air quality and health effects of China's cement industry. Appl Energy 184:574–593

Zhou Q, Yabar H, Mizunoya T, Higano Y (2017) Evaluation of integrated air pollution and climate change policies: case study in the thermal power sector in Chongqing city, China. Sustainability 9(10):1–17

Zhuang X, Jiang K (2012) A study on the roadmap of electric vehicle development in China. Automot Eng 34(2):91–97
Funding
Funding was provided by National Key Basic R&D Plan (CN) (Grant No. 2014CB441301), National Key R&D Plan (Grant No. 2016YFC0207503).
Additional information
Publisher's Note
Springer Nature remains neutral with regard to jurisdictional claims in published maps and institutional affiliations.
About this article
Cite this article
Jiang, K., Chen, S., He, C. et al. Energy transition, CO2 mitigation, and air pollutant emission reduction: scenario analysis from IPAC model. Nat Hazards 99, 1277–1293 (2019). https://doi.org/10.1007/s11069-019-03796-w
Received:

Accepted:

Published:

Issue Date:

DOI: https://doi.org/10.1007/s11069-019-03796-w
Keywords