Abstract
Regionalization on the basis of the properties of hydro-meteorological data helps in identifying the regions reflecting the similar characteristics which could be useful in designing hydrological structures as well as planning and management of water resources of the region. In this study, rainfall data of northeast India were utilized for calculation of extreme precipitation indices as suggested by expert team on climate change detection and monitoring. Trend analysis of the indices was carried out using Mann–Kendall nonparametric test, and Sen's slope estimator was used for calculating the magnitude of trend. Further fuzzy c-means method was used for clustering of the selected stations on the basis of six parameters of all these precipitation indices, i.e., latitude, longitude, mean, standard deviation, minimum value and maximum value. Three cluster validity indices, namely fuzzy performance index, modified partition entropy and cluster separation index were used for selecting the optimum cluster numbers. Analysis shows insignificant trend for the indices like consecutive dry days and consecutive wet days, whereas maximum 1-day precipitation (R1 day) and maximum 5-day precipitation (R5 day) are not showing any clear trend. It is observed that the number of rainy days is decreasing followed by increasing 1-day precipitation. Cluster analysis of the precipitation indices shows five major clusters for most of the indices.
This is a preview of subscription content, log in to check access.
Access options
Buy single article
Instant access to the full article PDF.
US$ 39.95
Price includes VAT for USA
Subscribe to journal
Immediate online access to all issues from 2019. Subscription will auto renew annually.
US$ 199
This is the net price. Taxes to be calculated in checkout.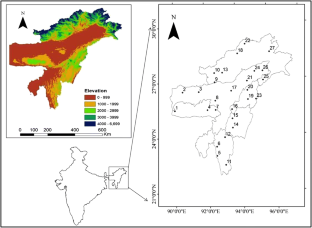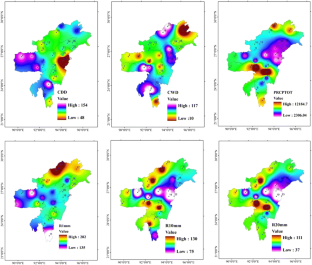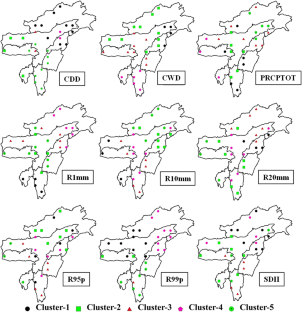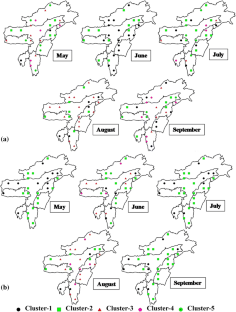 References
Abbas F, Ahmad A, Safeeq M, Ali S, Saleem F, Hammad HM, Farhad W (2014) Changes in precipitation extremes over arid to semiarid and subhumid Punjab, Pakistan. Theoret Appl Climatol 1163(4):671–680

Aguilar E, Peterson TC, Obando PR, Frutos R, Retana JA, et al (2005) Changes in precipitation and temperature extremes in Central America and northern South America, 1961–2003. J Geophys Res Atmos 1984–2012, 110D23

Bensaid AM, Hall LO, Bezdek JC, Clarke LP, Silbiger ML, Arrington JA, Murtagh RF (1996) Validity-guided re clustering with applications to image segmentation. IEEE Trans Fuzzy Syst 42:112–123

Bezdek JC (1974a) Numerical taxonomy with fuzzy sets. J Math Biol 1:57–71

Bezdek JC (1974b) Cluster validity with fuzzy sets. J Cybern 3(3):58–72

Bezdek JC (1981) Pattern recognition with fuzzy objective function algorithms. Kluwer Academic Publishers, Norwell

Bezdek JC, Pal NR (1998) Some new indexes of cluster validity. IEEE Trans Syst Man Cybern B Cybern 28(3):301–315

Bezdek JC, Ehrlich R, Full W (1984) FCM: the fuzzy c-means clustering algorithm. Comput Geosci 102:191–203

Chen F, Fan Z, Niu S, Zheng J (2014) The influence of precipitation and consecutive dry days on burned areas in Yunnan Province, Southwestern China. Adv Meteorol, pp 1–11

Das A, Ghosh PK, Choudhury BU, Patel DP, Munda GC, Ngachan SV, Chowdhury P (2009) December climate change in North East India: recent facts and events–worry for agricultural management. In: Proceedings of the workshop on impact of climate change on agriculture, pp 32–37

Dash SK, Sharma N, Pattnayak KC, Gao XJ, Shi Y (2012) Temperature and precipitation changes in the north-east India and their future projections. Global Planet Change 98:31–44

De Lima MIP, Santo FE, Ramos AM, Trigo RM (2014) Trends and correlations in annual extreme precipitation indices for mainland Portugal, 1941–2007. Theoret Appl Climatol 119(1–2):55–75

Deka RL, Mahanta C, Pathak H, Nath KK, Das S (2013) Trends and fluctuations of rainfall regime in the Brahmaputra and Barak basins of Assam, India. Theoret Appl Climatol 114(1–2):61–71

Dikbas F, Mahmut F, Cem K, Gungor M (2012) Classification of precipitation series using fuzzy cluster rmethod. Int J Climatol 32:1596–1603

Dunn JC (1973) A fuzzy relative of the ISODATA process and its use in detecting compact well-separated clusters

Goswami BN, Venugopal V, Sengupta D, Madhusoodanan MS, Xavier PK (2006) Increasing trend of extreme rain events over India in a warming. Environment 314:1442–1445

Goyal MK (2014) Statistical analysis of long term trends of rainfall during 1901–2002 at Assam, India Water Resour. Water Resour Manage 286:1501–1515

Goyal MK, Gupta V (2014) Identification of homogeneous rainfall regimes in northeast region of india using fuzzy cluster analysis. Water Resour Manage 28:4491–4511

Goyal MK, Sharma A (2016) A fuzzy c-means approach regionalization for analysis of meteorological drought homogeneous regions in western India. Nat Hazards 84:1831–1847

Groisman PY, Karl TR, Easterling DR, Knight RW, Jamason PF et al (1999) Changes in the probability of heavy precipitation: important indicators of climatic change. Clim Change 421:243–283

Halkidi M, Batistakis Y, Vazirgiannis M (2001) On clustering validation techniques. J Intell Inf Syst 172(3):107–145

IPCC (2007) Climate change 2007: impacts, adaptation, and vulnerability: working group II contribution to the intergovernmental panel on climate change fourth assessment report, summary for policymakers IPCC Secretariat, Geneva

Jain SK, Kumar V, Saharia M (2013) Analysis of rainfall and temperature trends in northeast India. Int J Climatol 334:968–978

Jhajharia D, Shrivastava SK, Sarkar D, Sarkar S (2009) Temporal characteristics of pan evaporation trends under the humid conditions of northeast India. Agric For Meteorol 1495:763–770

Jhajharia D, Dinpashoh Y, Kahya E, Singh VP, Fakheri-Fard A (2012) Trends in reference evapotranspiration in the humid region of northeast India. Hydrol Process 263:421–435

Kendall MG (1955) Rank correlation methods. Griffin, London

Lim YH, Voeller DL (2009) Regional flood estimations in Red river using L-moment-based index-flood and bulletin 17B procedures. J Hydrol Eng 14(9):1002–1016

Mann HB (1945) Nonparametric tests against trend. Econometrica 13:245–259

Manton MJ, Della-Marta PM, Haylock MR, Hennessy KJ, Nicholls N et al (2001) Trends in extreme daily rainfall and temperature in Southeast Asia and the South Pacific: 1961–1998. Int J Climatol 213:269–284

McBratney AB, Moore AW (1985) Application of fuzzy sets to climatic classification. Agric For Meteorol 351:165–185

Minasny B, McBratney AB (2002) FuzME version 21 Australian Center for Precision Agriculture The University of Sydney

Odeh IOA, Chittleborough DJ, McBratney AB (1992) Soil pattern recognition with fuzzy-c-means: application to classification and soil-landform interrelationships. Soil Sci Soc Am J 562:505–516

Pal NR, Bezdek JC (1995) On cluster validity for the fuzzy c-means model. IEEE Trans Fuzzy Syst 3(3):370–379

Puri K, Areendran G, Raj K, Mazumdar S, Joshi PK (2011) Forest fire risk assessment in parts of Northeast India using geospatial tools. J For Res 224:641–647

Rajsekhar D, Mishra AK, Singh VP (2012) Regionalization of drought characteristics using an entropy approach. J Hydrol Eng 18(7):870–887

Rao AR, Srinivas VV (2006a) Regionalization of watersheds by fuzzy cluster analysis. J Hydrol 3181(4):37–56

Rao AR, Srinivas VV (2006b) Regionalization of watersheds by fuzzy cluster analysis. J Hydrol 3181(4):57–79

Ravindranath NH, Rao S, Sharma N, Nair M, Gopalakrishnan R et al (2011) Climate change vulnerability profiles for North East India. Curr Sci 101(3):384–394

Roy SS, Balling JRRC (2004) Trends in extreme daily precipitation indices in India. Int J Climatol 24:457–466

Sen PK (1968) Estimates of the regression coefficient based on Kendall's tau. J Am Stat As 63(324):1379–1389

Shivam G, Goyal MK, Sarma AK (2017) Index-based study of future precipitation changes over Subansiri river catchment under changing climate. J Environ Inform 34:1–14

Urcid G, Ritter GX (2012) Advances in knowledge-based and intelligent information and engineering systems. In: Graña M, Toro C, Posada J, Howlett RJ, Jain LC (eds) Advances in knowledge-based and intelligent information and engineering systems. IOS Press, Amsterdam, pp 2140–2149

Xie XL, Beni G (1991) A validity measure for fuzzy clustering. IEEE Trans Pattern Anal Mach Intell 138:841–847

Zhang X, Yang F (2004) RClimDex 10 user manual Climate Research Branch Environment Canada
Additional information
Publisher's Note
Springer Nature remains neutral with regard to jurisdictional claims in published maps and institutional affiliations.
About this article
Cite this article
Goyal, M.K., Shivam, G. & Sarma, A.K. Spatial homogeneity of extreme precipitation indices using fuzzy clustering over northeast India. Nat Hazards 98, 559–574 (2019). https://doi.org/10.1007/s11069-019-03715-z
Received:

Accepted:

Published:

Issue Date:
Keywords
Precipitation indices

Extreme events

ETCCDI

Fuzzy clustering

Fuzzy c-means