Abstract
The salinization of freshwater-dependent coastal ecosystems precedes inundation by sea level rise. This type of saltwater intrusion places communities, ecosystems, and infrastructure at substantial risk. Risk perceptions of local residents are an indicator to gauge public support for climate change adaptation planning. Here, we document residential perspectives on the present and future threats posed by saltwater intrusion in a rural, low-lying region in coastal North Carolina, and we compare the spatial distribution of survey responses to physical landscape variables such as distance to coastline, artificial drainage density, elevation, saltwater intrusion vulnerability, and actual salinity measured during a synoptic field survey. We evaluate and discuss the degree of alignment or misalignment between risk perceptions and metrics of exposure to saltwater intrusion. Risk perceptions align well with the physical landscape characteristics, as residents with greater exposure to saltwater intrusion, including those living on low-lying land with high concentrations of artificial drainages, perceive greater risk than people living in low-exposure areas. Uncertainty about threats of saltwater intrusion is greatest among those living at higher elevations, whose properties and communities are less likely to be exposed to high salinity. As rising sea levels, drought, and coastal storms increase the likelihood of saltwater intrusion in coastal regions, integrated assessments of risk perceptions and physical exposure are critical for developing outreach activities and planning adaptation measures.
This is a preview of subscription content,
to check access.
Access this article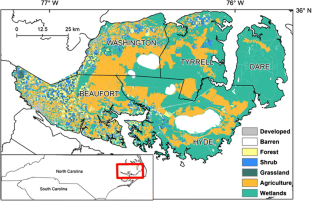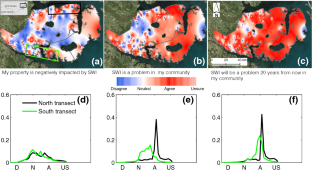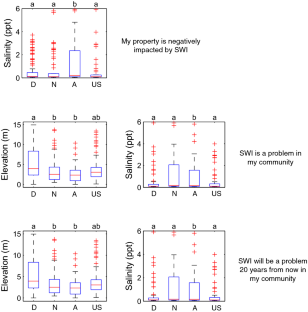 References
Adger WN (2006) Vulnerability. Glob Environ Change 16(3):268–281. https://doi.org/10.1016/j.gloenvcha.2006.02.006

Alexander KS, Ryan A, Measham TG (2012) Managed retreat of coastal communities: understanding responses to projected sea level rise. J Environ Plan Manag 55(4):409–433. https://doi.org/10.1080/09640568.2011.604193

Allen JS, Longo SB, Shriver TE (2018) Politics, the state, and sea level rise: the treadmill of production and structural selectivity in North Carolina's Coastal Resource Commission. Sociol Q 59(2):320–337. https://doi.org/10.1080/00380253.2018.1436945

Ardón M, Morse JL, Colman BP, Bernhardt ES (2013) Drought-induced saltwater incursion leads to increased wetland nitrogen export. Glob Change Biol 19(10):2976–2985

Arkema KK, Guannel G, Verutes G, Wood SA, Guerry A, Ruckelshaus M, Kareiva P, Lacayo M, Silver JM (2013) Coastal habitats shield people and property from sea-level rise and storms. Nat Clim Change 3(10):913

Barbier EB (2015) Climate change impacts on rural poverty in low-elevation coastal zones. Estuar Coast Shelf Sci 165:A1–A13

Bhattachan A, Emanuel RE, Ardon M, Bernhardt ES, Anderson SA, Stillwagon MG, Ury EA, Bendor TK, Wright JP (2018a) Evaluating the effects of land-use change and future climate change on vulnerability of coastal landscapes to saltwater intrusion. Elem Sci Anthr 6(1):62

Bhattachan A, Jurjonas MD, Moody AC, Morris PR, Sanchez GM, Smart LS, Taillie PJ, Emanuel RE, Seekamp EL (2018b) Sea level rise impacts on rural coastal social-ecological systems and the implications for decision making. Environ Sci Policy 90:122–134. https://doi.org/10.1016/j.envsci.2018.10.006

Bodin Ö, Crona BI (2008) Management of natural resources at the community level: exploring the role of social capital and leadership in a rural fishing community. World Dev 36(12):2763–2779

Bostick TP, Holzer TH, Sarkani S (2017) Enabling stakeholder involvement in coastal disaster resilience planning. Risk Anal 37(6):1181–1200. https://doi.org/10.1111/risa.12737

Brody SD, Highfield W, Alston L (2004) Does location matter? Measuring environmental perceptions of creeks in two San Antonio watersheds. Environ Behav 36(2):229–250

Brody SD, Zahran S, Vedlitz A, Grover H (2008) Examining the relationship between physical vulnerability and public perceptions of global climate change in the United States. Environ Behav 40(1):72–95

Bulla BR, Craig EA, Steelman TA (2017) Climate change and adaptive decision making: responses from North Carolina coastal officials. Ocean Coast Manag 135:25–33

Carter LM, Jones J, Berry L, Burkett V, Murley J, Obeysekera J, Schramm P, Wear D (2014) Southeast and the Caribbean. In: Melillo J, Richmond T, Yohe G (eds) Climate change impacts in the United States: the Third National Climate Assessment. US Global Change Research Program, Washington, pp 396–417

Cazenave A, Cozannet GL (2014) Sea level rise and its coastal impacts. Earth's Fut 2(2):15–34

Church JA et al (2013) Sea level change. In: Stocker TF, Qin D, Plattner G-K, Tignor M, Allen SK, Boschung J, Nauels A, Xia Y, Bex V, Midgley PM (eds) Climate change 2013: the physical science basis. contribution of working group I to the fifth assessment report of the intergovernmental panel on climate change. Cambridge University Press, Cambridge, New York, pp 1137–1216

Corner A, Markowitz E, Pidgeon N (2014) Public engagement with climate change: the role of human values. Wiley Interdiscip Rev Clim Change 5(3):411–422. https://doi.org/10.1002/wcc.269

Covi MP, Kain DJ (2016) Sea-level rise risk communication: public understanding, risk perception, and attitudes about information. Environ Commun 10(5):612–633

Cutler MJ, Marlon JR, Howe PD, Leiserowitz A (2018) The influence of political ideology and socioeconomic vulnerability on perceived health risks of heat waves in the context of climate change. Weather Clim Soc 10(4):731–746

Dahl KA, Spanger-Siegfried E, Caldas A, Udvardy S (2017) Effective inundation of continental United States communities with twenty-first century sea level rise. Elem Sci Anthr 5:37

Dessai S, Sims C (2010) Public perception of drought and climate change in southeast England. Environ Hazards 9(4):340–357. https://doi.org/10.3763/ehaz.2010.0037

Dow K, Haywood BK, Kettle NP, Lackstrom K (2013) The role of ad hoc networks in supporting climate change adaptation: a case study from the Southeastern United States. Reg Environ Change 13(6):1235–1244. https://doi.org/10.1007/s10113-013-0440-8

Doyle TW, O'Neil CP, Melder MP, From AS, Palta MM (2007) Tidal freshwater swamps of the southeastern United States: effects of land use, hurricanes, sea-level rise, and climate change. In: Conner WH, Doyle TW, Krauss KW (eds) Ecology of tidal freshwater forested wetlands of the Southeastern United States. Springer Netherlands, Dordrecht, pp 1–28

Flanagan TS, Anderson S (2008) Mapping perceived wilderness to support protected areas management in the San Juan National Forest, Colorado. For Ecol Manag 256(5):1039–1048

Fothergill A, Peek LA (2004) Poverty and disasters in the United States: a review of recent sociological findings. Nat Hazards 32(1):89–110

Gawande K, Jenkins-Smith H (2001) Nuclear waste transport and residential property values: estimating the effects of perceived risks. J Environ Econ Manag 42(2):207–233. https://doi.org/10.1006/jeem.2000.1155

Giese G, Wilder HB, Parker GG Jr (1985) Hydrology of major estuaries and sounds of North Carolina. US Geological Survey Water Supply Paper, Raleigh

Grothmann T, Patt A (2005) Adaptive capacity and human cognition: the process of individual adaptation to climate change. Glob Environ Change 15(3):199–213. https://doi.org/10.1016/j.gloenvcha.2005.01.002

Hackney CT, Yelverton GF (1990) Effects of human activities and sea level rise on wetland ecosystems in the Cape Fear River Estuary, North Carolina, USA. Wetland Ecology and Management: Case Studies, Springer, pp 55–61

Hallegatte S, Corfee-Morlot J (2011) Understanding climate change impacts, vulnerability and adaptation at city scale: an introduction. Clim Change 104(1):1–12

Hallegatte S, Green C, Nicholls RJ, Corfee-Morlot J (2013) Future flood losses in major coastal cities. Nat clim change 3(9):802. https://doi.org/10.1038/NCLIMATE1979

Hamilton LC, Safford TG (2015) Environmental views from the coast: public concern about local to global marine issues. Soc Nat Resour 28(1):57–74

Hamilton LC, Colocousis CR, Duncan CM (2010) Place effects on environmental views. Rural Sociol 75(2):326–347

Hampton J (2017) Swan Quarter dike gives coastal town peace of mind, proved worth during Hurricane Matthew, In: The Virginian-Pilot. https://pilotonline.com/news/local/swan-quarter-dike-gives-coastal-town-peace-of-mind-proved/article_6a2c0ec4-d736-53b6-849f-0b97bd51aa85.html. 30 Mar 2017

Hardy RD, Hauer ME (2018) Social vulnerability projections improve sea-level rise risk assessments. Appl Geogr 91:10–20

Hardy RD, Milligan RA, Heynen N (2017) Racial coastal formation: the environmental injustice of colorblind adaptation planning for sea-level rise. Geoforum 87:62–72

Hauer ME, Evans JM, Mishra DR (2016) Millions projected to be at risk from sea-level rise in the continental United States. Nat Clim Change 6:691–695. https://doi.org/10.1038/nclimate2961

Haywood BK, Brennan A, Dow K, Kettle NP, Lackstrom K (2014) Negotiating a mainstreaming spectrum: climate change response and communication in the Carolinas. J Environ Policy Plan 16(1):75–94. https://doi.org/10.1080/1523908X.2013.817948

Heath RC (1975) Hydrology of the Albemarle-Pamlico region, North Carolina: a preliminary report on the impact of agricultural developments. US Geological Survey Water Resources Investigations Report 9-75

Herbert ER, Boon P, Burgin AJ, Neubauer SC, Franklin RB, Ardón M, Hopfensperger KN, Lamers LP, Gell P (2015) A global perspective on wetland salinization: ecological consequences of a growing threat to freshwater wetlands. Ecosphere 6(10):1–43

IPCC (2013) Climate change 2013: The physical science basis. Contribution of working group I to the fifth assessment report of the intergovernmental panel on climate change. Cambridge University Press, Cambridge, New York

Jonsson P (2018) How one North Carolina town stayed dry during Florence. In: The Christian Science Monitor. https://www.csmonitor.com/USA/Society/2018/0917/How-one-North-Carolina-town-stayed-dry-during-Florence. 17 Sept 2018

Jurjonas M, Seekamp E (2018) Rural coastal community resilience: assessing a framework in eastern North Carolina. Ocean Coast Manag 162:137–150

Jurjonas M, Seekamp E, Rivers L, Cutts B (in review) Exploring diverse voices on coastal resilience: Multiple cases from rural North Carolina

Kahan DM (2012) Cultural cognition as a conception of the cultural theory of risk. In: Roeser S, Hillerbrand R, Sandin P, Peterson M (eds) Handbook of risk theory: epistemology, decision theory, ethics, and social implications of risk. Springer Netherlands, Dordrecht, pp 725–759

Karegar MA, Dixon TH, Engelhart SE (2016) Subsidence along the Atlantic Coast of North America: insights from GPS and late Holocene relative sea level data. Geophys Res Lett 43(7):3126–3133

Kearney GD, Bell RA (2019) Perceptions of global warming among the poorest counties in the southeastern United States. J Public Health Manag Pract 25(2):107–112. https://doi.org/10.1097/PHH.0000000000000720

Kellens W, Zaalberg R, Neutens T, Vanneuville W, De Maeyer P (2011) An analysis of the public perception of flood risk on the Belgian coast. Risk Anal 31(7):1055–1068

Kemp AC, Horton BP, Culver SJ, Corbett DR, van de Plasshe O, Gehrels WR, Douglas BC, Parnell AC (2009) Timing and magnitude of recent accelerated sea-level rise (North Carolina, United States). Geology 37(11):1035–1038. https://doi.org/10.1130/G30352A.1

Kettle NP, Dow K (2014) Cross-level differences and similarities in coastal climate change adaptation planning. Environ Sci Policy 44:279–290. https://doi.org/10.1016/j.envsci.2014.08.013

Kettle NP, Dow K (2016) The role of perceived risk, uncertainty, and trust on coastal climate change adaptation planning. Environ Behav 48(4):579–606. https://doi.org/10.1177/0013916514551049

Kleinosky LR, Yarnal B, Fisher A (2007) Vulnerability of Hampton Roads, Virginia to storm-surge flooding and sea-level rise. Nat Hazards 40(1):43–70

Kopp RE, Horton BP, Kemp AC, Tebaldi C (2015) Past and future sea-level rise along the coast of North Carolina, USA. Clim Change 132(4):693–707

Lackstrom K, Kettle NP, Haywood B, Dow K (2014) Climate-sensitive decisions and time frames: a cross-sectoral analysis of information pathways in the Carolinas. Weather Clim Soc 6(2):238–252. https://doi.org/10.1175/WCAS-D-13-00030.1

Leach M, Mearns R, Scoones I (1999) Environmental entitlements: dynamics and institutions in community-based natural resource management. World Dev 27(2):225–247

Lee TM, Markowitz EM, Howe PD, Ko CY, Leiserowitz AA (2015) Predictors of public climate change awareness and risk perception around the world. Nat Clim Change 5(11):1014–1020. https://doi.org/10.1038/nclimate2728

Leiserowitz AA (2005) American risk perceptions: is climate change dangerous? Risk Anal 25(6):1433–1442. https://doi.org/10.1111/j.1540-6261.2005.00690.x

Leiserowitz A (2006) Climate change risk perception and policy preferences: the role of affect, imagery, and values. Clim Change 77(1):45–72

Lewis E, Perkin R (1981) The practical salinity scale 1978: conversion of existing data. Deep Sea Res Part A Oceanogr Res Pap 28(4):307–328

Liere KDV, Dunlap RE (1980) The social bases of environmental concern: a review of hypotheses, explanations and empirical evidence. Public Opin Q 44(2):181–197

Lorenzoni I, Pidgeon NF (2006) Public views on climate change: European and USA perspectives. Clim Change 77(1):73–95. https://doi.org/10.1007/s10584-006-9072-z

Lujala P, Lein H, Rød JK (2015) Climate change, natural hazards, and risk perception: the role of proximity and personal experience. Local Environ 29–31:489–509. https://doi.org/10.1080/13549839.2014.887666

Manda AK, Giuliano AS, Allen TR (2014) Influence of artificial channels on the source and extent of saline water intrusion in the wind tide dominated wetlands of the southern Albemarle estuarine system (USA). Environ Earth Sci 71(10):4409–4419

McMullan PS Jr, Rich C Jr, Landino J, Barnes S (2016) North Carolina's Blacklands Treasure. Pamlico and Albemarle Publishing, Nags Head

Mills M, Mutafoglu K, Adams VM, Archibald C, Bell J, Leon JX (2016) Perceived and projected flood risk and adaptation in coastal Southeast Queensland, Australia. Clim Change 136(3):523–537. https://doi.org/10.1007/s10584-016-1644-y

Moorhead KK, Brinson MM (1995) Response of wetlands to rising sea level in the lower coastal plain of North Carolina. Ecol Appl 5(1):261–271

Moser SC, Williams SJ, Boesch DF (2012) Wicked challenges at land's end: managing coastal vulnerability under climate change. Annu Rev Environ Resour 37:51–78. https://doi.org/10.1146/annurev-environ-021611-135158

Natural Resource Conservation Service (NRCS) (2009) Flood control in the Swan Quarter Watershed, North Carolina. https://www.nrcs.usda.gov/Internet/FSE_DOCUMENTS/nrcs143_025498.pdf. Accessed 10 Aug 2017

Neal WJ, Pilkey OH, Cooper JAG, Longo NJ (2017) Why coastal regulations fail. Ocean Coast Manag 156:1–14. https://doi.org/10.1016/j.ocecoaman.2017.05.003

Nicholls RJ (2011) Planning for the impacts of sea level rise. Oceanography 24(2):144–157

Nicholls RJ, Cazenave A (2010) Sea-level rise and its impact on coastal zones. Science 328(5985):1517–1520

Nicholls RJ, Wong PP, Burkett V, Codignotto J, Hay J, McLean R, Ragoonaden S, Woodroffe CD, Abuodha P, Arblaster J (2007) Coastal systems and low-lying areas. In: Parry ML, Canziani OF, Palutikof JP, van der Linden PJ, Hanson CE (eds) Climate change 2007: impacts, adaptation and vulnerability. Contribution of working group II to the fourth assessment report of the intergovernmental panel on climate change. Cambridge University Press, Cambridge, pp 315–356

O'Connor RE, Bord RJ, Fisher A (1999) Risk perceptions, general environmental beliefs, and willingness to address climate change. Risk Anal 19(3):461–471. https://doi.org/10.1023/a:1007004813446

Phillips MC, Cinderich AB, Burrell JL, Ruper JL, Will RG, Sheridan SC (2015) The effect of climate change on natural disasters: a college student perspective. Weather Clim Soc 7(1):60–68

Pidgeon NF, Lorenzoni I, Poortinga W (2008) Climate change or nuclear power—no thanks! A quantitative study of public perceptions and risk framing in Britain. Glob Environ Change 18(1):69–85. https://doi.org/10.1016/j.gloenvcha.2007.09.005

Poulter B, Goodall JL, Halpin PN (2008) Applications of network analysis for adaptive management of artificial drainage systems in landscapes vulnerable to sea level rise. J Hydrol 357(3):207–217. https://doi.org/10.1016/j.jhydrol.2008.05.022

Poulter B, Feldman RL, Brinson MM, Horton BP, Orbach MK, Pearsall SH, Reyes E, Riggs SR, Whitehead JC (2009) Sea-level rise research and dialogue in North Carolina: creating windows for policy change. Ocean Coast Manag 52(3):147–153

Powell AS, Jackson L, Ardón M (2016) Disentangling the effects of drought, salinity, and sulfate on baldcypress growth in a coastal plain restored wetland. Restor Ecol 24:548–557. https://doi.org/10.1111/rec.12349

Richardson CJ (1983) Pocosins: vanishing wastelands or valuable wetlands? Bioscience 33(10):626–633

Scavia D, Field JC, Boesch DF, Buddemeier RW, Burkett V, Cayan DR, Fogarty M, Harwell MA, Howarth RW, Mason C (2002) Climate change impacts on US coastal and marine ecosystems. Estuaries 25(2):149–164

Shao W, Gardezi M, Xian S (2018) Examining the effects of objective hurricane risks and community resilience on risk perceptions of hurricanes at the county level in the U.S. Gulf Coast: an innovative approach. Ann Am As Geogr 108:1–17. https://doi.org/10.1080/24694452.2018.1426436

Slovic P (1987) Perception of risk. Science 236(4799):280–285. https://doi.org/10.1126/science.3563507

Slovic P (2000) The perception of risk. EarthScan, London

Spanger-Siegfried E, Dahl K, Caldas A, Udvardy S, Cleetus R, Worth P, Hernandez Hammer N (2017) When rising seas hit home: hard choices ahead for hundreds of US Coastal Communities. Washington D.C. http://www.ucsusa.org/sites/default/files/attach/2017/07/when-rising-seas-hit-home-full-report.pdf

Spence A, Poortinga W, Butler C, Pidgeon NF (2011) Perceptions of climate change and willingness to save energy related to flood experience. Nat Clim Change 1:46. https://doi.org/10.1038/nclimate1059

Steele J, Bourke L, Luloff A, Liao P-S, Theodori GL, Krannich RS (2001) The drop-off/pick-up method for household survey research. Community Dev 32(2):238–250

Stevenson KT, Peterson MN, Bondell HD, Moore SE, Carrier SJ (2014) Overcoming skepticism with education: interacting influences of worldview and climate change knowledge on perceived climate change risk among adolescents. Clim Change 126(3–4):293–304

Titus JG, Richman C (2001) Maps of lands vulnerable to sea level rise: modeled elevations along the US Atlantic and Gulf coasts. Clim Res 18(3):205–228

Trentelman CK, Petersen KA, Irwin J, Ruiz N, Szalay CS (2016) The case for personal interaction: drop-off/pick-up methodology for survey research. J Rural Soc Sci 31(3):68

Turner BL (2010) Vulnerability and resilience: coalescing or paralleling approaches for sustainability science?, Global Environ Change 20(4):570–576. https://doi.org/10.1016/j.gloenvcha.2010.07.003

United State Census Bureau (2010) American fact finder. http://factfinder.census.gov/faces/nav/jsf/pages/index.xhtml. Accessed 14 Dec 2017

van Duinen R, Tatiana F, Peter G, van der Veen A (2015) Empirical analysis of farmers' drought risk perception: objective factors, personal circumstances, and social influence. Risk Anal 35(4):741–755. https://doi.org/10.1111/risa.12299

VanKoningsveld M, Mulder J, Stive M, VanDerValk L, VanDerWeck A (2008) Living with sea-level rise and climate change: a case study of the Netherlands. J Coast Res 24(2):367–379

Whitmarsh L (2008) Are flood victims more concerned about climate change than other people? The role of direct experience in risk perception and behavioural response. J Risk Res 11(3):351–374. https://doi.org/10.1080/13669870701552235

Williams K, Ewel KC, Stumpf RP, Putz FE, Workman TW (1999) Sea-level rise and coastal forest retreat on the West Coast of Florida, USA. Ecology 80(6):2045–2063

Wolf J, Moser SC (2011) Individual understandings, perceptions, and engagement with climate change: insights from in-depth studies across the world. Wiley Interdiscip Rev Clim Change 2(4):547–569

Yusuf J-EW, John BS, Ash IK (2014) The role of politics and proximity in sea level rise policy salience: a study of Virginia legislators' perceptions. J Environ Stud Sci 4(3):208–217

Zahran S, Brody SD, Grover H, Vedlitz A (2006) Climate change vulnerability and policy support. Soc Nat Resour 19(9):771–789. https://doi.org/10.1080/08941920600835528

Zahran S, Brody SD, Vedlitz A, Grover H, Miller C (2008) Vulnerability and capacity: explaining local commitment to climate-change policy. Environ Plann C Gov Policy 26(3):544–562
Acknowledgements
The College of Natural Resources at North Carolina State University (Building Interdisciplinary Strengths) and National Science Foundation (EF-1427188 and EAR-1462169) provided funding for this study. We thank Princess Mutasa, Daniel Woody, Jose Jimenez, Bruno Kanieski, Lesly Aldana with survey distribution and Marcelo Ardon, Theo Jass, Alexander McGirt, Lizzie Lightning, Matthew Stillwagon, Gillian Gunderson, Steven Anderson, Emily Bernhardt, Justin Wright for their help with field measurement of water conductivity. The North Carolina State University Institutional Review Board approved the surveys used in this study (5968).
Additional information
Publisher's Note
Springer Nature remains neutral with regard to jurisdictional claims in published maps and institutional affiliations.
Electronic supplementary material
Below is the link to the electronic supplementary material.
About this article
Cite this article
Bhattachan, A., Jurjonas, M.D., Morris, P.R. et al. Linking residential saltwater intrusion risk perceptions to physical exposure of climate change impacts in rural coastal communities of North Carolina. Nat Hazards 97, 1277–1295 (2019). https://doi.org/10.1007/s11069-019-03706-0
Received:

Accepted:

Published:

Issue Date:

DOI: https://doi.org/10.1007/s11069-019-03706-0
Keywords