Abstract
The state of undivided Andhra Pradesh, India, spent around US$ 20 million per annum on drought relief programs during the period 1998–2008. However, till date, no long-term drought plans are in place due to poor availability of information on drought severity at each mandal or county level. For assessing the vulnerability of mandals to different drought intensities, a simple and novel drought severity index called CRIDA Drought Severity Index, named after the affiliated institute, was developed. This index takes into account frequency and intensity of agricultural droughts at mandal level. The frequency and intensity were estimated using average moisture adequacy index (MAI) during the crop growing season for each mandal. The years with average MAI during crop season of > 0.75, < 0.75 to > 0.50, < 0.50 to > 0.25, and < 0.25 were classified as no drought, mild, moderate, and severe drought years, respectively. All the 1099 rural mandals of the state were categorized into four classes, viz. safe, less vulnerable, moderately vulnerable, and highly vulnerable. The spatial depiction of vulnerability of mandals to any of these four classes of agricultural droughts (using GIS), with and without considering the irrigation potential of these mandals showed that the south and southwestern regions of the state with low rainfall, poor water-holding capacity of soils, and limited irrigation potential are highly vulnerable to agricultural droughts. The methodology adopted may serve as a model for assessing drought vulnerability and planning of mitigation measures in other drought-prone states or countries.
This is a preview of subscription content, log in to check access.
Access options
Buy single article
Instant access to the full article PDF.
US$ 39.95
Price includes VAT for USA
Subscribe to journal
Immediate online access to all issues from 2019. Subscription will auto renew annually.
US$ 199
This is the net price. Taxes to be calculated in checkout.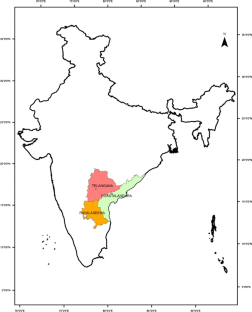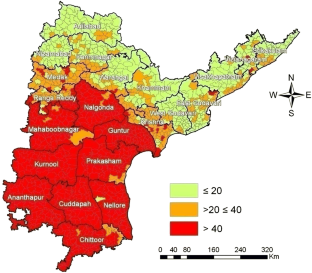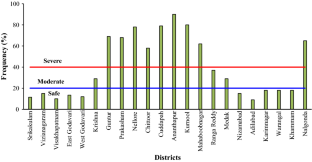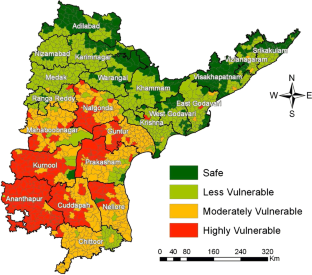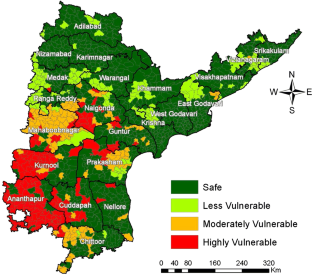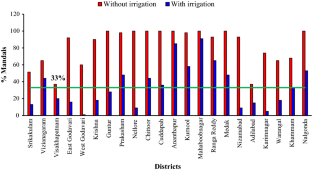 References
Batisani N (2011) The spatio-temporal-severity dynamics of drought in Botswana. J Environ Prot 2:803–816

Bhalme HN, Mooley DA (1980) Large-scale droughts/floods and monsoon circulation. Mon Weather Rev 108:1197–1211

Dai A, Trenberth KE, Karl TR (1998) Global variations in droughts and wet spells: 1900–1995. Geophys Res Lett 25:3367–3370

Diaz HF (1983) Some aspects of major dry and wet periods in the contiguous United States 1895–1981. J Climate Appl Meteor 22:3–16

Draper NR, Smith H (1998) Applied regression analysis, 3rd edn. Wiley, New York, p 736

Eriyagam N, Smahktin V, Gamage N (2009) Mapping drought patterns and impacts: a global perspective. In: IWMI Research Report 133. International Water Management Institute, Colombo, Sri Lanka, pp 36

Gibbs WJ, Maher JV (1967) Rainfall deciles as drought indicators. Bureau of Meteorology Bulletin No. 48, Commonwealth of Australia, Melbourne

Golian S, Mazdiyasni O, AghaKouchak A (2015) Trends in meteorological and agricultural droughts in Iran. Theoret Appl Climatol 119:679–688

Hao L, Zhang X, Liu S (2012) Risk assessment to China's agricultural drought disaster in county unit. Nat Hazards 61:785–801

Heim RR Jr (2002) A review of twentieth-century drought indices used in the United States. Bull Am Meteor Soc 83(8):1149–1165

Hollinger SE, Isard SA, Welford MR (1993) A new soil moisture drought index for predicting crop yields. In: Proceedings of the 8th conference on applied climatology, 17–22 January, Anaheim. American Meteorological Society: Boston, pp 187–190

Irrigation commission of India (1972) Report of the irrigation commission 1972. Ministry of Irrigation and Power, New Delhi, vol 1, pp 415

Jackson CI (1991) Response strategies for the great plains: Canadian and U.S. perspectives. In: Wall G (ed) Symposium on the impacts of climatic change and variability on the great plains, Department of Geography Publication Series, Occasional Paper No. 12, University of Waterloo, pp 93–103

Kenyantash J, Dracup JA (2002) The quantification of drought: an evaluation of drought indices. Bull Am Meteor Soc 83(8):1167–1180

Kim DW, Byun HR, Choi KS, Oh SB (2011) A spatiotemporal analysis of historical droughts in Korea. J Appl Meteor Climatol 50:1895–1912

Knutson C, Hayes M, Philips T (1998) How to reduce drought risk, Western Drought Coordination Council Preparedness and Mitigation Group, National Drought Mitigation Center, Lincoln, Nebraska. http://drought.unl.edu/plan/handbook/risk.pdf. Accessed Mar 1998

Kogan FN (1997) Global drought watch from space. Bull Am Meteor Soc 78(4):621–636

Kulshreshta SM (1997) Drought Management in India and potential contribution of climate prediction. Joint COLA/CARE Technical Report No. 1, Centre for Ocean-Land-Atmosphere Studies/Centre for the Application of Research on the Environment, Maryland, pp 105

Kumar V, Panu U (1997) Predictive assessment of severity of agricultural droughts based on agro-climatic factors. J Am Water Resour As 33:1255–1264

Leelaruban N, Oduor P, Akyuz A, Shaik S, Padmanabhan G (2012) Leveraging a spatio-temporal drought severity and coverage index with crop yield modeled as a stochastic process. Int J Hydrol Sci Technol 2(3):219–236

McKee TB, Doesken NJ, Kliest J (1993) The relationship of drought frequency and duration to time scales. In: Proceedings of the 8th conference on applied climatology, 17–22 January, Anaheim. American Meteorological Society: Boston, pp 179–184

Meyer SJ, Hubbard KG, Wilhite DA (1993) A crop specific drought index for corn: I. Model development and validation. Agron J 86:388–395

Mo K (2008) Model based drought indices over the United States. J Hydrometeor 9:1212–1230

Murthy CS, Laxman B, Sesha Sai MVR, Diwakar PG (2014) Analysing agricultural drought vulnerability at sub-district level through exposure, sensitivity and adaptive capacity based composite index. In: The international archives of the photogrammetry, remote sensing and spatial information sciences, vol XL-8, pp 65–70

Pai DS, Sridhar L, Guhathakurta P, Hatwar HR (2011) District-wide drought climatology of the southwest monsoon season over India based on standardized precipitation index (SPI). Nat Hazards 59:1797–1813

Palmer WC (1965) Meteorological drought. Research paper no. 45. U.S. Department of Commerce Weather Bureau, Washington, DC

Palmer WC (1968) Keeping track of crop moisture conditions, nationwide: the new crop moisture index. Weatherwise 21:156–161

Ramana Rao BV, Sastry ASRAS, Ramakrishna YS (1981) An integrated scheme of drought classification as applicable to the Indian arid zone. Idojaras 85:317–322

Rao KN, George CJ, Ramasastri KS (1972) Agroclimatic classification of India. Agr Meteor Sci Rep No. 1, IMD, Pune

Reddy AA, Bantilian MCS (2012) Regional disparities in Andhra Pradesh, India. Local Econ 28(1):123–126

Santos JF, Pulido-Calvo I, Portela MM (2010) Spatial and temporal variability of droughts in Portugal. Water Resour Res 46:W03503

Sastri ASRAS, Ramakrishna YS, Ramana Rao BV (1981) A new method of classification of agricultural droughts. Arch Fur Meteor Geophys Bioclimatol Ser B 29:293–297

Shafer BA, Dezman LE (1982) Development of a surface water supply index (SWSI) to assess the severity of drought conditions in snowpack runoff areas. In: Proceedings of the Western Snow Conference, 19–23 April 1982. Colorado State University, Fort Collins, Colorado, pp 164–175

Shahid S, Behrawan H (2008) Drought risk assessment in the western part of Bangladesh. Nat Hazards 46:391–413

Sivakumar MVK, Motha RP, Wilhite DA, Wood DA (Eds.) (2011) Agricultural Drought Indices. In: Proceedings of the WMO/UNISDR Expert Group Meeting on Agricultural Drought Indices, 2–4 June 2010, Murcia, Spain: Geneva, Switzerland: World Meteorological Organization, AGM-11, WMO/TD No 1572; WAOB-2011, pp 182

Sonmez EK, Komuscu AU, Erkan A, Turgu E (2005) An analysis of spatial and temporal dimension of drought vulnerability in Turkey using the standardized precipitation index. Nat Hazards 35:243–264

Sridhar V, Hubbard KG, You J, Hunt ED (2008) Development of the soil moisture index to quantify agricultural drought and its "User Friendliness" in Severity-Area-Duration Assessment. J Hydrometeor 9:660–676

Strommen N, Krumpe P, Reid M, Steyaert L (1980) Early warning assessments of droughts used by the U.S. agency for international development. In: Pocinki LS, Greeley RS, Slater L (eds) Climate and risk. The MITRE Corporation, McLean, pp 8–37

Sun L, Mitchell SW, Davidson A (2012) Multiple drought indices for agricultural drought risk assessment on the Canadian Prairies. Int J Climatol 32(11):1628–1639

Thiruvengadachari S, Gopalkrishna HR (1993) An integrated PC environment for assessment of drought. Int J Remote Sens 14(17):3201–3208

Thornthwaite CW, Mather JR (1955) The Water balance. In: Climatology, vol 8, no 1, Drexel Institute of Technology, New Jersey, USA, pp 104

Van Bavel CHM (1953) A drought criteria and its application in evaluating drought incidence and hazard. Agron J 45:167–172

Van Rooy MP (1965) A rainfall anomaly index independent of time and space. Notos Weather Bur S Afr 14:43–48

Vicente-Serrano SM, Beguería S, López-Moreno JI (2010) A multiscalar drought index sensitive to global warming: the standardized precipitation evapotranspiration index. J Clim 23:1696–1718

Victor US, Ramana Rao BV, Srivastava NN, Vijaya Kumar P (1991) Rainy season and its variability for contingency planning in Andhra Pradesh. Indian J Dry Land Agr Res Dev 6:1–12

Weghorst KM (1996) The reclamation drought index: guidelines and practical applications. Bureau of Reclamation, Denver, p 6

Wilhelmi OV (1999) Methodology for assessing vulnerability to agricultural drought: a Nebraska case study, Ph.D. dissertation, University of Nebraska, Lincoln

Wilhelmi OV, Wilhite DA (2002) Assessing vulnerability to agricultural drought: a Nebraska case study. Nat Hazards 25(1):37–58

Wilhite DA (1993) The enigma of drought, Chapter 1. In: Wilhite DA (ed) Drought assessment, management, and planning: theory and case studies. Kluwer Academic Publishers, Boston, pp 3–17

Wilhite DA (1997) Responding to drought: common threads from the past, visions for the future. J Am Water Res As 33(5):951–959

Wilhite DA (2000a) Drought: a global assessment. Natural hazards and disasters series. Routledge Publishers, Routledge

Wilhite DA (2000b) Drought as a natural hazard: concepts and definitions, Chapter 1. In: Wilhite DA (ed) Drought: a global assessment, natural hazards and disasters series. Routledge Publishers, Routledge

World Meteorological Organization (WMO) and Global Water Partnership (GWP) (2016) Handbook of drought indicators and indices. In: Svoboda M, Fuchs BA, Integrated Drought Management Programme (IDMP), Integrated Drought Management Tools and Guidelines Series 2. Geneva

Wu H, Wilhite DA (2004) An operational agricultural drought risk assessment model for Nebraska, USA. Nat Hazards 33:1–21

Wu J, He B, Lu A, Zhou L, Liu M, Zhao L (2011) Quantitative assessment and spatial characteristics analysis of agricultural drought vulnerability in China. Nat Hazards 56:785–801

Yinge L (2003) Research on the drought disaster and climatic trend in the northwestern China. J Arid Land Resour Environ 17(4):113–116
Acknowledgements
Authors are grateful to Planning Department, Government of Andhra Pradesh, India, for awarding a World Bank-funded consultancy project "Development of Long-Term Hazard Planning, Management and Vulnerability Reduction Action Plan in Respect of Droughts." The present study is part of the outcome of this project. Authors thank Ms. O. Bhavani and VM Sandeep for typesetting the manuscript and Mr. Mohammed Ismail for drawing the figures in GIS.
Additional information
Publisher's Note
Springer Nature remains neutral with regard to jurisdictional claims in published maps and institutional affiliations.
About this article
Cite this article
Kumar, P.V., Osman, M. & Mishra, P.K. Development and application of a new drought severity index for categorizing drought-prone areas: a case study of undivided Andhra Pradesh state, India. Nat Hazards 97, 793–812 (2019). https://doi.org/10.1007/s11069-019-03675-4
Received:

Accepted:

Published:

Issue Date:
Keywords
Agricultural drought

CRIDA drought severity index

Drought categorization

Moisture adequacy index

Vulnerability mapping