Abstract
The 2016 Fort McMurray wildfire, which was nicknamed "The Beast," resulted in the largest evacuation in the history of the province of Alberta, Canada. Experience with the approach and entry of the fire into the city was captured by citizens on video and shared on YouTube. This qualitative study, which drew from phenomenological and visual research methods, used YouTube videos as a data source for exploring peoples' lived experiences with the wildfire, as well as how social practices with the use of different technologies influenced the types of experiences captured on video. Three main types of experiences with the wildfire were portrayed in the videos analysed for this study. The first type of experience was watching the wildfire approach the city, the second was fleeing through fire, and the third was watching your house burn. These experiences reflected a temporal sequence, as well as a change in the nature of activity and spatial relationship with the hazard over time. Recording technologies used to capture experiences with the fire included cell phone cameras, dash cams, and home monitoring cameras. Each of these different types of technologies offered different affordances, which enabled both first- and second-hand witnessing of experiences with the wildfire. This study advances knowledge about human experience with wildfire hazards, as well as citizen use of YouTube video in disaster contexts.
Access options
Buy single article
Instant access to the full article PDF.
US$ 39.95
Tax calculation will be finalised during checkout.
Subscribe to journal
Immediate online access to all issues from 2019. Subscription will auto renew annually.
US$ 119
Tax calculation will be finalised during checkout.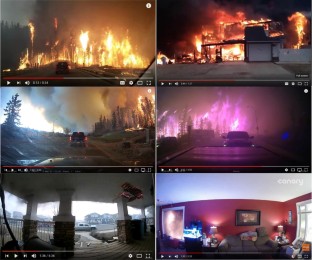 Notes
1.

The name Horse River Wildfire was used by Alberta Forestry Service (MNP 2017). The KPMG (2017) report for the Province of Alberta refers to this same fire as the Wood Buffalo Wildfire (KPMG 2017), with the reference being that Fort McMurray is one community in the Regional Municipality of Wood Buffalo. Colloquially, the wildfire was called the Fort McMurray fire because of the extensive damage done by the wildfire in that city.
References
Alam F, Ofli F, Imran M (2018) Processing social media images by combining human and machine computing during crises. Int J Hum Comput Interact 34(4):311–327

Allan S (2013) Citizen witnessing: revisioning journalism in times of crisis. Wiley, New York

Allan S (2015) Introduction: photojournalism and citizen journalism. Journal Pract 9(4):455–464

Allan S, Peters C (2015) Visual truths of citizen reportage: four research problematics. Inf Commun Soc 18(11):1348–1361

Andén-Papadopoulos K (2014) Citizen camera-witnessing: embodied political dissent in the age of 'mediated mass self-communication'. New Media Soc 16(5):753–769

Andén-Papadopoulos K, Pantti M (2013) Re-imagining crisis reporting: professional ideology of journalists and citizen eyewitness images. Journalism 14(7):960–977

Bal HM, Baruh L (2015) Citizen involvement in emergency reporting: a study on witnessing and citizen journalism. Interact Stud Commun Cult 6(2):213–231

Bica M, Palen L, Bopp C (2017) Visual representations of disaster. In: CSCW, pp 1262–1276

Biggar Jr RW (2015) The aftermath of a natural disaster: a phenomenological study of permanent displacement among adult survivors of Hurricane Katrina. Dissertation, Capella University

Cohn PJ, Carroll MS, Kumagai Y (2006) Evacuation behavior during wildfires: results of three case studies. West J Appl For 21(1):39–48

Cova TJ, Drews FA, Siebeneck LK, Musters A (2009) Protective actions in wildfires: evacuate or shelter-in-place? Nat Hazards Rev 10(4):151–162

Crawford K, Finn M (2015) The limits of crisis data: analytical and ethical challenges of using social and mobile data to understand disasters. GeoJournal 80(4):491–502

Denhart H (2009) Deconstructing disaster: psycho-social impact of building deconstruction in Post-Katrina New Orleans. Cities 26(4):195–201. https://doi.org/10.1016/j.cities.2009.04.003

Drabek TE, McEntire DA (2003) Emergent phenomena and the sociology of disaster: lessons, trends and opportunities from the research literature. Disaster Prevent Manag Int J 12(2):97–112

Dynes RR, Tierney KJ (eds) (1994) Disasters, collective behavior, and social organization. University of Delaware Press, Newark

Farinosi M, Treré E (2014) Challenging mainstream media, documenting real life and sharing with the community: an analysis of the motivations for producing citizen journalism in a post-disaster city. Glob Media Commun 10(1):73–92

Fichet ES, Robinson JJ, Dailey D, Starbird K (2016) Eyes on the ground: emerging practices in periscope use during crisis events. In: ISCRAM

Finlay L (2009) Debating phenomenological methods. Phenomenol Pract 3(1):6–25

Fritz CE, Mathewson JH (1957) Convergence behavior in disasters: a problem in social control: a special report prepared for the committee on disaster studies. National Academy of Sciences National Research Council

Giorgi A (2006) Difficulties encountered in the application of the phenomenological method in the social sciences. Anál Psicol 24(3):353–361

Giorgi A (2012) The descriptive phenomenological psychological method. J Phenomenol Psychol 43(1):3–12

Grayson L (2015) Citizen photojournalism: how photographic practices of amateur photographers affect narrative functions of editorial photographs. Journal Pract 9(4):568–579

Hagar C (2010) Crisis informatics: introduction. Bull Am Soc Inf Sci Technol 36(5):6–10

Hagar C (2013) Crisis informatics: perspectives of trust–is social media a mixed blessing? Sch Inf Stud Res J 2(2):2

Heath C, Hindmarsh J, Luff P (2010) Video in qualitative research: analysing social interaction in everyday life. SAGE, Los Angeles

Hirst W, Phelps EA, Buckner RL, Budson AE, Cuc A, Gabrieli JD, Meksin R (2009) Long-term memory for the terrorist attack of September 11: flashbulb memories, event memories, and the factors that influence their retention. J Exp Psychol Gen 138(2):161

Hughes AL, Palen L, Sutton J, Liu SB, Vieweg S (2008) "Site-seeing" in disaster: an examination of online social convergence. In: ISCRAM proceedings, Washington

Insurance Bureau of Canada (2016) Northern Alberta Wildfire costliest insured natural disaster in Canadian history—estimate of insured losses: $3.58 billion [press release] http://www.ibc.ca/bc/resources/media-centre/media-releases/northern-alberta-wildfire-costliest-insured-natural-disaster-in-canadian-history. Accessed 18 June 2018

Imran M, Castillo C, Diaz F, Vieweg S (2015) Processing social media messages in mass emergency: a survey. ACM Comput Surv (CSUR) 47(4):67

Keene EP (1998) Phenomenological study of the North Dakota flood experience and its impact on survivors' health. Int J Trauma Nurs 4(3):79–84

Kendra JM, Wachtendorf T (2003) Reconsidering convergence and converger legitimacy in response to the world trade center disaster. Research in Social Problems and Public Policy 11:97–122

KPMG (2017) 2016 Wood Buffalo wildfire post-incident assessment report prepared for Alberta emergency management agency. https://www.alberta.ca/assets/documents/Wildfire-KPMG-Report.pdf. Accessed 28 May 2018

Kreps GA, Bosworth SL (2007) Organizational adaptation to disaster. In: Rodriguez H, Quarantelli EL, Russell RD (eds) Handbook of disaster research. Springer, New York, pp 297–315

Liu SB, Palen L, Sutton J, Hughes A, Vieweg S (2008) In search of the bigger picture: the emergent role of on-line photo sharing in times of disaster. In: Proceedings of the information systems for crisis response and management conference (ISCRAM), pp 4–7

McCosker A (2013) De-framing disaster: affective encounters with raw and autonomous media. Continuum 27(3):382–396

Merleau-Ponty M et al (2012) Phenomenology of perception. Routledge, London

MNP (2017) A review of the 2016 Horse River wildfire. Prepared for Forestry Division, Alberta Agriculture and Forestry. https://www.alberta.ca/assets/documents/Wildfire-MNP-Report.pdf. Accessed 28 May 2018

Mortensen M (2015a) Journalism and eyewitness images. Routledge, New York. https://doi.org/10.4324/9780203520680

Mortensen M (2015b) Connective witnessing: reconfiguring the relationship between the individual and the collective. Inf Commun Soc 18(11):1393–1406

Moustakas C (1994) Phenomenological research methods. Sage Publications, Thousand Oaks

Mythen G (2010) Reframing risk? Citizen journalism and the transformation of news. J Risk Res 13(1):45–58

National Academies of Sciences, Engineering, and Medicine (2018) Emergency alert and warning systems: current knowledge and future research directions. The National Academies Press, Washington. https://doi.org/10.17226/24935

National Research Council (2006) Facing hazards and disasters: understanding human dimensions. The National Academies Press, Washington, DC. https://doi.org/10.17226/11671

Natural Resources Canada (n.d.) Wildland fire evacuations [webpage]. http://www.nrcan.gc.ca/forests/climate-change/forest-change/17787. Accessed 28 May 2018

Neal D, Phillips B (1995) Effective emergency management: reconsidering the bureaucratic approach. Disasters 19(4):327–337

Nguyen DT, Ofli F, Imran M, Mitra P (2017) Damage assessment from social media imagery data during disasters. In: Proceedings of the 2017 IEEE/ACM international conference on advances in social networks analysis and mining 2017. ACM, pp. 569–576

Palen L, Anderson KM (2016) Crisis informatics—new data for extraordinary times. Science 353(6296):224–225

Palen L, Hughes AL (2018) Social media in disaster communication. Handbook of disaster research. Springer, Cham, pp 497–518

Peters JD (2001) Witnessing. Media Cult Soc 23(6):707–723

Peters R, de Albuquerque JP (2015) Investigating images as indicators for relevant social media messages in disaster management. In: ISCRAM

Pink S (2012) Advances in visual methodology. Sage Publications, London

Råholm MB, Arman M, Rehnsfeldt A (2008) The immediate lived experience of the 2004 tsunami disaster by Swedish tourists. J Adv Nurs 63(6):597–606

Regional Municipality of Wood Buffalo (RMWB) (2016) Media briefing: wood Buffalo forest fire update—May 3, 11 a.m. [Video file]. https://www.youtube.com/watch?v=55O3jp8thKM. Accessed 28 May 2018

Reuter C, Kaufhold MA (2018) Fifteen years of social media in emergencies: a retrospective review and future directions for crisis informatics. J Conting Crisis Manag 26(1):41–57

Reuter C, Hughes AL, Kaufhold MA (2018) Social media in crisis management: an evaluation and analysis of crisis informatics research. Int J Hum Comput Interact 34(4):280–294

Rose G (2016) Visual methodologies: An introduction to researching with visual materials, 4th edn. SAGE, Los Angeles

Roxberg Å, Burman M, Guldbrand M, Fridlund B, Barbosa da Silva A (2010) Out of the wave: the meaning of suffering and relieved suffering for survivors of the tsunami catastrophe. An hermeneutic-phenomenological study of TV-interviews one year after the tsunami catastrophe, 2004. Scand J Caring Sci 24(4):707–715

Sawyer S, Tapia A (2007) From findings to theories: institutionalizing social informatics. Inf Soc 23(4):263–275

Schankweiler K, Straub V, Wendl T (eds) (2019) Image testimonies: Witnessing in times of social media. Routledge, London

Schmieder K (2015) Amateur photographs as visual quotes: does the rise of amateur photography lead to fundamental changes in the news media? Journal Pract 9(4):580–596

Snow J. (2005) Nothing beats the reporter on the spot. The Guardian 21 November

Soden R, Palen L (2018). Informating crisis: expanding critical perspectives in crisis informatics. In: Proceedings of the ACM on human–computer interaction, vol 2, CSCW, p 162

Sorensen JH, Sorensen BV (2007) Community processes: Warning and evacuation. Handbook of disaster research. Springer, New York, pp 183–199

Stallings RA, Quarantelli EL (1985) Emergent citizen groups and emergency management. Public Adm Rev 45:93–100

Swann C, Crust L, Allen-Collinson J (2016) Surviving the 2015 Mount Everest disaster: a phenomenological exploration into lived experience and the role of mental toughness. Psychol Sport Exerc 27:157–167

Van Manen M (2016) Researching lived experience. Human science for an action sensitive pedagogy. Routledge, New York

Warsini S, Mills J, West C, Usher K (2016) Living through a volcanic eruption: understanding the experience of survivors as a phenomenological existential phenomenon. Int J Ment Health Nurs 25(3):206–213. https://doi.org/10.1111/inm.12212

YouTube Creator Academy (2017) Search and discovery on YouTube [video file] https://creatoracademy.youtube.com/page/lesson/discovery. Accessed 15 Mar 2018

YouTube Help (n.d.) Advanced Search (filters) [video file]. https://support.google.com/youtube/answer/111997?hl=en. Accessed 15 Mar 2018
Acknowledgements
I am indebted to the people who recorded and shared their personal experiences with the 2016 Fort McMurray fire. While these recordings are intensely personal, they were also shared publicly and this created the opportunity to study and learn from these experiences. Acknowledgement is also given to Royal Roads University for time given for a research leave, which gave space for exploring the use of painting in research and this resulting study of YouTube videos of the wildfire. Thanks are also extended to the anonymous reviewers, whose recommendations were helpful and appreciated.
Additional information
Publisher's Note
Springer Nature remains neutral with regard to jurisdictional claims in published maps and institutional affiliations.
About this article
Cite this article
Slick, J. Experiencing fire: a phenomenological study of YouTube videos of the 2016 Fort McMurray fire. Nat Hazards 98, 181–212 (2019). https://doi.org/10.1007/s11069-019-03604-5
Received:

Accepted:

Published:

Issue Date:
Keywords
Disaster

Wildfire

Social media

Crisis informatics

YouTube

Phenomenology

Visual research methods

Citizen witnessing