Abstract
On March 11, 2011, a magnitude MW 9.0 thrust earthquake ruptured the Japan Trench along the northwest coast of Honshu and generated a tsunami that killed 15,894 people, left 2585 missing (as of March 2017) and destroyed more than 130,000 houses. The purpose of this paper is to review the current status and scope of tsunami recovery in the Tohoku region, focusing on investments in structural protection measures as well as extensive implementation of non-structural "managed retreat." Japan's response to the 2011 tsunami contrasts with approaches to disaster management in the USA and elsewhere in the world. New structural protections built in Japan since 2011 include a massive concrete-lined tsunami barrier system, stretching > 400 km of coast, at a cost of at least $8 billion. Managed retreat is a relatively new area of research and risk management focusing on withdrawal of infrastructure and population from at-risk areas. Japan's post-tsunami disaster response may represent the single largest case of disaster-related managed retreat in recent world history. Approximately 145,000 homes, including whole new towns, are being built outside the tsunami hazard zone. Disaster managers worldwide should look to Japan for lessons learned from the investment and efforts since 2011.
This is a preview of subscription content, log in to check access.
Access options
Buy single article
Instant access to the full article PDF.
US$ 39.95
Price includes VAT for USA
Subscribe to journal
Immediate online access to all issues from 2019. Subscription will auto renew annually.
US$ 199
This is the net price. Taxes to be calculated in checkout.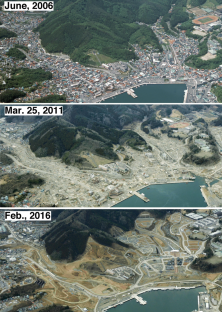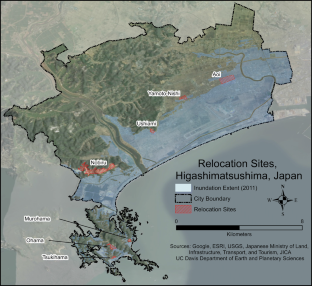 References
Ganapati NE, Ganapati S (2008) Enabling participatory planning after disasters: a case study of the World Bank's housing reconstruction in Turkey. J Am Plan As 75:41–59

Hauer ME, Evans JM, Mishra DR (2016) Millions projected to be at risk from sea-level rise in the continental United States. Nat Clim Change 6(7):691–695

Hofstede G (1983) National cultures in four dimensions: a research-based theory of cultural differences among nations. Int Stud Manag Org 13(1/2):46–74

Japan Reconstruction Agency (2017) The road to recovery: recovery and reconstruction from the great east Japan earthquake. http://www.reconstruction.go.jp/english/topics/Progress_to_date/index.html. Accessed 6 Apr 2019

Missouri State Emergency Management Agency (MSEMA) (1999) Stemming the tide of flood losses: stories of success from the history of Missouri's flood mitigation program. State Emergency Management Agency, Jefferson City

NOAA National Centers for Environmental Information (NCEI) U.S. (2018) Billion-dollar weather and climate disasters. https://www.ncdc.noaa.gov/billions/. Accessed 6 Apr 2019

Pinter N (2005) Policy Forum: one step forward, two steps back on U.S. floodplains. Science 308:207–208

Ranghieri F, Ishiwatari M (eds) (2014) Learning from megadisasters: lessons from the Great East Japan Earthquake. The World Bank, Washington

Tobin JJ, Wu DYH, Davidson DH (1989) Preschool in three cultures: Japan, China, and the United States. Yale University Press, New Haven

US Government Accountability Office (GAO) (2013) High-risk series: an update. Government Accountability Office, Washington
Additional information
Publisher's Note
Springer Nature remains neutral with regard to jurisdictional claims in published maps and institutional affiliations.
About this article
Cite this article
Pinter, N., Ishiwateri, M., Nonoguchi, A. et al. Large-scale managed retreat and structural protection following the 2011 Japan tsunami. Nat Hazards 96, 1429–1436 (2019). https://doi.org/10.1007/s11069-019-03602-7
Received:

Accepted:

Published:

Issue Date:
Keywords
Tsunami

Flooding

Disaster recovery

Disaster preparation

Risk management

Managed retreat