Abstract
The construction of paleo-climatic calendar based on various evidences as well as instrumental records of climatic elements tell that climate has changed to a great extent over time. Scientific evidences establish the fact that the impacts of climate change are having wide immediate as well as long-term indirect effects on public health. Especially the focus is on climate change impacts in terms of increased severity, frequency and spread of vector-borne diseases. Climate changes in terms of increased average temperatures, more intense rainfall, extended summer season and less intense winters can impact the range and incidence of infectious and vector-borne diseases. Odisha, an eastern coastal state of India, is not an exception in experiencing the effects of climate change in spreading of vector-borne diseases. Malaria is one of the most important and widely distributed vector-borne disease observed in Odisha. Transmission of malaria is a dynamic process influenced by the changes in ecological and meteorological conditions. The other vector-borne diseases observed in Odisha since last decade include dengue, Japanese encephalitis and chikungunya. The mid-June period is usually characterized by onset of South West monsoon in Odisha in past. However, the analysis indicates an increase in number of heat wave days in the month of June in recent years, which may be an indicator of gradual shift of monsoon season in Odisha. The results also indicate that vector-borne disease conducive season extends from July till November, nearly half of the year. Further, the dengue and chikungunya are more prevalent in coastal districts, whereas malaria and JE have been experienced in interior districts.
Access options
Buy single article
Instant access to the full article PDF.
USD 39.95
Price excludes VAT (USA)
Tax calculation will be finalised during checkout.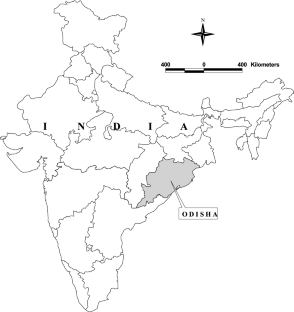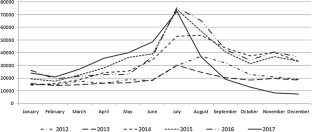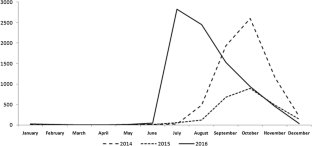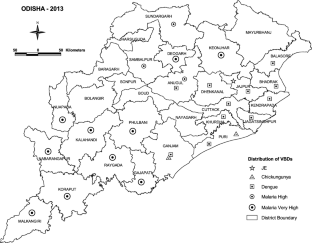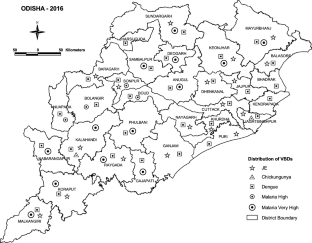 References
Annual Activity Reports (2001 to 2017) NHM, Dept. of H & FW, Govt. of Odisha

Costello A, Abbas M, Allen A, Ball S, Bell S, Bellamy R, Friel S, Groce N, Johnson A, Kett M et al (2009) Managing the health effects of climate change. Lancet 373:1693–1733

De US, Dube RK, Prakasa Rao GS (2005) Extreme weather events over India in the last 100 years. J Ind Geophys Union 9(3):173–187

Gillies MT (1953) The duration of the gonotrophic cycle in Anopheles gambiae and Anopheles funestus, with a note on the efficiency of hand catching. East Afr Med J 30(4):129–135

Githeko AK, Lindsay SW, Confalonieri UE, Patz JA (2000) Climate change and vector-borne diseases: a regional analysis. Bull World Health Organ 78(9):1136–1147

Hales S, Woodward A (2006) Potential health impacts and policy responses. In: Chapman R, Boston J, Schwass M (eds) Confronting climate change: critical issues for New Zealand. Victoria University Press, Wellington, pp 117–123

India Meteorological Department (2002) Climate of Odisha. Controller of Publications, New Delhi

Kumar A, Valecha N, Jain T, Dash AP (2007) Burden of Malaria in India: retrospective and prospective view. Am J Trop Med Hyg 77(6):69–78

Mar Kilpatrick A, Randolph SE (2012) Drivers, dynamics, and control of emerging vector-borne zoonotic diseases. Lancet 380:1946–1955

McMichael AJ et al (2003) Climate change and human health: risks and responses. World Health Organization, Geneva

Mohapatra R (2006) Disaster Dossier: the impact of climate change on Orissa, Infochange. News and analysis on social justice and development issues in India. www.infochangeindia.org. Accessed 2 Feb 2018

Parida SP, Bhatia V (2015) Malaria status in India with focus on Odisha State having maximum disease burden. Glob J Med Public Health 4(5):1–6

Patel SK (2016) Climate change and climate-induced disasters in Odisha, Eastern India: impacts, adaptation and future policy implications. Int J Humanit Soc Sci Invent 5(8):60–63

Pradhan A, Anasuya A, Prdhan MM, Kavitha AK, Kar P, Sahoo KC, Panigrahi P, Dutta A (2016) Trends in Malaria in Odisha, India—an analysis of the 2003–2013 time series data from the national vector borne disease control program. PLoS ONE. https://doi.org/10.1371/journal.pone.0149126

Ray-Bennett NS (2009) Multiple disasters and policy responses in pre- and post-independence Orissa, India. Disasters 33(2):274–290. https://doi.org/10.1111/j.1467-7717.2008.01074.x

Rueda LM, Patel KJ, Axtell RC, Stinner RE (1990) Temperature-dependent development and survival rates of Culex quinquefasciatus and Aedes aegypti (Diptera: Culicidae). J Med Entomol 27(5):892–898

Sahu SC, Karmakar M, Dash M (2016) Climate change and public health: a study on extreme heat events in Odisha. In: Global warming: sea level rise and community adaptation strategies (Ed.), SOA & KPU-Canada, pp 54–67

Turell MJ (1993) Effect of environmental temperature on the vector competence of Aedes taeniorhynchus for Rift Valley fever and Venezuelan equine encephalitis viruses. Am J Trop Med Hyg 49(6):672–676

Watts DM, Burke DS, Harrison BA, Whitmire RE, Nisalak A (1987) Effect of temperature on the vector efficiency of Aedes aegypti for dengue 2 virus. Am J Trop Med Hyg 36:143–152

WHO Country Office for India (2014) Vector-borne diseases in India: an analysis from a health systems approach, New Delhi
Additional information
Publisher's Note
Springer Nature remains neutral with regard to jurisdictional claims in published maps and institutional affiliations.
About this article
Cite this article
Karmakar, M., Pradhan, M.M. Climate change and public health: a study of vector-borne diseases in Odisha, India. Nat Hazards 102, 659–671 (2020). https://doi.org/10.1007/s11069-019-03594-4
Received:

Accepted:

Published:

Issue Date:

DOI: https://doi.org/10.1007/s11069-019-03594-4
Keywords
Climate change

Public health

Vector-borne disease (VBD)

Odisha

India