Abstract
China plays a critical role in global carbon reduction in the context of mitigating climate change as the essence of climate change and the associated environmental issues is energy consumption, especially the combustion of fossil fuels. This paper provides a clear picture of China's energy consumption in the past, present and future to facilitate the understanding of what has happened, the main cause and what is likely coming. First, an extended energy flow chart is presented based on the adjusted energy balance table for China, and the detailed energy chains of final services, subsectors and the corresponding technologies are linked to the chart. This work enriches the information about sources of energy demand and contributes to the identification of key areas that should be given priority for energy transitions and technological innovations. Second, three development modes describing the relationship between energy consumption and GDP per capita are proposed based on the experiences of developed countries, and it is noted that China's trajectory is more likely to follow the medium or low energy consumption modes. Finally, the future energy demand of China is projected in a more comprehensive and precise manner by summarizing and comparing the results of outlook reports published by well-known international organizations. The overall trend is that China's energy consumption will continue to grow, while the growth rate will gradually slow.
This is a preview of subscription content, log in to check access.
Access options
Buy single article
Instant access to the full article PDF.
US$ 39.95
Price includes VAT for USA
Subscribe to journal
Immediate online access to all issues from 2019. Subscription will auto renew annually.
US$ 199
This is the net price. Taxes to be calculated in checkout.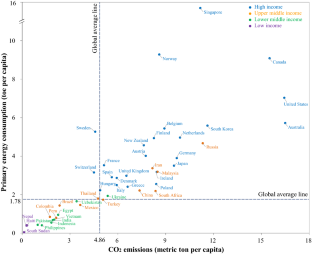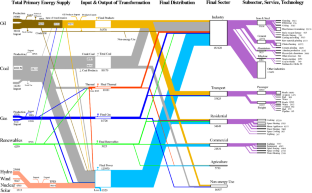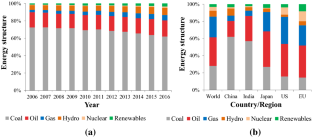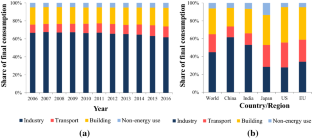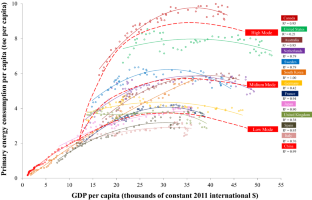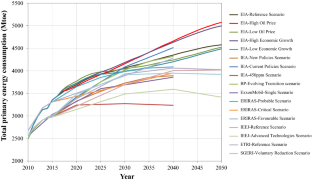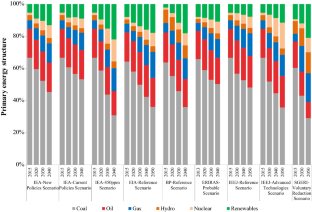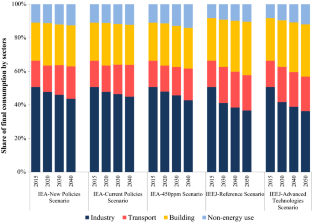 References
An R, Yu B, Li R et al (2018) Potential of energy savings and CO2 emission reduction in China's iron and steel industry. Appl Energy 226:862–880

Bolt J, Robert I, Herman DJ et al (2018) Rebasing 'Maddison': new income comparisons and the shape of long-run economic development. Maddison project working paper 10. Maddison project database, version 2018. https://www.rug.nl/ggdc/historicaldevelopment/maddison/releases/maddison-project-database-2018. Accessed 24 Oct 2018

BP (2017) BP statistical review of world energy 2018. BP p.l.c, London

BP (2018) BP energy outlook 2018. BP p.l.c, London

Chen JM, Yu B, Wei YM (2018) Energy technology roadmap for ethylene industry in China. Appl Energy 224:160–174

Chinalco/Aluminum Corporation of China (2016) The yearbook of Aluminum Corporation of China 2016. Metallurgical Industry Press, Beijing

CLET/Green World Low-Carbon Economy & Technology Center (2015) China industrial energy efficiency technology development report 2014. Chemical Industry Press, Beijing

Cullen JM, Allwood JM (2010) The efficient use of energy: tracing the global flow of energy from fuel to service. Energy Policy 38(1):75–81

Davis M, Ahiduzzaman M, Kumar A (2018) Mapping Canadian energy flow from primary fuel to end use. Energy Convers Manag 156:178–191

EIA (2017) International energy outlook 2017. US Energy Information Administration, Washington, DC

ERIRAS (2016) Global and Russian energy outlook 2016. Energy Research Institute, Russian Academy of Sciences, Moscow

ETRI (2017) Global and china energy outlook 2050. China National Petroleum Corporation Economics & Technology Research Institute Co., LTD., Beijing

ExxonMobil (2017) 2017 Outlook for energy: a view to 2040. Exxon Mobil Corporation, Irving

Fridley D, Zheng N, Zhou N et al (2011). China energy and emissions paths to 2030. LBNL report 4866. Lawrence Berkeley National Laboratory, Berkeley, CA. https://eaei.lbl.gov/publications/china-energy-and-emissions-paths-2030. Accessed 19 Oct 2018

Hao H, Geng Y, Li W et al (2015) Energy consumption and GHG emissions from China's freight transport sector: scenarios through 2050. Energy Policy 85:94–101

Haustein K, Allen MR, Otto FEL et al (2017) A real-time global warming index. Scientific Reports 7(1):15417

IEA (2016) World energy outlook 2016. International Energy Agency, Paris

IEEJ (2018) IEEJ outlook 2018-prospects and challenges until 2050-energy, environment and economy. The Institute of Energy Economics Japan, Tokyo

IIASA (2016) SSP database (shared socioeconomic pathways)-version 1.1, International Institute for Applied Systems Analysis, Laxenburg, Austria. https://tntcat.iiasa.ac.at/SspDb/dsd?Action=htmlpage&page=about. Accessed 25 Oct 2018

IPCC (2014) Climate change 2014: Mitigation of climate change. contribution of working group III to the fifth assessment report of the intergovernmental panel on climate change. Cambridge University Press, Cambridge, United Kingdom and New York, NY, USA

Ma L, Allwood JM, Cullen JM et al (2012) The use of energy in China: tracing the flow of energy from primary source to demand drivers. Energy 40(1):174–188

NBS/National Bureau of Statistics of China (2017a) China energy statistical yearbook 2017. China Statistics Press, Beijing

NBS/National Bureau of Statistics of China (2017b) China statistical yearbook 2017. China Statistics Press, Beijing

Newell RG, Iler S, Raimi D (2018) Global energy outlooks comparison methods: 2018 update. Resources for the future (RFF). http://www.rff.org/research/publications/global-energy-outlooks-comparison-methods-2018-update. Accessed 16 October 2018

Quéré CL, Andrew RM, Friedlingstein P et al (2018) Global carbon budget 2017. Earth Syst Sci Data 10:405–448

SGERI/State Grid Energy Research Institute Co., LTD (2017) Global energy review & outlook 2017. China Electric Power Press, Beijing

Wang QY (2009) Energy data 2009-the China sustainable energy program. The Energy Foundation, San Francisco (in Chinese)

Wang A, Wang G, Chen Q et al (2015) S-curve model of relationship between energy consumption and economic development. Nat Resour Res 24(1):1–12

Wang H, Ou X, Zhang X (2017) Mode, technology, energy consumption, and resulting CO2 emissions in China's transport sector up to 2050. Energy Policy 109:719–733

Wei YM, Han R, Liang QM et al (2018) An integrated assessment of INDCs under shared socioeconomic pathways: an implementation of C3IAM. Nat Hazards 92(2):585–618

World Bank (2018) World bank open data. https://data.worldbank.org/. Accessed 19 October 2018

World Health Organization (2018) Global ambient air quality database (update 2018). http://www.who.int/. Accessed 23 October 2018

Wu Y, Zhu Q, Zhu B (2018) Comparisons of decoupling trends of global economic growth and energy consumption between developed and developing countries. Energy Policy 116:30–38

Zhang M, Wang W (2011) Analysis of China's energy utilization for 2007. Energy Policy 39(3):1612–1616

Zhang CY, Han R, Yu B et al (2018) Accounting process-related CO2 emissions from global cement production under shared socioeconomic pathways. J Clean Prod 184:451–465

Zheng XY, Wei C, Yu YH et al (2016) Chinese household energy consumption report 2016. Science Press, Beijing
Acknowledgements
The authors acknowledge financial support received through National Key R&D Program of China (2016YFA0602603) and from the National Natural Science Foundation of China (Nos. 71822401, 71603020, 71521002 and 71642004), Key Project of Beijing Social Science Foundation Research Base (Grant No. 18JDGLB039) and the support from the Joint Development Program of Beijing Municipal Commission of Education. We are also thankful for the support provided by CEEP-BIT colleagues.
Additional information
Publisher's Note
Springer Nature remains neutral with regard to jurisdictional claims in published maps and institutional affiliations.
About this article
Cite this article
Yu, B., Zhao, G. & An, R. Framing the picture of energy consumption in China. Nat Hazards 99, 1469–1490 (2019). https://doi.org/10.1007/s11069-019-03576-6
Received:

Accepted:

Published:

Issue Date:
Keywords
Energy flow chart

Energy consumption patterns

Energy outlook

China