Abstract
A nonlinear dynamic analysis method in earthquake-resistant design requires real-time ground motion records. However, a definite criterion is required for ground motion selection. In the present study, a damage potential measure 'distance from zero-amplitude axis (dZ-A)' is developed through multivariate analysis of 21 different ground motion parameters for ground motion rating. These 21 parameters include peak ground acceleration, peak ground velocity, arias intensity, acceleration spectrum intensity, significant duration, predominant period, etc. along with moment magnitude, site class and hypocentral distance. The analysis is carried out in an orthogonal principal component space, using 433 Indian ground motions, recorded over magnitudes of Mw 4.5–7.2. Further, the goodness of dZ-A is validated through comparison with MMI values.
Access options
Buy single article
Instant access to the full article PDF.
USD 39.95
Price excludes VAT (USA)
Tax calculation will be finalised during checkout.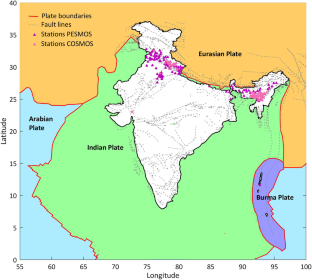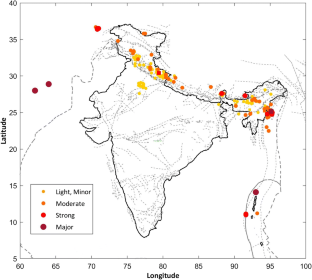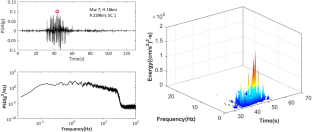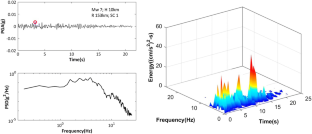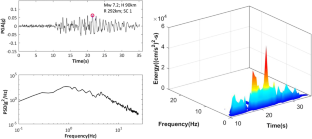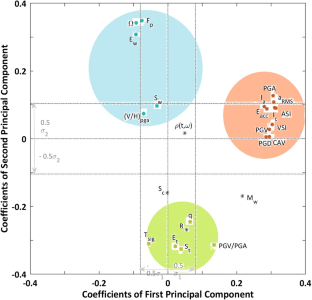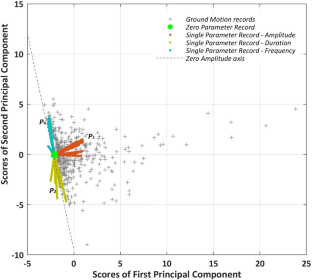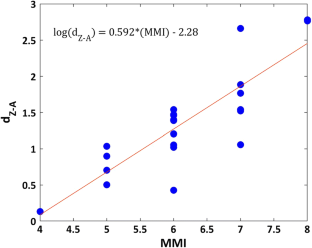 References
Arias A (1970) A measure of earthquake intensity. In: Hansen RJ (ed) Seismic design for nuclear power plants. MIT Press, Cambridge, pp 438–483

Azarbakht A, Ashitany MG (2008) The code-based selection of ground motion records for nonlinear time-history analysis. In: The 14th world conference on earthquake engineering

Bhargavi P, Raghukanth STG (2017) Ground motion parameters for the 2011 great japan Tohoku earthquake. J Earthq Eng. https://doi.org/10.1080/13632469.2017.1342292

Bhargavi P, Raghukanth STG (2018) Rating damage potential of ground motion records. Earthq Eng Eng Vib (accepted)

Bommer JJ, Acevedo AB (2004) The use of real accelerograms as input to dynamic analysis. J Earthq Eng 8(1):43–91

Boore DM (2004) Estimating Vs(30) (Or NEHRP site classes) from shallow velocity models (depths < 30 m). Bull Seismol Soc Am 94:591–597

Cornell CA (1968) Engineering seismic risk analysis. Bull Seismol Soc Am 58(5):1583–1606

Electrical Power Research Institute (EPRI) (1988) A criterion for determining exceedance of the operating basis earthquake. EPRI NP-5930, Palo Alto

Gupta ID, Trifunac MD (2017) Scaling of fourier spectra of strong earthquake ground motion in western himalaya and northeastern India. Soil Dyn Earthq Eng 102:137–159

Gutenberg B, Richter CF (1956) Earthquake magnitude: intensity, energy and acceleration. Bull Seismol Soc Am 46:104–145

Housner GW (1952) Spectrum intensity of strong motion earthquakes. In: Proceedings of the symposium on earthquakes and blast effects on structures. Earthquake Engineering Research Institute, California, pp 20–36

Housner GW, Jennings PC (1964) Generation of artificial earthquakes. J Eng Mech Div ASCE 90:113–150

Indian Standard Criteria for Earthquake Resistant Design of Structures, IS 1893 (Part 1): 2002, Part 1 general provisions and buildings (Fifth Revision). Bureau of Indian Standards, New Delhi

Iyengar RN, Prodhan KC (1983) classification and rating of strong motion earthquake records. Earthq Eng Struct Dyn 11:415–426

Jayaram N, Lin T, Baker JW (2011) A computationally efficient ground-motion selection algorithm for matching a target response spectrum mean and variance. Earthq Spectra 27(3):797–815

Jolliffe IT (2002) Principal component analysis, 2nd edn. Springer, Berlin

Kramer SL (1996) Geotechnical earthquake engineering. Prentice-Hall, Upper Saddle River

Lin BC, Tadjbakhsh I (1986) Effect of vertical motion on friction-driven isolation systems. Earthq Eng Struct Dyn 14(4):609–622

Mittal H, Kumar A, Ramhmachhuani R (2012) Indian national strong motion instrumentation network and site characterization of its stations. Int J Geosci 3:1151–1167

Murphy JR, O'Brien LJ (1967) The correlation of peak ground acceleration amplitude with seismic intensity and other physical parameters. Bull Seismol Soc Am 67:877–915

Naeim F, Alimoradi A, Pezeshk S (2004) Selection and scaling of ground motion earthquakes for structural design using genetic algorithms. Earthq Spectra 20(2):413–426

Newmark NM, Hall WJ (1973) Procedures and criteria for earthquake resistant design, vol 46. Building sci. series. U.S. Dept. of Commerce, Washington

Park YJ, Ang AHS, Wen YK (1985) Seismic damage analysis of reinforced concrete buildings. J Struct Eng ASCE 111(4):740–757

Raghukanth STG (2005) Engineering seismic source models and strong ground motion. Thesis submitted for the Degree of Doctor of philosophy, Apr 2005, Department of Civil Engineering, Indian Institute of Science, Bangalore

Rosenblueth E (1964) Probabilistic design to resist earthquakes. J Eng Mech Div ASCE 90:189–219

Schenk V, Mantlik F, Zhizhin MN, Tumarkin AG (1990) Relation between macroseismic intensity and instrumental parameters of strong motions—a statistical approach. Nat Hazards 3:111–124

Shome N, Cornell CA (1999) Probabilistic seismic demand analysis of nonlinear structures. Report No. RMS-35, RMS Program, Stanford University, Stanford

Trifunac MD, Brady AG (1975) A study on the duration of strong earthquake ground motion. Bull Seismol Soc Am 65(3):581–626

Vanmarcke EH (1976) Structural response to earthquakes. In: Lomnitz C, Rosenblueth E (eds) Seismic risk and engineering decisions. Elsevier, Amsterdam, pp 287–337

Von Thun JL, Rochim LH, Scott GA, Wilson JA (1988) Earthquake ground motions for design and analysis of dams. In: Earthquake engineering and soil dynamics II—recent advance in ground motion evaluation. Geotechnical Special Publication 20, ASCE, New York, pp 463

Wu Z, Huang NE (2009) Ensemble empirical mode decomposition: a noise-assisted data analysis method. Adv Adaptive Data Anal 1(1):1–41

Zhao JX, Zhang J, Asano A, Ohno Y, Oouchi T, Takahashi T, Ogawa H, Irikura K, Thio HK, Somerville PG, Fukushima Yasuhiro, Fukushima Yoshimitsu (2006) Attenuation relations of strong ground motion in japan using site classification based on predominant period. Bull Seismol Soc Am 96(3):898–913. https://doi.org/10.1785/0120050122

Zhu TJ, Tso WK, Heidebrecht AC (1987) Effects of peak A/V ratio on structural damage. J Struct Eng Div ASCE:1019–1037
Electronic supplementary material
Below is the link to the electronic supplementary material.
Appendix
Appendix
| Rank | Date | M w | Earthquake | Station | Lat | Long | Rhyp (km) | S c | d Z-A | PGA (g) |
| --- | --- | --- | --- | --- | --- | --- | --- | --- | --- | --- |
| 149 | 10/9/1986 | 4.5 | NE India | Baithalangso | 25.97 | 92.6 | 90.4 | 2 | 1.453 | 0.043 |
| 89 | 10/9/1986 | 4.5 | NE India | Dauki | 25.2 | 92.03 | 50.9 | 2 | 2.733 | 0.081 |
| 138 | 10/9/1986 | 4.5 | NE India | Khliehriat | 25.35 | 92.37 | 52.5 | 1 | 1.62 | 0.036 |
| 75 | 10/9/1986 | 4.5 | NE India | Nongkhlaw | 25.68 | 91.63 | 68.1 | 1 | 3.016 | 0.073 |
| 100 | 10/9/1986 | 4.5 | NE India | Nongpoh | 25.92 | 91.88 | 71.4 | 1 | 2.361 | 0.054 |
| 162 | 10/9/1986 | 4.5 | NE India | Nongstoin | 25.52 | 91.27 | 92.4 | 1 | 1.287 | 0.016 |
| 103 | 10/9/1986 | 4.5 | NE India | Panimur | 25.67 | 92.8 | 87.8 | 2 | 2.321 | 0.049 |
| 93 | 10/9/1986 | 4.5 | NE India | Pynursla | 25.3 | 91.92 | 48.2 | 1 | 2.457 | 0.077 |
| 42 | 10/9/1986 | 4.5 | NE India | Saitsama | 25.72 | 92.38 | 62.1 | 2 | 4.277 | 0.125 |
| 104 | 10/9/1986 | 4.5 | NE India | Ummulong | 25.52 | 92.17 | 44.9 | 1 | 2.318 | 0.089 |
| 152 | 10/9/1986 | 4.5 | NE India | Umrongso | 25.52 | 92.63 | 70.5 | 2 | 1.413 | 0.031 |
| 72 | 10/9/1986 | 4.5 | NE India | Umsning | 25.73 | 91.88 | 58.3 | 1 | 3.051 | 0.103 |
| 123 | 18/5/1987 | 5.9 | India–Burma border | Baithalangso | 25.97 | 92.6 | 184.9 | 2 | 1.93 | 0.03 |
| 151 | 18/5/1987 | 5.9 | India–Burma border | Bamungao | 25.9 | 93.02 | 146.3 | 2 | 1.413 | 0.02 |
| 61 | 18/5/1987 | 5.9 | India–Burma border | Berlongfer | 25.77 | 93.25 | 120.8 | 2 | 3.447 | 0.084 |
| 91 | 18/5/1987 | 5.9 | India–Burma border | Bokajan | 26.02 | 93.77 | 105.9 | 2 | 2.546 | 0.051 |
| 68 | 18/5/1987 | 5.9 | India–Burma border | Diphu | 25.92 | 93.43 | 115.9 | 2 | 3.16 | 0.08 |
| 67 | 18/5/1987 | 5.9 | India–Burma border | Gunjung | 25.32 | 93.02 | 129.4 | 2 | 3.224 | 0.044 |
| 59 | 18/5/1987 | 5.9 | India–Burma border | Haflong | 25.17 | 93.02 | 128.9 | 2 | 3.483 | 0.044 |
| 56 | 18/5/1987 | 5.9 | India–Burma border | Hajadisa | 25.38 | 93.3 | 103.6 | 2 | 3.666 | 0.085 |
| 125 | 18/5/1987 | 5.9 | India–Burma border | Hatikhali | 25.65 | 93.12 | 127.1 | 2 | 1.896 | 0.037 |
| 84 | 18/5/1987 | 5.9 | India–Burma border | Laisong | 25.2 | 93.32 | 102.3 | 2 | 2.857 | 0.049 |
| 136 | 18/5/1987 | 5.9 | India–Burma border | Nongpoh | 25.92 | 91.88 | 248.2 | 1 | 1.663 | 0.019 |
| 80 | 18/5/1987 | 5.9 | India–Burma border | Panimur | 25.67 | 92.8 | 155 | 2 | 2.9 | 0.044 |
| 106 | 18/5/1987 | 5.9 | India–Burma border | Saitsama | 25.72 | 92.38 | 194.7 | 2 | 2.296 | 0.043 |
| 117 | 18/5/1987 | 5.9 | India–Burma border | Umrongso | 25.52 | 92.63 | 167.3 | 2 | 2.02 | 0.023 |
| 134 | 6/2/1988 | 5.8 | India–Bangladesh border | Baigao | 25.4 | 92.87 | 160 | 2 | 1.724 | 0.023 |
| 131 | 6/2/1988 | 5.8 | India–Bangladesh border | Baithalang | 25.97 | 92.6 | 183.2 | 2 | 1.744 | 0.026 |
| 169 | 6/2/1988 | 5.8 | India–Bangladesh border | Bamungao | 25.9 | 93.02 | 204.2 | 2 | 1.195 | 0.016 |
| 120 | 6/2/1988 | 5.8 | India–Bangladesh border | Dauki | 25.2 | 92.03 | 80.5 | 2 | 1.992 | 0.031 |
| 96 | 6/2/1988 | 5.8 | India–Bangladesh border | Gunjung | 25.32 | 93.02 | 168.3 | 2 | 2.421 | 0.036 |
| 121 | 6/2/1988 | 5.8 | India–Bangladesh border | Haflong | 25.17 | 93.02 | 162.6 | 2 | 1.974 | 0.03 |
| 150 | 6/2/1988 | 5.8 | India–Bangladesh border | Hatikhali | 25.65 | 93.12 | 195.5 | 2 | 1.435 | 0.022 |
| 154 | 6/2/1988 | 5.8 | India–Bangladesh border | Katakhal | 24.83 | 92.63 | 115.9 | 2 | 1.386 | 0.009 |
| 51 | 6/2/1988 | 5.8 | India–Bangladesh border | Khliehriat | 25.35 | 92.37 | 117.5 | 1 | 3.869 | 0.072 |
| 60 | 6/2/1988 | 5.8 | India–Bangladesh border | Mawphlang | 25.47 | 91.77 | 94.7 | 1 | 3.457 | 0.077 |
| 43 | 6/2/1988 | 5.8 | India–Bangladesh border | Nongkhlaw | 25.68 | 91.63 | 117.3 | 1 | 4.227 | 0.117 |
| 69 | 6/2/1988 | 5.8 | India–Bangladesh border | Nongpoh | 25.92 | 91.88 | 145.5 | 1 | 3.134 | 0.063 |
| 128 | 6/2/1988 | 5.8 | India–Bangladesh border | Pynursla | 25.3 | 91.92 | 84.6 | 1 | 1.764 | 0.04 |
| 54 | 6/2/1988 | 5.8 | India–Bangladesh border | Saitsama | 25.72 | 92.38 | 148.5 | 2 | 3.82 | 0.062 |
| 92 | 6/2/1988 | 5.8 | India–Bangladesh border | Shillong | 25.57 | 91.9 | 110.2 | 1 | 2.543 | 0.045 |
| 105 | 6/2/1988 | 5.8 | India–Bangladesh border | Ummulong | 25.52 | 92.17 | 117.2 | 1 | 2.305 | 0.056 |
| 74 | 6/2/1988 | 5.8 | India–Bangladesh border | Umrongso | 25.52 | 92.63 | 147.9 | 2 | 3.027 | 0.041 |
| 99 | 6/2/1988 | 5.8 | India–Bangladesh border | Umsning | 25.73 | 91.88 | 127.7 | 1 | 2.371 | 0.054 |
| 9 | 6/8/1988 | 7.2 | India–Burma border | Baigao | 25.4 | 92.87 | 247.1 | 2 | 9.542 | 0.21 |
| 8 | 6/8/1988 | 7.2 | India–Burma border | Baithalangso | 25.97 | 92.6 | 284.3 | 2 | 9.778 | 0.16 |
| 27 | 6/8/1988 | 7.2 | India–Burma border | Bamungao | 25.9 | 93.02 | 245.2 | 2 | 5.254 | 0.09 |
| 2 | 6/8/1988 | 7.2 | India–Burma border | Berlongfer | 25.77 | 93.25 | 220.1 | 2 | 19.085 | 0.322 |
| 10 | 6/8/1988 | 7.2 | India–Burma border | Bokajan | 26.02 | 93.77 | 189.9 | 2 | 9.505 | 0.177 |
| 31 | 6/8/1988 | 7.2 | India–Burma border | Dauki | 25.2 | 92.03 | 324.7 | 2 | 4.755 | 0.083 |
| 1 | 6/8/1988 | 7.2 | India–Burma border | Diphu | 25.92 | 93.43 | 210.1 | 2 | 21.999 | 0.31 |
| 30 | 6/8/1988 | 7.2 | India–Burma border | Doloo | 24.92 | 92.78 | 253.6 | 2 | 4.786 | 0.055 |
| 21 | 6/8/1988 | 7.2 | India–Burma border | Gunjung | 25.32 | 93.02 | 232.2 | 2 | 6.087 | 0.116 |
| 28 | 6/8/1988 | 7.2 | India–Burma border | Hajadisa | 25.38 | 93.3 | 206.5 | 2 | 5.122 | 0.1 |
| 44 | 6/8/1988 | 7.2 | India–Burma border | Harengajao | 25.12 | 92.87 | 245.7 | 2 | 4.221 | 0.068 |
| 20 | 6/8/1988 | 7.2 | India–Burma border | Hojai | 26 | 92.85 | 262 | 2 | 6.369 | 0.123 |
| 66 | 6/8/1988 | 7.2 | India–Burma border | Jellalpur | 25 | 92.47 | 284 | 2 | 3.255 | 0.026 |
| 18 | 6/8/1988 | 7.2 | India–Burma border | Jhirighat | 24.8 | 93.12 | 225.8 | 2 | 6.646 | 0.101 |
| 37 | 6/8/1988 | 7.2 | India–Burma border | Kalain | 24.98 | 92.58 | 272.8 | 2 | 4.469 | 0.055 |
| 24 | 6/8/1988 | 7.2 | India–Burma border | Katakhal | 24.83 | 92.63 | 268.9 | 2 | 5.929 | 0.059 |
| 52 | 6/8/1988 | 7.2 | India–Burma border | Khliehriat | 25.35 | 92.37 | 292.7 | 1 | 3.834 | 0.069 |
| 57 | 6/8/1988 | 7.2 | India–Burma border | Koomber | 24.95 | 93.02 | 231.8 | 2 | 3.549 | 0.046 |
| 12 | 6/8/1988 | 7.2 | India–Burma border | Panimur | 25.67 | 92.8 | 257.1 | 2 | 7.897 | 0.153 |
| 73 | 6/8/1988 | 7.2 | India–Burma border | Pynursla | 25.3 | 91.92 | 336.6 | 1 | 3.049 | 0.05 |
| 6 | 6/8/1988 | 7.2 | India–Burma border | Saitsama | 25.72 | 92.38 | 296.3 | 2 | 11.79 | 0.215 |
| 53 | 6/8/1988 | 7.2 | India–Burma border | Shillong | 25.57 | 91.9 | 340 | 1 | 3.829 | 0.077 |
| 23 | 6/8/1988 | 7.2 | India–Burma border | Silchar | 24.83 | 92.8 | 254 | 2 | 5.948 | 0.075 |
| 22 | 6/8/1988 | 7.2 | India–Burma border | Ummulong | 25.52 | 92.17 | 314.5 | 1 | 5.984 | 0.127 |
| 29 | 6/8/1988 | 7.2 | India–Burma border | Umrongso | 25.52 | 92.63 | 269.9 | 2 | 4.807 | 0.078 |
| 16 | 6/8/1988 | 7.2 | India–Burma border | Umsning | 25.73 | 91.88 | 343.8 | 1 | 6.672 | 0.146 |
| 110 | 10/1/1990 | 6.1 | India–Burma border | Baigao | 25.4 | 92.87 | 277.5 | 2 | 2.25 | 0.055 |
| 63 | 10/1/1990 | 6.1 | India–Burma border | Baithalangso | 25.97 | 92.6 | 320.8 | 2 | 3.345 | 0.075 |
| 129 | 10/1/1990 | 6.1 | India–Burma border | Bamungao | 25.9 | 93.02 | 283.7 | 2 | 1.762 | 0.028 |
| 17 | 10/1/1990 | 6.1 | India–Burma border | Berlongfer | 25.77 | 93.25 | 259 | 2 | 6.663 | 0.144 |
| 45 | 10/1/1990 | 6.1 | India–Burma border | Diphu | 25.92 | 93.43 | 252.6 | 2 | 4.217 | 0.092 |
| 85 | 10/1/1990 | 6.1 | India–Burma border | Gunjung | 25.32 | 93.02 | 262 | 2 | 2.841 | 0.058 |
| 86 | 10/1/1990 | 6.1 | India–Burma border | Hajadisa | 25.38 | 93.3 | 239.3 | 2 | 2.835 | 0.069 |
| 114 | 10/1/1990 | 6.1 | India–Burma border | Hojai | 26 | 92.85 | 300.6 | 2 | 2.117 | 0.037 |
| 70 | 10/1/1990 | 6.1 | India–Burma border | Laisong | 25.2 | 93.32 | 233.5 | 2 | 3.123 | 0.063 |
| 64 | 10/1/1990 | 6.1 | India–Burma border | Maibang | 25.3 | 93.13 | 250.6 | 2 | 3.342 | 0.067 |
| 79 | 10/1/1990 | 6.1 | India–Burma border | Panimur | 25.67 | 92.8 | 290.9 | 2 | 2.901 | 0.068 |
| 76 | 10/1/1990 | 6.1 | India–Burma border | Saitsama | 25.72 | 92.38 | 328.5 | 2 | 2.997 | 0.063 |
| 97 | 10/1/1990 | 6.1 | India–Burma border | Ummulong | 25.52 | 92.17 | 342.9 | 1 | 2.398 | 0.048 |
| 111 | 10/1/1990 | 6.1 | India–Burma border | Umrongso | 25.52 | 92.63 | 300.6 | 2 | 2.247 | 0.034 |
| 137 | 20/10/1991 | 7 | Uttarkashi | Almora | 29.58 | 79.65 | 153.5 | 1 | 1.65 | 0.019 |
| 32 | 20/10/1991 | 7 | Uttarkashi | Barkot | 30.8 | 78.22 | 55.8 | 1 | 4.674 | 0.085 |
| 3 | 20/10/1991 | 7 | Uttarkashi | Bhatwari | 30.8 | 78.6 | 21.7 | 1 | 16.091 | 0.253 |
| 19 | 20/10/1991 | 7 | Uttarkashi | Ghansiali | 30.42 | 78.65 | 39.3 | 1 | 6.596 | 0.118 |
| 48 | 20/10/1991 | 7 | Uttarkashi | Karnprayag | 30.25 | 79.23 | 69.6 | 1 | 4.035 | 0.073 |
| 94 | 20/10/1991 | 7 | Uttarkashi | Kosani | 29.68 | 79.72 | 148.2 | 1 | 2.456 | 0.028 |
| 33 | 20/10/1991 | 7 | Uttarkashi | Koteshwar | 30.23 | 78.57 | 61.3 | 1 | 4.665 | 0.079 |
| 82 | 20/10/1991 | 7 | Uttarkashi | Koti | 30.58 | 77.78 | 98.7 | 1 | 2.882 | 0.032 |
| 47 | 20/10/1991 | 7 | Uttarkashi | Purola | 30.87 | 78.08 | 70 | 1 | 4.053 | 0.083 |
| 65 | 20/10/1991 | 7 | Uttarkashi | Rudrapraya | 30.27 | 78.98 | 56.2 | 1 | 3.337 | 0.063 |
| 88 | 20/10/1991 | 7 | Uttarkashi | Srinagar | 30.22 | 78.77 | 58.8 | 1 | 2.778 | 0.055 |
| 36 | 20/10/1991 | 7 | Uttarkashi | Tehriri | 30.37 | 78.5 | 50.6 | 1 | 4.582 | 0.064 |
| 5 | 20/10/1991 | 7 | Uttarkashi | Uttarkashi | 30.73 | 78.45 | 34 | 1 | 14.267 | 0.288 |
| 35 | 24/3/1995 | 4.9 | Chamba | Chamba | 32.55 | 76.12 | 34 | 2 | 4.608 | 0.136 |
| 160 | 24/3/1995 | 4.9 | Chamba | Rakh | 32.47 | 6.23 | 37.5 | 1 | 1.343 | 0.028 |
| 81 | 6/5/1995 | 6.4 | India–Burma border | Baigao | 25.4 | 92.87 | 279.1 | 2 | 2.894 | 0.057 |
| 142 | 6/5/1995 | 6.4 | India–Burma border | Bamungao | 25.9 | 93.02 | 279.3 | 2 | 1.548 | 0.018 |
| 55 | 6/5/1995 | 6.4 | India–Burma border | Berlongfer | 25.77 | 93.25 | 254.8 | 2 | 3.698 | 0.069 |
| 38 | 6/5/1995 | 6.4 | India–Burma border | Diphu | 25.92 | 93.43 | 245.6 | 2 | 4.416 | 0.091 |
| 113 | 6/5/1995 | 6.4 | India–Burma border | Haflong | 25.17 | 93.02 | 261.9 | 2 | 2.118 | 0.036 |
| 98 | 6/5/1995 | 6.4 | India–Burma border | Hatikhali | 25.65 | 93.12 | 262.6 | 2 | 2.391 | 0.047 |
| 124 | 6/5/1995 | 6.4 | India–Burma border | Hojai | 26 | 92.85 | 295.8 | 2 | 1.907 | 0.025 |
| 140 | 6/5/1995 | 6.4 | India–Burma border | Khliehriat | 25.35 | 92.37 | 323.2 | 1 | 1.587 | 0.021 |
| 118 | 6/5/1995 | 6.4 | India–Burma border | Umrongso | 25.52 | 92.63 | 301.7 | 2 | 1.994 | 0.033 |
| 119 | 26/3/1996 | 4.8 | Xizang–India border | Ukhimath | 30.5 | 79.1 | 49.9 | 2 | 1.992 | 0.062 |
| 39 | 8/5/1997 | 5.6 | India–Burma border | Doloo | 24.92 | 92.78 | 64.3 | 2 | 4.41 | 0.082 |
| 26 | 8/5/1997 | 5.6 | India–Burma border | Jellalpur | 25 | 92.47 | 41.9 | 2 | 5.573 | 0.127 |
| 77 | 8/5/1997 | 5.6 | India–Burma border | Jowai | 25.42 | 92.27 | 68.1 | 2 | 2.963 | 0.078 |
| 13 | 8/5/1997 | 5.6 | India–Burma border | Katakhal | 24.83 | 92.63 | 52.4 | 2 | 7.789 | 0.135 |
| 102 | 8/5/1997 | 5.6 | India–Burma border | Nongpoh | 25.92 | 91.88 | 124.1 | 1 | 2.327 | 0.063 |
| 112 | 8/5/1997 | 5.6 | India–Burma border | Nongstoin | 25.52 | 91.27 | 125 | 1 | 2.13 | 0.039 |
| 145 | 8/5/1997 | 5.6 | India–Burma border | Pynursla | 25.3 | 91.92 | 67.1 | 1 | 1.492 | 0.032 |
| 90 | 8/5/1997 | 5.6 | India–Burma border | Shillong | 25.57 | 91.9 | 90.1 | 1 | 2.705 | 0.064 |
| 15 | 8/5/1997 | 5.6 | India–Burma border | Silchar | 24.83 | 92.8 | 65.4 | 2 | 6.965 | 0.115 |
| 50 | 8/5/1997 | 5.6 | India–Burma border | Ummulong | 25.52 | 92.17 | 78.4 | 1 | 3.906 | 0.127 |
| 71 | 8/5/1997 | 5.6 | India–Burma border | Umsning | 25.73 | 91.88 | 106.8 | 1 | 3.052 | 0.074 |
| 116 | 29/3/1999 | 6.6 | Chamoli | Almora | 29.58 | 79.65 | 96.1 | 1 | 2.022 | 0.025 |
| 143 | 29/3/1999 | 6.6 | Chamoli | Barkot | 30.8 | 78.22 | 123.7 | 1 | 1.531 | 0.021 |
| 83 | 29/3/1999 | 6.6 | Chamoli | Chinyalisaur | 30.55 | 78.33 | 106.7 | 2 | 2.872 | 0.053 |
| 40 | 29/3/1999 | 6.6 | Chamoli | Ghansiali | 30.42 | 78.65 | 75.3 | 1 | 4.364 | 0.078 |
| 4 | 29/3/1999 | 6.6 | Chamoli | Gopeshwar | 30.4 | 79.33 | 17.3 | 1 | 15.857 | 0.291 |
| 49 | 29/3/1999 | 6.6 | Chamoli | Joshimath | 30.55 | 79.57 | 26 | 1 | 4.007 | 0.068 |
| 177 | 29/3/1999 | 6.6 | Chamoli | Lansdown | 29.83 | 78.7 | 95.8 | 1 | 1.138 | 0.007 |
| 87 | 29/3/1999 | 6.6 | Chamoli | Roorkee | 29.01 | 77.01 | 160 | 2 | 2.821 | 0.046 |
| 41 | 29/3/1999 | 6.6 | Chamoli | Tehri | 30.37 | 78.5 | 89.7 | 1 | 4.301 | 0.053 |
| 25 | 29/3/1999 | 6.6 | Chamoli | Ukhimath | 30.5 | 79.1 | 35.6 | 2 | 5.86 | 0.091 |
| 34 | 29/3/1999 | 6.6 | Chamoli | Uttarkashi | 30.73 | 78.45 | 100.6 | 1 | 4.612 | 0.066 |
| 108 | 29/3/1999 | 5.4 | Chamoli aftershocks | Gopeshwar | 30.4 | 79.33 | 15.2 | 1 | 2.274 | 0.053 |
| 223 | 29/3/1999 | 4.6 | Chamoli aftershocks | Gopeshwar | 30.4 | 79.33 | 24.6 | 1 | 0.819 | 0.012 |
| 95 | 29/3/1999 | 4.6 | Chamoli aftershocks | Gopeshwar | 30.4 | 79.33 | 16.2 | 1 | 2.453 | 0.059 |
| 127 | 31/3/1999 | 5.3 | Chamoli aftershocks | Gopeshwar | 30.4 | 79.33 | 10.3 | 1 | 1.797 | 0.042 |
| 135 | 7/4/1999 | 5.1 | Chamoli aftershocks | Gopeshwar | 30.4 | 79.33 | 10.1 | 1 | 1.714 | 0.04 |
| 132 | 7/4/1999 | 4.6 | Chamoli aftershocks | Gopeshwar | 30.4 | 79.33 | 12.7 | 1 | 1.737 | 0.04 |
| 126 | 7/4/1999 | 4.7 | Chamoli aftershocks | Gopeshwar | 30.4 | 79.33 | 19.5 | 1 | 1.856 | 0.045 |
| 78 | 7/4/1999 | 4.9 | Chamoli aftershocks | Gopeshwar | 30.4 | 79.33 | 18.6 | 1 | 2.957 | 0.075 |
| 153 | 7/5/1999 | 4.5 | Chamoli aftershocks | Gopeshwar | 30.4 | 79.33 | 33.8 | 1 | 1.391 | 0.028 |
| 14 | 26/1/2001 | 7 | Bhuj | Ahmedabad | 23.03 | 72.63 | 239 | 1 | 7.568 | 0.092 |
| 224 | 14/12/2005 | 5.2 | Chamoli—Uttarakhand | Bageshwar | 29.831 | 79.77 | 129.41 | 0 | 0.805 | 0.007 |
| 107 | 14/12/2005 | 5.2 | Chamoli—Uttarakhand | Chamoli | 30.412 | 79.32 | 59.93 | 2 | 2.292 | 0.06 |
| 238 | 14/12/2005 | 5.2 | Chamoli—Uttarakhand | Champawat | 29.334 | 80.095 | 191.48 | 1 | 0.74 | 0.009 |
| 251 | 14/12/2005 | 5.2 | Chamoli—Uttarakhand | Pauri | 30.15 | 78.777 | 100.46 | 2 | 0.668 | 0.01 |
| 192 | 14/12/2005 | 5.2 | Chamoli—Uttarakhand | Rudraprayag | 30.287 | 78.983 | 78.76 | 2 | 1.027 | 0.033 |
| 296 | 14/12/2005 | 5.2 | Chamoli—Uttarakhand | Roorkee | 29.866 | 77.901 | 178.55 | 2 | 0.557 | 0.004 |
| 229 | 14/12/2005 | 5.2 | Chamoli—Uttarakhand | Tehri | 30.374 | 78.43 | 104.96 | 1 | 0.79 | 0.007 |
| 174 | 14/12/2005 | 5.2 | Chamoli—Uttarakhand | Uttarkashi | 30.73 | 78.445 | 87.8 | 2 | 1.155 | 0.024 |
| 289 | 22/7/2007 | 5 | Uttarkashi—Uttaranchal | Nathhpa | 31.552 | 77.923 | 57.5 | 2 | 0.568 | 0.009 |
| 344 | 22/7/2007 | 5 | Uttarkashi—Uttaranchal | Roorkee | 29.866 | 77.901 | 154.22 | 2 | 0.45 | 0.003 |
| 283 | 7/7/2008 | 5.1 | Nagaland—Myanmar | Nathhpa | 27.503 | 95.332 | 173.28 | 2 | 0.575 | 0.008 |
| 351 | 26/7/2008 | 4.8 | Bangladesh–India border | Bongaigaon | 26.473 | 90.561 | 189.5 | 2 | 0.44 | 0.005 |
| 122 | 10/8/2008 | 6 | Andaman | Port Blair | 11.664 | 92.742 | 139.74 | 2 | 1.945 | 0.021 |
| 300 | 4/9/2008 | 5.1 | India–Tibet border | Champawat | 29.334 | 80.095 | 90.45 | 1 | 0.548 | 0.005 |
| 341 | 4/9/2008 | 5.1 | India–Tibet border | Dharchula | 29.847 | 80.546 | 32.94 | 2 | 0.457 | 0.005 |
| 327 | 4/9/2008 | 5.1 | India–Tibet border | Ghansiyali | 30.434 | 78.656 | 172.14 | 1 | 0.487 | 0.004 |
| 313 | 4/9/2008 | 5.1 | India–Tibet border | Joshimath | 30.546 | 79.555 | 95.65 | 2 | 0.517 | 0.005 |
| 268 | 4/9/2008 | 5.1 | India–Tibet border | Kapkot | 29.941 | 79.899 | 52.41 | 1 | 0.617 | 0.008 |
| 308 | 4/9/2008 | 5.1 | India–Tibet border | Munsiyari | 30.066 | 80.237 | 19 | 1 | 0.524 | 0.009 |
| 325 | 4/9/2008 | 5.1 | India–Tibet border | Pithoragarh | 29.579 | 80.207 | 61.51 | 1 | 0.492 | 0.006 |
| 347 | 21/10/2008 | 4.5 | Kullu—Himachal Pradesh | Kullu | 31.951 | 77.112 | 54.02 | 1 | 0.446 | 0.005 |
| 381 | 21/10/2008 | 4.5 | Kullu—Himachal Pradesh | Mandi | 31.701 | 76.933 | 42.54 | 2 | 0.358 | 0.004 |
| 343 | 21/10/2008 | 4.5 | Kullu—Himachal Pradesh | Rampur | 31.448 | 77.63 | 33.42 | 2 | 0.451 | 0.008 |
| 271 | 24/2/2009 | 4.8 | India–Myanmar border | Diphu | 25.839 | 93.435 | 87.53 | 2 | 0.606 | 0.011 |
| 234 | 24/2/2009 | 4.8 | India–Myanmar border | Golaghat | 26.516 | 93.972 | 76.37 | 2 | 0.763 | 0.014 |
| 294 | 24/2/2009 | 4.8 | India–Myanmar border | Northlakhimpur | 27.239 | 94.107 | 149.93 | 2 | 0.564 | 0.008 |
| 214 | 1/5/2009 | 4.6 | Bageshwar—Uttarakhand | Bageshwar | 29.831 | 79.77 | 34.28 | 0 | 0.87 | 0.014 |
| 412 | 1/5/2009 | 4.6 | Bageshwar—Uttarakhand | Barkot | 30.809 | 78.205 | 208.43 | 2 | 0.186 | 0.002 |
| 315 | 1/5/2009 | 4.6 | Bageshwar—Uttarakhand | Chamba | 30.412 | 79.32 | 94.7 | 0 | 0.515 | 0.004 |
| 284 | 1/5/2009 | 4.6 | Bageshwar—Uttarakhand | Garsain | 30.051 | 79.288 | 80.76 | 2 | 0.574 | 0.009 |
| 62 | 1/5/2009 | 4.6 | Bageshwar—Uttarakhand | Kapkot | 29.941 | 79.899 | 22.3 | 1 | 3.35 | 0.129 |
| 367 | 1/5/2009 | 4.6 | Bageshwar—Uttarakhand | Munsiyari | 30.066 | 80.237 | 24.77 | 1 | 0.388 | 0.009 |
| 400 | 1/5/2009 | 4.6 | Bageshwar—Uttarakhand | Roorkee | 29.866 | 77.901 | 212.69 | 2 | 0.307 | 0.002 |
| 164 | 10/8/2009 | 7.8 | Andaman | Port Blair | 11.664 | 92.742 | 271.08 | 2 | 1.267 | 0.007 |
| 209 | 11/8/2009 | 5.6 | Myanmar–India border | Diphu | 25.839 | 93.435 | 211.76 | 2 | 0.904 | 0.023 |
| 258 | 11/8/2009 | 5.6 | Myanmar–India border | Hailakandi | 24.682 | 92.563 | 229.85 | 2 | 0.637 | 0.009 |
| 242 | 11/8/2009 | 5.6 | Myanmar–India border | Karimganj | 24.87 | 92.354 | 254.01 | 2 | 0.711 | 0.006 |
| 236 | 11/8/2009 | 5.6 | Myanmar–India border | Silchar | 24.83 | 92.801 | 209.11 | 2 | 0.751 | 0.009 |
| 257 | 11/8/2009 | 5.6 | Myanmar–India border | Tejpur | 26.619 | 92.797 | 318.51 | 2 | 0.638 | 0.006 |
| 299 | 19/8/2009 | 4.9 | Sonitpur—Assam | Boko | 25.976 | 91.23 | 145.83 | 2 | 0.555 | 0.013 |
| 197 | 19/8/2009 | 4.9 | Sonitpur—Assam | Guwahati | 26.19 | 91.746 | 90.13 | 2 | 1.007 | 0.026 |
| 220 | 30/8/2009 | 5.3 | Myanmar–India border | Diphu | 25.839 | 93.435 | 168.48 | 2 | 0.826 | 0.024 |
| 235 | 30/8/2009 | 5.3 | Myanmar–India border | Guwahati | 26.19 | 91.746 | 329.68 | 2 | 0.758 | 0.012 |
| 353 | 30/8/2009 | 5.3 | Myanmar–India border | North lakhimpur | 27.239 | 94.107 | 231.36 | 2 | 0.436 | 0.006 |
| 178 | 3/9/2009 | 5.9 | Myanmar–India border | Diphu | 25.839 | 93.435 | 229.95 | 2 | 1.133 | 0.03 |
| 321 | 3/9/2009 | 5.9 | Myanmar–India border | Hailakandi | 24.682 | 92.563 | 233.28 | 2 | 0.496 | 0.007 |
| 269 | 3/9/2009 | 5.9 | Myanmar–India border | Silchar | 24.83 | 92.801 | 216.01 | 2 | 0.615 | 0.007 |
| 179 | 21/9/2009 | 6.2 | Bhutan | Boko | 25.976 | 91.23 | 149.35 | 2 | 1.103 | 0.021 |
| 139 | 21/9/2009 | 6.2 | Bhutan | Bongaigaon | 26.473 | 90.561 | 131.01 | 2 | 1.599 | 0.027 |
| 157 | 21/9/2009 | 6.2 | Bhutan | Koochvihar | 26.319 | 89.44 | 232 | 2 | 1.353 | 0.016 |
| 205 | 21/9/2009 | 6.2 | Bhutan | Diphu | 25.839 | 93.435 | 251.85 | 2 | 0.918 | 0.013 |
| 200 | 21/9/2009 | 6.2 | Bhutan | Darjeeling | 27.05 | 88.262 | 322.17 | 2 | 0.938 | 0.008 |
| 109 | 21/9/2009 | 6.2 | Bhutan | Golaghat | 26.152 | 90.627 | 154.23 | 2 | 2.264 | 0.042 |
| 228 | 21/9/2009 | 6.2 | Bhutan | Gangtok | 27.352 | 88.627 | 284.5 | 0 | 0.795 | 0.006 |
| 163 | 21/9/2009 | 6.2 | Bhutan | Guwahati | 26.19 | 91.746 | 125.65 | 2 | 1.272 | 0.027 |
| 184 | 21/9/2009 | 6.2 | Bhutan | Kokrajhar | 26.4 | 90.261 | 158.65 | 2 | 1.056 | 0.019 |
| 230 | 21/9/2009 | 6.2 | Bhutan | Northlakhimpur | 27.239 | 94.107 | 258.35 | 2 | 0.787 | 0.006 |
| 203 | 21/9/2009 | 6.2 | Bhutan | Naogaon | 26.349 | 92.683 | 158.1 | 2 | 0.935 | 0.016 |
| 190 | 21/9/2009 | 6.2 | Bhutan | Nongstoin | 25.522 | 91.264 | 198.56 | 2 | 1.028 | 0.024 |
| 191 | 21/9/2009 | 6.2 | Bhutan | Siliguri | 26.712 | 88.428 | 311.87 | 2 | 1.027 | 0.012 |
| 170 | 21/9/2009 | 6.2 | Bhutan | Tejpur | 26.619 | 92.797 | 149.47 | 2 | 1.187 | 0.016 |
| 361 | 21/9/2009 | 4.7 | Uttarkashi—Uttarakhand | Bageshwar | 29.831 | 79.77 | 135.5 | 0 | 0.416 | 0.004 |
| 196 | 21/9/2009 | 4.7 | Uttarkashi—Uttarakhand | Barkot | 30.809 | 78.656 | 45.54 | 2 | 1.01 | 0.02 |
| 408 | 21/9/2009 | 4.7 | Uttarkashi—Uttarakhand | Nathhpa | 31.552 | 77.923 | 134.05 | 2 | 0.247 | 0.008 |
| 226 | 21/9/2009 | 4.7 | Uttarkashi—Uttarakhand | Chamba | 30.412 | 79.32 | 59.5 | 0 | 0.801 | 0.013 |
| 306 | 21/9/2009 | 4.7 | Uttarkashi—Uttarakhand | Dharchula | 30.427 | 78.244 | 98.23 | 2 | 0.536 | 0.007 |
| 265 | 21/9/2009 | 4.7 | Uttarkashi—Uttarakhand | Garsain | 30.051 | 79.588 | 105.94 | 2 | 0.62 | 0.015 |
| 218 | 21/9/2009 | 4.7 | Uttarkashi—Uttarakhand | Ghansiyali | 30.434 | 78.656 | 68.18 | 1 | 0.843 | 0.02 |
| 287 | 21/9/2009 | 4.7 | Uttarkashi—Uttarakhand | Jubbal | 31.11 | 77.663 | 139.8 | 0 | 0.57 | 0.009 |
| 249 | 21/9/2009 | 4.7 | Uttarkashi—Uttarakhand | Kapkot | 29.941 | 79.899 | 131.77 | 1 | 0.688 | 0.008 |
| 392 | 21/9/2009 | 4.7 | Uttarkashi—Uttarakhand | Lansdown | 29.84 | 78.68 | 124.93 | 2 | 0.323 | 0.005 |
| 431 | 21/9/2009 | 4.7 | Uttarkashi—Uttarakhand | Rampur | 31.448 | 77.63 | 153.29 | 2 | 0.052 | 0.003 |
| 276 | 21/9/2009 | 4.7 | Uttarkashi—Uttarakhand | Rudraprayag | 30.287 | 78.983 | 70.09 | 2 | 0.598 | 0.012 |
| 217 | 29/10/2009 | 5.2 | Bhutan | Golaghat | 26.152 | 90.627 | 148.72 | 2 | 0.843 | 0.013 |
| 293 | 29/10/2009 | 5.2 | Bhutan | Kokrajhar | 26.4 | 90.261 | 150.94 | 2 | 0.564 | 0.005 |
| 250 | 29/10/2009 | 5.2 | Bhutan | Nongstoin | 25.522 | 91.264 | 197.52 | 2 | 0.668 | 0.009 |
| 183 | 29/10/2009 | 5.2 | Bhutan | Tura | 25.511 | 90.22 | 230.59 | 2 | 1.06 | 0.016 |
| 355 | 29/12/2009 | 5.5 | Myanmar–India border | Hailakandi | 24.682 | 92.563 | 241.12 | 2 | 0.432 | 0.006 |
| 279 | 29/12/2009 | 5.5 | Myanmar–India border | Tejpur | 26.619 | 92.797 | 319.39 | 2 | 0.592 | 0.008 |
| 216 | 31/12/2009 | 5.5 | Bhutan | Bongaigaon | 26.473 | 90.561 | 124.07 | 2 | 0.846 | 0.012 |
| 245 | 31/12/2009 | 5.5 | Bhutan | Golaghat | 26.152 | 90.627 | 148.8 | 2 | 0.703 | 0.01 |
| 288 | 31/12/2009 | 5.5 | Bhutan | Guwahati | 26.19 | 91.746 | 127.9 | 2 | 0.569 | 0.009 |
| 202 | 31/12/2009 | 5.5 | Bhutan | Kokrajhar | 26.4 | 90.261 | 151.02 | 2 | 0.936 | 0.011 |
| 175 | 31/12/2009 | 5.5 | Bhutan | Tura | 25.511 | 90.22 | 230.64 | 2 | 1.152 | 0.017 |
| 180 | 22/2/2010 | 4.7 | Bageshwar—Uttarakhand | Bageshwar | 29.831 | 79.77 | 37.02 | 0 | 1.092 | 0.018 |
| 319 | 22/2/2010 | 4.7 | Bageshwar—Uttarakhand | Champawat | 29.334 | 80.095 | 73.85 | 1 | 0.503 | 0.003 |
| 387 | 22/2/2010 | 4.7 | Bageshwar—Uttarakhand | Dharchula | 29.847 | 80.546 | 46.33 | 2 | 0.351 | 0.008 |
| 204 | 22/2/2010 | 4.7 | Bageshwar—Uttarakhand | Kapkot | 29.941 | 79.899 | 20.57 | 1 | 0.918 | 0.03 |
| 394 | 22/2/2010 | 4.7 | Bageshwar—Uttarakhand | Roorkee | 29.866 | 77.901 | 212.84 | 2 | 0.321 | 0.001 |
| 401 | 22/2/2010 | 4.7 | Bageshwar—Uttarakhand | Udhamsinghnagar | 28.997 | 79.403 | 130.12 | 2 | 0.306 | 0.003 |
| 383 | 26/2/2010 | 5.4 | Tibet | Darjeeling | 27.05 | 88.262 | 224.29 | 2 | 0.355 | 0.003 |
| 317 | 26/2/2010 | 5.4 | Tibet | Gangtok | 27.352 | 88.627 | 230.09 | 0 | 0.513 | 0.004 |
| 301 | 26/2/2010 | 5.4 | Tibet | Siliguri | 26.712 | 88.428 | 262.94 | 2 | 0.543 | 0.01 |
| 342 | 12/3/2010 | 5.6 | Myanmar | Hailakandi | 24.682 | 92.563 | 287.85 | 2 | 0.456 | 0.005 |
| 281 | 14/3/2010 | 4.6 | Himachal–Punjab border | Ambala | 31.688 | 76.116 | 29.07 | 2 | 0.578 | 0.014 |
| 423 | 14/3/2010 | 4.6 | Himachal–Punjab border | Nathhpa | 31.552 | 77.923 | 176.14 | 2 | 0.126 | 0.003 |
| 420 | 14/3/2010 | 4.6 | Himachal–Punjab border | Dasua | 31.805 | 75.66 | 52.1 | 2 | 0.13 | 0.008 |
| 378 | 14/3/2010 | 4.6 | Himachal–Punjab border | Dehra | 31.883 | 76.216 | 37.06 | 1 | 0.368 | 0.005 |
| 259 | 14/3/2010 | 4.6 | Himachal–Punjab border | Garsain | 31.228 | 76.135 | 59.92 | 2 | 0.636 | 0.013 |
| 359 | 14/3/2010 | 4.6 | Himachal–Punjab border | Hamirpur | 31.691 | 76.52 | 49.27 | 2 | 0.42 | 0.003 |
| 427 | 14/3/2010 | 4.6 | Himachal–Punjab border | Jallandhar | 31.32 | 75.594 | 70.19 | 2 | 0.077 | 0.005 |
| 393 | 14/3/2010 | 4.6 | Himachal–Punjab border | Jubbal | 31.11 | 77.663 | 164.96 | 0 | 0.322 | 0.003 |
| 417 | 14/3/2010 | 4.6 | Himachal–Punjab border | Kapkot | 31.38 | 75.383 | 82.07 | 1 | 0.166 | 0.005 |
| 290 | 14/3/2010 | 4.6 | Himachal–Punjab border | Nawanshahar | 31.123 | 76.124 | 70.28 | 2 | 0.567 | 0.008 |
| 416 | 14/3/2010 | 4.6 | Himachal–Punjab border | Roorkee | 29.866 | 77.901 | 268.13 | 2 | 0.166 | 0.001 |
| 411 | 14/3/2010 | 4.6 | Himachal–Punjab border | Sundernagar | 31.517 | 76.883 | 82.3 | 2 | 0.213 | 0.003 |
| 426 | 14/3/2010 | 4.6 | Himachal–Punjab border | Sangrur | 30.245 | 75.839 | 165.79 | 2 | 0.096 | 0.003 |
| 382 | 28/5/2010 | 4.8 | Himachal Pradesh | Barkot | 30.809 | 78.205 | 67.65 | 2 | 0.356 | 0.003 |
| 171 | 28/5/2010 | 4.8 | Himachal Pradesh | Jubbal | 31.11 | 77.663 | 49.59 | 0 | 1.172 | 0.041 |
| 419 | 28/5/2010 | 4.8 | Himachal Pradesh | Roorkee | 29.866 | 77.901 | 154.01 | 2 | 0.161 | 0 |
| 399 | 28/5/2010 | 4.8 | Himachal Pradesh | Una | 31.466 | 76.263 | 164.29 | 2 | 0.312 | 0.002 |
| 336 | 6/7/2010 | 5.1 | India–Nepal border | Champawat | 29.334 | 80.095 | 60.35 | 1 | 0.466 | 0.003 |
| 352 | 6/7/2010 | 5.1 | India–Nepal border | Munsiyari | 30.066 | 80.237 | 34.89 | 1 | 0.439 | 0.006 |
| 311 | 3/8/2010 | 5.2 | Andaman | Port Blair | 11.664 | 92.742 | 90.32 | 2 | 0.519 | 0.001 |
| 324 | 11/9/2010 | 5 | Meghalaya–Assam border | Bongaigaon | 26.473 | 90.561 | 75.71 | 2 | 0.492 | 0.007 |
| 326 | 11/9/2010 | 5 | Meghalaya–Assam border | Guwahati | 26.19 | 91.746 | 159.28 | 2 | 0.489 | 0.004 |
| 297 | 11/9/2010 | 5 | Meghalaya–Assam border | Kokrajhar | 26.4 | 90.261 | 59.21 | 2 | 0.556 | 0.012 |
| 335 | 12/12/2010 | 4.8 | Manipur–Assam border | Karimganj | 24.87 | 92.354 | 97.79 | 2 | 0.467 | 0.004 |
| 349 | 12/12/2010 | 4.8 | Manipur–Assam border | Naogaon | 26.349 | 92.69 | 162.2 | 2 | 0.444 | 0.007 |
| 168 | 4/2/2011 | 6.4 | Myanmar–India border | Guwahati | 26.19 | 91.746 | 327.02 | 2 | 1.205 | 0.025 |
| 307 | 4/2/2011 | 6.4 | Myanmar–India border | Jorhat | 26.759 | 94.206 | 222.63 | 2 | 0.531 | 0.009 |
| 186 | 4/2/2011 | 6.4 | Myanmar–India border | Naogaon | 26.349 | 92.69 | 259.17 | 2 | 1.048 | 0.024 |
| 280 | 4/2/2011 | 6.4 | Myanmar–India border | Sibsagar | 26.989 | 94.631 | 244.38 | 2 | 0.59 | 0.008 |
| 398 | 9/2/2011 | 5 | Uttarkashi—Uttarakhand | Chakrata | 30.694 | 77.901 | 37.95 | 2 | 0.314 | 0.004 |
| 262 | 9/2/2011 | 5 | Uttarkashi—Uttarakhand | Dharchula | 29.847 | 80.546 | 254.11 | 2 | 0.627 | 0.007 |
| 322 | 9/2/2011 | 5 | Uttarkashi—Uttarakhand | Kullu | 31.951 | 77.112 | 156.14 | 2 | 0.494 | 0.004 |
| 253 | 9/2/2011 | 5 | Uttarkashi—Uttarakhand | Sundernagar | 31.517 | 76.883 | 143.29 | 2 | 0.662 | 0.007 |
| 348 | 9/2/2011 | 5 | Uttarkashi—Uttarakhand | Uttarkashi | 30.73 | 78.445 | 31.7 | 2 | 0.444 | 0.01 |
| 231 | 4/4/2011 | 5.7 | Nepal–India border | Almora | 29.596 | 79.657 | 111.18 | 2 | 0.781 | 0.01 |
| 182 | 4/4/2011 | 5.7 | Nepal–India border | Bageshwar | 29.831 | 79.77 | 103.38 | 0 | 1.079 | 0.011 |
| 261 | 4/4/2011 | 5.7 | Nepal–India border | Barkot | 30.809 | 78.205 | 283.71 | 2 | 0.628 | 0.007 |
| 148 | 4/4/2011 | 5.7 | Nepal–India border | Chamba | 30.412 | 79.32 | 169.09 | 0 | 1.457 | 0.015 |
| 166 | 4/4/2011 | 5.7 | Nepal–India border | Champawat | 29.334 | 80.095 | 75.14 | 1 | 1.229 | 0.025 |
| 176 | 4/4/2011 | 5.7 | Nepal–India border | Didihat | 29.77 | 80.3 | 52.89 | 2 | 1.145 | 0.018 |
| 264 | 4/4/2011 | 5.7 | Nepal–India border | Dehra | 30.316 | 78.042 | 277.97 | 1 | 0.62 | 0.003 |
| 206 | 4/4/2011 | 5.7 | Nepal–India border | Dhanaulti | 30.427 | 78.244 | 263.26 | 1 | 0.913 | 0.008 |
| 46 | 4/4/2011 | 5.7 | Nepal–India border | Dharchula | 29.847 | 80.546 | 38.13 | 2 | 4.208 | 0.134 |
| 158 | 4/4/2011 | 5.7 | Nepal–India border | Garsain | 30.051 | 79.288 | 154.78 | 2 | 1.349 | 0.02 |
| 215 | 4/4/2011 | 5.7 | Nepal–India border | Joshimath | 30.546 | 79.555 | 159.7 | 2 | 0.861 | 0.011 |
| 155 | 4/4/2011 | 5.7 | Nepal–India border | Khatima | 28.919 | 79.969 | 111 | 2 | 1.381 | 0.024 |
| 247 | 4/4/2011 | 5.7 | Nepal–India border | Kotdwar | 29.748 | 78.523 | 221.25 | 1 | 0.7 | 0.005 |
| 252 | 4/4/2011 | 5.7 | Nepal–India border | Kashipur | 29.211 | 78.96 | 183.98 | 2 | 0.663 | 0.01 |
| 167 | 4/4/2011 | 5.7 | Nepal–India border | Munsiyari | 30.066 | 80.237 | 75.69 | 1 | 1.205 | 0.022 |
| 115 | 4/4/2011 | 5.7 | Nepal–India border | Pithoragarh | 29.579 | 80.207 | 58.36 | 1 | 2.044 | 0.062 |
| 222 | 4/4/2011 | 5.7 | Nepal–India border | Patti | 29.407 | 79.931 | 87.51 | 1 | 0.819 | 0.007 |
| 278 | 4/4/2011 | 5.7 | Nepal–India border | Rudraprayag | 30.287 | 78.983 | 191.49 | 2 | 0.596 | 0.007 |
| 345 | 4/4/2011 | 5.7 | Nepal–India border | Roorkee | 29.866 | 77.901 | 282.17 | 2 | 0.449 | 0.004 |
| 198 | 4/4/2011 | 5.7 | Nepal–India border | Tanakpur | 29.074 | 80.112 | 89.24 | 1 | 0.954 | 0.012 |
| 270 | 4/4/2011 | 5.7 | Nepal–India border | Tehri | 30.374 | 78.43 | 244.46 | 1 | 0.608 | 0.006 |
| 240 | 4/4/2011 | 5.7 | Nepal–India border | Udhamsinghnagar | 28.997 | 79.403 | 151.62 | 2 | 0.736 | 0.01 |
| 356 | 4/5/2011 | 5 | India–Nepal border | Munsiyari | 30.066 | 80.237 | 23.82 | 1 | 0.431 | 0.007 |
| 263 | 3/6/2011 | 4.9 | India (Sikkim)–Nepal border | Darjeeling | 27.05 | 88.262 | 61.93 | 2 | 0.621 | 0.01 |
| 372 | 3/6/2011 | 4.9 | India (Sikkim)–Nepal border | Gangtok | 27.352 | 88.627 | 69.2 | 0 | 0.38 | 0.006 |
| 334 | 3/6/2011 | 4.9 | India (Sikkim)–Nepal border | Kishangang | 26.097 | 87.95 | 157.69 | 2 | 0.467 | 0.005 |
| 282 | 3/6/2011 | 4.9 | India (Sikkim)–Nepal border | Siliguri | 26.712 | 88.428 | 100.5 | 2 | 0.577 | 0.014 |
| 377 | 20/6/2011 | 4.6 | Chamoli—Uttarakhand | Almora | 29.596 | 79.657 | 103.93 | 2 | 0.369 | 0.004 |
| 309 | 20/6/2011 | 4.6 | Chamoli—Uttarakhand | Barkot | 30.809 | 78.205 | 120.15 | 2 | 0.522 | 0.006 |
| 414 | 20/6/2011 | 4.6 | Chamoli—Uttarakhand | Champawat | 29.334 | 80.095 | 146.13 | 1 | 0.176 | 0.002 |
| 397 | 20/6/2011 | 4.6 | Chamoli—Uttarakhand | Chakrata | 30.694 | 77.901 | 145.85 | 2 | 0.314 | 0.003 |
| 141 | 20/6/2011 | 4.6 | Chamoli—Uttarakhand | Chamoli | 30.412 | 79.32 | 17.27 | 2 | 1.584 | 0.041 |
| 295 | 20/6/2011 | 4.6 | Chamoli—Uttarakhand | Dehra | 30.316 | 78.042 | 132.62 | 1 | 0.558 | 0.003 |
| 213 | 20/6/2011 | 4.6 | Chamoli—Uttarakhand | Dhanaulti | 30.427 | 78.244 | 111.96 | 1 | 0.872 | 0.01 |
| 332 | 20/6/2011 | 4.6 | Chamoli—Uttarakhand | Garsain | 30.051 | 79.288 | 52.32 | 2 | 0.474 | 0.006 |
| 225 | 20/6/2011 | 4.6 | Chamoli—Uttarakhand | Rishikesh | 30.116 | 78.281 | 116.37 | 1 | 0.801 | 0.006 |
| 396 | 20/6/2011 | 4.6 | Chamoli—Uttarakhand | Roorkee | 29.866 | 77.901 | 161.01 | 2 | 0.315 | 0.002 |
| 256 | 20/6/2011 | 4.6 | Chamoli—Uttarakhand | Tehri | 30.374 | 78.43 | 94.98 | 1 | 0.641 | 0.008 |
| 407 | 20/06/2011 | 4.6 | Chamoli—Uttarakhand | Udhamsinghnagar | 28.997 | 79.403 | 167.04 | 2 | 0.248 | 0.002 |
| 328 | 20/06/2011 | 4.6 | Chamoli—Uttarakhand | Vikasnagar | 30.453 | 77.754 | 158.59 | 2 | 0.483 | 0.002 |
| 58 | 18/9/2011 | 6.8 | India (Sikkim)–Nepal border | Koochvihar | 26.319 | 89.44 | 188.16 | 2 | 3.52 | 0.052 |
| 11 | 18/9/2011 | 6.8 | India (Sikkim)–Nepal border | Gangtok | 27.352 | 88.627 | 51.34 | 0 | 9.105 | 0.157 |
| 101 | 18/9/2011 | 6.8 | India (Sikkim)–Nepal border | Kokrajhar | 26.4 | 90.261 | 244.18 | 2 | 2.339 | 0.049 |
| 144 | 18/9/2011 | 6.8 | India (Sikkim)–Nepal border | Malda | 25 | 88.146 | 288.29 | 2 | 1.515 | 0.023 |
| 130 | 18/9/2011 | 6.8 | India (Sikkim)–Nepal border | Raxaul | 26.982 | 84.843 | 339.45 | 2 | 1.749 | 0.025 |
| 7 | 18/9/2011 | 6.8 | India (Sikkim)–Nepal border | Siliguri | 26.712 | 88.428 | 101.45 | 2 | 10.795 | 0.182 |
| 219 | 18/9/2011 | 5 | India (Sikkim)–Nepal border | Koochvihar | 26.319 | 89.44 | 170.63 | 2 | 0.833 | 0.008 |
| 147 | 18/9/2011 | 5 | India (Sikkim)–Nepal border | Gangtok | 27.352 | 88.627 | 34.19 | 0 | 1.484 | 0.051 |
| 185 | 18/9/2011 | 4.5 | India (Sikkim)–Nepal border | Gangtok | 27.352 | 88.627 | 29.22 | 0 | 1.048 | 0.029 |
| 375 | 5/3/2012 | 4.9 | Haryana–Delhi border | Andc, Govin | 28.539 | 77.264 | 68.78 | 2 | 0.373 | 0.009 |
| 346 | 5/3/2012 | 4.9 | Haryana–Delhi border | Barkot | 29.097 | 77.255 | 78.82 | 2 | 0.446 | 0.006 |
| 316 | 5/3/2012 | 4.9 | Haryana–Delhi border | Dce, Bawan | 28.795 | 77.118 | 53.54 | 2 | 0.514 | 0.009 |
| 386 | 5/3/2012 | 4.9 | Haryana–Delhi border | Djb, Karol B | 28.652 | 77.188 | 59.39 | 0 | 0.352 | 0.003 |
| 385 | 5/3/2012 | 4.9 | Haryana–Delhi border | Univ. Delhi | 28.691 | 77.212 | 61.43 | 2 | 0.354 | 0.01 |
| 370 | 5/3/2012 | 4.9 | Haryana–Delhi border | GGI | 28.665 | 77.232 | 63.45 | 2 | 0.382 | 0.009 |
| 337 | 5/3/2012 | 4.9 | Haryana–Delhi border | Gurgaon | 28.449 | 77.029 | 52.26 | 2 | 0.462 | 0.008 |
| 329 | 5/3/2012 | 4.9 | Haryana–Delhi border | Kaithal | 29.801 | 76.418 | 124.1 | 2 | 0.482 | 0.007 |
| 305 | 5/3/2012 | 4.9 | Haryana–Delhi border | Noida | 28.507 | 77.479 | 89.69 | 2 | 0.536 | 0.008 |
| 366 | 5/3/2012 | 4.9 | Haryana–Delhi border | Palwal | 28.13 | 77.33 | 96.45 | 2 | 0.391 | 0.006 |
| 388 | 5/3/2012 | 4.9 | Haryana–Delhi border | Raja Garden | 28.665 | 77.123 | 53.14 | 2 | 0.348 | 0.008 |
| 413 | 5/3/2012 | 4.9 | Haryana–Delhi border | Roorkee | 29.866 | 77.901 | 181.33 | 2 | 0.181 | 0.002 |
| 187 | 5/3/2012 | 4.9 | Haryana–Delhi border | Sonipat | 29 | 77.01 | 53.87 | 2 | 1.045 | 0.025 |
| 365 | 5/3/2012 | 4.9 | Haryana–Delhi border | NSIT, Dwara | 28.608 | 77.041 | 46.46 | 2 | 0.398 | 0.009 |
| 380 | 5/3/2012 | 4.9 | Haryana–Delhi border | Zakir Hussa | 28.64 | 77.23 | 63.5 | 2 | 0.362 | 0.011 |
| 364 | 5/3/2012 | 4.9 | Haryana–Delhi border | NTPC, Badar | 28.508 | 77.304 | 73.42 | 2 | 0.407 | 0.013 |
| 376 | 5/3/2012 | 4.9 | Haryana–Delhi border | IMD, Ridge Obs | 28.685 | 77.216 | 61.83 | 0 | 0.37 | 0.003 |
| 310 | 5/3/2012 | 4.9 | Haryana–Delhi border | IIT Delhi | 28.603 | 77.295 | 70.2 | 2 | 0.519 | 0.013 |
| 292 | 5/3/2012 | 4.9 | Haryana–Delhi border | Alipur | 28.795 | 77.141 | 55.67 | 2 | 0.564 | 0.013 |
| 369 | 5/3/2012 | 4.9 | Haryana–Delhi border | Jafarpur Kala | 28.594 | 76.908 | 35.22 | 2 | 0.383 | 0.01 |
| 194 | 5/3/2012 | 4.9 | Haryana–Delhi border | JNU | 28.542 | 77.165 | 59.63 | 0 | 1.014 | 0.032 |
| 172 | 27/3/2012 | 4.9 | India–Nepal border | Araria | 26.134 | 87.466 | 35.7 | 2 | 1.169 | 0.03 |
| 291 | 11/5/2012 | 5.4 | Assam | Golaghat | 26.516 | 93.972 | 99.33 | 2 | 0.564 | 0.014 |
| 330 | 11/5/2012 | 5.4 | Assam | Jorhat | 26.759 | 94.206 | 122.96 | 2 | 0.481 | 0.008 |
| 303 | 11/5/2012 | 5.4 | Assam | Kokrajhar | 26.4 | 90.261 | 274.67 | 2 | 0.537 | 0.008 |
| 156 | 1/7/2012 | 5.8 | Phek—Nagaland | Golaghat | 26.515 | 93.972 | 120.83 | 2 | 1.361 | 0.029 |
| 193 | 1/7/2012 | 5.8 | Phek—Nagaland | Jorhat | 26.759 | 94.206 | 133.48 | 2 | 1.016 | 0.023 |
| 358 | 1/7/2012 | 5.8 | Phek—Nagaland | Nathhpa | 27.503 | 95.332 | 218.45 | 2 | 0.421 | 0.009 |
| 409 | 10/7/2012 | 4.5 | Karbi-Anglong—Assam | Naogaon | 26.349 | 92.69 | 77.49 | 2 | 0.241 | 0.007 |
| 146 | 14/7/2012 | 5.5 | Kohima—Nagaland | Golaghat | 26.515 | 93.972 | 119.96 | 2 | 1.486 | 0.032 |
| 173 | 14/7/2012 | 5.5 | Kohima—Nagaland | Jorhat | 26.759 | 94.206 | 143.81 | 2 | 1.159 | 0.033 |
| 406 | 14/7/2012 | 5.5 | Kohima—Nagaland | Naogaon | 26.349 | 92.69 | 181.53 | 2 | 0.248 | 0.006 |
| 354 | 28/7/2012 | 4.5 | Nepal–India border | Patti | 29.407 | 79.931 | 81.91 | 1 | 0.432 | 0.003 |
| 246 | 19/8/2012 | 5 | Tezpur—Assam | Tejpur | 26.619 | 92.797 | 46.69 | 2 | 0.701 | 0.022 |
| 302 | 23/8/2012 | 5 | Nepal | Champawat | 29.334 | 80.095 | 274.6 | 1 | 0.539 | 0.002 |
| 338 | 23/8/2012 | 5 | Nepal | Patti | 29.407 | 79.931 | 292.37 | 1 | 0.461 | 0.003 |
| 379 | 23/8/2012 | 5 | Nepal | Udhamsinghnagar | 28.997 | 79.403 | 329.05 | 2 | 0.364 | 0.002 |
| 350 | 2/10/2012 | 4.9 | Chamba Dist., Himachal Praesh | Chamoli | 32.555 | 76.126 | 32.54 | 2 | 0.441 | 0.007 |
| 267 | 2/10/2012 | 4.9 | Chamba Dist., Himachal Praesh | Chamoli | 32.555 | 76.126 | 34.17 | 2 | 0.617 | 0.013 |
| 391 | 2/10/2012 | 4.9 | Chamba Dist., Himachal Praesh | Rampur | 31.448 | 77.63 | 157.68 | 2 | 0.334 | 0.003 |
| 405 | 2/10/2012 | 5.1 | Sonitpur—Assam | Naogaon | 26.349 | 92.69 | 71.22 | 2 | 0.262 | 0.009 |
| 273 | 2/10/2012 | 5.1 | Sonitpur—Assam | Sibsagar | 26.989 | 94.631 | 185.42 | 2 | 0.604 | 0.004 |
| 188 | 2/10/2012 | 5.1 | Sonitpur—Assam | Tejpur | 26.619 | 92.797 | 46.85 | 2 | 1.038 | 0.034 |
| 368 | 11/11/2012 | 5 | Western Nepal | Champawat | 29.334 | 80.095 | 137.72 | 1 | 0.387 | 0.003 |
| 410 | 11/11/2012 | 5 | Western Nepal | Pithoragarh | 29.579 | 80.207 | 132.73 | 1 | 0.223 | 0.003 |
| 363 | 11/11/2012 | 5 | Western Nepal | Patti | 29.407 | 79.931 | 154.47 | 1 | 0.409 | 0.005 |
| 340 | 27/11/2012 | 4.8 | Uttarkashi—Uttarakhand | Chakrata | 30.694 | 77.901 | 54.28 | 2 | 0.457 | 0.004 |
| 285 | 27/11/2012 | 4.8 | Uttarkashi—Uttarakhand | Dhanaulti | 30.427 | 78.244 | 55.83 | 1 | 0.573 | 0.004 |
| 318 | 27/11/2012 | 4.8 | Uttarkashi—Uttarakhand | Tehri | 30.374 | 78.43 | 59.61 | 1 | 0.51 | 0.003 |
| 159 | 27/11/2012 | 4.8 | Uttarkashi—Uttarakhand | Uttarkashi | 30.73 | 78.445 | 22.75 | 2 | 1.346 | 0.051 |
| 298 | 2/1/2013 | 4.8 | Western Nepal | Pithoragarh | 29.579 | 80.207 | 89.4 | 1 | 0.555 | 0.003 |
| 275 | 2/1/2013 | 4.8 | Western Nepal | Patti | 29.407 | 79.931 | 113.9 | 1 | 0.6 | 0.003 |
| 373 | 7/1/2013 | 4.5 | Arunachal Pradesh | Nathhpa | 27.503 | 95.332 | 121.73 | 2 | 0.378 | 0.005 |
| 161 | 9/1/2013 | 5.9 | Myanmar–India border | Golaghat | 26.515 | 93.972 | 178.38 | 2 | 1.342 | 0.035 |
| 248 | 9/1/2013 | 5.9 | Myanmar–India border | Northlakhimpur | 27.239 | 94.107 | 236.01 | 2 | 0.693 | 0.009 |
| 211 | 9/1/2013 | 5.9 | Myanmar–India border | Naogaon | 26.349 | 92.69 | 260.83 | 2 | 0.885 | 0.023 |
| 331 | 9/1/2013 | 5.9 | Myanmar–India border | Nathhpa | 27.503 | 95.332 | 253.11 | 2 | 0.478 | 0.009 |
| 227 | 9/1/2013 | 5.9 | Myanmar–India border | Tejpur | 26.619 | 92.797 | 265.48 | 2 | 0.796 | 0.015 |
| 384 | 9/1/2013 | 5 | Nepal | Champawat | 29.334 | 80.095 | 169.42 | 1 | 0.354 | 0.003 |
| 362 | 9/1/2013 | 5 | Nepal | Pithoragarh | 29.579 | 80.207 | 153.43 | 1 | 0.415 | 0.006 |
| 312 | 9/1/2013 | 5 | Nepal | Patti | 29.407 | 79.931 | 182.54 | 1 | 0.517 | 0.005 |
| 339 | 9/1/2013 | 5 | Nepal | Tanakpur | 29.074 | 80.112 | 178.14 | 1 | 0.46 | 0.003 |
| 424 | 2/3/2013 | 5.2 | India–Bangladesh border | Barkot | 26.332 | 91.006 | 208.08 | 2 | 0.097 | 0.003 |
| 430 | 2/3/2013 | 5.2 | India–Bangladesh border | Naogaon | 26.349 | 92.69 | 178.8 | 2 | 0.061 | 0.007 |
| 389 | 16/4/2013 | 4.6 | Assam—Darrang | Barkot | 26.332 | 91.006 | 100.59 | 2 | 0.337 | 0.006 |
| 421 | 16/4/2013 | 4.6 | Assam—Darrang | Dibrugarh | 27.467 | 94.912 | 317.3 | 2 | 0.127 | 0.003 |
| 260 | 16/4/2013 | 4.6 | Assam—Darrang | Naogaon | 26.349 | 92.69 | 70.93 | 2 | 0.631 | 0.012 |
| 333 | 16/4/2013 | 4.6 | Assam—Darrang | Tejpur | 26.619 | 92.797 | 88.44 | 2 | 0.468 | 0.005 |
| 165 | 1/5/2013 | 5.8 | J&K–Himachal border | Ambala | 31.688 | 76.116 | 160.08 | 2 | 1.243 | 0.017 |
| 266 | 1/5/2013 | 5.8 | J&K–Himachal border | Amritsar | 31.644 | 74.858 | 184.8 | 2 | 0.619 | 0.008 |
| 254 | 1/5/2013 | 5.8 | J&K–Himachal border | Chamoli | 32.555 | 76.126 | 69.35 | 2 | 0.658 | 0.013 |
| 360 | 1/5/2013 | 5.8 | J&K–Himachal border | Chakrata | 30.694 | 77.901 | 333 | 2 | 0.416 | 0.003 |
| 212 | 1/5/2013 | 5.8 | J&K–Himachal border | Dasua | 31.805 | 75.66 | 144.99 | 2 | 0.881 | 0.011 |
| 241 | 1/5/2013 | 5.8 | J&K–Himachal border | Gurdaspur | 32.043 | 75.408 | 123.77 | 2 | 0.726 | 0.013 |
| 357 | 1/5/2013 | 5.8 | J&K–Himachal border | Jammu | 32.732 | 74.874 | 96.92 | 2 | 0.428 | 0.004 |
| 255 | 1/5/2013 | 5.8 | J&K–Himachal border | Jubbal | 31.11 | 77.663 | 282.55 | 0 | 0.657 | 0.008 |
| 314 | 1/5/2013 | 5.8 | J&K–Himachal border | Kasauli | 30.899 | 76.96 | 267.96 | 2 | 0.516 | 0.008 |
| 244 | 1/5/2013 | 5.8 | J&K–Himachal border | Mandi | 31.701 | 76.933 | 188.82 | 2 | 0.709 | 0.006 |
| 232 | 1/5/2013 | 5.8 | J&K–Himachal border | Moga | 30.825 | 75.155 | 259.96 | 2 | 0.774 | 0.006 |
| 199 | 1/5/2013 | 5.8 | J&K–Himachal border | Mukerian | 31.949 | 75.613 | 129.71 | 2 | 0.946 | 0.012 |
| 181 | 1/5/2013 | 5.8 | J&K–Himachal border | Nawanshahar | 31.123 | 76.124 | 221.86 | 2 | 1.09 | 0.016 |
| 189 | 1/5/2013 | 5.8 | J&K–Himachal border | Phagwara | 31.212 | 75.774 | 209.91 | 2 | 1.036 | 0.015 |
| 239 | 1/5/2013 | 5.8 | J&K–Himachal border | Palampur | 32.11 | 76.537 | 130.63 | 2 | 0.739 | 0.009 |
| 304 | 1/5/2013 | 5.8 | J&K–Himachal border | Pathankot | 32.272 | 75.662 | 93.94 | 2 | 0.536 | 0.006 |
| 221 | 1/5/2013 | 5.8 | J&K–Himachal border | Rampur | 31.448 | 77.63 | 252 | 2 | 0.823 | 0.013 |
| 272 | 1/5/2013 | 5.8 | J&K–Himachal border | Solan | 30.908 | 77.1 | 272.74 | 2 | 0.605 | 0.003 |
| 274 | 1/5/2013 | 5.8 | J&K–Himachal border | Tarantaran | 31.447 | 74.931 | 201.31 | 2 | 0.601 | 0.011 |
| 195 | 1/5/2013 | 5.8 | J&K–Himachal border | Una | 31.466 | 76.263 | 186.97 | 2 | 1.011 | 0.015 |
| 233 | 4/6/2013 | 4.8 | Lahul-Spiti—Himachal Pradesh | Chamoli | 32.555 | 76.126 | 59.03 | 2 | 0.763 | 0.022 |
| 323 | 5/6/2013 | 4.5 | Chamba—Himachal Pradesh | Chamoli | 32.555 | 76.126 | 33.23 | 2 | 0.493 | 0.008 |
| 428 | 9/7/2013 | 5.1 | J&K–Himachal border | Chamoli | 32.555 | 76.126 | 216.8 | 2 | 0.068 | 0.001 |
| 415 | 13/7/2013 | 4.5 | Kangra—Himachal Pradesh | Chamoli | 32.555 | 76.126 | 43.79 | 2 | 0.174 | 0.004 |
| 320 | 2/8/2013 | 5.4 | J&K—Himachal border | Chamoli | 32.555 | 76.126 | 123.24 | 2 | 0.498 | 0.005 |
| 210 | 2/8/2013 | 5.4 | J&K—Himachal border | Hamirpur | 31.691 | 76.52 | 224.05 | 2 | 0.896 | 0.006 |
| 404 | 2/8/2013 | 5.4 | J&K—Himachal border | Jammu | 32.732 | 74.874 | 107.02 | 2 | 0.262 | 0.002 |
| 432 | 2/8/2013 | 5.2 | Kishtwar—J&K | Chamoli | 32.555 | 76.126 | 98.13 | 2 | 0.004 | 0.002 |
| 403 | 2/8/2013 | 5.2 | Kishtwar—J&K | Jammu | 32.732 | 74.874 | 122.75 | 2 | 0.272 | 0.002 |
| 201 | 29/8/2013 | 4.7 | Himachal–Punjab border | Anandpursaheb | 31.237 | 76.493 | 42.73 | 2 | 0.937 | 0.024 |
| 277 | 29/8/2013 | 4.7 | Himachal–Punjab border | Dasua | 31.805 | 75.66 | 62.13 | 2 | 0.597 | 0.012 |
| 237 | 29/8/2013 | 4.7 | Himachal–Punjab border | Garhshankar | 31.228 | 76.135 | 21.79 | 2 | 0.749 | 0.019 |
| 243 | 29/8/2013 | 4.7 | Himachal–Punjab border | Kapkot | 31.38 | 75.383 | 68.96 | 1 | 0.71 | 0.01 |
| 395 | 29/8/2013 | 4.7 | Himachal–Punjab border | Kasauli | 30.899 | 76.96 | 99.55 | 2 | 0.318 | 0.003 |
| 371 | 29/8/2013 | 4.7 | Himachal–Punjab border | Nakodar | 31.125 | 75.487 | 66.62 | 2 | 0.381 | 0.009 |
| 418 | 29/8/2013 | 4.7 | Himachal–Punjab border | Rampur | 31.448 | 77.63 | 145.91 | 2 | 0.164 | 0.004 |
| 433 | 29/8/2013 | 4.7 | Himachal–Punjab border | Roorkee | 29.866 | 77.901 | 242.55 | 2 | 0 | 0.001 |
| 390 | 6/11/2013 | 5.5 | Karbi—Assam | Barkot | 26.332 | 91.006 | 250.3 | 2 | 0.334 | 0.004 |
| 422 | 6/11/2013 | 5.5 | Karbi—Assam | Northlakhimpur | 27.239 | 94.107 | 103.65 | 2 | 0.126 | 0.003 |
| 208 | 6/11/2013 | 5.5 | Karbi—Assam | Naogaon | 26.349 | 92.69 | 84.9 | 2 | 0.904 | 0.022 |
| 207 | 6/11/2013 | 5.5 | Karbi—Assam | Tejpur | 26.619 | 92.797 | 74.03 | 2 | 0.908 | 0.016 |
| 429 | 6/11/2013 | 4.9 | Hoshiarpur—Punjab | Chamoli | 32.555 | 76.126 | 128.49 | 2 | 0.065 | 0.001 |
| 374 | 23/2/2014 | 4.8 | Kameng—Arunachal Pradesh | Naogaon | 26.349 | 92.69 | 96.68 | 2 | 0.373 | 0.007 |
| 286 | 23/2/2014 | 4.8 | Kameng—Arunachal Pradesh | Tejpur | 26.619 | 92.797 | 71.52 | 2 | 0.571 | 0.009 |
| 425 | 30/05/2014 | 4.5 | Kokhrajhar—Assam | Barkot | 26.332 | 91.006 | 64.04 | 2 | 0.096 | 0.002 |
| 402 | 21/8/2014 | 5 | Chamba–Kangra border (HP) | Chamoli | 32.555 | 76.126 | 46.23 | 2 | 0.301 | 0.008 |
| 133 | 21/8/2014 | 5 | Chamba–Kangra border (HP) | Dharamshala | 32.207 | 76.324 | 21.94 | 2 | 1.725 | 0.053 |
About this article
Cite this article
Podili, B., Raghukanth, S.T.G. Rating of Indian ground motion records. Nat Hazards 96, 53–95 (2019). https://doi.org/10.1007/s11069-018-3530-6
Received:

Accepted:

Published:

Issue Date:

DOI: https://doi.org/10.1007/s11069-018-3530-6
Keywords
Damage potential

Distance from zero-amplitude axis

Ground motion parameters

Moment magnitude

Site class

Hypocentral distance