Abstract
Kyagar glacier lake outburst floods (GLOFs) have long been a serious nature hazard in Yarkant river basins of the Chinese Karakoram, threatening more than one million people. Between 1810 and 2018, 34 Kyagar GLOF events have been recorded, of which 26 occurred from 1960 onwards and their occurrence frequency reaches at least three times in each decade. An early warning system established in 2011 has successfully predicted the Kyagar GLOF events in 2015, 2016, 2017 and 2018, which provides an important reference for the monitoring and risk pre-evaluation of the GLOFs in Karakoram.
This is a preview of subscription content, log in to check access.
Access options
Buy single article
Instant access to the full article PDF.
US$ 39.95
Price includes VAT for USA
Subscribe to journal
Immediate online access to all issues from 2019. Subscription will auto renew annually.
US$ 199
This is the net price. Taxes to be calculated in checkout.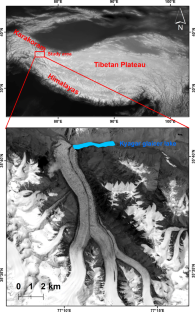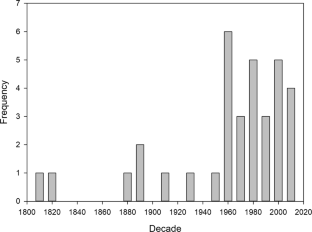 References
Bolch T, Pieczonka T, Mukherjee K, Shea J (2017) Brief communication: glaciers in the Hunza catchment (Karakoram) have been nearly in balance since the 1970s. Cryosphere 11:531–539

Chen Y, Xu C, Chen Y, Li W, Liu J (2010) Response of glacial lake outburst floods to climate change in the Yarkant River basin on northern slope of Karakoram Mountains, China. Quat Int 226:75–81

Haemmig C, Huss M, Keusen H, Hess J, Wegmüller U, Ao Z, Kulubayi W (2014) Hazard assessment of glacial lake outburst floods from Kyagar glacier, Karakoram Mountains, China. Ann Glaciol 55:34–44

Hewitt H, Liu J (2010) Ice-dammed lakes and outburst floods, Karakoram Himalaya: historical perspectives on emerging threats. Phys Geogr 36:528–551

Lliboutry L, Morales AB, Pautre A, Schneider B (1977) Glaciological problems set by the control of dangerous lakes in Cordillera Blanca, Peru I. Historical failures of morainic dams, their causes and prevention. J Glaciol 18:239–254

Ray PKC, Chattoraj SL, Bisht MPS, Kannaujiya S, Pandey K, Goswami A (2016) Kedarnath disaster 2013: causes and consequences using remote sensing inputs. Nat Hazards 81:227–243

Round V, Leinss S, Huss M, Haemmig C, Hajnsek I (2017) Surge dynamics and lake outbursts of Kyagar glacier, Karakoram. Cryosphere 11:723–739

Sun GL, Chen YN, Li WH, Wang YZ, Yang YH (2010) The response of glacial lake outburst floods to climate change in the Yarkant River, Xinjiang. J Glaciol Geocryol 32:580–586 (in Chinese)

Zhang XS (1992) Investigation of glacier bursts of the Yarkant River in Xinjiang, China. Ann Glaciol 16:135–139

Zhou Y, Li Z, Li J, Zhao R, Ding X (2018) Glacier mass balance in the Qinghai–Tibet Plateau and its surroundings from the mid-1970s to 2000 based on Hexagon KH-9 and SRTM DEMs. Remote Sens Environ 210:96–112
Acknowledgements
Funding this work was Outstanding Youth Fund of Shandong Provincial Universities (ZR2016JL030) and the Natural Science Foundation of China (41576182 and 41830644).
About this article
Cite this article
Yin, B., Zeng, J., Zhang, Y. et al. Recent Kyagar glacier lake outburst flood frequency in Chinese Karakoram unprecedented over the last two centuries. Nat Hazards 95, 877–881 (2019). https://doi.org/10.1007/s11069-018-3505-7
Received:

Accepted:

Published:

Issue Date:
Keywords
Glacier lake outburst floods

Nature hazards

Chinese Karakoram