Abstract
The rip current hazard on beaches is a global public health issue. While physical controls on rip current formation and flow behavior are relatively well understood, there has been a recent increase in studies examining the less-understood social dimensions of the hazard. This paper reviews how these studies provide insight into beach safety practices and rip current knowledge among beach users, their ability to spot a rip, and their ability to understand and heed posted warnings. However, we identify how these studies are hindered by methodological limitations and problematic sample choices. It is argued that beach user behavior is affected by confirmation bias, a cognitive shortcut by which a person selectively attends to evidence confirming their preexisting beliefs and ignores disconfirming evidence, and to make decisions in accordance with this bias. Evidence is presented to suggest that there is a potential for beach-going behaviors to be influenced by other beach users and past observations, whether the behavior of others conforms to warnings about the dangers posed by rips in general or at a specific time and place. We also suggest that beach users' self-reported intentions and beliefs about beach safety may not correspond to their actions at the beach. This suggests a need for active intervention and creation of social norms that address cognitive errors associated with unsafe beach behavior, which in turn requires that coastal scientists and beach safety practitioners should collaborate with social scientists and psychologists for more effective safety outcomes.
Access options
Buy single article
Instant access to the full article PDF.
US$ 39.95
Tax calculation will be finalised during checkout.
Subscribe to journal
Immediate online access to all issues from 2019. Subscription will auto renew annually.
US$ 119
Tax calculation will be finalised during checkout.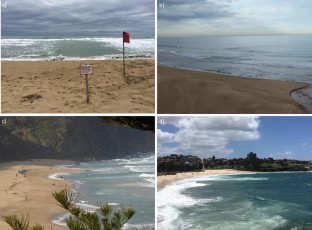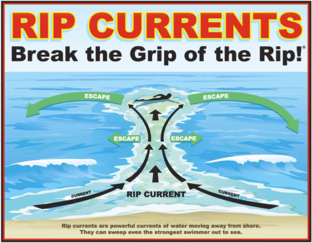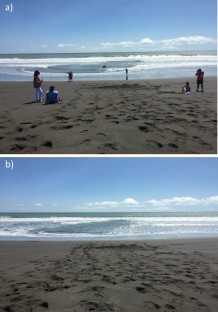 References
Andersen LP, Mikkelsen KL (2008) Recall of occupational injuries: a comparison of questionnaire and diary data. Saf Sci 46(2):255–260

Arozarena I, Houser C, Echeverria AG, Brannstrom C (2015) The rip current hazard in Costa Rica. Nat Hazards 77(2):753–768

Barlas B, Beji S (2016) Rip current fatalities on the Black Sea beaches of Istanbul and effects of cultural aspects in shaping the incidents. Nat Hazards 80(2):811–821

Barnes PH (2002) Approaches to community safety: risk perception and social meaning. Aust J Emerg Manag 1(1):15–23

Barrett G, Houser C (2012) Identifying hotspots of rip current activity using wavelet analysis at Pensacola Beach. Florida. Phys Geogr 33(1):32–49

Brander RW (2018) Beach safety research. In: Finkl C, Makowski C (eds) The encyclopedia of coastal science. Encyclopedia of earth science series. Springer, Cham. https://doi.org/10.1007/978-3-319-48657-4_40-2

Brander RW, MacMahan JH (2011) Future challenges for rip current research and outreach. In: Leatherman S, Fletemeyer J (eds) Rip currents, beach safety, physical oceanography and wave modeling. CRC Press, Boca Raton, pp 1–29

Brander RW, Bradstreet A, Sherker S, MacMahan J (2011) Responses of swimmers caught in rip currents: perspectives on mitigating the global rip current hazard. Int J Aquat Res Educ 5(4):11

Brander RW, Dominey-Howes D, Champion C, Del Vecchio O, Brighton B (2013) Brief communication: a new perspective on the Australian rip current hazard. Nat Hazards Earth Syst Sci 13(6):1687

Brander RW, Drozdzewski D, Dominey-Howes D (2014) "Dye in the Water": exploring a visual method of communicating the rip current hazard. Sci Commun 36(6):802–810

Brannstrom C, Trimble S, Santos A, Brown HL, Houser C (2014) Perception of the rip current hazard on Galveston Island and North Padre Island, Texas, USA. Nat Hazards 72(2):1123–1138

Brannstrom C, Brown HL, Houser C, Trimble S, Santos A (2015) "You can't see them from sitting here": evaluating beach user understanding of a rip current warning sign. Appl Geogr 56:61–70

Brighton B, Sherker S, Brander R, Thompson M, Bradstreet A (2013) Rip current related drowning deaths and rescues in Australia 2004–2011. Nat Hazards Earth Syst Sci 13(4):1069

Brilly M, Polic M (2005) Public perception of flood risks, flood forecasting and mitigation. Nat Hazards Earth Syst Sci 5(3):345–355

Caldwell N, Houser C, Meyer-Arendt K (2013) Ability of beach users to identify rip currents at Pensacola Beach, Florida. Nat Hazards 68(2):1041–1056

Carey W, Rogers S (2005) Rip currents—coordinating coastal research, outreach and forecast methodologies to improve public safety. In: Proceedings of Coastal Disasters 2005, ASCE, pp 285–296

Castelle B, Scott T, Brander R, McCarroll RJ (2016) Rip current types, circulation and hazard. Earth Sci Rev 163:1–21

Clifford KM, Brander RW, Trimble S, Houser C (2018) Beach safety knowledge of visiting international study abroad students to Australia. Tour Manag 69:487–497

Cole TW, Fellows KL (2008) Risk communication failure: a case study of New Orleans and Hurricane Katrina. Southern Commun J 73(3):211–228

Crang M, Thrift NJ (2000) Thinking space, vol 9. Psychology Press, London

Crook R (2000) Surf safe summer topline results 2000. Research International Australia, Sydney

Dalrymple RA, MacMahan JH, Reniers AJ, Nelko V (2011) Rip currents. Annu Rev Fluid Mech 43:551–581

Dillon RL, Tinsley CH (2016) Near-miss events, risk messages, and decision making. Environ Syst Dec 36(1):34–44

Drabek TE (1999) Understanding disaster warning responses. Soc Sci J 36(3):515–523

Drozdzewski D, Shaw W, Dominey-Howes D, Brander R, Walton T, Gero A, Edwick B (2012) Surveying rip current survivors: preliminary insights into the experiences of being caught in rip currents. Nat Hazards Earth Syst Sci 12(4):1201

Drozdzewski D, Roberts A, Dominey-Howes D, Brander R (2015) The experiences of weak and non-swimmers caught in rip currents at Australian beaches. Aust Geogr 46(1):15–32

Dusek G, Seim H (2013) A probabilistic rip current forecast model. J Coastal Res 29(4):909–925

Eiser JR, Bostrom A, Burton I, Johnston DM, McClure J, Paton D, White MP (2012) Risk interpretation and action: a conceptual framework for responses to natural hazards. Int J Disaster Risk Reduct 1:5–16

Engle J, Macmahan J, Thieke RJ, Hanes DM, Dean RG (2002) Formulation of a rip current predictive index using rescue data. In: Proceedings of national conference on beach preservation technology, FSBPA

Espluga J, Farré J, Gonzalo J, Horlick-Jones T, Prades A, Oltra C, Navajas J (2009) Do the people exposed to a technological risk always want more information about it? Some observations on cases of rejection. Safety, Reliability and Risk Analysis. CRC Press, Taylor & Francis, London, pp 1301–1308

Gagnon M, Jacob JD, Holmes D (2010) Governing through (in) security: a critical analysis of a fearbased public health campaign. Crit Public Health 20(2):245–256

Gallop SL, Woodward E, Brander RW, Pitman SJ (2016) Perceptions of rip current myths from the central south coast of England. Ocean Coast Manag 119:14–20

Gensini VA, Ashley WS (2010) An examination of rip current fatalities in the United States. Nat Hazards 54(1):159–175

Gilchrist J, Branche C (2016) Lifeguard effectiveness. In: The science of beach lifeguarding, 29

Green CH, Tunstall SM, Fordham MH (1991) The risks from flooding: Which risks and whose perception? Disasters 15(3):227–236

Hall TE, Slothower M (2009) Cognitive factors affecting homeowners' reactions to defensible space in the Oregon Coast Range. Soc Nat Resour 22(2):95–110

Hamilton K, White KM, Wihardjo K, Hyde MK (2015) Targets to promote swimming between the flags among Australian beachgoers. Health Promot Int 31(4):908–914

Hartmann D (2006) Drowning and beach-safety management (BSM) along the Mediterranean beaches of Israel—a long-term perspective. J Coastal Res 22:1505–1514

Hatfield J, Williamson A, Sherker S, Brander R, Hayen A (2012) Development and evaluation of an intervention to reduce rip current related beach drowning. Accid Anal Prev 46:45–51

Heitz C, Spaeter S, Auzet AV, Glatron S (2009) Local stakeholders' perception of muddy flood risk and implications for management approaches: a case study in Alsace (France). Land Use Policy 26(2):443–451

Houser C, Barrett G, Labude D (2011) Alongshore variation in the rip current hazard at Pensacola Beach, Florida. Nat Hazards 57(2):501–523

Houser C, Murphy T, Labude D (2015) Alongshore correspondence of beach users and rip channels at Pensacola Beach, Florida. Nat Hazards 78(3):2175–2183

Houser C, Brander R, Brannstrom C, Trimble S, Flaherty J (2016) Case study of rip current knowledge amongst students participating in a study abroad program. Front Interdiscip J Study Abroad 28:42–60

Houser C, Trimble S, Brander R, Brewster BC, Dusek G, Jones D, Kuhn J (2017) Public perceptions of a rip current hazard education program: "Break the Grip of the Rip!". Nat Hazards Earth Syst Sci 17(7):1003

Huang SK, Lindell MK, Prater CS (2016) Who leaves and who stays? A review and statistical meta-analysis of hurricane evacuation studies. Environ Behav 48(8):991–1029

Jakus PM, Shaw WD (1996) An empirical analysis of rock climbers' response to hazard warnings. Risk Anal 16(4):581–586

Jóhannesdóttir G, Gísladóttir G (2010) People living under threat of volcanic hazard in southern Iceland: vulnerability and risk perception. Nat Hazards Earth Syst Sci 10(2):407–420

Jonas E, Traut-Mattausch E, Frey D, Greenberg J (2008) The path or the goal? Decision vs. information focus in biased information seeking after preliminary decisions. J Exp Soc Psychol 44(4):1180–1186

Kaiser G, Witzki D (2004) Public perception of coastal flood defence and participation in coastal flood defence planning. Final report of subproject, 3

Kaminski A, Bell KP, Noblet CL, Evans KS (2017) An economic analysis of coastal beach safety information-seeking behavior. Agric Res Econ Rev 46(2):365–387

Karanci AN, Aksit B, Dirik G (2005) Impact of a community disaster awareness training program in Turkey: does it influence hazard-related cognitions and preparedness behaviors. Soc Behav Personal Int J 33(3):243–258

Kates RW (1962) Hazard and choice perception in flood plain management. Research Paper 78, Department of Geography, The University of Chicago

Kumar SA, Prasad KVSR (2014) Rip current-related fatalities in India: a new predictive risk scale for forecasting rip currents. Nat Hazards 70(1):313–335

Lascody RL (1998) East central Florida rip current program. Natl Weather Dig 22(2):25–30

Lapinski M, Viken G (2014) Great Lakes swim safety risk communication for 18–24 year-old males: review of key literature and results of a focus group study final report. Michigan Sea Grant and the Michigan Department of Environmental Quality Coastal Management Program, Michigan State University Project

LeDoux J (1998) Fear and the brain: where have we been, and where are we going? Biol Psychiat 44(12):1229–1238

Lehrer P, Woolfolk R (1993) Principles and practice of stress management, vol 2. Guildford Press, New York

Levine RL, Gorman BS (1994) Skiers' perceptions of danger as a function of awareness of fatalities. J Sport Behav 17(1):17

Lilienfeld SO, Ammirati R, Landfield K (2009) Giving debiasing away: can psychological research on correcting cognitive errors promote human welfare? Perspect Psychol Sci 4(4):390–398

Lindner BL, Cockcroft C (2013) Public perception of hurricane-related hazards. In: Finkl CW (ed) Coastal hazards. Springer, Dordrecht, pp 185–210

Llewellyn DJ, Sanchez X, Asghar A, Jones G (2008) Self-efficacy, risk taking and performance in rock climbing. Personal Individ Differ 45(1):75–81

Llopis IA, Echeverria AG, Trimble S, Brannstrom C, Houser C (2017) Determining beach user knowledge of rip currents in Costa Rica. J Coast Res. https://doi.org/10.2112/JCOASTRES-D-17-00131.1

Lundgren RE, McMakin AH (2009) Risk communication: a handbook for communicating environmental, 4th edn. John Wiley & Sons, Hoboken, NJ

Lushine JB (1991a) A study of rip current drownings and related weather factors. In: National weather digest

Lushine JB (1991b) Rip currents: human impact and forecastibility. In: Coastal Zone'91. ASCE, pp 3558–3569

MacMahan JH, Thornton EB, Reniers AJ (2006) Rip current review. Coast Eng 53(2–3):191–208

Matthews B, Andronaco R, Adams A (2014) Warning signs at beaches: do they work? Saf Sci 62:312–318

Mayhorn CB, McLaughlin AC (2014) Warning the world of extreme events: a global perspective on risk communication for natural and technological disaster. Saf Sci 61:43–50

McAuliffe TL, DiFranceisco W, Reed BR (2007) Effects of question format and collection mode on the accuracy of retrospective surveys of health risk behavior: a comparison with daily sexual activity diaries. Health Psychol 26(1):60

McCarroll RJ, Brander RW, Turner IL, Power HE, Mortlock TR (2014) Lagrangian observations of circulation on an embayed beach with headland rip currents. Mar Geol 355:173–188

McCool JP, Moran K, Ameratunga S, Robinson E (2008) New Zealand beachgoers' swimming behaviors, swimming abilities, and perception of drowning risk. Int J Aquat Res Educ 2(1):7–15

McCool J, Ameratunga S, Moran K, Robinson E (2009) Taking a risk perception approach to improving beach swimming safety. Int J Behav Med 16(4):360

McKay C, Brander RW, Goff J (2014) Putting tourists in harms way–coastal tourist parks and hazardous unpatrolled surf beaches in New South Wales, Australia. Tour Manag 45:71–84

Mileti DS, O'Brien P (1993) Public response to aftershock warnings. US Geol Surv Prof Pap 1553:31–42

Moran K (2014) Jumping to (fatal) conclusions? An analysis of video film on a social networking website of recreational jumping from height into water. Int J Injury Control Saf Promot 21(1):47–53

Moran K, Webber J, Stanley T (2016) The 4Rs of aquatic rescue: educating the public about safety and risks of bystander rescue. Int J Injury Control Saf Promotion 24(3):396–405

Morgan D, Ozanne-Smith J, Triggs T (2009) Direct observation measurement of drowning risk exposure for surf beach bathers. J Sci Med Sport 12(4):457–462

Moulton M, Dusek G, Elgar S, Raubenheimer B (2017) Comparison of rip current hazard likelihood forecasts with observed rip current speeds. Weather Forecast 32(4):1659–1666

Nesbitt J, Ross J (1980) Human inference: strategies and shortcoming in human judgment

Nickerson RS (1998) Confirmation bias: a ubiquitous phenomenon in many guises. Rev Gen Psychol 2(2):175

Njome MS, Suh CE, Chuyong G, de Wit MJ (2010) Volcanic risk perception in rural communities along the slopes of mount Cameroon, West-Central Africa. J Afr Earth Sci 58(4):608–622

Puleo JA, Hutschenreuter K, Cowan P, Carey W, Arford-Granholm M, McKenna KK (2016) Delaware surf zone injuries and associated environmental conditions. Nat Hazards 81(2):845–867

Rolison MR, Scherman A (2003) College student risk-taking from three perspectives. Adolescence 38(152):689

Ruin I, Gaillard JC, Lutoff C (2007) How to get there? Assessing motorists' flash flood risk perception on daily itineraries. Environ Hazards 7(3):235–244

Sabet BS, Barani GA (2011) Field investigation of rip currents along the southern coast of the Caspian sea. Sci Iran 18(4):878–884

Sandman PM (1989) Hazard versus outrage in the public perception of risk. In: Covello VT, McCallum DB, Pavlova MT (eds) Effective risk communication: the role and responsibility of government and nongovernment organizations. Plenum Press, New York, pp 45–49

Scaman A (2017) Perception of rip current warning dissemination methods. Undergraduate Thesis, Department of Earth and Environmental Science, University of Windsor

Schüler J, Nakamura J (2013) Does flow experience lead to risk? How and for whom. Appl Psychol Health Well Being 5(3):311–331

Scolobig A, De Marchi B, Borga M (2012) The missing link between flood risk awareness and preparedness: findings from case studies in an Alpine Region. Nat Hazards 63(2):499–520

Scott T, Masselink G, Austin MJ, Russell P (2014) Controls on macrotidal rip current circulation and hazard. Geomorphology 214:198–215

Shaw WS, Goff J, Brander R, Walton T, Roberts A, Sherker S (2014) Surviving the surf zone: towards more integrated rip current geographies. Appl Geogr 54:54–62

Sheeran P (2002) Intention—behavior relations: a conceptual and empirical review. Eur Rev Soc Psychol 12(1):1–36

Sheeran P, Webb TL (2016) The intention–behavior gap. Soc Pers Psychol Compass 10(9):503–518

Sherker S, Brander R, Finch C, Hatfield J (2008) Why Australia needs an effective national campaign to reduce coastal drowning. J Sci Med Sport 11(2):81–83

Sherker S, Williamson A, Hatfield J, Brander R, Hayen A (2010) Beachgoers' beliefs and behaviours in relation to beach flags and rip currents. Accid Anal Prev 42(6):1785–1804

Siegrist M, Cvetkovich G (2000) Perception of hazards: the role of social trust and knowledge. Risk Anal 20(5):713–720

Siegrist M, Gutscher H (2006) Flooding risks: a comparison of lay people's perceptions and expert's assessments in Switzerland. Risk Anal 26(4):971–979

Siegrist M, Gutscher H (2008) Natural hazards and motivation for mitigation behavior: people cannot predict the affect evoked by a severe flood. Risk Anal Int J 28(3):771–778

Slovic P, Fischhoff B, Lichtenstein S (1981) The assessment and perception of risk-Perceived risk: psychological factors and social implications. Proc R Soc Lond A 376(1764):17–34

Slovic P (1987) Perception of risk. Science 236(4799):280–285

Sotés I, Basterretxea-Iribar I, Maruri MDLM (2018) Are the Biscayne Universitary students ready to go to the beach safely? Ocean Coast Manag 151:134–149

Surf Life Saving Australia (SLSA) (2017) National Coastal Safety Report 2017. Surf Life Saving Australia, Sydney

Takayanagi Y, Spira AP, Roth KB, Gallo JJ, Eaton WW, Mojtabai R (2014) Accuracy of reports of lifetime mental and physical disorders: results from the Baltimore Epidemiological Catchment Area study. JAMA Psychiatry 71(3):273–280

Terpstra T, Lindell MK, Gutteling JM (2009) Does communicating (Flood) risk affect (Flood) risk perceptions? Results of a Quasi-Experimental Study. Risk Anal 29(8):1141–1155

Terpstra T, De Vries A, Stronkman R, Paradies GL (2012) Towards a realtime Twitter analysis during crises for operational crisis management. Simon Fraser University, Burnaby, pp 1–9

Trimble S, Houser C (2018) Seawalls and signage: How beach access management affects rip current safety. In: Botero CM, Cervantes OD, Finkl CW (eds) Beach management tools-concepts, methodologies and case studies. Springer, Cham, pp 497–524

Tversky A, Kahneman D (1973) Availability: a heuristic for judging frequency and probability. Cogn Psychol 5(2):207–232

Vermeulen K (2014) Understanding your audience: how psychologists can help emergency managers improve disaster warning compliance. J Homel Secur Emerg Manage 11(3):309–315

Wachinger G, Renn O, Begg C, Kuhlicke C (2013) The risk perception paradox—implications for governance and communication of natural hazards. Risk Anal 33(6):1049–1065

Warton N, Brander R (2017) Improving tourist beach safety awareness: the benefits of watching Bondi Rescue. Tour Manag 63:187–200

White KM, Hyde MK (2010) Swimming between the flags: a preliminary exploration of the influences on Australians' intentions to swim between the flags at patrolled beaches. Accid Anal Prev 42(6):1831–1838

Williamson A, Hatfield J, Sherker S, Brander R, Hayen A (2012) A comparison of attitudes and knowledge of beach safety in Australia for beachgoers, rural residents and international tourists. Aust N Z J Public Health 36(40):385–391

Woodward E, Beaumont E, Russell P, Wooler A, Macleod R (2013) Analysis of rip current incidents and victim demographics in the UK. J Coastal Res 65(sp1):850–855
About this article
Cite this article
Ménard, A.D., Houser, C., Brander, R.W. et al. The psychology of beach users: importance of confirmation bias, action, and intention to improving rip current safety. Nat Hazards 94, 953–973 (2018). https://doi.org/10.1007/s11069-018-3424-7
Received:

Accepted:

Published:

Issue Date:
Keywords
Rip current

Beach safety

Psychology

Beach hazard

Survey methodology

Drowning