Abstract
Glacial lake outburst floods (GLOFs) are common where highly dynamic temperate glaciers exist, since seasonal changes in ice-conduit dynamics can start rapid lake drainages. Lakes dammed by cold-based glaciers, however, are less common and GLOFs from these glaciers have been rarely reported. Understanding both the origin and the failure mechanisms of lakes dammed by cold-based glaciers and subsequent flood processes is essential for territorial planning. We study a remarkable GLOF triggered by the failure of a subglacial lake in the Manflas Valley, Arid Andes of Chile, in 1985 providing insights into the lake's origin, clarifying the failure mechanism and modelling the GLOF event-related dynamics. To identify the factors that contributed to the lake formation and failure, we analysed remotely sensed images, meteorological and topographic data. The GLOF dynamics were reconstructed using empirical (LAHARZ and MSF) and physical models (RAMMS). The obtained results were compared with field data of flow extent, depth and velocity. We show that the failed lake (4 × 106 m3) formed in a low-slope (≤ 10°) area and that extreme (≥ 90th percentile) annual precipitation before the GLOF contributed to the lake filling and probably to the dam collapse. The lake likely drained rapidly after mechanical failure of the ice-dam producing a high energy sediment-laden flow. We show the challenges of modelling large flows over long distances (dozens of kilometres) especially when flows change between Newtonian and Non-Newtonian phases. A GLOF can still endanger the Manflas Valley since a remnant of the lake of about 220.000 m3 exists and economic assets are located along the1985 GLOF path.
This is a preview of subscription content, log in to check access.
Access options
Buy single article
Instant access to the full article PDF.
US$ 39.95
Tax calculation will be finalised during checkout.
Subscribe to journal
Immediate online access to all issues from 2019. Subscription will auto renew annually.
US$ 119
Tax calculation will be finalised during checkout.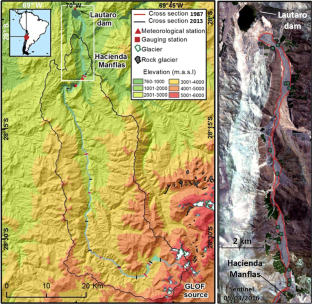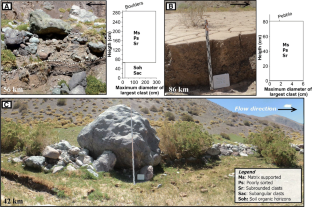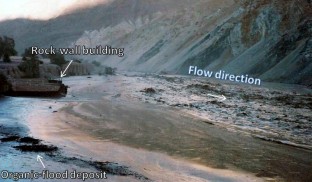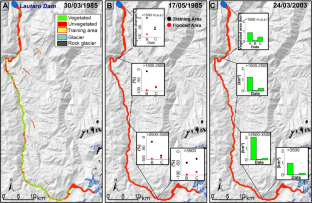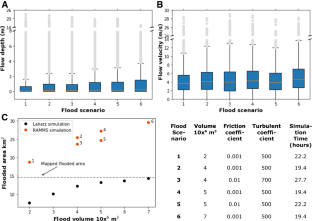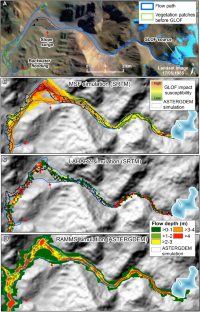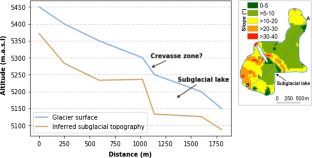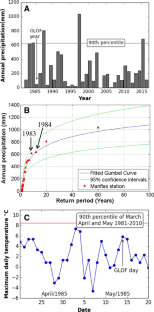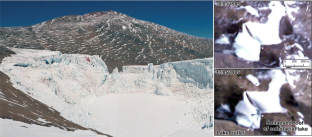 References
Baker VR (2008) Paleoflood hydrology: origin, progress, prospects. Geomorphology 101(1–2):1–13

Ballantyne CK, McCann SB (1980) Short-lived damming of a high-arctic ice-marginal stream, Ellesmere Island, N.W.T, Canada. J Glaciol 25:487–491

Barbolini M, Gruber U, Keylock CJ, Naaim M, Savi F (2000) Application of statistical and hydraulic-continuum dense-snow avalanche models to five real European sites. Cold Reg Sci Technol 31:133–149. https://doi.org/10.1016/S0165-232X(00)00008-2

Bartelt P, Salm B, Gruber U (1999) Calculating dense-snow avalanche runout using a voellmy-fluid model with active/passive longitudinal straining. J Glaciol 45(150):242–254

Bell R, Tinto K, Das I, Wolovick M, Chu W, Creyts T, Frearson N, Abdi A, Paden J (2014) Deformation, warming and softening of Greenland's ice by refreezing meltwater. Nat Geosci 7:497–502

Bookhagen B (in review) High resolution spatiotemporal distribution of rainfall seasonality and extreme events based on a 12-year TRMM time series, in review

Carey M (2005) Living and dying with glaciers: people's historical vulnerability to avalanches and outburst floods in Peru. Global Planet Change 47:122–124

Carling P (2013) Freshwater megaflood sedimentation: what can we learn about generic processes? Earth Sci Rev 125:87–113

Carlson TN, Ripley DA (1997) On the relation between NDVI, fractional vegetation cover, and leaf area index. Remote Sens Environ 62:241–252

Carrivick JL (2007) Hydrodynamics and geomorphic work of jökulhlaups (glacial outburst floods) from Kverkfjöll volcano, Iceland. Hydrol Process 21:725–740

Castruccio A, Clavero J (2015) Lahar simulation at active volcanoes of the Southern Andes: implications for hazard assessment. Nat Hazards 77(2):693–716

Cenderelli DA, Wohl EE (2003) Flow hydraulics and geomorphic effects of glacial-lake outburst floods in the Mount Everest region, Nepal. Earth Surf Process Landf 28:385–407

Cesca M, D'Agostino V (2008) Comparison between Flo-2D and RAMMS in debris flow modelling: a case study in the Dolomites. In: De Wrachien D, Brebbiae CA, Lenzi MA (eds.) International conference on monitoring, simulation, prevention and remediation of dense and debris flow II, WITpress, Southampton, pp 197–206. (ISBN 987-1-84564-118-4; ISSN 1746-4471)

Chavez PS (1988) An improved dark-object subtraction technique for atmospheric scattering correction of multispectral data. Remote Sens Environ 24:459–479

Christen M, Kowalski J, Bartelt P (2010) RAMMS: numerical simulation of dense snow avalanches in three-dimensional terrain. Cold Reg Sci Technol 63:1–14

Clague JJ, Mathews WH (1973) The magnitude of jökulhlaups. J Glaciol 12:501–504

Costa JE (1988) Floods from dam failures. In: Baker VR, Kochel RC, Patton PC (eds) Flood geomorphology. Wiley, New York, pp 439–463

de Atacama D (1985) Aluvión de dos metros por quebrada de Manflas. p 07. 18 May 1985

Dell'Agnese A, Mazzorana B, Comiti F, Von Maravic P, D'Agostino V (2013) Assessing the physical vulnerability of check dams through an empirical damage index. J Agric Eng XLIV:e2

Dussaillant A, Benito G, Buytaert W, Carling P, Meier C, Espinoza F (2009) Repeated glacial-lake outburst floods in Patagonia: an increasing hazard? Nat Hazards 54:469–481

Emmer A (2017) Geomorphologically effective floods from moraine-dammed lakes in the Cordillera Blanca, Peru. Quat Sci Rev 177:220–234

Favier V, Falvey M, Rabatel A, Praderio E, López D (2009) Interpreting discrepancies between discharge and precipitation in high-altitude area of Chile's Norte Chico region (26–32° S). Water Resour Res 45:W02424. https://doi.org/10.1029/2008WR006802

Fay H (2002) Formation of ice block obstacle marks during the November 1996 glacier outburst flood (jökulhlaup), Skeiðarársandur, southern Iceland. In: Martini, IP, Baker VR, Garzón G (eds.), Flood and Megaflood processes and deposits: recent and ancient examples, vol 32. IAS Special Publication, pp 85–97

Fernández P, Fornero L, Maza J, Yañez H (1991) Simulation of flood waves from outburst of glacier dammed lake. J Hydraul Eng 117:42–53

Frank F, McArdell BW, Huggel C, Vieli A (2015) The importance of entrainment and bulking on debris flow runout modeling: examples from the Swiss Alps. Nat Hazards Earth Syst Sci 15:2569–2583

Frey H, Haeberli W, Linsbauer A, Huggel C, Paul F (2010) A multi-level strategy for anticipating future glacier lake formation and associated hazard potentials. Nat Haz Earth Syst Sci 10:339–352. https://doi.org/10.5194/nhess-10-339-2010

Gardelle J, Arnaud Y, Berthier E (2011) Contrasted evolution of glacial lakes along the Hindu Kush Himalaya mountain range between 1990 and 2009. Glob Planet Change 75:47–55. https://doi.org/10.1016/j.gloplacha.2010.10.003

Gascoin S, Kinnard C, Ponce R, Lhermitte S, MacDonell S, Rabatel A (2011) Glacier contribution to streamflow in two headwaters of the Huasco River, Dry Andes of Chile. The Cryosphere 5:1099–1113. https://doi.org/10.5194/tc-5-1099-2011

Gillespie AR, Matsunaga T, Rokugawa S, Hook SJ (1998) Temperature and emissivity separation from advanced spaceborne thermal emission and reflection radiometer (ASTER) images. IEEE Trans Geosci Remote Sens 36:1113–1126

Ginot P, Kull C, Schotterer U, Schwikowski M, Gäggeler HW (2006) Glacier mass balance reconstruction by sublimation induced enrichment of chemical species on Cerro Tapado (Chilean Andes). Clim Past 2:21–30

Griswold JP, Iverson RM (2008) Mobility statistics and automated hazard mapping of debris flows and rock avalanches. USGS Scientific Investigations Rep. No. 2007-5276, USGS, US Department of the Interior, Cascades Volcano Observatory, http://pubs.usgs.gov/sir/2007/5276. Accessed 30 Mar 2018

Gruber S, Huggel C, Pike R (2008) Modelling mass movements and landslide susceptibility using geomorphometry. In: Hengl T, Reuter HI (eds) Geomorphometry: geomorphometry: concepts, software, applications, developments in soil science, vol 33. Elsevier, New York, ISSN 0166-2481, https://doi.org/10.1016/s0166-2481(08)00023-8

Haeberli W (1983) Frequency and characteristics of glacier floods in the Swiss Alps. Ann Glaciol 4:85–90

Haeberli W, Hoelzle M (1995) Application of inventory data for estimating characteristics of and regional climate-change effects on mountain glaciers: a pilot study with the European Alps. Ann Glaciol 21:206–212

Harmsworth GR, Raynor B (2005) Cultural consideration in landslide risk perception. In: Glade T, Anderson M, Crozier M (eds) Landslide hazard and risk, vol 7. Wiley, London, pp 219–249

Hijmans RJ, Cameron SE, Parra JL, Jones PG, Jarvis A (2005) Very high resolution interpolated climate surfaces for global land areas. Int J Climatol 25(15):1965–1978

Hsu K (1975) Catastrophic debris streams (Sturzstroms) generated by rockfalls. Geol Soc Am Bull 86:129–140

Huang C-J, Yin H-Y, Chen C-Y, Yeh C-H, Wang C-L (2007) Ground vibrations produced by rock motions and debris flows. J Geophys Res 112:F02014. https://doi.org/10.1029/2005JF000437

Hübl J, Fiebiger G (2005) Debris-flow mitigation measures. In: Jakob M, Hungr O (eds) Debris-flow Hazards and Related Phenomena. Springer, Berlin, pp 445–487. ISBN 3-540-20726-0

Huggel C, Haeberli W, Kääb A, Bieri D, Richardson S (2004) An assessment procedure for glacial hazards in the Swiss Alps. Can Geotech J 41:1068–1083

Huggel C, Schneider D, Miranda PJ, Delgado Granados H, Kaab A (2008) Evaluation of aster and SRTM DEM data for lahar modeling: a case study on lahars from Popocatepetl Volcano, Mexico. J Volcanol Geotherm Res 170:99–110

Hussin HY, Quan Kuna B, van Westen CJ, Christen M, Malet JP, van Asch TW (2012) Parameterization of a numerical 2-D debris flow model with entrainment: a case study of the Faucon catchment, Southern French Alps. Nat Hazard Earth Syst 12:3075–3090

Iribarren Anacona P, Mackintosh A, Norton KP (2015) Hazardous processes and events from glacier and permafrost areas: lessons from the Chilean and Argentinean Andes. Earth Surf Proc Land 40(1):2–21

Iribarren Anacona P, Kinney J, Schaefer M, Harrison S, Wilson R, Segovia A, Mazzorana B, Guerra F, Farías D, Reynolds J, Glasser N (2018) Glacier protection laws: potential conflicts in managing glacial hazards and adapting to climate change. AMBIO. https://doi.org/10.1007/s13280-018-1043-x

Iverson RM (1997) The physics of debris flows. Rev Geophys 35:245–296

Iverson RM, Schilling SP, Vallance JW (1998) Objective delineation of lahar inundation hazard zones. Geol Soc Am Bull 110(8):972–984

Javanmard S, Yatagai A, Nodzu MI, BodaghJamali J, Kawamoto H (2010) Comparing high-resolution gridded precipitation data with satellite rainfall estimates of TRMM 3B42 over Iran. Adv Geosci 25:119–125

Komori J (2008) Recent expansions of glacial lakes in the Bhutan Himalayas. Quat Int 184:177–186

Linsbauer A, Paul F, Haeberli W (2012) Modeling glacier thickness distribution and bed topography over entire mountain ranges with GlabTop: application of a fast and robust approach. J Geophys Res 117:F03007. https://doi.org/10.1029/2011JF002313

Lliboutry L, Morales B, Pautre A, Schneider B (1977) Glaciological problems set by the control of dangerous lakes in Cordillera Blanca, Peru. I: historical failure of morainic dams, their causes and prevention. J Glaciol 18:239–254

Lorrain RD, Fitzsimons SJ (2011) Cold-based glaciers. In: Singh VP, Singh P, Haritashya UK (eds) Encyclopedia of snow, ice and glaciers. Springer, Dordrecht, pp 157–161

Luna BQ, Blahut J, Kappes M, Akbas SO, Malet JP, Remaitre A, Van Asch T, Jaboyedoff M (2014) Methods for debris flow hazard and risk assessment. In: Mountain risks: from prediction to management and governance. Advances in natural and technological hazards research, vol 3. Springer, New York, pp 133–177

Maag H (1969) Ice dammed lakes and marginal glacial drainage on Axel Heiberg Island, Canadian Arctic Archipelago. Axel Heiberg island research reports, McGill University, Montreal. Jacobsen-McGill arctic research expedition 1959–1962

MacDonell S, Kinnard C, Mölg T, Nicholson L, Abermann J (2013) Meteorological drivers of ablation processes on a cold glacier in the semi-arid Andes of Chile. The Cryosphere 7(5):1513–1526

Magirl CS, Griffiths PG, Webb RH (2010) Analyzing debris flows with the statistically calibrated empirical model LAHARZ in southeastern Arizona, USA. Geomorphology 119:111–124

Mazzorana B, Fuchs S (2010) A conceptual planning tool for hazard and risk management. International Symposium Interpraevent, Taipei

Mazzorana B, Trenkwalder-Platzer H, Fuchs S, Hübl J (2014) The susceptibility of consolidation check dams as a key factor for maintenance planning. Oesterr Wasser Abfallwirtsch 66(5–6):214–216

Mazzorana B, Trenkwalder-Platzer H, Heiser M, Hübl J (2018) Quantifying the damage susceptibility to extreme events of mountain stream check dams using Rough Set Analysis. J Flood Risk Manag. https://doi.org/10.1111/jfr3.12333

Mergili MF, Krenn JJ, Pudasaini SP (2017) r.avaflow v1, an advanced open source computational framework for the propagation and interaction of two-phase mass flows. Geosci Model Dev 10:553–569

Nicholson L, Marín J, Lopez D, Rabatel A, Bown F, Rivera A (2010) Glacier inventory of the upper Huasco valley, Norte Chico, Chile: glacier characteristics, glacier change and comparison with central Chile. Ann Glaciol 50:111–118

O'Connor JE, Webb RH (1988) Hydraulic modeling for paleoflood analysis. In: Baker VR, Kochel RC, Patton PC (eds) Flood geomorphology. Wiley, New York, pp 393–402

Oramas Dorta D, Toyos G, Oppenheimer C, Pareschi MT, Sulpizio R, Zanchetta G (2007) Empirical modelling of the May 1998 small debris flows in Sarno (Italy) using LAHARZ. Nat Hazards 40:381–396

Peña H, Escobar F (1987) Análisis del aluvión de mayo de 1985 del río Manflas, cuenca del río Copiapó,Publicación Interna Estudios Hidrológicos 87/3. Ministerio de Obras Públicas, Dirección General de Aguas:Santiago, p 14

Peña H, Klohn W (1989) Non-meteorological flood disasters in Chile. In: Starosolszky O, Melder OM (eds) Hydrology of disasters. James and James, London, pp 243–258

Pieri DC, Abrams MJ (2005) ASTER observations of thermal anomalies preceding the April 2003 eruption of Chikurachki Volcano, Kurile Islands, Russia. Remote Sens Environ 99:84–94

Pitman EB, Lee L (2005) A two-fluid model for avalanche and debris flows. Philos Trans R Soc 363:1573–1601

Pourrier J, Jourde H, Kinnard C, Gascoin S, Monnier S (2014) Glacier meltwater flow paths and storage in a geomorphologically complex glacial foreland: the case of the Tapado glacier dry Andes of Chile (30° S). J Hydrol 519:1068–1083

Rabatel A, Castebrunet H, Favier V, Nicholson L, Kinnard C (2011) Glacier changes in the Pascua-Lama region, Chilean Andes (29 S): recent mass balance and 50 yr surface area variations. The Cryosphere 5:1029–1041. https://doi.org/10.5194/tc-5-1029-2011

Rimböck A, Höhne R, Rudolf-Miklau F, Pichler A, Suda J, Mazzorana B, Papež J (2014) Persistence of Alpine natural hazard protection. Platform on natural hazards of the alpine convention. http://www.naturgefahren.at/euinternationales/planalplcm.html. Accessed 30 Mar 2018

Rosatti G, Begnudelli L (2013) Two-dimensional simulation of debris flows over mobile bed: enhancing the TRENT2D model by using a well-balanced Generalized Roe-type solver. Comput Fluids 71:179–195

Rushmer EL (2006) Sedimentological and geomorphological impacts of the jökulhlaup (glacial outburst flood) in January 2002 at Kverkfjöll, northern Iceland. Geogr Ann 88A:43–53

Schilling S (1998) LAHARZ: GIS programs for automated mapping of lahar-inundations hazard zones. US geological survey open-file Report 98-638

Schneider D, Huggel C, Cochachin A, Guillén S, García J (2014) Mapping hazards from glacier lake outburst floods based on modelling of process cascades at Lake 513, Carhuaz, Peru. Adv Geosci 35:145–155. https://doi.org/10.5194/adgeo-35-145-2014

Slater JA, Heady B, Kroenung G, Haase CW, Hoegemann JD, Shockley C, Tracy K (2011) Global assessment of the new ASTER global digital elevation model. Photogramm Eng Remote Sens 77(4):335–349

Sobrino JA, Jiménez-Muñoz JC, Paolini L (2004) Land surface temperature retrieval from LANDSAT TM 5. Remote Sens Environ 90(4):434–440

Sosio R, Crosta GB, Hungr O (2008) Complete dynamic modeling calibration for the Thurwieser rock avalanche (Italian Central Alps). Eng Geol 100:11–26

Stern CR, Moreno H, López-Escober L, Clavero JE, Lara LE, Naranjo JA, Parada MA, Skewes MA (2007) Chilean Volcanoes. In: Moreno E, Gibbons W (eds) The geology of Chile, geologic society of London Press Chapter 5. London, pp 149–180

Stuefer M, Rott H, Skvarca P (2007) Glaciar Perito Moreno, Patagonia: climate sensitivities and glacier characteristics preceding the 2003/04 and 2005/06 damming events. J Glaciol 53(180):3–16

Tarboton DG, Bras RL, Rodriguez-Iturbe I (1991) On the extraction of channel networks from digital elevation data. Hydrol Process 5(1):81–100

Tweed FS, Russell AJ (1999) Controls on the formation and sudden drainage of glacier-impounded lakes: implications for jökulhlaup characteristics. Prog Phys Geogr 23:79–110

Vincent C, Auclair S, Le Meur E (2010a) Outburst flood hazard for glacier-dammed Lac de ochemelon, France. J Glaciol 56(195):91–100. https://doi.org/10.3189/002214310791190857

Vincent C, Garambois S, Thibert E, Lefebvre E, Le Meur E, Six D (2010b) Origin of the outburst flood from Tete Rousse glacier in 1892 (Mont Blanc area, France). J Glaciol 56:688–698

Wadham JL, Hodgkins R, Cooper RJ, Tranter M (2001) Evidence for seasonal subglacial outburst events at a polythermal glacier, Finsterwalderbreen, Svalbard. Hydrol Process 15:2259–2280. https://doi.org/10.1002/hyp.178

Walder JS, Costa JE (1996) Outburst floods from glacier-dammed lakes: the effect of mode of lake drainage on flood magnitude. Earth Surf Proc Land 21:701–723

Webb RH, Jarrett RD (2002) One-dimensional estimation techniques for discharges of paleofloods and historical floods: ancient Floods. Mod Hazards Princ Appl Paleoflood Hydrol AGU's Water Sci Appl Ser 5:111–125

Westoby MJ, Glasser NF, Brasington J, Hambrey MJ, Quincey DJ, Reynolds JM (2014) Modelling outburst floods from moraine-dammed glacial lakes. Earth Sci Rev 134:137–159

Widiwijayanti C, Voight B, Hidayat D, Schilling SP (2009) Objective rapid delineation of areas at risk from block-and-ash pyroclastic flows and surges. Bull Volcanol 71:687–703

Wilcock PR, Schmidt JC, Wolman MG, Dietrich WE, DeWitt D, Doyle MW, Grant GE, Iverson RM, Montgomery DR, Pierson TC, Schilling SP, Wilson RC (2003) When models meet managers: examples from geomorphology. In: Wilcock PR, Iverson RM (eds) Prediction in geomorphology. AGU, Washington, pp 27–40

Wilson R, Glasser N, Reynolds J, Harrison S, Iribarren Anacona P, Schaefer M, Shannon S (2018) Glacial lakes of the central and Patagonian Andes. Global Planet Change 162:275–291
Acknowledgements
We greatly appreciate the logistic support of Hacienda Manflas and Hales, Nolberto, Cornelio and Silvio for their assistance in the 2013 field work. We also thank Shelley MacDonnell and Marion Réveillet for their help in the 2018 expedition. This work was funded by Becas Chile and the RCUK-CONICYT Project MR-N026462-1 "Glacial Hazards in Chile: processes, assessment, mitigation and risk management strategies". Bruno Mazzorana has been supported by the Iniciativa Científica Milenio (ICM) through Grant NC160025 "Millennium Nucleus CYCLO—The Seismic Cycle Along Subduction Zones". We sincerely thank the constructive criticism of two reviewers.
About this article
Cite this article
Iribarren Anacona, P., Norton, K., Mackintosh, A. et al. Dynamics of an outburst flood originating from a small and high-altitude glacier in the Arid Andes of Chile. Nat Hazards 94, 93–119 (2018). https://doi.org/10.1007/s11069-018-3376-y
Received:

Accepted:

Published:

Issue Date:
Keywords
Andes

Cold-based glacier

GLOF

RAMMS

LAHARZ