Abstract
Participation of local people during any disaster is enormous. They possess better knowledge and information about their own community than anyone else from the outside. This study proposes Participatory Vulnerability Reduction (PVR), a community-based approach for disaster management. The concept of PVR was applied to an urban community of Dhaka city (Ward no. 06 of Dhaka North City Corporation) which has been identified by the Comprehensive Disaster Management Programme as one of the most vulnerable areas of the city for earthquake. PVR consists three steps, and in each step, different participatory urban appraisal tools were used. In the first step, the community people assessed the earthquake vulnerability. It was found that some certain parts of the study area are highly vulnerable due to lack of accessibility to the critical facilities, inadequacy of open space, poor construction practice and unsuitable soil condition for building construction. This was followed by analyzing the root causes and effects of these problems. Structural fragility of the buildings, construction of settlements by filling the low-lying areas and development of slums beside taller buildings are the three major causes behind the above vulnerable issues. In the second step, capacity of the community was assessed in terms of resources and their organizational structure. In the final step, local people developed the strategies to overcome the vulnerability and a community-based organizational set up was proposed to coordinate the collective actions. Although developed in local context, application of PVR is not limited for earthquake and it can be replicated for other communities as well.
Access options
Buy single article
Instant access to the full article PDF.
USD 39.95
Price excludes VAT (USA)
Tax calculation will be finalised during checkout.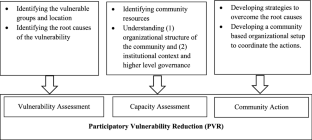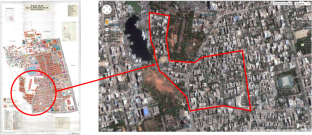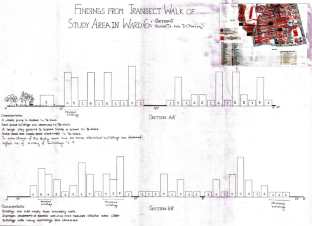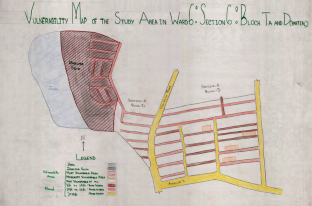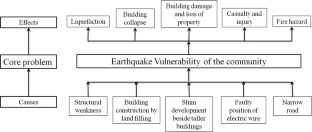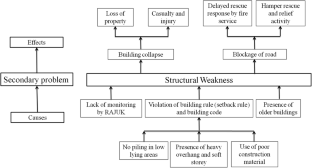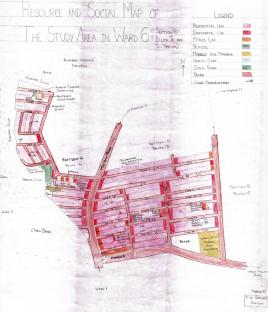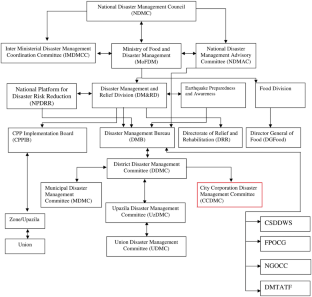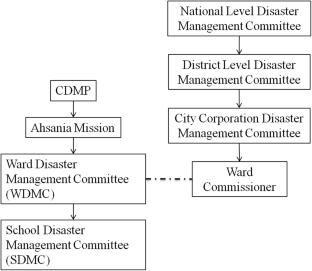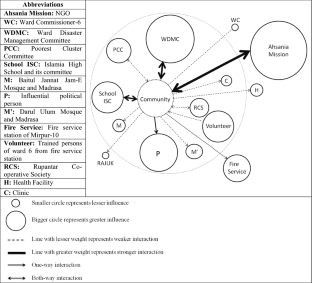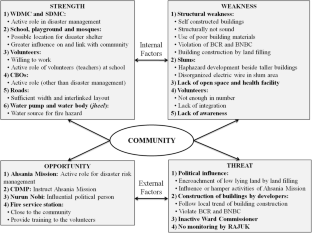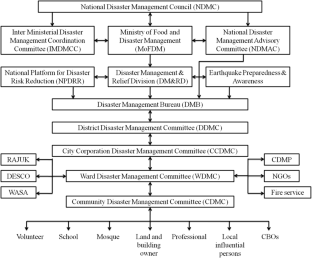 References
Adger WN (2006) Vulnerability. Glob Environ Change 16:268–281

Adger WN, Brooks N, Bentham G, Agnew M, Eriksen S (2005) New indicators of vulnerability and adaptive capacity. Tyndall Centre for Climate Change Research, Norwich

ADPC (2004) Building disaster risk reduction in Asia: a way forward: ADPC looks ahead to 2015. Asian Disaster Preparedness Center (ADPC), Bangkok

Akhter SH (2010) Earthquakes of Dhaka environment of capital Dhaka—plants wildlife gardens parks air water and earthquake. Asiatic Society of Bangladesh, Dhaka, pp 401–426

Alam N, Alam MS, Tesfamariam S (2012) Buildings' seismic vulnerability assessment methods: a comparative study. Nat Hazards 62:405–424

Ali A (1996) Vulnerability of Bangladesh to climate change and sea level rise through tropical cyclones and storm surges. In: Erda L, Bolhofer WC, Huq S, Lenhart S, Mukherjee SK, Smith JB, Wisniewski J (eds) Climate change vulnerability and adaptation in Asia and the Pacific. Springer, Berlin, pp 171–179

Ali MH, Choudhury JR (2001) Assessment of seismic hazard in Bangladesh disaster in Bangladesh: selected readings Disaster Research Training and Management Centre. University of Dhaka, Bangladesh, p 197

Allen KM (2006) Community-based disaster preparedness and climate adaptation: local capacity-building in the Philippines. Disasters 30:81–101

Bajek R, Matsuda Y, Okada N (2008) Japan's Jishu-bosai-soshiki community activities: analysis of its role in participatory community disaster risk management. Nat Hazards 44:281–292

Bapat A (2010) Re-orientation of disaster management plans in Asian countries in view of recent earthquakes in China, Haiti and Chile. Asian Disaster Manag News 16:20–21

Barua U, Akhter MS, Ansary MA (2016) District-wise multi-hazard zoning of Bangladesh. Nat Hazards 82:1895–1918

Becker P (2012) The importance of integrating multiple administrative levels in capacity assessment for disaster risk reduction and climate change adaptation. Disaster Prev Manag Int J 21:226–233

Berkes F, Ross H (2013) Community resilience: toward an integrated approach. Soc Nat Resour 26:5–20

Bhuiyan MJAN, Dutta D (2012) Analysis of flood vulnerability and assessment of the impacts in coastal zones of Bangladesh due to potential sea-level rise. Nat Hazards 61:729–743

Birkmann J (2006) Measuring vulnerability to promote disaster-resilient societies: conceptual frameworks and definitions. In: Birkmann J (ed) Measuring vulnerability to natural hazards: towards disaster resilient societies. The Energy and Resources Institute (TERI) Press, New Delhi, India, pp 9–54

Birkmann J, Sorg L, Welle T (2017) Disaster vulnerability. In: The Palgrave handbook of unconventional risk transfer. Springer, Berlin, pp 329–356

Blaikie P, Cannon T, Davis I, Wisner B (2014) At risk: natural hazards, people's vulnerability and disasters. Routledge, London

Brooks N, Adger WN (2005) Assessing and enhancing adaptive capacity adaptation policy frameworks for climate change: developing strategies, policies and measures. In: Lim B, Spanger-Siegfried E, Burton I, Malone E, Huq S (eds) Adaptation policy frameworks for climate change: developing strategies, policies and measures. Cambridge University Press, UK, pp 165–181

Brouwer R, Akter S, Brander L, Haque E (2007) Socioeconomic vulnerability and adaptation to environmental risk: a case study of climate change and flooding in Bangladesh. Risk Anal 27:313–326

Buckland J, Rahman M (1999) Community-based disaster management during the 1997 Red River Flood in Canada. Disasters 23:174–191

Burton I, Kates RW, White GF (1993) The environment as hazard, 2nd edn. Guilford Press, New York

Cadag JRD, Gaillard J (2012) Integrating knowledge and actions in disaster risk reduction: the contribution of participatory mapping. Area 44:100–109

Calvi GM, Pinho R, Magenes G, Bommer JJ, Restrepo-Vélez LF, Crowley H (2006) Development of seismic vulnerability assessment methodologies over the past 30 years. ISET J Earthq Technol 43:75–104

Cardona OD, Ordaz MG, Yamin LE, Marulanda MC, Barbat AH (2008) Earthquake loss assessment for integrated disaster risk management. J Earthq Eng 12:48–59

Cavestro L (2003) PRA-Participatory rural appraisal concepts methodologies and techniques. MS Thesis, University of Padova, Italy, pp 16–26

CDMP (2009) Seismic hazard map for seismic hazard and vulnerability assessment of Dhaka, Chittagong and Sylhet City corporation areas. Comprehensive Disaster Management Programme (CDMP), Ministry of Food and Disaster Management, Dhaka, Bangladesh

Chen L-C, Liu Y-C, Chan K-C (2006) Integrated community-based disaster management program in Taiwan: a case study of Shang-An village. Nat Hazards 37:209

Chen S-C, Ferng J-W, Wang Y-T, Wu T-Y, Wang J-J (2008) Assessment of disaster resilience capacity of hillslope communities with high risk for geological hazards. Eng Geol 98:86–101

Chen S-C, Wu C-Y, Wu T-Y (2009) Resilient capacity assessment for geological failure areas: examples from communities affected by debris flow disaster. Environ Geol 56:1523–1532

Chiwaka E, Yates R (2004) Participatory vulnerability analysis, a step by step guide for field staff. Action Aid International, Johannesburg

Dalziell EP, McManus ST (2004) Resilience, vulnerability, and adaptive capacity: implications for system performance. Presented at international forum for engineering decision making (IFED), Switzerland, December 6–8, 2004

Dasgupta S, Huq M, Khan ZH, Ahmed MMZ, Mukherjee N, Khan MF, Pandey KD (2010) Vulnerability of Bangladesh to cyclones in a changing climate: potential damages and adaptation cost. World Bank Policy Research Working Paper No. 5280. Available at SSRN: https://ssrn.com/abstract=1596490

Davidson RA, Shah HC (1997) An urban earthquake disaster risk index. John A. Blume Earthquake Engineering Center Standford University, Standford

Davidson R, Villacis C, Cardona C, Tucker B (2000) A project to study urban earthquake risk worldwide. In: Proceedings of the 12th world conference on earthquake engineering

Davidson CH, Johnson C, Lizarralde G, Dikmen N, Sliwinski A (2007) Truths and myths about community participation in post-disaster housing projects. Habitat Int 31:100–115

de Brito MM, Evers M, Almoradie ADS (2018) Participatory flood vulnerability assessment: a multi-criteria approach. Hydrol Earth Syst Sci 22:373

de Dios HB (2002) Participatory capacities and vulnerabilities assessment: finding the link between disasters and development. Oxfam, Oxford

Debnath R (2013) An assessment of spatio-temporal pattern of urban earthquake vulnerability using GIS: a study on Dhaka City. Ann GIS 19:63–78

Duzgun H, Yucemen M, Kalaycioglu H, Celik K, Kemec S, Ertugay K, Deniz A (2011) An integrated earthquake vulnerability assessment framework for urban areas. Nat Hazards 59:917

Ebert A, Kerle N, Stein A (2009) Urban social vulnerability assessment with physical proxies and spatial metrics derived from air-and spaceborne imagery and GIS data. Nat Hazards 48:275–294

EMI (Earthquakes and Megacities Initiative) (2013) Dhaka city earthquake risk Atlas. Bangladesh Urban Earthquake Resilience Project, Earthquakes and Megacities Initiative (EMI)

Fazey I et al (2010) A three-tiered approach to participatory vulnerability assessment in the Solomon Islands. Glob Environ Change 20:713–728

Fuchs S, Kuhlicke C, Meyer V (2011) Editorial for the special issue: vulnerability to natural hazards—the challenge of integration. Nat Hazards 58:609–619

Guragain R, Jimee G, Dixit AM (2008) Earthquake awareness and effective planning through participatory risk assessment: an experience from Nepal. In: The 14th world conference on earthquake engineering, pp 12–17

Hallegatte S, Bangalore M, Jouanjean MA (2016) Higher losses and slower development in the absence of disaster risk management investments. World Bank Policy Research Working Paper No. 7632

Haque CE, Uddin MS (2013) Disaster management discourse in Bangladesh: a shift from post-event response to the preparedness and mitigation approach through institutional partnerships. In: Tiefenbacher J (ed) Approaches to disaster management – examining the implications of hazards, emergencies and disasters. InTechOpen, Rijeka, pp 33–53

Haque AN, Grafakos S, Huijsman M (2012) Participatory integrated assessment of flood protection measures for climate adaptation in Dhaka. Environ Urban 24:197–213

Hossain MA (2012) Community participation in disaster management: role of social work to enhance participation. Sociology 159:171

Huq SMS (2016) Community based disaster management strategy in Bangladesh: present status, future prospects and challenges. Eur J Res Soc Sci 4:22–35

Islam MA, Mitra D, Dewan A, Akhter SH (2016) Coastal multi-hazard vulnerability assessment along the Ganges deltaic coast of Bangladesh—a geospatial approach. Ocean Coast Manag 127:1–15

Jahan I, Ansary MA, Ara S, Islam I (2011) Assessing social vulnerability to earthquake hazard in Old Dhaka, Bangladesh. Asian J Environ Disaster Manag (AJEDM) 3:285–300

Jonsson AC, Hjerpe M, Andersson-Sköld Y, Glaas E, André K, Simonsson L (2012) Cities' capacity to manage climate vulnerability: experiences from participatory vulnerability assessments in the lower Göta Älv Catchment, Sweden. Local Environ 17:735–750

Karanci NA, Aksit B (1999) Strengthening community participation in disaster management by strengthening governmental and non-governmental organisations and networks: a case study from Dinar and Bursa (Turkey). Aust J Emerg Manag 13:35–39

Kenney CM, Phibbs SR, Paton D, Reid J, Johnston DM (2015) Community-led disaster risk management: a Maori response to Otautahi (Christchurch) earthquakes. Aust J Disaster Trauma Stud 19:9–21

Kumar S (2002) Methods for community participation: a complete guide for practitioners. Vistaar publication, New Delhi, India

Maharjan S, Maharjan K, Tiwari U, Sen N (2017) Participatory vulnerability assessment of climate vulnerabilities and impacts in Madi Valley of Chitwan district, Nepal. Cogent Food Agric 3:1310078

Maiti S et al (2017) An assessment of social vulnerability to climate change among the districts of Arunachal Pradesh, India. Ecol Indic 77:105–113

Mardiah AN, Lovett JC, Evanty N (2017) Toward Integrated and Inclusive disaster risk reduction in indonesia: review of regulatory frameworks and institutional networks. In: Djalante R, Garschagen M, Thomalla F, Shaw R (eds) Disaster risk reduction in Indonesia. Springer, Berlin, pp 57–84

Margesson R, Taft-Morales M Haiti earthquake: crisis and response. In, 2010. Library of Congress Washington DC Congressional Research Service

Miles SB, Green RA, Svekla W (2012) Disaster risk reduction capacity assessment for precarious settlements in Guatemala City. Disasters 36:365–381

Mili RR, Hosseini KA, Izadkhah YO (2017) Developing a holistic model for earthquake risk assessment and disaster management interventions in urban fabrics. Int J Disaster Risk Reduct 27:355–365

Morrow BH (1999) Identifying and mapping community vulnerability. Disasters 23(1):1–18

Nakamura H, Umeki H, Kato T (2017) Importance of communication and knowledge of disasters in community-based disaster-prevention meetings. Saf Sci 99:235–243

Newport JK, Jawahar GG (2003) Community participation and public awareness in disaster mitigation. Disaster Prev Manag Int J 12:33–36

Norris FH, Stevens SP, Pfefferbaum B, Wyche KF, Pfefferbaum RL (2008) Community resilience as a metaphor, theory, set of capacities, and strategy for disaster readiness. Am J Community Psychol 41:127–150

Osti R (2004) Forms of community participation and agencies' role for the implementation of water-induced disaster management: protecting and enhancing the poor. Disaster Prev Manag Int J 13:6–12

Pandey B, Okazaki K (2005) Community-based disaster management: empowering communities to cope with disaster risks. Reg Dev Dialogue 26:52–60

Papathoma-Köhle M, Gems B, Sturm M, Fuchs S (2017) Matrices, curves and indicators: a review of approaches to assess physical vulnerability to debris flows. Earth Sci Rev 171:272–288

Paul BK, Bhuiyan RH (2010) Urban earthquake hazard: perceived seismic risk and preparedness in Dhaka City, Bangladesh. Disasters 34:337–359

Pearce L (2003) Disaster management and community planning, and public participation: how to achieve sustainable hazard mitigation. Nat Hazards 28:211–228

Pitilakis K, Crowley H, Kaynia A (eds) (2014) SYNER-G: typology definition and fragility functions for physical elements at seismic risk, vol 27. Springer, Dordrecht

Plough A et al (2013) Building community disaster resilience: perspectives from a large urban county department of public health. Am J Public Health 103:1190–1197

Preston BL, Stafford-Smith M (2009) Framing vulnerability and adaptive capacity assessment: discussion paper. CSIRO Climate Adaptation National Research Flagship Aspendale

Rahman N, Ansary MA, Islam I (2015) GIS based mapping of vulnerability to earthquake and fire hazard in Dhaka city, Bangladesh. Int J Disaster Risk Reduct 13:291–300

Ranghieri F, Ranghieri M (2014) Learning from megadisasters: lessons from the Great East Japan earthquake. World Bank Publications, Washington

Roy S (2014) Probabilistic prediction for earthquake in Bangladesh: just how big does the earthquake have to be next years? Open J Earthq Res 3:108

Roy DC, Blaschke T (2015) Spatial vulnerability assessment of floods in the coastal regions of Bangladesh. Geomat Nat Hazards Risk 6:21–44

Sadiqi Z, Trigunarsyah B, Coffey V (2017) A framework for community participation in post-disaster housing reconstruction projects: a case of Afghanistan. Int J Proj Manag 35:900–912

Saito T (2007) Disaster management of local government in Japan. In: National workshop, organized by UNCRD and Japan-Peru Center for Seismic Research and Disaster Mitigation (CISMID)/Peru National University of Engineering (UNI)

Šakić Trogrlić R, Wright GB, Adeloye AJ, Duncan MJ, Mwale F (2018) Taking stock of community-based flood risk management in Malawi: different stakeholders, different perspectives. Environ Hazards 17:107–127

Salgado-Gálvez MA, Romero DZ, Velásquez CA, Carreño ML, Cardona O-D, Barbat AH (2016) Urban seismic risk index for Medellín, Colombia, based on probabilistic loss and casualties estimations. Nat Hazards 80:1995–2021

Sarraz A, Khorshed-Ali M, Chandra-Das D (2015) Seismic vulnerability assessment of existing building stocks at Chandgaon in Chittagong city, Bangladesh. Am J Civil Eng 3:1–8

Sarwar MGM, Islam A (2013) Multi hazard vulnerabilities of the coastal land of Bangladesh. In: Shaw R, Mallick F, Islam A (eds) Climate change adaptation actions in Bangladesh. Springer, Berlin, pp 121–141

Sinha R, Goyal A (1995) Damage to buildings in Latur earthquake. Int J Rock Mech Min Sci Geomech Abstr 32:185A

Smit B, Wandel J (2006) Adaptation, adaptive capacity and vulnerability. Glob Environ Change 16:282–292

UNISDR (2017) UNISDR terminology on disaster risk reduction. UNISDR, Geneva

Warrick O, Aalbersberg W, Dumaru P, McNaught R, Teperman K (2017) The 'Pacific adaptive capacity analysis framework': guiding the assessment of adaptive capacity in Pacific Island communities. Reg Environ Change 17:1039–1051

Wisner B (2006) Self-assessment of coping capacity: participatory, proactive and qualitative engagement of communities in their own risk management. In: Birkmann J (ed) Measuring vulnerability to natural hazards: towards disaster resilient societies. The Energy and Resources Institute (TERI) Press, New Delhi, India, pp 316–328
About this article
Cite this article
Rahman, M.M., Barua, U., Khatun, F. et al. Participatory Vulnerability Reduction (PVR): an urban community-based approach for earthquake management. Nat Hazards 93, 1479–1505 (2018). https://doi.org/10.1007/s11069-018-3364-2
Received:

Accepted:

Published:

Issue Date:

DOI: https://doi.org/10.1007/s11069-018-3364-2
Keywords