Abstract
Surf zone injuries (SZIs) are common worldwide, yet limited data are available for many geographical regions, including Europe. This study provides the first preliminary overview of SZIs along approximately 230 km of hazardous surf beaches in SW France during the summer season. A total of 2523 SZIs over 186 sample days during the summers of 2007, 2009 and 2015 were analysed. Documented injury data included date and time; beach location; flag colour; outside/inside of the bathing zone; age, gender, country and home postal code of the victim; activity; cause of injury; injury type and severity. Injuries sustained ranged from mild contusion to fatal drowning, including severe spinal injuries, wounds and luxation. While the most severe injuries (drowning) were related to rip currents, a large number of SZIs occurred as a result of shore-break waves (44.6%; n = 1125) and surfing activity (31.0%; n = 783) primarily inside and outside of lifeguard-patrolled bathing zones, respectively. Victims were primarily French living more than 40 km from the beach (75.9% of the reported addresses; n = 1729), although a substantial number of victims originated from Europe (14.7% of the addresses reported; n = 335), including the Netherlands (44.2%; n = 148), Germany (26.3%; n = 88) and Belgium (12.5%; n = 49). The predominant age group involved in the incidents was between 10 and 25 years (54.5%; n = 1376) followed by between 35 and 50 years (22.6%; n = 570), with the majority of SZIs involving males (69.6%, n = 1617). Despite the large predominance (74.1%; n = 33) of males involved in the most severe drowning incidents, all of which occurred outside the bathing zone, a surprisingly large proportion of females (48.0%; n = 133) experienced milder drowning incidents involving only minor to moderate respiratory impairment, peaking at 58.2% (n = 85) within the age group 10–25. The spine/cervical injury population is very young, with 58.5% (n = 313) within the age group 10–20. Specific injuries tended to occur in clusters (e.g. rip-current drowning or shore-break injury) with particular days prone to rip-current drowning or hazardous shore-break waves, suggesting the potential to predict the level of risk to beachgoers based on basic weather and marine conditions. This study calls for increased social-based beach safety research in France and the development of more effective public awareness campaigns to highlight the surf zone hazards, even within a supervised bathing zone. These campaigns should be targeted towards young males and females, in order to reduce the number of injuries and drownings occurring on beaches in SW France.
Access options
Buy single article
Instant access to the full article PDF.
US$ 39.95
Tax calculation will be finalised during checkout.
Subscribe to journal
Immediate online access to all issues from 2019. Subscription will auto renew annually.
US$ 119
Tax calculation will be finalised during checkout.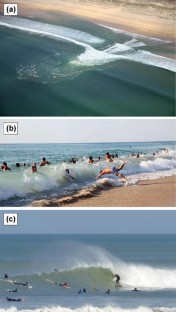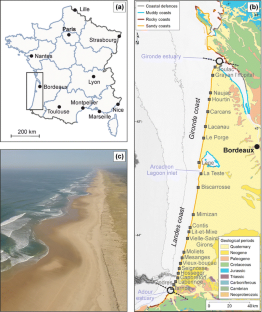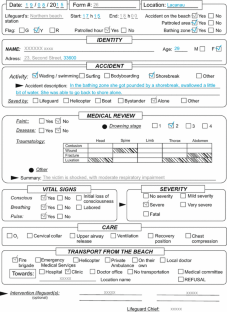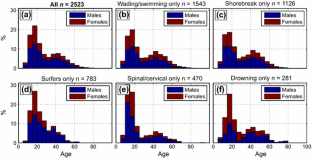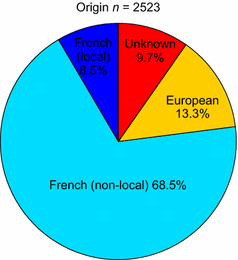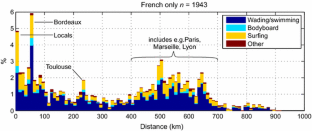 References
Arozarena I, Houser C, Echeverria AG, Brannstrom C (2015) The rip current hazard in Costa Rica. Nat Hazard 2:753–768

Attard A, Brander RW, Shaw WS (2015) Rescues conducted by surfers on Australian beaches. Accid Anal Prev 82:70–78

Austin MJ, Scott TM, Russell PE, Masselink G (2013) Rip current prediction: development, validation, and evaluation of an operational tool. J Coast Res 29(2):283–300

Ballantyne R, Carr N, Hughes K (2005) Between the flags: an assessment of domestic and international university students' knowledge of beach safety in Australia. Tour Manag 26(4):617–622

Barlas B, Beji S (2016) Rip current fatalities on the Black Sea beaches of Istanbul and effects of cultural aspects in shaping the incidents. Nat Hazards 80(2):811–821

Barucq G, Jenkins O, Mokni T, Marce S, Campagne JM, Le Jeune D (2009) Surfing-related accidents: epidemiology and prevention. http://blog.surf-prevention.com/2009/01/21/surfing-related-accidentsepidemiology-and-prevention/. Accessed 01 Feb 2018

Beratan KK, Osborne RH (1987) Frequency and demographic aspects in shallow-water diving accidents in southern California. In: Osborne RH (ed) Shallow-water diving accidents at southern California ocean beaches: demographic, sedimentologic, medical, legal and management perspectives. University of Southern California, Los Angeles

Bradstreet AJ, Brander RW, McCarroll JR, Brighton B, Howes DD, Drozdzewski D, Sherker S, Turner IL, Roberts A, MacMahan JH (2014) Rip current survival principles: towards consistency. J Coast Res 72:85–92

Brander RW (2018) Beach safety research. In: Finkl C (ed) The encyclopedia of coastal science. Kluwer Academic Publishers, Dordrecht

Brander RW, Scott T (2016) Science of the rip current hazard. In: Tipton M, Wooler A, Reilly T (eds) The science of beach lifeguarding: principles and practice. CRC Press, Boca Raton, pp 67–86

Brander RW, Bradstreet A, Sherker S, MacMahan J (2011) The behavioural responses of swimmers caught in rip currents: new perspectives on mitigating the global rip current hazard. Int J Aquat Res 5:476–482

Brannstrom C, Trimble S, Santos A, Brown HL, Houser C (2014) Perception of the rip current hazard on Galveston Island and North Padre Island, Texas, USA. Nat Hazards 72(2):1123–1138

Brannstrom C, Brown HL, Houser C, Trimble S, Santos A (2015) «You can't see them from sitting here»: evaluating beach user understanding of a rip current warning sign. Appl Geogr 56:61–70

Brighton B, Sherker S, Brander R, Thompson M, Bradstreet A (2013) Rip current related drowning deaths and rescues in Australia 2004–2011. Nat Hazard Earth Syst Sci 13:1069–1075

Brumaud S (2016) Saison touristique 2015 en Aquitaine—La fréquentation des hôtels et campings au beau fixe, INSEE Analyses Nouvelle-Aquitaine. https://www.insee.fr/fr/statistiques/1908387. Accessed 01 Feb 2018 (in French)

Bruneau N, Castelle B, Bonneton P, Pedreros R, Almar R, Bonneton N, Bretel P, Parisot JP, Senechal N (2009) Field observations of an evolving rip current on a meso-macrotidal well-developed inner bar and rip morphology. Cont Shelf Res 29:1650–1662

Bruneau N, Bonneton P, Castelle B, Pedreros R (2011) Modeling rip current circulations and vorticity in a high-energy meso-environment. J Geophys Res Oceans 116:C07026. https://doi.org/10.1029/2010JC006343

Caldwell N, Houser C, Meyer-Arendt K (2013) Ability of beach users to identify rip currents at Pensacola Beach, Florida. Nat Hazards 68(2):1041–1056

Castelle B, Scott T, Brander RW, McCarroll RJ (2016a) Rip current types, circulation and hazard. Earth Sci Rev 163:1–21

Castelle B, McCarroll RJ, Brander RW, Scott T, Dubarbier B (2016b) Modelling the alongshore variability of optimum rip current escape strategies on a multiple rip-channelled beach. Nat Hazard 81:664–686

Castelle B, Bujan S, Ferreira S, Dodet G (2017) Foredune morphological changes and beach recovery from the extreme 2013/2014 winter at a high-energy sandy coast. Mar Geol 385:41–55

Castelle B, Guillot B, Marieu V, Chaumillon E, Hanquiez V, Bujan S, Poppeschi C (2018) Spatial and temporal patterns of shoreline change of a 280-km high-energy disrupted sandy coast from 1950 to 2014: SW France. Estuar Coast Shelf Sci 200:212–223

Chang SK, Tominaga GT, Wong JH, Weldon EJ, Kaan KT, Kenneth T (2006) Risk factors for water sports-related cervical spine injuries. J Trauma Inj Infect Crit Care 60:1041–1046

Dalrymple RA, MacMahan JH, Reniers AJHM, Nelko V (2011) Rip currents. Ann Rev Fluid Mech 43:551–581

Dimmick S, Brazier D, Wilson P, Anderson SE (2013) Injuries of the spine sustained whilst surfboard riding. Emerg Radiol 20:25–31

Doelp MB, Puleo JA, Cowan P, Arford-Granholm M (2017) Characterizing surf zone injuries from the five most populated beaches on the Atlantic-fronting Delaware coast: Delaware surf zone injury demographics. Am J Emerg Med. https://doi.org/10.1016/j.ajem.2017.12.053

Drozdzewski D, Shaw W, Dominey-Howes D, Brander R, Walton T, Gero A, Sherker S, Goff J, Edwick B (2012) Surveying rip current survivors: preliminary insights into the experiences of being caught in rip currents. Nat Hazard Earth Syst Sci 12:1201–1211

Drozdzewski D, Roberts A, Dominey-Howes D, Brander R (2015) The experiences of weak and non-swimmers caught in rip currents at Australian beaches. Aust Geogr 46:15–32

Dupoux JE, Bernard-Catinat G, Brunel JM (1981) Réactualisation du traitement d'urgence de la noyade. Bordeaux Méd 14:1095–1100 (in French)

Gensini VA, Ashley WS (2009) An examination of rip current fatalities in the United States. Nat Hazard 54:159–175

Gilchrist J, Branche C (2016) Lifeguard effectiveness. In: Tipton M, Wooler A (eds) The science of beach lifeguarding. CRC Press, Boca Raton

Hatfield J, Williamson A, Brander RW, Sherker S, Hayen A, Dunn N (2012) Development and evaluation of campaigns to reduce rip current-related beach drowning in Australia. Inj Prev 18:A135

Hay CSM, Barton S, Sulkin T (2009) Recreational surfing injuries in Cornwall, United Kingdom. Wilderness Environ Med 20:335–338

Houser C, Brander R, Brannstrom C, Trimble S, Flaherty J (2016) Case study of rip current knowledge amongst students participating in a study abroad program. Front Interdiscip J Study Abroad 28:42–60

Houser C, Trimble S, Brander R, Brewster BC, Dusek G, Jones D, Kuhn J (2017) Public perceptions of a rip current hazard education program: "break the grip of the rip!". Nat Hazards Earth Syst Sci 17(7):1003–1024

Lapaty X (2004) Les accidents de plage sur le littoral aquitain, au cours des été 1999 et 2000: épidémiologie générale et proposition de prevention des traumatismes du rachis. M.Sc. thesis, Université Bordeaux 2, 91p. (in French)

Leeuwen Van, McCarroll JR, Brander RW, Turner IL, Power H, Bradstreet A (2016) Examining rip current escape strategies in non-traditional beach morphologies. Nat Hazard 81:145–165

Lushine JB (1991) A study of rip current drowning and related weather factors. Natl Weather Dig 16:15–31

MacMahan JH, Thornton EB, Reniers AJ (2006) Rip current review. Coast Eng 53(2):191–208

Masselink G, Short AD (1993) The effect of tide range on beach morphodynamics and morphology: a conceptual beach model. J Coast Res 9(3):785–800

Masselink G, Castelle B, Scott T, Dodet G, Suanez S, Jackson D, Floc'h F (2016) Extreme wave activity during 2013/2014 winter and morphological impacts along the Atlantic coast of Europe. Geophys Res Lett 43:2135–2143. https://doi.org/10.1002/2015GL067492

McCarroll RJ, Brander RW, MacMahan JH, Turner IL, Reniers AJHM, Brown JA, Bradstreet A, Sherker S (2014) Evaluation of swimmer-based rip current escape strategies. Nat Hazard 71:1821–1846

McCarroll RJ, Castelle B, Brander RW, Scott T (2015) Modelling rip current flow and bather escape strategies across a transverse bar and rip channel morphology. Geomorphology 246:502–518

McKay C, Brander RW, Goff J (2014) Putting tourists in harms way—coastal tourist parks and hazardous unpatrolled surf beaches in New South Wales, Australia. Tour Manag 45:71–84

Menezes RA, Costa RVC (1972) Resgate e recuperação de 12.037 afogados. J Bras Med 9:50–64

Moran K, Weber J (2013) Surfing injuries requiring first aid in New Zealand, 2007–2012. Int J Aquat Res Educ 7:192–203

Moran K, Webber J, Stanley T (2017) The 4Rs of aquatic rescue: educating the public about safety and risks of bystander rescue. Int J Inj Control Saf Promot 24(3):396–405

Moulton M, Dusek G, Elgar S, Raubenheimer B (2017) Comparison of rip current hazard likelihood forecasts with observed rip current speeds. Weather Forecast 32:1659–1666

Muller MW (2018) Beach replenishment and surf zone injuries along the coast of Delmarva, USA. Ocean Coast Manag 151:127–133

Nathanson AT (2013) Surfing injuries. In: Mei-Dan O, Carmont M (eds) Adventure and extreme sports injuries. Springer, London

Pikora T, Braham R, Mills C (2012) The epidemiology of injury among surfers, kite surfers and personal watercraft riders: wind and waves. In: Heggie TW, Caine DJ (eds) Epidemiology of injury in adventure and extreme sports, medicine and sports science, vol 28. Karger, A.G., Basel, pp 80–97

Puleo JA, Hutschenreuter K, Cowan P, Carey W, Arford-Granholm M, McKenna KK (2016) Delaware surf zone injuries and associated environmental conditions. Nat Hazard 81:845–867

RNLI (2014) Operational statistics, p 46. http://rnli.org/aboutus/aboutthernli/Documents/ops-statsreport.pdf. Accessed 01 Feb 2018

Roberts DJ, Ouellet JF, McBeth PB, Kirkpatrick AW, Dixon E, Ball CG (2014) The "weekend warrior": fact or fiction for major trauma? Can J Surg 57(3):E62–E68

Robles LA (2006) Cervical spine injuries in ocean bathers: wave-related accidents. Neurosurgery 58:920–923

Scott TM, Masselink G, Austin MJ, Russell P (2014) Controls on macrotidal rip current circulation and hazard. Geomorphology 214:198–215

Sherker S, Brander RW, Finch C, Hatfield J (2008) Why Australia needs an effective national campaign to reduce coastal drowning. J Sci Med Sport 11:81–83

Sherker S, Williamson A, Hatfield J, Brander R, Hayen A (2010) Beachgoers' beliefs and behaviours in relation to beach flags and rip currents. Acc Anal Prev 42:1785–1804

Short AD, Brander RW (2014) Beach hazard and risk assessment. In: Bierens J (ed) Drowning. Springer, Berlin

Short AD, Weir A (2016) Beach types, hazards and risk assessment. In: Tipton M, Wooler A (eds) The science of beach lifeguarding. CRC Press, Boca Raton

SLSA (2017) National coastal safety report 2017. SLSA: Sydney. https://sls.com.au/slsa-ar-2017/. Accessed 01 Feb 2018

USLA (2015) 2010–2014 national lifesaving statistics. http://arc.usla.org/Statistics/current.asp?Statistics=5. Accessed 01 Feb 2018

West N (2005) Beach use and behaviors. In: Schwartz ML (ed) Encyclopedia of coastal science. Encyclopedia of earth science series. Springer, Dordrecht

Williamson A (2006) Feasibility study of a water safety data collection for beaches. J Sci Med Sport 9:243–248

Williamson A, Hatfield J, Sherker S, Brander R, Hayen A (2012) A comparison of attitudes and knowledge of beach safety in Australia for beachgoers, rural residents and international tourists. Aust N Z J Public Health 36:385–391

Woodward E, Beaumont E, Russell P, Wooler A, Macleod R (2013) Analysis of rip current incidents and victim demographics in the UK. J Coast Res SI 65:850–855
Acknowledgements
We thank the CRS headquarters for providing the forms as well as the lifeguard chiefs for filling the incident forms throughout the years. This work was assisted through funding provided by the IDEX 'Invited Scholar' scheme (Univ. Bordeaux) that brought RB in Bordeaux in fall 2014 to initiate this research. The surf zone injury report forms, which are still used at the time of writing this paper, were designed by J.M. Campagne in 1999 in close collaboration with CRS and civil lifeguards, fire brigade and coastal municipalities. BC was funded by project SONO (ANR-17-CE01-0014) from the Agence Nationale de la echerche (ANR). The data file was declared upon the Commission Nationale Informatique et Liberté (CNIL) under the number 21118123v0 according to French law. This retrospective study was authorised by local ethic committee. We thank the two anonymous reviewers for constructive comments and suggestions that improved the paper.
About this article
Cite this article
Castelle, B., Brander, R., Tellier, E. et al. Surf zone hazards and injuries on beaches in SW France. Nat Hazards 93, 1317–1335 (2018). https://doi.org/10.1007/s11069-018-3354-4
Received:

Accepted:

Published:

Issue Date:
Keywords
Surf zone hazards

Drowning

Spinal injuries

Rip currents

Shore break

Surfing