Abstract
Association of human settlements with river is a historical phenomenon; their imprints upon present-day human organizations are quite visible. The shifting of river channels sometimes creates tremendous locational hazards to the human settlements, for instance shifting of Hooghly River course resulted in the obliteration of old and emergence of new settlements. The present work is a modest attempt to investigate the morphodynamic effect of Hooghly River on a historical Chakdaha settlement. The erstwhile 'Chakradaha' an agro-based rural settlement came to exist as 'Chakdaha' town sometimes in the nineteenth century; presently, it is located in Nadia district of West Bengal, India. The ever-changing meandering course of Hooghly River in Bengal basin made a gigantic interference in the formation and deformation of settlement boundary of Chakdaha. Due to the westward shifting, remains of Hooghly River can be seen in the present form of paleo-channels which were active river beds during fifteenth to seventeenth century. The natural levees were formed simultaneously. Such levees were withstanding in early time as highlands; now the same exist as linear human settlements, namely Noada-Durgapur, Malichaghar, Raninagar, Gangaprasadpur, Doardanga, Poradanga, etc., in Nadia district. Besides, these also mark the west boundary of Chakdaha town in some places.
Access options
Buy single article
Instant access to the full article PDF.
USD 39.95
Price excludes VAT (USA)
Tax calculation will be finalised during checkout.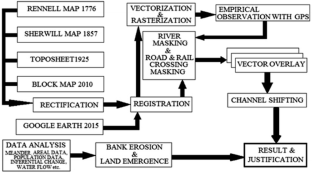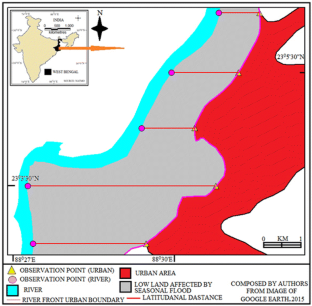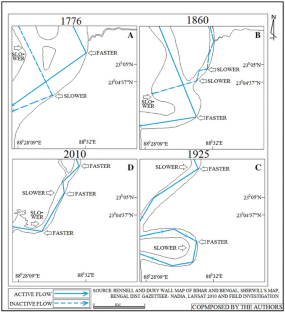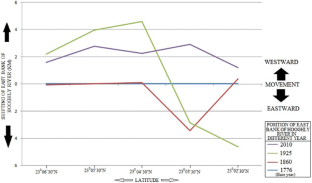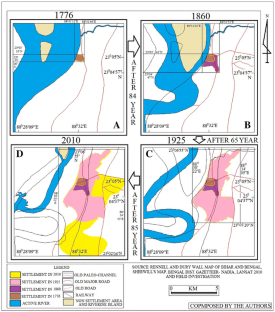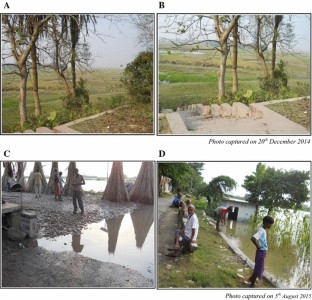 References
Basu R (2012) Impact of the River Ganga on cultural tradition of the Riparian people in West Bengal. Geogr Rev India 74(4):425–429

Basu SR, Chakraboty S (1972) Some considerations of the decay of the Bhagirathi Drainage system. In: Proceedings of the symposium on the Bhagirathi-Hooghly Basin. CU Press Kolkata, pp 59–77

Bora J, Kar BK (2013) Channel shifting and consequent socio-economic problems: the case of Aie River, Assam (India). Geogr Rev India 75(2):111–124

Colebrooke RH (1797) Chart of the Ganges from Colgong to Hurrisonkur exhibiting the state of its islands and sands during the dry season, about 90" by 25" (measure later), 1 mile to 1 inch (1:63,360). In: Royal astronomical society (eds), vol 2. London, pp 1–63

Census of India, 2011 (Retrieved from censusindia.gov.in/2011-prov results/…/1.%20Data%20Highlight.pdf. on 13.06.2013)

Craghan M (2003) Physical geography a self-teaching guide. Wiley, Hoboken, pp 187–200

Das SC (1995) Kande Marali Kande Jamuna. Laghuchanda publication, Chakdaha, West Bengal, India, (in Bengali) 11–32

Draft Development Plan of Chakdaha Municipality, from 2008–2009 to 2012–2013

Fridkin JF (1945) A laboratory study of the meandering of alluvial rivers. US Waterways Experiment Station, Vicksburg, Mississippi, 1–33

Garrett JHE (1910) Bengal District Gazetteers- Nadia. Bengal Secretariat Book Depot, Culcutta (Reprint July, 2001), 217–218

Google Earth (2015) Retrieved from http://www.gosur.com/google-earth/ on 12. 10. 2014

Guan M, Wright N, Sleigh A (2015) Effects of river morphological change on inundation modelling during extreme flood sequences. E-proceedings of the 36th IAHR World Congress 28 June–3 July, 2015, The Hague, the Netherlands 1–8

Hirst FC (1915) Report on the Nadia Rivers. Reprinted in Rivers of Bengal, by Gazetteers Deptt. in 2002, vol 3. Kolkata, pp 1–180

Hunter WW (1876) A statistical account of Bengal (Murshidabad AND Pabna), vol 9. Trubner and co, London, pp 91–97

Islam A (2013) Integrating channel instability, bank erosion and land use planning along the left Bank of River Bhagirathi in Nadia District, West Bengal. J River Res Inst-River Behav Control 34:11–26

Jenkins JT, Hanes DM (1998) Collisional sheet flows of sediment driven by a turbulent fluid. J Fluid Mech 370:29–52

Laha C (2015) Oscillation of meandering Bhagirathi on the alluvial flood plain of Bengal Basin, India; as controlled by the Palaeo-geomorphic architecture. Int J Geomat Geosci 5(4):564–572

Li W, van Maren DS, Wang ZB, de Vriend HJ, Wu B (2014) Peak discharge increase in hyper concentrated floods. Adv Water Resour 67:65–77

Majumder SS (2009) Morphometric changes of River Ganga in Post Farakka period. J River Res Inst River Behav Control 30:41–54

Mallick S (2016) Identification of Fluvio geomorphological changes and bank line shifting of river Bhagirathi-Hugli using remote sensing technique in and around of Mayapur Nabadwip Area, West Bengal. Int J Sci Res 5(3):1130–1134

Mazumder SK (2012) Breaching of Flood Embankments with Particular Reference to Kosi and Farakka Barrages in India by Individual Consultant, New Delhi (Former AICTE Emeritus Professor of Civil Engg. Delhi College of Engineering) web: www.profskmazumder.com

Mukherjee RK (1938) The changing face of Bengal. C.U Press, Kolkata, pp 15–120

Nandy A (1994) Chakratirtha Chakdahaer Itikahta. Chakdaha printing press, Chakdaha, Nadia, West Bengal, India, (in Bengali), 1–33

Panda S, Bandyopadhyay J (2011) Morphodynamic changes of Bhagirathi River at Murshidabad District using geoinformatics. J Geogr Inf Syst 3:85–97

Parua PK (1992) Stability of the banks of Bhagirathi-Hooghly River System. Ph.D thesis, Jadavpur University 119

Rennell J (1781) An account of the Ganges and Burrampooter rivers. Communicated by Joseph Banks, London, 87–114

Rosgen DL (1996) Applied river morphology. Wildland Hydrology. Pagosa Springs, Colorado. 1–380

Roy S (2015) Bank erosion, channel instability and consequent socio-economic problems: a case study of Hooghly River, West Bengal (India). J River Res Inst River Behav Control 35:75–90

Rudra K (2010) Banglar Nadikatha, Sahitto Sanghod (in Bengali). Kolkata, pp 20–23

Rudra K (2011) The Encroaching Ganga and social conflicts: the case of West Bengal, India. Department of Geography, Habra S.C. Mahavidyalaya (College), West Bengal, India. Unpublished paper 19–32

Sampat P (1996) Ganges long decline. World Watch 9:24–32

Sanyan T (2008) On the Ganga, Facts Less Known. Best Books Publication, Kolkata 70–120

Sherwill WS (1858) Report on the rivers of Bengal. Savielle printing and Publishing Co.Ltd., Kolkata, pp 1–18

Stolum HH (1996) River meandering as a self-organization process. Science, Department of Earth Sciences, University of Cambridge, Cambridge CB2 3EQ, UK. 271: 1710–1713

Walling DE (2009) the impact of global change on erosion and sediment transport by rivers: current progress and future challenges. The United Nations World Water Development Report 3, Water in a Changing World 11–13
About this article
Cite this article
Ali, M.J., Roy, S. Morphodynamic changes of Hooghly River and reorientation of Chakdaha settlement: a perspective of urban evolution (WB, India). Nat Hazards 93, 491–508 (2018). https://doi.org/10.1007/s11069-018-3311-2
Received:

Accepted:

Published:

Issue Date:

DOI: https://doi.org/10.1007/s11069-018-3311-2
Keywords