Abstract
Impact of four major cyclones: Phailin, Helen, Lehar, and Madi have been studied in terms of changes in ocean productivity utilizing Indian satellite Oceansat-2 ocean color monitor and MODIS-Aqua data during October–December 2013. The 8-day and monthly composite chlorophyll images have been generated owing to the pre-, during, and post-stages of four cyclones; out of which, three were very severe cyclonic storms and the Helen was severe cyclonic storm. The chlorophyll concentration increased two- to threefolds due to the aftereffect of cyclone in the coastal water, and the concentration was very high (around 2–3 mg/m3). To understand the possible links of cyclones to cooling and upwelling, MODIS-Aqua sea surface temperature (SST) images have been processed. The SST images have shown the cooling effect near the cyclone track pass, over Bay of Bengal. The cooling was observed by 2–3 degree Celsius during the above cyclones. To understand the in situ surface water and water column salinity and temperature variability, the Argo float data are plotted and interpreted. The surface contour shows the lowering of salinity and temperature with effects of cyclones. In addition, the Argo depth profile data have shown possible mixed layer deepening in few profiles around halocline and thermocline depths. This study will be useful for mapping potential fishing zone, ocean biogeochemistry and other useful applications and research.
Access options
Buy single article
Instant access to the full article PDF.
US$ 39.95
Tax calculation will be finalised during checkout.
Subscribe to journal
Immediate online access to all issues from 2019. Subscription will auto renew annually.
US$ 119
Tax calculation will be finalised during checkout.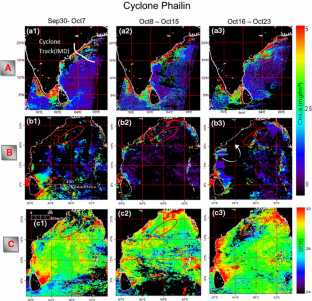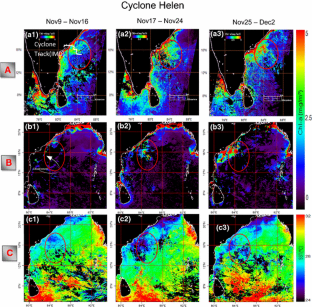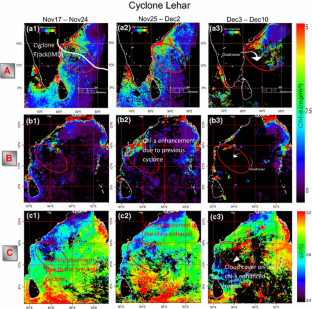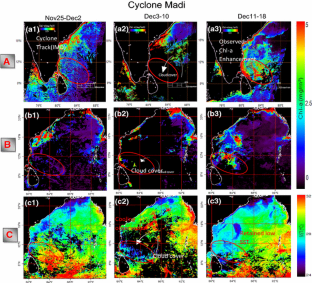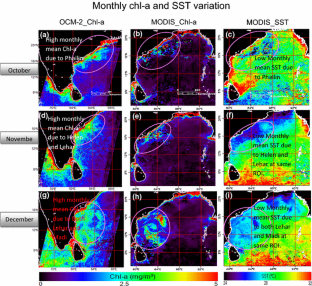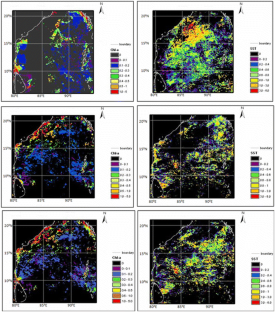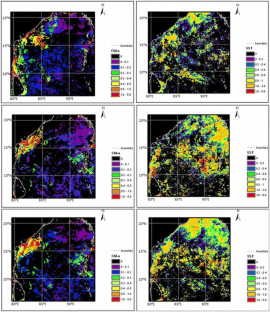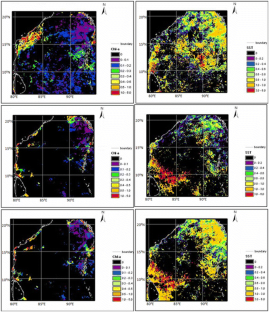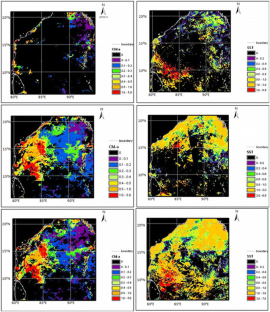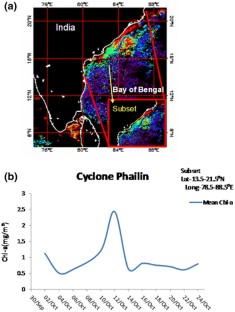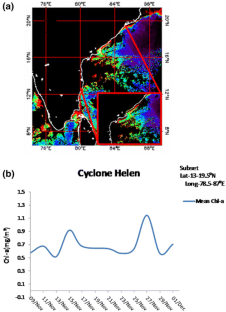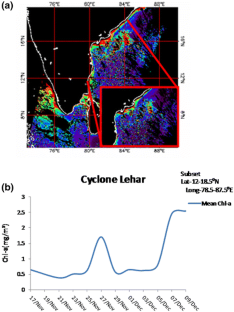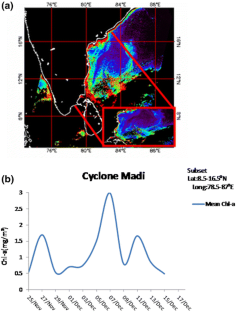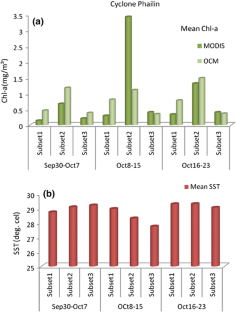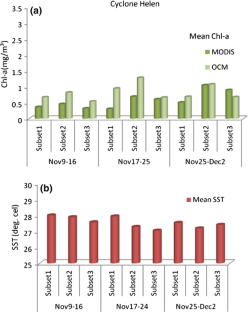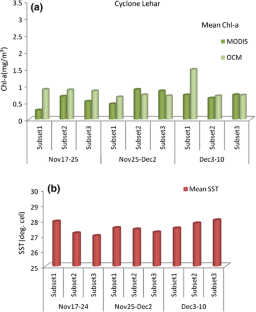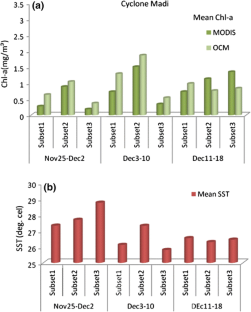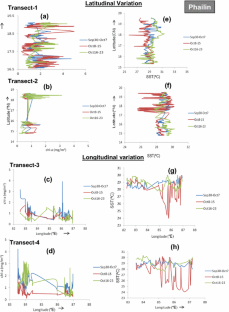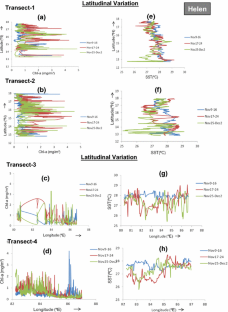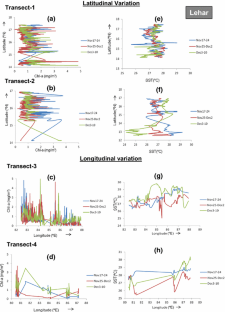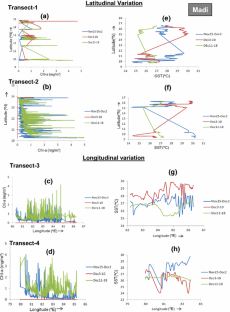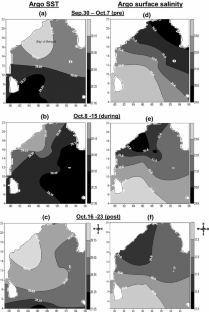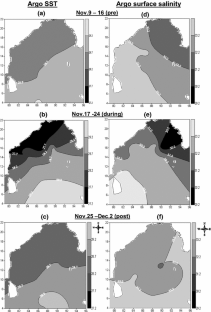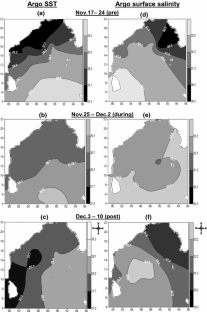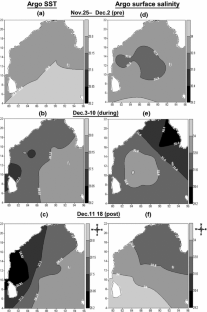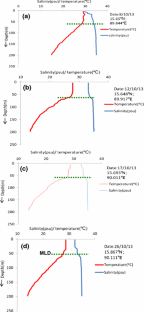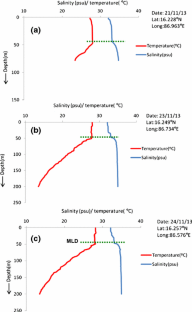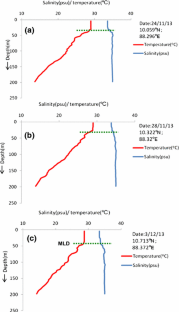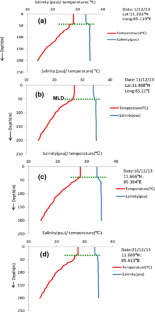 References
Babin SM, Carton JA, Dickey TD, Wiggert JD (2004) Satellite evidence of hurricane-induced phytoplankton blooms in an oceanic desert. J Geophys Res 109:C03043. https://doi.org/10.1029/2003JC001938

Banse K, English DC (2000) Geographical differences in seasonality of CZCS-derived phytoplankton pigment in the Arabian Sea for 1978-1986. Deep Sea Res 47:1623–1677

Chauhan P, Nagamani PV (2007) Algorithm Theoretical Basis Document (ATBD) for geophysical parameter retrieval using OCEANSAT-II OCM, Oceansat-II-UP-3/SAC-2007

Chauhan P, Mohan M, Sarangi RK, Kumari B, Nayak SR, Matondkar SGP (2002) Surface chlorophyll-a estimation in the Arabian Sea using IRS-P4 Ocean Colour Monitor (OCM) satellite data. Int J Remote Sens 23(8):1663–1676

Gordon HR, Wang M (1994) Retrieval of water-leaving radiance and aerosol optical thickness over the oceans with SeaWiFS: a preliminary algorithm. Appl Opt 33:443–452

Kumar SP, Byju P (2011) Physical and biological response of the Arabian Sea to tropical cyclone Phyan and its implications. Mar Environ Res 71(5):325–330

Kumar SP, Muraleedharan PM, Prasad TG, Gaun M, Ramaiah N, De Souza SN, Sardesai S, Madhupratap M (2002) Why is the Bay of Bengal less productive during summer monsoon compared to the Arabian Sea? Geophys Res Lett 29(24):2235. https://doi.org/10.1029/2002GL016013

Madhu NV, Maheswaran PA, Jyotibabu R, Sunil V, Ravichandran C, Balasubramaniam T, Gopalakrsishnaan TC, Nair KKC (2002) Enhanced biological production off Chennai triggered by October 1999 super cyclone (Orissa). Curr Sci 82(12):1472–1479

Madhupratap M, Gauns M, Ramaiah N, Kumar SP, Muraleedharan PM, De Souza SN, Sardesai S, Muraleedharan U (2003) Biogeochemistry of the Bay of Bengal: physical, chemical and primary productivity characteristics of the central and western Bay of Bengal during summer monsoon 2001. Deep Sea Res 50:881–896

Morel A, Maritorena S (2001) Bio-optical properties of oceanic waters: a reappraisal. J Geophys Res 106:7163–7180

Muller-Karger FE, Smith JP, Werner S, Chen R, Roffer M, Liu Y, Muhling B, Atichati DL, Lamkin J, Estrada SC, Enfield DB (2015) Natural variability of surface oceanographic conditions in the offshore, Gulf of Mexico. Prog Oceanogr 134:54–76. https://doi.org/10.1016/j.pocean.2014.12.007

Naik H, Naqvi SWA, Suresh T, Narvekar PV (2008) Impact of tropical cyclone on biogeochemistry of the central Arabian Sea. Glob Biogeochem Cycles 22:GB3020. https://doi.org/10.1029/2007GB003028

Nayak SR, Sarangi RK, Rajawat AS (2001) Application of IRS-P4 OCM data to study the impact of cyclone on coastal environment of Orissa. Curr Sci 80(9):1208–1213

O'Reilly JE, Maritorena S, Mitchell BG, Siegel DA, Carder KL, Garver SA, Kahru M, McClain CR (1998) Ocean color chlorophyll algorithms for SeaWiFS. J Geophys Res 103:24937–24953

Piontlovsky SA, Nezlin NP, Al-Azri A, Al-Hashmi K (2012) Mesoscale eddies and variability of chlorophyll-a in the Sea of Oman. Int J Rem Sens 33(17):5341–5346

Platt T, Sathyendranath S (1988) Oceanic primary production: estimation by remote sensing at local and regional scales. Science 241:1613–1620

Rao KH, Smitha A, Ali MM (2006) A study on cyclone induced productivity in south- western Bay of Bengal during November–December 2000 using MODIS (SST and chlorophyll-a) and altimeter sea surface height observations. Ind J Geo-Mar Sci 35(2):153–160

Sadhuram Y (2004) Record decrease of sea surface temperature following the passage of a super cyclone over the Bay of Bengal. Curr Sci 86:383–384

Sarangi RK (2011) Impact of cyclones on the Bay of Bengal chlorophyll variability using remote sensing satellites. Ind J Geo-Mar Sci 40(4):794–801

Sarangi RK, Nayak SR, Panigrahy RC (2008) Monthly variability of chlorophyll and associated physical parameters in the southwest Bay of Bengal water using remote sensing data. Ind J Geo-Mar Sci 37(3):256–266

Sarangi RK, Mishra M, Chauhan P (2015) Remote sensing observations on impact of phailin cyclone on phytoplankton distribution in northern bay of bengal. IEEE J Select Top Appl Earth Obs and Rem Sens (JSTARS) 8(2):539–549

Shanthi R, Poornima D, Raja S, Vijayabaskara SG, Thangaradjou T, Babu KN, Shukla AK (2013) Validation of OCM-2 sensor performance in retrieving chlorophyll and total suspended matter (TSM) along the southwest Bay of Bengal coast. J Earth Syst Sci 122(2):479–489

Shrinidhi S (2014) Studies on the impact of Bay of Bengal cyclones (Phailin, Helen, Lehar and Madi) on ocean chlorophyll and associated physical parameters. Master's Dissertation, Mangalore University

Solanki HU, Dwivedi RM, Nayak SR, Jadeja JV, Thankar DB, Dave HB, Patel MI (2001) Application of Ocean Colour Monitor chlorophyll and AVHRR SST for fishery forecast: preliminary validation results off Gujarat coast, north-west coast of India. Ind J Geo-Mar Sci 30:132–138

Srinivasa KT, Nayak SR, Mupparthy RS, Nagaraja KM (2009) Phytoplankton bloom due to Cyclone Sidr in the central Bay of Bengal. J Appl Remote Sens 3(1):033547

Subramanian V (1993) Sediment load of Indian Rivers. Curr Sci 64:928–930

Subrahmanyam B, Rao KH, Rao NS, Murthy VSN (2002) Influence of a tropical cyclone on chlorophyll-a concentration in the Arabian Sea. Geophys Res Lett 29(22):1–22. https://doi.org/10.1029/2002GL015892

Tomczak M, Godfrey JS (1994) Regional Oceanography: An Introduction. Pergamon, London

Tripathy M, Raman M, Dwivedi RM, Ajai (2012) Frequency of cyclonic disturbances and changing productivity patterns in the north indian ocean region: a study using sea surface temperature and ocean colour data. Int J Geosci 3(3):490

Vinayachandran PN, Mathew S (2003) Phytoplankton bloom in the Bay of Bengal during the northeast monsoon and its intensification by cyclones. Geophys Res Lett 30(11):1572. https://doi.org/10.1029/2002GL016717

Vinayachandran PN, Murty VSN, Ramesh Babu V (2002) Observations of barrier layer formation in the Bay of Bengal. J Geophys Res 107(C12):8018. https://doi.org/10.1029/2001JC000831

Werdell PJ, Bailey SW, Fargion G, Pietras C, Knobelspiesse K, Feldman G et al (2003) Unique data repository facilitates ocean color satellite validation. EOS Trans 84(38):377–392

Yoder JA (2000) An overview of temporal and spatial patterns in satellite-derived chlorophyll imagery and their relation to ocean processes. In: Halpern D (ed) Satellites, oceanography and society. Elsevier Science BV, Amsterdam, pp 225–228
Acknowledgements
We are thankful to Dr. J. S. Parihar, former Deputy Director, EPSA and Director, Space Applications Centre, Ahmedabad, for necessary guidance and facilities for carrying out this work.
About this article
Cite this article
Sarangi, R.K., Shrinidhi, S.K., Chauhan, P. et al. Remote sensing and in situ platform based study on impact of Bay of Bengal cyclones (Phailin, Helen, Lehar, and Madi) on ocean chlorophyll and associated physical parameters. Nat Hazards 93, 413–451 (2018). https://doi.org/10.1007/s11069-018-3307-y
Received:

Accepted:

Published:

Issue Date:
Keywords
Cyclones impact

Chlorophyll

Ocean productivity

SST

Bay of Bengal