Abstract
The cyclones over Bay of Bengal (BoB) have varied socio-economic impacts and meteorological importance. There are considerable uncertainties in predicting the track and intensity of cyclonic systems in the BoB. The present study examines the cyclogenesis characteristics over the BoB and addresses the regional impacts and their importance in terms of intensification of cyclones. An analysis of cyclone track data from 1971–2013 reveals that the cyclones generated in Andaman Sea (a regional sea of BoB) and propagating through central BoB sustain maximum life time. Furthermore, within the BoB, the cyclones originated from Andaman Sea are the most intensified and characterized by highest cyclogenesis potential index. Interestingly, we have found that higher value of mid-tropospheric relative humidity over Andaman Sea during the cyclone period is enhancing the cyclone's intensity. Climatologically also the Andaman Sea is dominated by higher values of mid-tropospheric relative humidity compared to other regions of BoB. There is no significant distinction between Andaman Sea and rest of the BoB for other meteorological and oceanic parameters that supports cyclogenesis. Climatologically dominant east–west asymmetry in mid-tropospheric relative humidity is enhancing the intensity of cyclones from Andaman Sea. The results will be helpful in understanding the processes of cyclone intensification and useful in the statistical and dynamical prediction of cyclones.
Access options
Buy single article
Instant access to the full article PDF.
USD 39.95
Price excludes VAT (USA)
Tax calculation will be finalised during checkout.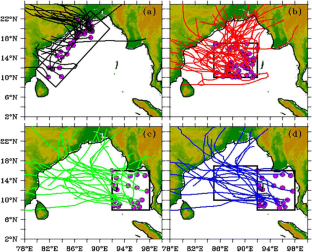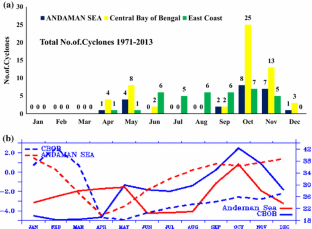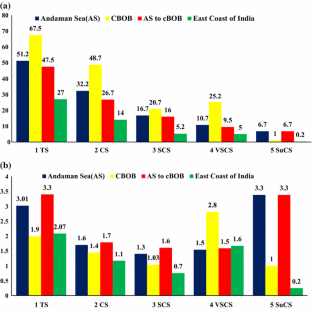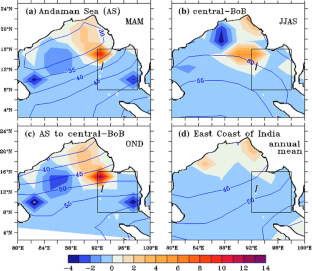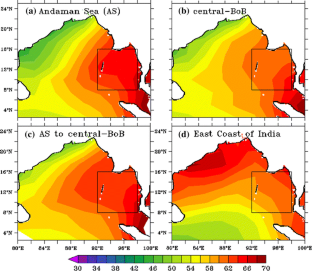 References
Balaguru K, Chang P, Saravanan R, Leung LR, Xu Z, Li M, Hsieh JS (2012) Ocean barrier layers' effect on tropical cyclone intensification. PNAS 109(36m):14343–14347

DeMaria M (1996) The effect of vertical shear on tropical cyclone intensity change. J Atmos Sci 53:2076–2088. https://doi.org/10.1175/1520-0469(1996)053%3C2076:TEOVSO%3E2.0.CO;2

Emanuel K, DesAutels C, Holloway C, Korty R (2004) Environmental Control of Tropical Cyclone Intensity. J Atmos Sci 61:843–858. https://doi.org/10.1175/1520-0469(2004)061%3C0843:ECOTCI%3E2.0.CO;2

Hendricks EA, Peng MS, Fu B, Li T (2010) Quantifying environmental control on tropical cyclone intensity change. Mon Weather Rev 138:3243–3271. https://doi.org/10.1175/2010MWR3185.1

Kalnay E, Kanamitsu M, Kistler R, Collins W, Deaven D, Gandin L, Iredell M, Saha S, White G, Woollen J, Zhu Y, Chelliah M, Ebisuzaki W, Higgins W, Janowiak J, Mo KC, Ropelewski C, Wang J, Leetmaa A, Reynolds R, Jenne R, Joseph D (1996) The NCEP/NCAR 40-year reanalysis project. Bull Am Meteorol Soc 77:437–471

Kaplan J, DeMaria M, Knaff JA (2010) A revised tropical cyclone rapid intensification index for the Atlantic and eastern North Pacific basins. Weather Forecast 25:220–241. https://doi.org/10.1175/2009WAF2222280.1

Kimball SK (2006) A modeling study of hurricane landfall in a dry environment. Mon Weather Rev 134:1901–1918

Kotal SD, Kundu PK, Roy Bhowmik SK (2009) Analysis of cyclogenesis parameter for developing and non developing low-pressure systems over the Indian Sea. Nat Hazards 50:389–402. https://doi.org/10.1007/s11069-009-9348-5

McPhaden MJ, Foltz GR, Lee T, Murty VSN, Ravichandran M, Veechi GA, Vialard J, Wiggert JD, Yu L (2009) Ocean-atmosphere interactions during cyclone Nargis. EOS Trans AGU 90(7):53–60

Sadhuram Y, Maneesha K, Suneetha P (2017) A simple method to forecast the frequency of depressions and cyclones over Bay of Bengal during summer monsoon season. Atmos Phys Meteorol. https://doi.org/10.1007/s00703-017-0511-3

Sprintall J, Tomczak M (1992) Evidence of the barrier layer in the surface layer of the tropics. J Geophys Res 97:7305–7316

Sreenivas P, Gnanaseelan C (2014) Impact of oceanic processes on the life cycle of severe cyclonic storm Jal. IEEE Geosci Remote Sens Lett. https://doi.org/10.1109/LGRS.2013.2271512

Sreenivas P, Gnanaseelan C, Prasad KVSR (2012a) Influence of El Niño and Indian Ocean dipole on sea level variability in the Bay of Bengal. Glob Planet Change 80(81):215–225

Sreenivas P, Chowdary JS, Gnanaseelan C (2012b) Impact of tropical cyclones on the intensity and phase propagation of fall Wyrtki jets. Geophys Res Lett 39(22):L22603

Suga T, Motoki K, Aoki Y, Macdonald AM (2004) The North Pacific climatology of winter mixed layer and mode waters. J Phys Oceanogr 34:3–22

Sun DL, Kafatos M, Cervone G, Boybeyi Z, Yang RX (2007) Satellite microwave detected SST anomalies and hurricane intensification. Nat Hazards 43(2):273–284. https://doi.org/10.1007/s11069-006-9099-5

Webster PJ (2008) Myanmar's deadly daffodil. Nat Geosci 1(8):488–490

Wu L, Su H, Fovell RG, Wang B, Shen JT, Kahn BH, Hristova-Veleva SM, Lambrigtsen BH, Fetzer EJ, Jiang JH (2012) Relationship of environmental relative humidity with North Atlantic tropical cyclone intensity and intensification rate. Geophys Res Lett 39:L20809. https://doi.org/10.1029/2012GL053546

Zehr RM (2003) Environmental Vertical Wind Shear with Hurricane Bertha (1996). Weather Forecast 18:345–356. https://doi.org/10.1175/1520-0434(2003)018%3C0345:EVWSWH%3E2.0.CO;2
Acknowledgements
We acknowledge the support of the Director, IITM. We acknowledge the use of cyclones best track data from JTWC in this study. We thank NCEP/NCAR and ERAI for making available the reanalysis products. We also thank NOAA for the WOA data used in this study. Most of the figures are prepared using Ferret software.
About this article
Cite this article
Pentakota, S., Vivek, S. & Seshagiri Rao, K. Role of Andaman Sea in the intensification of cyclones over Bay of Bengal. Nat Hazards 91, 1113–1125 (2018). https://doi.org/10.1007/s11069-018-3170-x
Received:

Accepted:

Published:

Issue Date:

DOI: https://doi.org/10.1007/s11069-018-3170-x
Keywords