Abstract
The factors that explain the speed of recovery after disaster remain contested. While many have argued that physical infrastructure, social capital, and disaster damage influence the arc of recovery, empirical studies that test these various factors within a unified modeling framework are few. We conducted a mail survey to collect data on household recovery in four small towns in southern Indiana that were hit by deadly tornadoes in March 2012. The recovery effort is ongoing; while many of the homes, businesses, and community facilities were rebuilt in 2013, some are still under construction. We investigate how households in these communities are recovering from damage that they experienced and the role of social capital, personal networks, and assistance from emergency responders on the overall recovery experience. We used an ordered probit modeling framework to test the combined as well as relative effects of (a) damage to physical infrastructures (houses, vehicles, etc.); (b) recovery assistance from emergency responders (FEMA) as well as friends and neighbors; (c) personal network characteristics (size, network density, proximity, length of relationship); (d) social capital (civic engagement, contact with neighbors, trust); and (e) household characteristics. Results show that while households with higher levels of damage experienced slower recovery, those with recovery assistance from neighbors, stronger personal networks, and higher levels of social capital experienced faster recovery. The insights gained in this study will enable emergency managers and disaster response personnel to implement targeted strategies in facilitating post-disaster recovery and community resilience.
This is a preview of subscription content, log in to check access.
Access options
Buy single article
Instant access to the full article PDF.
US$ 39.95
Price includes VAT for USA
Subscribe to journal
Immediate online access to all issues from 2019. Subscription will auto renew annually.
US$ 199
This is the net price. Taxes to be calculated in checkout.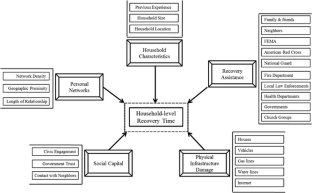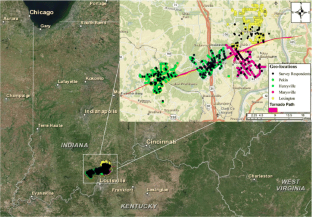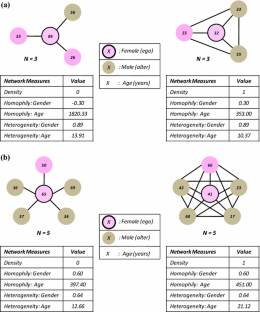 References
Adger WN (2000) Social and ecological resilience: are they related? Prog Hum Geogr 24(3):347–364

Adger WN (2010) Social capital, collective action, and adaptation to climate change. Econ Geogr 79:4

Adger WN, Hughes TP, Folke C, Carpenter SR, Rockström J (2005) Social-ecological resilience to coastal disasters. Science 309(5737):1036–1039

Aldrich DP (2010) Fixing recovery, social capital in post-crisis resilience. J Homeland Secur 6:1–10

Aldrich DP (2011) The externalities of strong social capital, post-tsunami recovery in Southeast India. J Civil Soc 7:81–99. https://doi.org/10.1080/17448689

Aldrich DP (2012a) Building resilience: Social capital in post-disaster recovery. University of Chicago Press, Chicago

Aldrich DP (2012b) Social, not physical, infrastructure: the critical role of civil society after the 1923 Tokyo earthquake. Disasters 36(3):398–419

Aldrich DP, Crook K (2008) Strong civil society as a double-edged sword: siting trailers in post-katrina New Orleans. Polit Res Q 61(3):379–389

Aldrich DP, Sawada Y (2015) The physical and social determinants of mortality in the 3.11 tsunami. Soc Sci Med 124:66–75

Andrews AC, Clawson RA, Gramig BM, Raymond L (2013) Why do farmers adopt conservation tillage? An experimental investigation of framing effects. J Soil Water Conserv 68(6):501–511

Bailey S, Marsden PV (1999) Interpretation and interview context: examining the general social survey name generator using cognitive methods. Soc Netw 21(3):287–309

Baker EJ (1991) Hurricane evacuation behavior. Int J Mass Emerg Disasters 9(2):287–310

Bastani S (2007) Family comes first: men's and women's personal networks in Tehran. Soc Netw 29:357–374

Ben-Akiva M, Lerman S (1985) Discrete choice analysis. MIT Press, Cambridge

Bjørnskov, C., and Svendsen, G.T. (2003). Measuring social capital–Is there a single underlying explanation? (No. 03–5)

Bolin R, Stanford L (1998) The northridge earthquake: community-based approaches to unmet recovery needs. Disasters 22(1):21–38

Borgatti, S.P. (2009). E-Net 0.023 [Computer program]. Harvard, MA: Analytic Technologies

Borgatti SP, Halgin DS (2011) On network theory. Organ Sci 22(5):1168–1181

Borgatti SP, Halgin DS (2012) An introduction to personal network analysis and Tie Churn statistics using E-NET. Connections 32(1):37–48

Borgatti SP, Jones C, Everett MG (1998) Network measures of social capital. Connections 21(2):27–36

Brewer DD (2000) Forgetting in the recall-based elicitation of personal and social networks. Soc Netw 22(1):29–43

Burt RS (1984) Network items and the general social survey. Soc Netw 6(4):293–339

Burt RS (2000) The network structure of social capital. In: Sutton Robert, Staw Barry (eds) Research in organizational behavior greenwich. JAI Press, CT, pp 345–423

Carrasco, J. A., Bustos, C., and Cid-Aguayo, B. (2013) Affective personal networks versus daily contacts: analyzing different name generators in an social activity-travel behaviour context. In Transport survey methods: best practice for decision making, pp. 409–426

Chamlee-Wright E (2010) The Cultural and political economy of eecovery: social learning in a post-disaster environment. Routledge 2010:12

Cutter SL, Boruff BJ, Shirley WL (2003) Social vulnerability to environmental hazards. Soc Sci Q 84(2):242–261

Dacy D, Kunreuther H (1969) The economics of natural disasters: implications for federal policy. The Free Press, New York

DeJordy R, Halgin D (2008) Introduction to ego network analysis. Boston College and the Winston Center for Leadership and Ethics, Academy of Management PDW, Massachusetts

Dillman DA (2007) Mail and internet surveys: the tailored design method, 2nd edn. Wiley, New York

Dillman DA, Smyth JD, Christian LM (2014) Internet, phone, mail, and mixed-mode surveys: the tailored design method. Wiley, New York

Dixit VV, Wilmot C, Wolshon B (2012) Modeling risk attitudes in evacuation departure choices. Trans Res Rec: J Trans Res Board 2312(2012):159–163

Duncan C, Khattak A, Council F (1999) Applying the ordered probit model to injury severity in truck-passenger car rear-end collisions, vol. 1635 (pp. 63–71). Transportation Research Board, National Research Council, Washington, DC

Dynes, R. (2006). Social capital: dealing with community emergencies. Homeland Security Affairs, 2(2)

Elliott JR, Haney TJ, Sams-Abiodun P (2010) Limits to social capital: comparing network assistance in two New Orleans neighborhoods devastated by Hurricane Katrina. Sociolog Q 51(4):624–648

Fischer CS (1982) To dwell among friends: personal networks in town and city. University of Chicago, Chicago

Gaziano C (2005) Comparative analysis of within-household respondent selection techniques. Public Opinion Quarterly 69(1):124–157

Granovetter M (1973) The strength of weak ties. Am J Sociol 78(6):1360–1380

Greene W (1997) Econometric analysis, 3rd edn. Macmillan, New York

Grootaert, C., Narayan, D., Jones, V. N., and Woolcock, M. (2003). Integrated questionnaire for the measurement of social capital. The World Bank Social Capital Thematic Group

Hasan S, Ukkusuri SV, Gladwin H, Murray-Tuite P (2011) A behavioral model to understand household-level hurricane evacuation decision making. J Trans Eng 137(5):341–348

Hawkins RL, Maurer K (2010) Bonding, bridging and linking: how social capital operated in New Orleans following Hurricane Katrina. Br J Soc Work 40(6):1777–1793

Haythornthwaite C (2005) Social networks and internet connectivity effects. Inf Commun Soc 8(2):125–147

Ibarra H (1993) Network centrality, power, and innovation involvement: determinants of technical and administrative roles. Acad Manag J 36:471–501

Jones EC, Faas AJ, Murphy AD, Tobin GA, Whiteford LM, McCarty C (2013) Cross-cultural and site-based influences on demographic, well-being, and social network predictors of risk perception in hazard and disaster settings in Ecuador and Mexico. Hum Nat 24(1):5–32

Kamel N, Loukaitou-Sideris A (2004) Residential assistance and recovery following the Northridge earthquake. Urban Studies 41(3):533

Kowald M, Frei A, Hackney JK, Illenberger J, Axhausen KW (2010) Collecting data on leisure travel: the link between leisure contacts and social interactions. Procedia-Soc Behav Sci 4:38–48

Krackhardt D, Stern RN (1988) Informal networks and organizational crises: an experimental simulation. Soc Psychol Q 51(2):123–140

Laumann EO (1966) Prestige and association in an urban community. Bobbs-Merrill, New York

Laumann EO (1973) Bonds of pluralism: The form and substance of urban social networks. Wiley, New York

Link MW, Battaglia MP, Frankel MR, Osborn L, Mokdad AH (2008) A comparison of address-based sampling (ABS) versus random-digit dialing (RDD) for general population surveys. Public Opin Q 72(1):6–27

Lozares, C., Verd, J. M., Cruz, I., and Barranco, O. (2013). Homophily and heterophily in personal networks. From mutual acquaintance to relationship intensity. Quality and Quantity, 1–14

Marin A (2004) Are respondents more likely to list alters with certain characteristics? Implications for name generator data. Soc Netw 26(4):289–307

Marin A, Hampton KN (2007) "Simplifying the personal network name generator alternatives to traditional multiple and single name generators. Field Methods 19(2):163–193

Mathbor GM (2007) Enhancement of community preparedness for natural disasters the role of social work in building social capital for sustainable disaster relief and management. Int Soc Work 50(3):357–369

McKelvey W, Zavoina T (1975) A statistical model for analysis of ordinal level dependent variables. J Math Sociol 4(1):103–120

McPherson M, Smith-Lovin L, Cook JM (2001) Birds of a feather: homophily in social networks. Ann Rev Sociol 27:415–444

Monge P, Contractor N (2003) Theories of communication networks. Oxford University Press, Oxford

Murphy BL (2007) Locating social capital in resilient community-level emergency management. Nat Hazards 41(2):297–315

Murray-Tuite PM, Mahmassani HS (2004) Methodology for Determining Vulnerable Links in a Transportation Network. Trans Res Rec: J Trans Res Board 1882(1):88–96

Nakagawa Y, Shaw R (2004) Social capital: a missing link to disaster recovery. Int J Mass Emerg Disasters 22(1):5–34

Natioanal Ocean Service website, 2016. What is resilience? Retrieved May 20, 2016 from <http://oceanservice.noaa.gov/facts/resilience.html>

National Research Council (2012) Disaster resilience: A national imperative. The National Academies Press, Washington, DC

NOAA National Centers for Environmental Information (2013). State of the climate: Tornadoes for annual 2012. Retrieved on March 28, 2017 from http://www.ncdc.noaa.gov/sotc/tornadoes/201213

Norris FH, Stevens SP, Pfefferbaum B, Wyche KF, Pfefferbaum RL (2008) Community resilience as a metaphor, theory, set of capacities, and strategy for disaster readiness. Am J Commun Psychol 41(1–2):127–150

Park N, Lee S, Kim JH (2012) Individuals' personal network characteristics and patterns of Facebook use: a social network approach. Comput Hum Behav 28(5):1700–1707

Peacock, W. G., Grover, H., Mayunga, J., Van Zandt, S., Brody, S. D., Kim, H. J., & Center, R. (2011). The status and trends of population social vulnerabilities along the Texas Coast with special attention to the Coastal Management Zone and Hurricane Ike: The Coastal Planning Atlas and Social Vulnerability Mapping Tools. Hazard Reduction & Recovery Center, 1–56

Putnam RD (1995) Bowling alone: America's declining social capital. J Democr 6(1):65–78

Putnam, R. D. (2001). Bowling alone: the collapse and revival of American community. Simon and Schuster

Quarantelli, E. L., & Dynes, R. R. (1977). Response to social crisis and disaster. Annual review of sociology, 23–49

Sadri AM, Ukkusuri SV, Murray-Tuite P, Gladwin H (2013a) How to evacuate: model for understanding the routing strategies during hurricane evacuation. J Trans Eng 140(1):61–69

Sadri AM, Ukkusuri SV, Murray-Tuite P (2013b) A random parameter ordered probit model to understand the mobilization time during hurricane evacuation. Trans Res Part C: Emerg Technol 32:21–30

Sadri AM, Ukkusuri SV, Murray-Tuite P, Gladwin H (2014) Analysis of hurricane evacuee mode choice behavior. Trans Res Part C: Emerg Technol 48:37–46

Sadri AM, Lee S, Ukkusuri SV (2015a) Modeling social network influence on joint trip frequency for regular activity travel decisions. Trans Res Rec: J Trans Res Board 2495:83–93

Sadri AM, Ukkusuri SV, Murray-Tuite P, Gladwin H (2015b) Hurricane evacuation route choice of major bridges in Miami Beach, Florida. Trans Res Rec: J Trans Res Board 2532:164–173

Sadri AM, Ukkusuri SV, Gladwin H (2017a) The role of social networks and information sources on hurricane evacuation decision-making. Nat Hazards Rev 18(3):04017005

Sadri, A. M., Ukkusuri, S. V. and Gladwin, H. (2017b). Modeling joint evacuation decisions in social networks: The case of Hurricane Sandy. J Choice Model (in press)

Sadri, A. M., Hasan, S., Ukkusuri, S. V. and Cebrian, M. (2017c). Crisis Communication Patterns in Social Media during Hurricane Sandy. arXiv preprint arXiv:1710.01887

Sadri, A. M., Hasan, S., Ukkusuri, S.V. and Cebrian, M. (2017d). Understanding Information Spreading in Social Media during Hurricane Sandy: User Activity and Network Properties. arXiv preprint arXiv:1706.03019

Shaw R, Goda K (2004) From disaster to sustainable civil society: the Kobe experience. Disasters 28(1):16–40

Storr VH, Haeffele-Balch S (2012) Post-disaster community recovery in heterogeneous, loosely connected communities. Rev Soc Econ 70(3):295–314

Ukkusuri SV, Yushimito WF (2008) Location routing approach for the humanitarian prepositioning problem. Trans Res Rec: J Trans Res Board 2089(1):18–25

Ukkusuri SV, Mathew TV, Waller ST (2007) Robust networks design model using multi objective evolutionary algorithms. Comput Aided Civil Infrastruct Eng 22(1):9–21

Ukkusuri S, Zhan X, Sadri A, Ye Q (2014) Use of social media data to explore crisis informatics: study of 2013 Oklahoma Tornado. Trans Res Rec: J Trans Res Board 2459:110–118

Van Zandt S, Peacock WG, Henry DW, Grover H, Highfield WE, Brody SD (2012) Mapping social vulnerability to enhance housing and neighborhood resilience. Housing Policy Debate 22(1):29–55

Wachtendorf, T., and Kendra, J. M. (2004). Considering convergence, coordination, and social capital in disasters. Disaster Research Center, University of Delaware. Preliminary Paper #342a. Accessed May 19, 2016 from < http://udspace.udel.edu/handle/19716/737>

Washington S, Karlaftis M, Mannering F (2011) Statistical and econometric methods for transportation data analysis, 2nd edn. CRC Press, Boca Raton

Wasserman S, Faust K (1994) "Social network analysis: Methods and applications. Cambridge University Press, New York

Wellman B (1979) The community question: the intimate networks of East Yorkers. Am J Sociol 84:1201–1231

Wellman B (1999) Networks in the global village. Westview Press, Boulder, p 1999

Yamamura E (2010) Effects of interactions among social capital, income and learning from experiences of natural disasters: a case study from Japan. Reg Stud 44(8):1019–1032

Ye Q, Ukkusuri SV (2015) Resilience as an objective in the optimal reconstruction sequence for transportation networks. J Trans Saf Secur 7(1):91–105
Acknowledgements
This study was funded by an Andrew W. Mellon Foundation grant to Purdue University to address grand challenges through supporting interdisciplinary collaborations, especially between the liberal arts and STEM disciplines. The second and third authors' work is partially funded by the NSF grant 1638311. The authors are grateful for this support. The authors would also like to acknowledge two students from Courtney Page of Purdue University, Indiana, and Pedro Henrique dos Reis Rezende of FUMEC University, Brazil, for their participation in the earlier part of the project. The authors are also grateful to the reviewers' valuable comments, which improved the manuscript. However, the authors are solely responsible for the findings presented in this study.
Appendix
Appendix
See Figs. 5, 6, 7, 8, 9, 10, 11, 12, 13, 14 and Tables 5, 6, 7, 8, 9.
About this article
Cite this article
Sadri, A.M., Ukkusuri, S.V., Lee, S. et al. The role of social capital, personal networks, and emergency responders in post-disaster recovery and resilience: a study of rural communities in Indiana. Nat Hazards 90, 1377–1406 (2018). https://doi.org/10.1007/s11069-017-3103-0
Received:

Accepted:

Published:

Issue Date:
Keywords
Social capital

Personal networks

Emergency responders

Resilience

Post-disaster recovery

Ordered probit