Abstract
Damage and destruction to schools from climate-related disasters can have significant and lasting impacts on curriculum and educational programs, educational attainment, and future income-earning potential of affected students. As such, assessing the potential impact of hazards is crucial to the ability of individuals, households, and communities to respond to natural disasters, extreme events, and economic crises. Yet, few studies have focused on assessing the vulnerability of schools in coastal regions of the USA. Using Hurricane Ike's tropical storm wind swath in the State of Texas as our study area, we: (1) assessed the spatial distribution patterns of school closures and (2) tested the relationship between school closure and vulnerability factors (namely physical exposure and school demographics) using zero-inflated negative binomial regression models. The regression results show that higher probabilities of hurricane strikes, more urbanized school districts, and school districts located in coastal counties on the right side of Ike's path have significant positive associations with an increase in the number of school closure days. Socioeconomic characteristics were not significantly associated with the number of days closed, with the exception of proportion of Hispanic youth in schools, a result which is not supported by the social vulnerability literature. At a practical level, understanding how hurricanes may adversely impact schools is important for developing appropriate preparedness, mitigation, recovery, and adaptation strategies. For example, school districts on the right side of the hurricane track can plan in advance for potential damage and destruction. The ability of a community to respond to future natural disasters, extreme events, and economic crises depends in part on mitigating these adverse effects.
Access options
Buy single article
Instant access to the full article PDF.
US$ 39.95
Tax calculation will be finalised during checkout.
Subscribe to journal
Immediate online access to all issues from 2019. Subscription will auto renew annually.
US$ 119
Tax calculation will be finalised during checkout.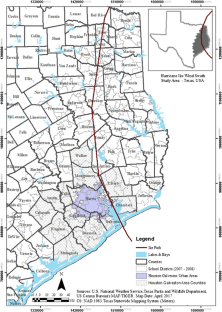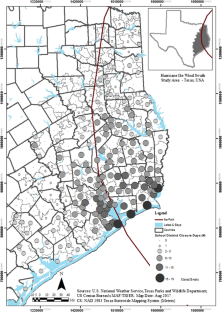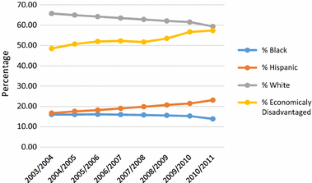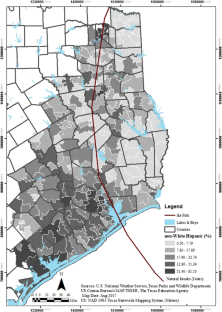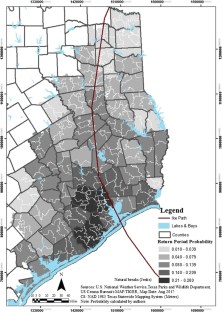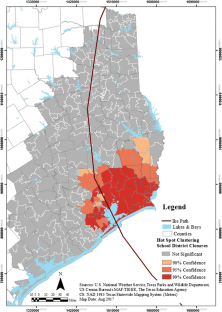 Notes
1.

Tropical storm minimum sustained wind speed is 34 miles per hour (NOAA 2017).

2.

Mean 3.6, standard deviation 4.2.

3.

4.

To measure the degree to which school district closure days were spatially correlated, we used a weighted distance of k-nearest neighbor. Through a spatial weight matrix, we set k as 3 nearest schools districts for a district under observation. The decision to use a spatial weighted matrix of k-nearest neighbor was due to the heavily skewed nature of school closure days within the study area. The district school closure days variable has a high degree of right skewness (1.11, SE = 0.14) and a kurtosis of 0.50 (SE = 0.28). The median number of school district closure days was 2, with an interquartile range of 6 days. A negative clustering statistic would indicate a significantly (p < 0.05) dispersed spatial pattern of school district closures. A positive statistic would indicate underlying clustering of school district closures. Where no pattern exists with school district closures, the Global Moran's I would yield an insignificant statistic. The Global Moran's I was significantly positive at 0.72 (z-score = 16.21; p < 0.001) under the spatial weighted matrix using k-nearest neighbor.

5.

Overdispersion was tested using dispersiontest() in the 'AES' package, as well as glm.nb with a quasi-Poisson distribution, in RStudio 1.0.136.

6.

The Vuong test is a commonly used method to determine whether a ZINB regression better fits the data than a GLM with a negative binomial distribution (Long and Freese 2006). The Vuong test indicates a p value < 0.05, rejecting the null hypothesis that zero-inflated Poisson regression is most appropriate. However, Wilson (2015) warns that Vuong may not be the appropriate test because of an error in the non-nested model assumption. The results are similar across four model distribution specifications (i.e., Poisson, negative binomial, ZIP, ZINB).
References
Altonji JG, Mansfield R (2011) The contribution of family, school and community characteristics to inequality in education and labor market outcomes. In: Duncan G, Murnane R (eds) Whither opportunity? Rising inequality and the uncertain life chances of low-income children. Russell Sage Foundation, New York, pp 339–359

Barrett EJ, Ausbrooks CYB, Martinez-Cosio M (2008) The school as a source of support for Katrina-evacuated youth. Child Youth Environ 18(1):202–236

Beckett S, Jee J, Ncube T, Pompilus S, Washington Q, Singh A, Pal N (2014) Zero-inflated Poisson (ZIP) distribution: parameter estimation and applications to model data from natural calamities. Involv J Math 7(6):751–767

Biesk A (2017) Lumberton still recovering six months after Matthew. WMBF News 6 April 2017. Retrieved May 2017 from http://www.wlox.com/story/35091231/lumberton-still-recovering-six-months-after-matthew

Birkmann J, Welle T (2015) Assessing the risk of loss and damage: exposure, vulnerability and risk to climate-related hazards for different country classifications. Int J Glob Warm 8(2):191–212

Brody S (2012) Land-use change and increased vulnerability. In: Bedient PB (ed) Lessons from Hurricane Ike. Texas A&M University Press, College Station, pp 138–155

Convery I, Carroll B, Balogh R (2010) 'Getting the kids back to school': education and the emotional geographies of the 2007 Hull floods. J Flood Risk Manag 3:99–111

Convery I, Carroll B, Balogh R (2014) Flooding and schools: experiences in Hull in 2007. Disasters 39(1):146–165

Cutter SL, Boruff BJ, Shirley WL (2003) Social vulnerability to environmental hazards. Soc Sci Q 84(2):242–261

Cutter SL, Burton CB, Emrich CT (2010) Disaster resilience indicators for benchmarking baseline conditions. J Homel Secur Emerg Manag 7(1):1–22

Czajkowski J, Done J (2014) As the wind blows? Understanding hurricane damages at the local level through a case study analysis. Weather Clim Soc 6:202–217

Dow K, Downing TE (1995) Vulnerability research: where things stand. Hum Dimens Q 1:3–5

Dunn EC, Milliren CE, Evans CR, Subramanian SV, Richmond TK (2015) Disentangling the relative influence of schools and neighborhoods on adolescents' risk for depressive symptoms. Am J Public Health 105(4):732–740

Eisele-Dyrli K (2013, September) Decade of recovery: New Orleans schools show progress. District Administration. Retrieved December 9, 2015, from http://www.districtadministration.com/article/decade-recovery-new-orleans-schools-show-progress

Engec N (2006) Relationship between mobility and student performance and behavior. J Educ Res 99(3):167–178. doi:10.3200/JOER.99.3.167-178

Esnard A-M, Sapat A, Mitsova D (2011) An index of relative displacement risk to hurricanes. Nat Hazards 59(2):833–859

FEMA (Federal Emergency Management Agency) (2016) Disaster housing assistance. FEMA.Gov Data Visualization Datasets—December 19th, 2016. Retrieved March 25, 2017, from https://www.fema.gov/media-library/assets/documents/106308

Fothergill A, Peek L (2004) Poverty and disasters in the United States: a review of recent sociological findings. Nat Hazards 32(1):89–110

Fothergill A, Peek L (2015) Children of Katrina. University of Texas Press, Austin

French MT, Homer JF, Popovici I, Robins PK (2014) What you do in high school matters: high school GPA, educational attainment, and labor market earnings as a young adult. East Econ J 41(3):370–386. doi:10.1057/eej.2014.22

Getis A, Ord JK (1992) The analysis of spatial association by use of distance statistics. Geogr Anal 24(3):189–206

Gladwell M (2015, August 24) Starting over: many Katrina victims left home for good. What can we learn from them? The New Yorker. Retrieved January 14, 2016, from http://www.newyorker.com/magazine/2015/08/24/starting-over-dept-of-social-studies-malcolm-gladwell

Guikema SP, Quiring SM (2012) Hybrid data mining-regression for infrastructure risk assessment based on zero-inflated data. Reliab Eng Syst Saf 99:178–182 http://www.sciencedirect.com/science/article/pii/S0951832011002304

Hango DW (2006) The long-term effect of childhood residential mobility on educational attainment. Sociol Q 47(4):631–664

Hazards and Vulnerability Research Institute (HVRI) (2016) Spatial hazards events and losses database for the United States, version 15.0. [Online Database]. Metadata. Hazard and Vulnerability Research Institute, University of South Carolina, Columbia

Heid AR, Pruchno R, Cartwright FP, Wilson-Genderson M (2016) Exposure to Hurricane Sandy, neighborhood collective efficacy, and post-traumatic stress symptoms in older adults. Aging Mental Health. doi:10.1080/13607863.2016.1154016

Herd P (2010) Education and health in late-life among high school graduates: cognitive versus psychological aspects of human capital. J Health Soc Behav 51(4):478–496. doi:10.1177/0022146510386796

Holand IS (2015) Lifeline issue in social vulnerability indexing: a review of indicators and discussion of indicator application. Nat Hazards Rev http://ascelibrary.org/doi/10.1061/%28ASCE%29NH.1527-6996.0000148

Houston-Galveston Area Council (2012) Regional hazard mitigation plan update. Retrieved February 7, 2016, from http://www.h-gac.com/community/community/hazard/hazard_mitigation_plan.aspx

Hurricane Education Recovery Act (2007) Hurricane education recovery act: elementary and secondary education hurricane relief. Retrieved December 9, 2015, from https://www2.ed.gov/policy/elsec/guid/secletter/051230Bill.pdf

Hurricane Ike Impact Report (2008, December 8) Retrieved December 9, 2015, from https://www.fema.gov/pdf/hazard/hurricane/2008/ike/impact_report.pdf

Imberman SA, Kugler AD, Sacerdote BI (2012) Katrina's children: evidence on the structure of peer effects from hurricane evacuees. Am Econ Rev 102(5):2048–2082. doi:10.1257/aer.102.5.2048

Kamenetz A (2015, August 15) New Orleans schools, 10 years after Katrina: beacon or warning? Retrieved December 30, 2015, from http://www.npr.org/sections/ed/2015/08/15/431967706/new-orleans-schools-10-years-after-katrina-beacon-or-warning

Kim JM, Woods PK, Park YJ, Son K (2016) Estimating the Texas Windstorm Insurance Association claim payout of commercial buildings from Hurricane Ike. Nat Hazards 84:405–424

Knapp KR, Kruk MC, Levinson DH, Diamond HJ, Neumann CJ (2010) The International Best Track Archive for Climate Stewardship (IBTrACS): unifying tropical cyclone best track data. Bull Am Meteorol Soc 91:363–376. Retrieved March 2017 from https://www.ncdc.noaa.gov/ibtracs/index.php?name=wmo-data

Lai BS, Esnard A-M, Lowe S, Pee L (2016) Schools and disasters: safety and mental health assessment and interventions for children. Curr Psychiatry Rep 18(12):1–9

Laska S, Morrow B (2006) Social vulnerabilities and Hurricane Katrina: an unnatural disaster in New Orleans. Mar Technol Soc J 40(4):16–26

Layton L (2014, May 28) In: New Orleans, major school district closes traditional public schools for good. The Washington Post. Retrieved December 9, 2015, from https://www.washingtonpost.com/local/education/in-new-orleans-traditional-public-schools-close-for-good/2014/05/28/ae4f5724-e5de-11e3-8f90-73e071f3d637_story.html

Lewis-Beck MS, Bryman A, Liao TF (2011) Unit of analysis. In: The SAGE encyclopedia of social science research methods [Internet]. SAGE Publications. http://methods.sagepub.com/reference/the-sage-encyclopedia-of-social-science-research-methods/n1051.xml

Long JS, Freese J (2006) Regression models for categorical dependent variables. Stata Press, College Station

Meier KJ, O'Toole LJ, Hicklin A (2010) I've seen fire and I've seen rain: public management and performance after a natural disaster. Adm Soc 41(8):979–1003

Miech RA, Hauser RM (2001) Socioeconomic status and health at midlife: a comparison of educational attainment with occupation-based indicators. Ann Epidemiol 11(2):75–84

Mileti D (1999) Disasters by design: a reassessment of natural hazards in the United States. John Henry Press, Washington

Moran P (1950) Notes on continuous stochastic phenomena. Biometrika 37:17–33

Myers CA, Slack T, Singelmann J (2008) Social vulnerability and migration in the wake of disaster: the case of Hurricanes Katrina and Rita. Popul Environ J Interdiscip Stud 29(6):271–291. doi:10.1007/s11111-008-0072-y

National Oceanic and Atmospheric Administration (NOAA) (2017) National Hurricane Center Glossary of NHC terms. Retrieved from www.nhc.noaa.gov/aboutgloss.shtml

National Weather Service (2014) Hurricane Ike (2008) Retrieved December 9, 2015, from http://www.srh.noaa.gov/hgx/?n=projects_ike08

Costliest U.S. Natural Disasters (2014, May 30) The wall street journal. Retrieved December 9, 2015, from http://www.wsj.com/articles/costliest-u-s-natural-disasters-1401488111#1

Overpeck S (2009) Hurricane Ike wind analysis for southeast Texas. NOAA/NWS Houston/Galveston. Retrieved February 2917 from http://www.crh.noaa.gov/hgx/?n=projects_ike08_wind_analysis

Pane JF, McCaffrey DF, Kalra N, Zhou AJ (2008) Effects of student displacement in Louisiana during the first academic year after the hurricanes of 2005. J Educ Stud Placed Risk 13(2–3):168–211

Peacock WG (ed) (2010) Final report: advancing the resilience of coastal localities. Texas A&M University Press, College Station

Peacock WG, Girard C (1997) Ethnicity and segregation. In: Peacock WG, Morrow BH, Gladwin H (eds) Hurricane Andrew: ethnicity, gender, and the sociology of disaster. Routledge, New York, pp 191–205

Peacock WG, Van Zandt S, Henry D, Grover H, Highfield W (2012) Social vulnerability and Hurricane Ike: Using social vulnerability mapping to enhance coastal community resilience in Texas. In: Bedient PB (ed) After Ike: severe storm prediction, impact, and recovery on the Texas Gulf Coast. Texas A&M University Press, Collge Station, pp 66–81

Rifai HS (2012) Hurricane impacts on critical infrastructure. In: Bedient PB (ed) After Ike: severe storm prediction, impact, and recovery on the Texas Gulf Coast. Texas A&M University Press, College Station, pp 122–137

Robinson SE (2011) School district partner voice in emergency management collaboration. Risk Hazards Crisis Public Policy 2(2):85–101

Robinson SE (2012) School districts and disaster expertise: what types of school districts consult emergency management professionals? J Emerg Manag 10(1):63–72

Robinson S, Murphy H, Bies A (2014) Structured to partner: school district collaboration with nonprofit organizations in disaster response. Risk Hazards Crisis Public Policy 5(1):77–95

Sacerdote B (2008) When the saints come marching in: effects of Hurricanes Katrina and Rita on student evacuees. Working paper no. 14385. Retrieved January 14, 2016, from http://www.nber.org/papers/w14385

Scrimin S, Axia G, Capello F, Moscardino U, Steinberg AM, Pynoos RS (2006) Posttraumatic reactions among injured children and their caregivers 3 months after the terrorist attack in Beslan. Psychiatry Res 141:333–336

Scrimin S, Moscardino U, Capello F, Axia G (2009) Attention and memory in school-age children surviving the terrorist attack in Beslan, Russia. J Clin Child Adolesc Psychol 38(3):402–414

Texas Department of Public Safety (2013) State of Texas hazard mitigation plan 2010–2013. Retrieved February 7, 2016, from https://www.txdps.state.tx.us/dem/documents/txHazMitPlan.pdf

Texas Education Agency (2009a) Appendix K—Hurricane Ike. Retrieved August 28, 2015, from http://ritter.tea.state.tx.us/perfreport/account/2009/manual/app_k.pdf

Texas Education Agency (2009b) Glossary for the Academic Excellence Indicator System 2008–2009 report. Retrieved August 28, 2015, from https://rptsvr1.tea.texas.gov/perfreport/aeis/2009/glossary.html

Texas Education Agency (2009c) Texas districts and campuses eligible for Hurricane Ike provisions for 2009 state and federal accountability systems. Retrieved August 28, 2015, from http://ritter.tea.state.tx.us/perfreport/account/2009/ike.html

Texas Engineering Extension Service (2011) Hurricane Ike impact report. Retrieved December 4, 2015, from http://www.thestormresource.com/Resources/DocRepository/Full_Hurricane_Ike_Impact_Report.pdf

Thomas DSK, Phillips BD, Lovekamp WE, Fothergill A (2013) Social vulnerability to disasters, 2nd edn. CRC Press, Boca Raton

USGCRP (2016) The impacts of climate change on human health in the United States: a scientific assessment. U.S. Global Change Research Program, Washington

Weber L, Peek L (eds) (2012) Displaced: Life in the Katrina diaspora. University of Texas Press, Austin

Wilson P (2015) The misuse of the Vuong test for non-nested models to test for zero-inflation. Econ Lett 127:51–53

Wisner B (2016) Vulnerability as concept, model, metric and tool. Oxford Research Encyclopedia—Natural Hazards Science. Retrieved December 2016 from http://naturalhazardscience.oxfordre.com/view/10.1093/acrefore/9780199389407.001.0001/acrefore-9780199389407-e-25

Wong KK, Shi J, Gao H, Zheteyeva YA, Lane K (2014) Why is school closed today? Unplanned K-12 school closures in the United States, 2011–2013. PLoS ONE 9(12):e113755. doi:10.1371/journal.pone.0113755

Zahran S, Brody SD, Peacock WG, Vedlitz A, Grover H (2008) Social vulnerability and the natural and built environment: a model of flood casualties in Texas. Disasters 32(4):537–560

Zeileis A, Kleiber C, Jackman S (2008) Regression models for count data in R. J Stat Softw 27(8):1–25
Acknowledgements
This article is based on research supported by the U.S. National Science Foundation Grant # CMMI#1634234. Any opinions, findings, conclusions, or recommendations expressed here are those of the authors and do not necessarily reflect the views of the National Science Foundation. We also wish to acknowledge Richard Ortiz and Ryan Savage for their assistance with compiling, formatting, and cleaning the school district-level demographic data and Adam Berg AMS CMS for his professional courtesy in the review of the meteorology content. Stephan Gage, of the Houston–Galveston Area Council, was especially helpful in providing us with some of the GIS data.
About this article
Cite this article
Esnard, AM., Lai, B.S., Wyczalkowski, C. et al. School vulnerability to disaster: examination of school closure, demographic, and exposure factors in Hurricane Ike's wind swath. Nat Hazards 90, 513–535 (2018). https://doi.org/10.1007/s11069-017-3057-2
Received:

Accepted:

Published:

Issue Date:
Keywords
Hurricane Ike

Wind swath

Exposure

Vulnerability

Spatial autocorrelation

Poisson regression

Zero-inflated negative binomial