Abstract
The March 2011 meltdowns at the Fukushima nuclear power plants in Japan resulted in an increased risk of psychological distress among affected residents. We conducted original surveys of Futaba residents, a town in Fukushima where all of the residents were forced to evacuate from their homes due to radioactive contamination, obtaining 585 responses (a response rate of about 20%). Using this original data set, we investigate the role of social capital in maintaining mental health among the residents. First, we found the level of stress captured by the Kessler index (K6) to be unusually high compared both with people across Japan and with those who were displaced because of the earthquake and/or tsunami (but not the nuclear catastrophe). However, having high levels of social capital—captured by the number of neighbors from Futaba after displacement, participation in volunteer work after displacement, and participation in tea parties after displacement—plays an important role in reducing anxiety and distress among Futaba residents. Finally, we provide concrete recommendations for policy makers and NGOs to increase resilience among affected residents by strengthening social ties.
Access options
Buy single article
Instant access to the full article PDF.
USD 39.95
Price excludes VAT (USA)
Tax calculation will be finalised during checkout.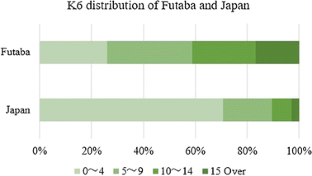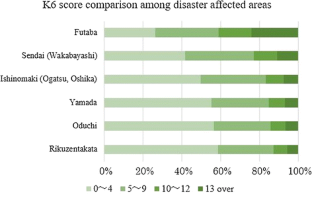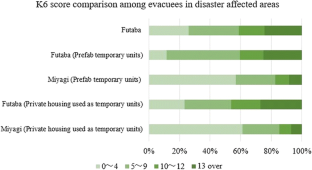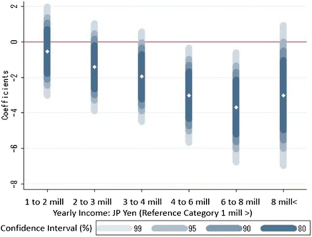 Notes
As larger amounts of damage correlate with higher distress among Futaba residents (Iwasaki and Sawada 2016), we can strengthen and externally validate the claim that disasters damage mental health of affected residents. However, as our results only examine the case of Futaba residents, it is only suggestive that nuclear catastrophe led to more serious damages to mental health than other natural disasters. For external validation, further comparisons with studies under other nuclear disaster settings are necessary. As to internal validity, those worse off are less likely to respond, which could result in underestimating the serious mental health situation of the Futaba residents.

As our results only examine Futaba residents, our claim that social capital can be a shield against deterioration of mental health cannot have external validity. For external validation, further comparisons with other nuclear disaster settings will be necessary. As to internal validity, those worse off and less connected are less likely to respond, which could result in underestimating the effect of the social capital on mental health among Futaba residents.
References
Aida J, Kawachi I, Subramanian SV, Kondo K (2013) Disaster, social capital, and health. In: Kawachi I, Soshi T, Subramanian S (eds) Global perspectives on social capital and health. Springer, Berlin, pp 87–122

Aldrich DP (2012) Building resilience: social capital in post-disaster recovery. University of Chicago Press, Chicago

Aldrich DP, Kiyota E (2017) Creating community resilience through elder-led physical and social infrastructure. Disaster Med Public Health Prep 11(1):120–126

Aldrich DP, Meyer M (2015) Social capital and community resilience. Am Behav Sci 59:254–269

Aldrich DP, Sawada Y (2015) The physical and social determinants of mortality in the 3.11 tsunami. Soc Sci Med 124:66–75

Anderson LR, Mellor JM, Milyo J (2004) Social capital and contributions in a public goods experiment. Am Econ Rev 94:373–376

Arata CM, Picou JS, Johnson GD, McNally TS (2000) Coping with technological disaster: an application of the conservation of resources model to the Exxon Valdez oil spill. J Trauma Stress 13:23–39

Aroian LA (1947) The probability function of the product of two normally distributed variables. Ann Math Stat 18(2):265–271

Beggs JJ, Haines V, Hurlbert JS (1996) The effects of personal network and local community contexts on the receipt of formal aid during disaster recovery. Int J Mass Emerg Disaster 14:57–78

Bromet EJ (2012) Mental health consequences of the chernobyl disaster. J Radiol Prot 32(1):N71

Cabinet Office of the Government of Japan (2003) Social Capital: Yutakana Ningen kankei to Shimin katsudō no ko jyunkan wo motomete [Social capital: seeking for better cycle between the wealth of human relationships and civic activities]. https://www.npo-homepage.go.jp/toukei/2009izen-chousa/2009izen-sonota/2002social-capital. Accessed 10 June 2016

Cabinet office of the Government of Japan (2011) Estimation of the Great East Japan Earthquake damage June 24, 2011. http://www.bousai.go.jp/2011daishinsai/pdf/110624-1kisya.pdf. Accessed 17 May 2015

Cohen S, Underwood LG, Gottlieb BH (2000) Social support measurement and intervention. A guide for health and social scientists. Oxford University Press, New York

Deeg DJH, Huizink AC, Comij HC, Smid T (2005) Disaster and associated changes in physical and mental health in older residents. Eur J Public Health 15:170–174

Fergusson DM, Horwood LJ, Boden JM, Mulder RT (2014) Impact of a major disaster on the mental health of a well-studied cohort. JAMA Psychiatry 71(9):1025–1031

Furukawa TA et al (2008) The performance of the Japanese version of the K6 and K10 in the World Mental Health Survey Japan. Int J Methods Psychiatr Res 17:152–158

Gaston S, Nugent N, Peters ES, Ferguston TF, Trapido EJ, Robinson WT, Rung AL (2016) Exploring heterogeneity and correlates of depressive symptoms in the Women and Their Children's Health (WaTCH) Study. J Affect Disord 205:190–199

Goodman LA (1960) On the exact variance of products. J Am Stat As 55:708–713

Greene G (2015) Resilience and vulnerability to the psychological harm from flooding: the role of social cohesion. Am J Public Health 105(9):1792–1795

Hayashi K et al (2012) Higashinihon daishinsai hisaisha no kenkōjōtai nikansuru chōsa kenkyu, 2011 [The study about health of Great East Japan disaster affected people, 2011]. http://mhlw-grants.niph.go.jp/niph/search/NIDD00.do?resrchNum=201105002A. Accessed 17 May 2015

Heckman J (1979) Sample selection bias as a specification error. Econometrica 47:153–161

Hikichi H, Aida J, Tsuboya T, Kondo K, Kawachi I (2016) Can community social cohesion prevent posttraumatic stress disorder in the aftermath of a disaster? A natural experiment from the 2011 Tohoku Earthquake and Tsunami. Am J Epidemiol 183(10):902–910

Iwasaki K, Sawada Y (2016) Evacuation and psychological distress: new evidence of reference-dependent utility and loss aversion. In: Proceedings, the 9th annual meeting. J Behav Econ Financ 8:77–80

Kaiser HF (1960) The application of electronic computers to factor analysis. Educ Psychol Meas 20:141–151

Kaiser HF (1974) An index of factor simplicity. Psychometrika 39:31–36

Keleher H, Armstrong R (2006) Evidence-based mental health promotion resource. Report for the Department of Human Services and VicHealth

Kessler RC et al (2002) Short screening scales to monitor population prevalences and trends in non-specific psychological distress. Psychol Med 32:959–976

Kiyota E, Tanaka Y, Arnold M, Aldrich DP (2015) Elders leading the way to resilience. World Bank conference paper series. https://www.gfdrr.org/sites/gfdrr/files/publication/Elders-Leading-the-Way-to-Resilience.pdf

MacKinnon DP, Lockwood CM, Hoffman JM, West SG, Sheets VA (2002) Comparison of methods to test mediation and other intervening variable effects. Psychol Methods 7:83–104

Mainichi Shinbun March 8th 2015 (2015) Current reality: Fukushima; 120 evacuees, urgent need of decontamination work. http://mainichi.jp/feature/news/20150308mog00m040016000c.htm. Accessed 17 May 2015

Ministry of Health, Labour and Welfare (2013) Kokumin seikatsu kiso chosa 2013 [Comprehensive survey of living conditions 2013]. http://www.mhlw.go.jp/toukei/saikin/hw/k-tyosa/k-tyosa13/dl/04.pdf. Accessed 31 Aug 2016

Miyagi Prefectural Government (2014) Minkan chintai kariage jutaku tō nyūkyosha kenkō chōsa [Health survey of residents in private housing used as temporary units] http://www.pref.miyagi.jp/uploaded/attachment/258176.pdf. Accessed 31 Aug 2016

Miyagi Prefectural Government (2014) Ōkyū kasetsujūtaku (Prefab) Nyūkyosha kenkō chōsa 2013 [Health survey of prefab temporary units' residents 2013] http://www.pref.miyagi.jp/uploaded/life/277719_348084_misc.pdf. Accessed 31 Aug 2016

National Police Agency of Japan (2015) Damage situation and police countermeasures associated with 2011 Tohoku district-off the Pacific Ocean earthquake May 8 2015. https://www.npa.go.jp/archive/keibi/biki/higaijokyo_e.pdf. Accessed 17 May 2015

Neria Y, Nandi A, Galea S (2008) Post-traumatic stress disorder following disasters: a systematic review. Psychol Med 38:467–480

Niwa S (2014) A new structure for mental health and welfare in the Soso area to promote the recovery of people in Fukushima from the 3.11 earthquake and nuclear power plant accident. Seishin Shinkeigaku Zasshi 116:621–625

NPO Hands-on Saitama (2013) Fuku-Tama map. http://www.hands-on-s.org/fukutama/201308map.pdf. Accessed 16 Apr 2015

Oe et al (2016) Three-year trend survey of psychological distress, post-traumatic stress, and problem drinking among residents in the evacuation zone after the Fukushima Daiichi nuclear power plant accident [The Fukushima Health Management Survey]. Psychiatry Clin Neurosci 70:245–252

Podsakoff PM, MacKenzie SB, Podsakoff NP (2003) Common method biases in behavioral research: a critical review of the literature and recommended remedies. J Appl Psychol 88(5):879–903

Reconstruction Agency (2015a) Major achievements of reconstruction work during concentrated reconstruction period. http://www.reconstruction.go.jp/topics/main-cat8/sub-cat8-3/20150512_3_zisseki.pdf. Accessed 30 May 2017 (in Japanese)

Reconstruction Agency (2015b) Review of concentrated reconstruction period and a whole concept of reconstruction and rehabilitation works after 2018. https://www.reconstruction.go.jp/topics/main-cat8/sub-cat8-3/20150512_2_arikata.pdf. Accessed 30 May 2017 (in Japanese)

Reininger BM et al (2013) Social capital and disaster preparedness among low income Mexican Americans in a disaster prone area. Soc Sci Med 83:50–60

Shrout PE, Bolger N (2002) Mediation in experimental and nonexperimental studies: new procedures and recommendations. Psychol Methods 7:422–445

Sobel ME (1982) Asymptotic confidence intervals for indirect effects in structural equation models. Sociol Methodol 13:290–312

Uchio T (2013) The dawn of public anthropology after the Great East Japan Earthquake: at the site of disaster-relief activities in Sanriku Area, Miyagi Prefecture, Japan (<Special Theme> disaster and anthropology: facing the aftermath of the Great East Japan Earthquake) [in Japanese]. Bunka-jinruigaku [Cult Anthropol] 78:103–110

Yabe H et al (2014) Psychological distress after the Great East Japan Earthquake and Fukushima Daiichi nuclear power plant accident: results of a Mental Health and Lifestyle Survey through the Fukushima Health Management Survey in FY2011 and FY2012. Fukushima J Med Sci 60:57–67

Yasumura S et al (2012) Study protocol for the Fukushima health management survey. J Epidemiol 22:375–383
Acknowledgements
Funding was provided by Japan Society for the Promotion of Science (Grant Nos. 15J09313, 26220502 and LZ003), Center for International Research on the Japanese Economy, and Fulbright Foundation.
Appendices
Appendix 1: Descriptive statistics
See Table 6.
Appendix 2: Interval regression of number of unknown and known Futaba neighbors
These variables are treated as continuous variables, but they were originally structured as ordered categories. However, to better understand the estimation results, we constructed a continuous variable using interval regression. For the estimation, in addition to the category number of unknown and known Futaba neighbors, gender dummies, age, house type dummies, current prefecture dummies, and residential block in Futaba dummies were employed. After the estimation, the numbers were rounded. Furthermore, upper and lower bounds were adjusted according to the original categories. Estimation results of interval regression are not reported here but are available upon request.
About this article
Cite this article
Iwasaki, K., Sawada, Y. & Aldrich, D.P. Social capital as a shield against anxiety among displaced residents from Fukushima. Nat Hazards 89, 405–421 (2017). https://doi.org/10.1007/s11069-017-2971-7
Received:

Accepted:

Published:

Issue Date:

DOI: https://doi.org/10.1007/s11069-017-2971-7
Keywords