Abstract
Due to the inevitable increase in temperatures that are attributable to significant climate variability and notable shifts in climate under increasing greenhouse gases, heat waves are becoming a major natural disaster. They lead to elevating incidences of human mortality, health risks, and damage to the economy, agriculture, and natural ecosystems. As a precautionary foresight to mitigate detrimental impacts of this disaster, a better understanding of regional vulnerability to heat waves is essential. This study has investigated the cumulative role of the social and climatic factors on heatwave-related deaths across the 232 administrative counties in Korea. Correlation and clustering analyses performed on heatwave-related deaths and social and climatic factors indicated that the number of heatwave days, tropical nights, elderly living alone, and agricultural workers had a significant relationship with the number of heatwave-related deaths. In order to demonstrate the practicality of this approach for heatwave analysis, a spatial heatwave vulnerability map was created to identify the distribution of heatwave risk by compositing the four most significant vulnerability factors identified with regression method. Among the several available regression methods that are applied on countable data, this study has utilized zero-inflated Poisson regression because the available data on heatwave-related deaths included many zeros. The heatwave vulnerability map depicted well the actual distribution of heatwave-related deaths, particularly for counties with a large number of heatwave deaths. In light of this evidence, it is postulated that the heatwave vulnerability map can be used as a useful decision-making tool that can help facilitate efficient utilization of various disaster management resources at the national level and also to identify emphatically the heatwave-related risk over spatial scales to aid in the establishment of customized health risk precautionary measures.
Access options
Buy single article
Instant access to the full article PDF.
US$ 39.95
Tax calculation will be finalised during checkout.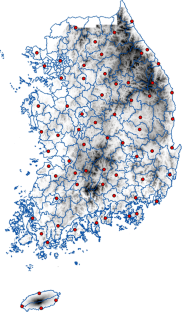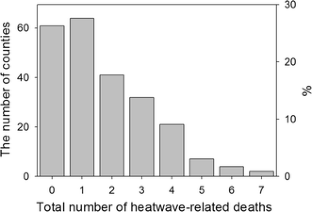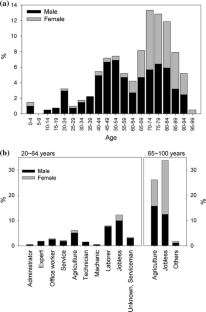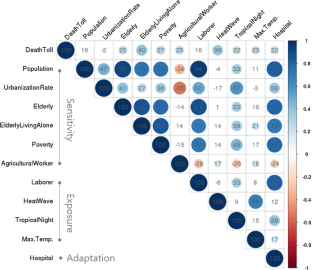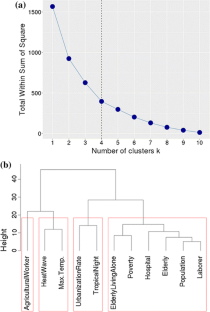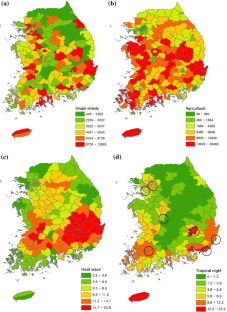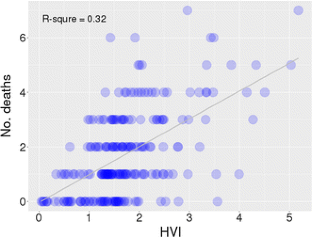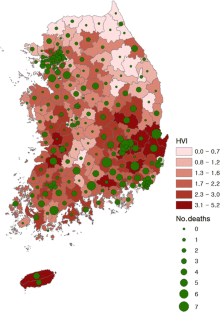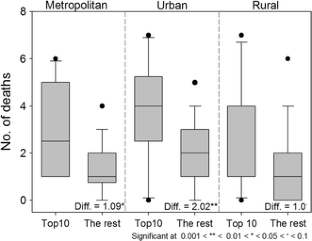 References
Berko J (2015) Deaths attributed to heat, cold, and other weather events in the United States, 2006–2010. Natl Health Stat Rep 76:1–15

Bradford K, Abrahams LS, Hegglin M, Klima K (2015) A heat vulnerability index and adaptation solutions for Pittsburgh, Pennsylvania. Environ Sci Technol 49:11303–11311

Chen K, Huang L, Zhou L, Ma Z, Bi J, Li T (2015) Spatial analysis of the effect of the 2010 heatwave on stroke mortality in Nanjing, China. Sci Rep 5:1–11

Cohen J (1988) Statistical power analysis for the behavioral sciences, 2nd edn. Lawrence Erlbaum, Hillsdale

Gabriel KM, Endlicher WR (2011) Urban and rural mortality rates during heatwaves in Berlin and Brandenburg, Germany. Environ Pollut 159:2044–2050

Harlan SL, Declet-Barreto JH, Stefanov WL, Petitti DB (2013) Neighborhood effects on heat deaths: social and environmental predictors of vulnerability in Maricopa County, Arizona. Environ Health Perspect 121:197–204

Honda Y, Kondo M, McGregor G, Kim H, Guo YL, Hijioka Y, Kovats RS (2014) Heat-related mortality risk model for climate change impact projection. Environ Health Prev Med 19:56–63

Isaksen TMB (2014) Extreme heat events and associated health outcomes in King County, WA: a study of historical outcomes, model validation, and heat-risk mapping. University of Washington, Seattle

Kim J, Lee S (2007) The distribution of heatwaves and its cause in South Korea. J Korean Geogr Soc 42:332–343

Kim S, Ryu Y (2015) Describing the spatial patterns of heat vulnerability from urban design perspectives. Int J Sustain Dev World Ecol 22:189–200

Kim H, Ha JS, Park J (2006) High temperature, heat index, and mortality in 6 major cities in South Korea. Arch Environ Occup Health 61:265–270

Kim DW, Chung JH, Lee JS, Lee JS (2013) Characteristics of heatwave mortality in Korea. Atmospheres 24:225–235 (in Korean)

Kim CT, Lim Y-H, Woodward A, Kim H (2015a) Heat-attributable deaths between 1992 and 2009 in Seoul, South Korea. PLoS ONE 10:1–14

Kim DW, Deo RC, Chung JH, Lee JS (2015b) Projection of heatwave mortality related to climate change in Korea. Nat Hazards 80:623–637

Kwon WT (2011) Report on climate change scenario. National Institute of Meteorological Research, Seogwipo (in Korean)

Lambert D (1992) Zero-inflated Poisson regression, with an application to defects in manufacturing. Technometrics 34:1–14

Li M, Liu Z, Dong W, Shi P (2015) Mapping heatwave risk of the world. World atlas of natural disaster risk. Springer, Berlin, pp 169–188

Loughnan M, Nicholls N, Tapper NJ (2012) Mapping heat health risks in urban areas. Intl J Popul Res 2012:1–12

Loughnan M, Tapper N, Phan T (2014) Identifying vulnerable populations in subtropical Brisbane, Australia: a guide for heatwave preparedness and health promotion. ISRN Epidemiol 2014:1–12

Manangan A, Uejio C, Saha S, Schramm P, Marinucci G, Brown C, Luber G (2014) Assessing health vulnerability to climate change: a guide for health departments. Climate and health technical report series. Centers for disease control and prevention. https://www.cdc.gov/climateandhealth/pubs/assessinghealthvulnerabilitytoclimatechange.pdf. Accessed 4 June 2017

Marker BR (2013) Hazard and risk mapping. Encyclopedia of natural hazards. Springer Netherlands, Berlin, pp 426–435

Park WS, Suh MS (2011) Characteristics and trends of tropical night occurrence in South Korea for recent 50 years (1958–2007). Atmosphere 21:361–371 (in Korean)

Reid CE, O'Neill MS, Gronlund CJ, Brines SJ, Diez-Roux AV, Brown DG, Schwartz JD (2009) Mapping community determinants of heat vulnerability. Environ Health Perspect 117(11):1730–1736

Rinner C, Patychuk D, Bassil K, Nasr S, Gower S, Campbell M (2010) The role of maps in neighborhood-level heat vulnerability assessment for the city of Toronto. Cartogr Geogr Inf Sci 37:31–44

Ro YS et al (2013) A trend in epidemiology and outcomes of out-of-hospital cardiac arrest by urbanization level: a nationwide observational study from 2006 to 2010 in South Korea. Resuscitation 84:547–557

Shin H, Lee S (2014) Development of a climate change vulnerability index on the health care sector. J Environ Policy 13:69–93

Son JY, Lee JT, Anderson G, Bell ML (2012) The impact of heatwaves on mortality in seven major cities in Korea. Environ Health Perspect 120:566–571

Tatalovich Z, Wilson JP, Cockburn M (2006) A comparison of thiessen polygon, kriging, and spline models of potential UV exposure. Cartogr Geogr Inf Sci 33:217–231

Thacker MT, Lee R, Sabogal RI, Henderson A (2008) Overview of deaths associated with natural events, United States, 1979–2004. Disasters 32:303–315

Tomlinson CJ, Chapman L, Thornes JE, Baker CJ (2011) Including the urban heat island in spatial heat health risk assessment strategies: a case study for Birmingham, UK. Intl J Health Geogr 10:1–14

Wilhelmi OV, Hayden MH (2010) Connecting people and place: a new framework for reducing urban vulnerability to extreme heat. Environ Res Lett 5:1–7

Wolf T, McGregor G (2013) The development of a heatwave vulnerability index for London, United Kingdom. Weather Clim Extrem 1:59–68

Yang BG (2012) Annual report on the notified patients with heat related illness in Korea. Korea Center for Disease Control and Prevention, Daejeon

Zhu Q, Liu T, Lin H, Xiao J, Luo Y, Zeng W, Zeng S, Wel Y, Chu C, Baum S, Du Y, Ma W (2014) The spatial distribution of health vulnerability to heatwaves in Guangdong Province, China. Glob Health Action 7:1–10
Acknowledgements
This research was primarily supported by the National Disaster Management Research Institute (Korea). Dr RC Deo was supported by USQ Academic Division Researcher Activation Incentive Scheme (RAIS; July–September 2015) grant to fund his collaboration with Dr. Do-Woo Kim.
About this article
Cite this article
Kim, DW., Deo, R.C., Lee, JS. et al. Mapping heatwave vulnerability in Korea. Nat Hazards 89, 35–55 (2017). https://doi.org/10.1007/s11069-017-2951-y
Received:

Accepted:

Published:

Issue Date:
Keywords
Mapping heatwave vulnerability

Zero-inflated Poisson regression analysis

Spatial heatwave risk