Abstract
Pakistan is one of the most adversely affected countries by climate-related extreme events such as floods owing to its geographical and climatic conditions. Over the last two decades, frequency and severity of flood events have been increased and has adversely affected the livelihood and well-being of millions of people in Pakistan. The development of effective mitigation policies requires a clear understanding of the impacts and local responses to extreme events, which is quite limited in Pakistan. This study used a dataset of 600 households collected through face-to-face interviews from two districts of Khyber Pakhtunkhwa province that were severely affected from 2010 floods. The correlation and probit model methods are used to assess the study objectives. The findings of the study revealed that elevated ground floor, foundation strengthening, construction of house with reinforced material and precautionary savings were the main adaptation measures adopted at household level. The results from the probit model showed that gender, age, location, monthly income, family size, house ownership, disability, and education influence the households' choices of mitigation strategies. The study further indicated that adoption of mitigation strategies at household level is constrained by several factors, i.e., financial constraint, lack of early warning system, lack of land use planning and inadequate resources. Further mitigation strategies also varied across different groups of households based on education, age, and income. Additionally the study discovered that the local policies on disaster management need to be improved to address the barriers to the adoption of advanced level adaptation measures at the household level such as advanced level early warning system, flood forecasting and dissemination of updated information and support, house building codes, infrastructure building practices, and adequate spatial planning.
This is a preview of subscription content, log in to check access.
Access options
Buy single article
Instant access to the full article PDF.
US$ 39.95
Price includes VAT for USA
Subscribe to journal
Immediate online access to all issues from 2019. Subscription will auto renew annually.
US$ 199
This is the net price. Taxes to be calculated in checkout.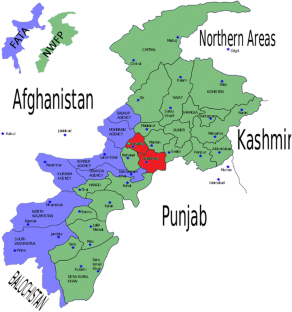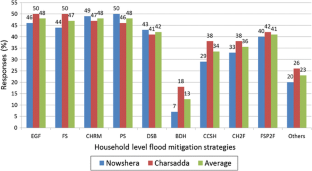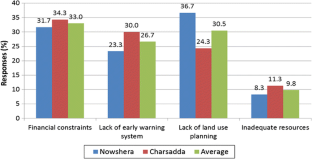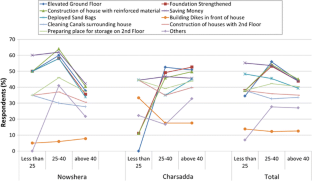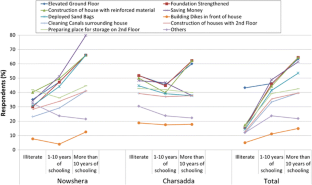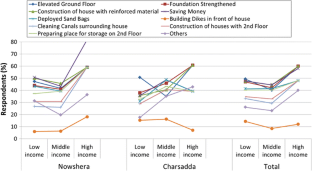 Notes
1.

International Disaster Database EM-DAT, Centre for Research on the Epidemiology of Disasters.

2.

Glacier run is a phenomenon involving flash floods that occur when the melting or breaking off of glacial ice releases torrents of water that have up to then has been dammed. These are usually glacial lakes that have been prevented from escaping by a glacier and are suddenly released when the ice becomes thinner.

3.

A union council is an elected local government body headed by a Nazim (which is equivalent to a mayor).

4.

PKR is abbreviation for Pakistani Rupee, 1 PKR is approximately equal to 0.01 USD.
References
Abbas A, Amjath-Babu TS, Kächele H, Müller K (2015) Non-structural flood risk mitigation under developing country conditions: an analysis of the determinants of willingness to pay for flood insurance in rural Pakistan. Nat Hazards 75:2119–2135

Abid M, Scheffran J, Schneider UA, Ashfaq M (2015) Farmers' perceptions and adaptation strategies to climate change and their determinants; the case of Punjab province Pakistan. Earth Syst Dyn 6(1):225–243

Abid M, Schilling J, Scheffran J, Zulfiqar F (2016a) Climate change vulnerability, adaptation and risk perceptions at farm level in Punjab, Pakistan. Sci Total Environ 15:447–460

Abid M, Schneider UA, Scheffran J (2016b) Adaptation to climate change and its impacts on food productivity and crop income: perspectives of farmers in rural Pakistan. J Rural Stud 47A:254–266

Atta-Ur-Rahman, Khan AN, Shaw R (2015) Disaster risk reduction approaches in Pakistan. Disaster Risk Reduction. doi:10.1007/978-4-431-55369-4_2

Atta-ur-Rahman, Khan AN (2013) Analysis of 2010-flood causes, nature and magnitude in the Khyber Pakhtunkhwa, Pakistan. Nat Hazards 66:887–904

Bantilan MCS, Singh NP, Byjesh K, Padmaja R, Jayatilaka W (2015) Vulnerability to climate change: adaptation strategies and layers of resilience. http://oar.icrisat.org/6549/1/Policy%20Brief%2023.pdf. Accessed 11 Nov 2015

Berman RJ, Quinn CH, Paavola J (2014) Identifying drivers of household coping strategies to multiple climatic hazards in Western Uganda: implications for adapting to future climate change. Clim Dev 7:71–84

Birkholz S, Muro M, Jeffrey P, Smith H (2014) Rethinking the relationship between flood risk perception and flood management. Sci Total Environ 478:12–20

Bogner A, Littig B, Menz W (2009) Interviewing experts. Palgrave Macmillan, Basingstoke

Bubeck P, Botzen W, Aerts J (2012) A Review of risk perceptions and other factors that influence flood mitigation behaviour. Risk Anal 32(9):481–1495

Buckle P, Mars G, Smale S (2000) New approaches to assessing vulnerability and resilience. Aust J Emerg Manag 15(2):8–15

Cannon T (2000) Vulnerability analysis and disasters. In: Parker DJ (ed) Floods, vol 1. Routledge, New York, pp 45–55

Clapham C (2002) The challenge to the state in a globalized world. Dev Change 33:775–795

Daramola AY, Oni OT, Ogundele O, Adesanya A (2016) Adaptive capacity and coping response strategies to natural disasters: a study in Nigeria. Int J Disaster Risk Reduct 15:132–147

Doocy S, Daniels A, Murray S, Kirsch TD (2013) The human impact of floods: a historical review of events 1980-2009 and systematic literature review. PLoS Curr 5. doi:10.1371/currents.dis.f4deb457904936b07c09daa98ee8171a

EREN B, Doğan E, Yaqub M (2015) Flood causes, consequences and protection measures in Pakistan. Disaster Science and Engineering 1(1):8–16. Retrieved from http://www.cagdastipdergisi.com/dse/issue/4789/66096

Few R (2003) Flooding, vulnerability and coping strategies: local responses to a global threat. Prog Dev Stud 3(1):43–58

Freeman P, Keen M, Mani M (2003) Dealing with increased risk of natural disasters: challenges and options. IMF Working Paper WP/03/197

Fuchs-Schündeln N, Schündeln M (2005) Precautionary savings and self-selection: evidence from the German reunification "experiment". Q J Econ 120:1085–1120

Gaurav K, Sinha R, Panda PK (2011) The Indus flood of 2010 in Pakistan: a perspective analysis using remote sensing data. J Nat Hazards 59(3):1815–1826

Gioli G, Khan T, Scheffran J (2014) Climatic and environmental change in the Karakoram: making sense of community perceptions and adaptation strategies. Reg Environ Change 14:1151–1162

Green C, Van der Veen A, Wierstra E, Penning-Rowsell EC (1994) Vulnerability refined: analyzing full flood impacts. In: Penning-Rowsell EC, Fordham M (eds) Floods across Europe—flood hazard assessment, modeling and management. Middlesex University Press, London

Hirabayashi Y, Mahendran R, Koirala S, Konoshima L, Yamazaki D, Watanabe S, Kim H, Kanae S (2013) Global flood risk under climate change. Nat Clim Change 3:816–821

Hylton B (2014) Barriers to flood mitigation among households in St. Mary, Jamaica. A research project presented for the degree of Master of Science University of Leeds. www.ccrif.org/sites/default/files/publications/200751280_SeanHylton.pdf

Islam MS, Hasan T, Chowdhury MSIR, Rahaman MH, Tusher TR (2012) Coping techniques of local people to flood and river erosion in char area of Bangladesh. J Environ Sci Nat Resour 5(2):251–261

Jabeen H, Johnson C, Allen A (2010) Built-in resilience: learning from grassroots coping strategies for climate variability. Environ Urban 22(2):415–431

Jamal A (2016) Why he won't send his daughter to school—barriers to girls education in Northwest Pakistan: a qualitative delphi study of Pashtun Men. SAGE Open 6(3)

Khyber Pakhtunkhwa Provincial Disaster Management Authority (2014) Monsoon Contingency Plan KP. http://www.pdma.gov.pk/sites/default/files/Monsoon_Contingency_Plan_KP_2014.pdf

King D, MacGregor C (2000) using social indicators to measure community vulnerability to natural hazards. Aust J Emerg Manag 15(3):52–57

Krausmann E, Mushtaq F (2008) A qualitative Natech damage scale for the impact of floods on selected industrial facilities. Nat Hazards 46:179–197

Leichenko RM, James LWJR (1993) environmental impacts of climate change and water development in the indus delta region. Water Resour Dev 9(3):247–261

Lopez-Marrero T, Yarnal B (2010) Putting adaptive capacity into the context of people's lives: a case study of two flood-prone communities in Puerto Rico. Nat Hazards 52(2):277–297

Mavhura E, Manyena SB, Collins AE, Manatsa D (2013) Indigenous knowledge, coping strategies and resilience to floods in Muzarabani, Zimbabwe. Int J Disaster Risk Reduct 5:38–48

Mondal TK (2014) People's perception on natural disasters and local survival strategies in Sundarban region: a study of Gosaba block in South twenty four Parganas district in West Bengal, India. In: Neef A, Shaw R (eds) Risks and conflicts: local responses to natural disasters (Community, Environment and Disaster Risk Management, Volume 14) Emerald Group Publishing Limited, pp 165–184

Murphy B, Falkner L, Mcbean G, Dolan H, Kovacs P (2005) Enhancing local level emergency management: the influence of disaster experience and the role of households and neighborhoods. Institute for Catastrophic Loss Reduction Paper#43. http://iclr.org/images/Enhancing_local_level_emergency_management.pdf. Accessed 20 Feb 2009

North–West Frontier Province (2010) Imperial gazetteer of India, vol 19, p 147. http://Dsal.uchicago.edu. Retrieved 2010-05-25

Osberghaus D (2014) The determinants of private flood mitigation measures in Germany—evidence from a nationwide survey. Cent Eur Econ Res Discuss Pap 14–032:1–24

Paul SK, Routray JK (2010) Flood proneness, and coping strategies: the experiences of two villages in Bangladesh. Disasters 34(2):489–508

Peters GG (2008) Integrating local knowledge into gis-based flood risk assessment; the case of Triangula and Maboro communities in Naga City-The Philippines. A Ph.D. Dissertation submitted to ITC-University of Twente and Wageningen University ITC Dissertation No 157

Qasim S, Qasim M, Shrestha RS, Khan AN, Tun K, Ashraf M (2016) Community resilience to flood hazards in Khyber Pakhtunkhwa province of Pakistan. Int J Disaster Risk Reduct 18:100–106

Rafiq L, Blaschke T (2012) Disaster risk and vulnerability in Pakistan at a district level. Geomat Nat Hazards Risk 3(4):324–341

Ran J, Budic ZN (2016) Integrating spatial planning and flood risk management: a new conceptual framework for the spatially integrated policy infrastructure. Comput Environ Urban Syst 57:68–79

Roson R, Calzadilla A, Francesco P (2005) climate change and extreme events: an assessment of economic implications. Comput Econ Fin 49, Society for Computational Economics

Shifeng Z, Dong H, Xiujing M (2011) Climate change and its driving effect on the runoff in the "Three-River Headwaters" Region. J Geogr Sci 21(6):963–978

Sultana N, Rayhan M (2012) Coping strategies with floods in Bangladesh: an empirical study. Nat Hazards 64:1209–1218

Tong T, Shaw R, Takeuchi Y (2012) Climate disaster resilience of the education sector in Thua Thien Hue Province, Central Vietnam. Nat Hazards 63:685–709

Ullah, R. (2014) Production risk management and its impacts at farm level: the case of Pakistan. A Ph.D. dissertation submitted to the agricultural systems and Engineering field of study at the Asian Institute of Technology, Thailand

Ullah R, Jourdain D, Shivakoti GP, Dhakal S (2015a) Managing catastrophic risks in agriculture: simultaneous adoption of diversification and precautionary savings. Int J Disaster Risk Reduct 12(2015):268–277

Ullah R, Shivakoti GP, Rehman M, Kamran MA (2015b) Catastrophic risks management at farm: the use of diversification, precautionary savings and agricultural credit. Pak J Agric Sci 52(4):1135–1142

Ullah R, Shivakoti GP, Ali G (2015c) Factors effecting farmers' risk attitude and risk perceptions: the case of Khyber Pakhtunkhwa, Pakistan. Int J Disaster Risk Reduct 13:151–157

UN (2011) Pakistan floods: one year on 2011. A Report by the United Nations–Pakistan, Islamabad. http://unportal.un.org.pk/sites/unpakistan/pages/default.aspx. Accessed 7 Aug 2013

Wilby R, Keenan R (2012) Adapting to flood risk under climate change. Progr Phys Geogr 36(3):348–378

Wisner B, Blaikie P, Cannon T, Davis I (2004) At risk. Routledge, London
Acknowledgements
This study is part of a Ph.D. research at the College of Humanities and Development Studies (COHD), China Agricultural University, Beijing, China. This Ph.D. research is made possible by the sponsor of Chinese Scholarship Council (CSC). We are extremely thankful to the College of Humanities and Development (COHD) Studies Beijing China as well as Department of Khyber Pakhtunkhwa Provincial Disaster Management Authority (KP-PDMA), local Households representatives for their effective support and coordination in organizing and conducting successful household interviews. Further, we would like to thank our survey team members Ehsan Ilahi, Mushtaq Ahmad, Roohullah Khalil, Muhammad Ismail, Atta Ullah, and Zainab Naeem in conducting interviews during February and June 2016. We are also very thankful to Shaun Britton for his contribution to proof reading and editing of this paper.
About this article
Cite this article
Shah, A.A., Ye, J., Abid, M. et al. Determinants of flood risk mitigation strategies at household level: a case of Khyber Pakhtunkhwa (KP) province, Pakistan. Nat Hazards 88, 415–430 (2017). https://doi.org/10.1007/s11069-017-2872-9
Received:

Accepted:

Published:

Issue Date:
Keywords
Climatic risks

Flood risks

Mitigation strategies

Adaptation constraints

Probit model

Pakistan