Abstract
The 2011 flood was the worst in Thailand in decades. Many of the impacts occurred in the Bangkok Metropolitan Region. The floods negatively affected small and medium enterprises (SMEs). One location in which high impacts on SMEs occurred was Bang Bua Thong market in Nonthaburi Province. The aim of this article is to investigate (1) how the 2011 floods affected SMEs in the market, (2) how successfully they have recovered, and (3) what actions they and the state have taken to reduce the vulnerability of SMEs to future floods. We found that the economic health of the market community has deteriorated since 2011 due to the damages caused by the floods, the poor state of the Thai economy, and increased business competition. The poor performance of the mayor during the event significantly contributed to the vulnerability of SMEs. So did the lack of an effective early warning system. Since 2011, the government has only made minor efforts to reduce flood risk. These have focused on building floodwalls to reduce risk to large-scale enterprises, which have redistributed risk to unprotected areas. No changes in land use have occurred, and hence, the drainage capacity of the market has improved little. The study revealed that socioeconomic factors interacted with the 2011 flood to negatively affect SMEs, and that key political economy drivers of vulnerability of SMEs remain unaddressed. The market has not been built back better, and the sociopolitical transformations needed to reduce vulnerability have not occurred.
This is a preview of subscription content, log in to check access.
Access options
Buy single article
Instant access to the full article PDF.
US$ 39.95
Price includes VAT for USA
Subscribe to journal
Immediate online access to all issues from 2019. Subscription will auto renew annually.
US$ 199
This is the net price. Taxes to be calculated in checkout.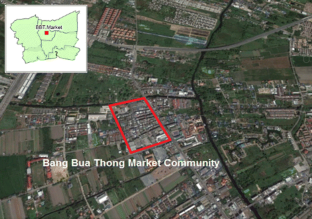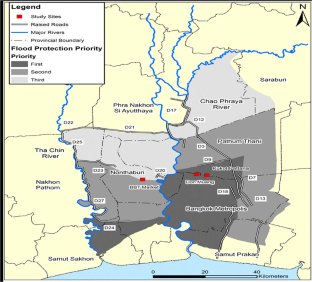 References
Albala-Bertrand JM (1993) Political economy of large natural disasters: with special reference to developing countries. Oxford University Press, Oxford

As the Floods Recede, Bangkok Blame Game Begins (2015) NBC News. http://worldblog.nbcnews.com/_news/2011/11/22/8956474-as-the-floods-recede-bangkok-blame-game-begins. Accessed 9 June

Asia Development Bank (2014) Private sector assessment (summary). Country Partnership Strategy: Thailand, 2013–2016. Manila. https://www.adb.org/sites/default/files/linked-documents/cps-tha-2013-2016-psa.pdf

Askew M (2000) The cultural factor in rural–urban fringe transformation: land livelihood and inheritance in western Nonthaburi. In: Proceedings of the international conference: the Chao Phraya Delta: historical development, dynamics and challenges of Thailand's rice bowl, pp 245–276

Bello W (2008) A very capitalist disaster: Naomi Klein's take on the neoliberal saga. Rev Int Polit Econ 15(5):881–891. doi:10.1080/09692290802451964

Cohen E (2012) Flooded: an auto-ethnography of the 2011 Bangkok flood. Austrian J South East Asian Stud 5(2):316–334

Collins TW (2010) Marginalization, facilitation, and the production of unequal risk: the 2006 Paso del Norte floods. Antipode 42(2):258–288. doi:10.1111/j.1467-8330.2009.00755.x

Crichton D (2006) Climate change and its effects on small businesses in the UK. Axa Insurance, London

Department of Rural Roads (2014) โครงการป้องกัน ปัญหาอุทกภัยระยะเร่งด่วน

Gale E, Saunders M (2013) The 2011 Thailand flood: climate causes and return periods. Weather 68(9):233–237. doi:10.1002/wea.2133

Gotham KF (2008) From 9/11 to 8/29: post-disaster recovery and rebuilding in New York and New Orleans. Soc Forces 87(2):1039–1062. doi:10.1353/sof.0.0131

Gunewardena N (2006) Peddling paradise, rebuilding Serendib: the 100-meter refugees versus the tourism industry in post-tsunami Sri Lanka. Appl Anthropol 26(2):149–169

Gunewardena N, Schuller M (eds) (2008) Capitalizing on catastrophe: neoliberal strategies in disaster reconstruction. AltaMira Press, Lanham

Hewitt K (1997) Regions of risk: a geographical introduction to disasters. Routledge, Harlow

Ingirige B, Wedawatta G (2011). SME resilience to extreme weather events: important initiatives for informing policy making in the area. In: Heritance Kandalama, Sri Lanka. http://www.iiirr.ucalgary.ca/iiirr/files/iiirr/208.pdf

Ito M, Takahashi T (2014) Thai floods: three years on, industrial parks recovering. Nikkei Asian Review, December 2. http://asia.nikkei.com/Business/Trends/Three-years-on-industrial-parks-recovering

Janseen P (2013) Two years after deluge, Thailand braces for more floods. Oman Observer, September 29. http://omanobserver.om/two-years-after-deluge-thailand-braces-for-more-floods/

Jikkham P, Thip-Osod M (2015) Prayut won't rule out longer time in office. http://www.bangkokpost.com, June 4. http://www.bangkokpost.com/news/politics/582679/prayut-won-t-rule-out-longer-time-in-office

Keefer P (2009) Disastrous consequences: the political economy of disaster risk reduction. World Bank working paper. World Bank, Washington

Klein N (2007) The shock doctrine. Metropolitan Books, New York. http://www.booktopia.com.au/the-shock-doctrine-naomi-klein/prod9780312427993.html

Kreibich H, Müller M, Thieken AH, Merz B (2007) Flood precaution of companies and their ability to cope with the flood in August 2002 in Saxony, Germany. Water Resour Res 43(3):W03408. doi:10.1029/2005WR004691

Limsamarnphun N (2016) SMEs hold key to economic future. The Nation. January 18. http://www.nationmultimedia.com/news/business/macroeconomics/30277081

Marks D (2015) The urban political ecology of the 2011 floods in Bangkok: the creation of uneven vulnerabilities. Pac Aff 88(3):623–651

Marks D, Lebel L (2015) Disaster governance and the scalar politics of incomplete decentralization: fragmented and contested responses to the 2011 floods in Central Thailand. Habitat Int. doi:10.1016/j.habitatint.2015.08.024. Accessed 4 Nov

Mekvichai B (1994) Patterns of urban development, planning, and government in Thailand. A paper presented at the workshop on urban governance and poverty alleviation in Southeast Asia: a comparative framework, Manila, Philippines

Morris T (2010) Business vulnerability to extreme weather in the south west: understanding the baseline. Climate South West, Exeter

Mustafa D (2005) The production of an urban hazardscape in Pakistan: modernity, vulnerability, and the range of choice. Ann As Am Geogr 95(3):566–586. doi:10.1111/j.1467-8306.2005.00475.x

Pelling M (1999) The political ecology of flood hazard in urban Guyana. Geoforum 30(3):249–261. doi:10.1016/S0016-7185(99)00015-9

Pelling M (2003) The vulnerability of cities: natural disasters and social resilience. Earthscan, London

Pelling M, Dill K (2010) Disaster politics: tipping points for change in the adaptation of sociopolitical regimes. Prog Hum Geogr 34(1):21–37. doi:10.1177/0309132509105004

Poapongsakorn N, Meethom P (2013) Impact of the 2011 floods, and flood management in thailand. ERIA Discussion Paper Series 34:2013

Runyan RC (2006) Small business in the face of crisis: identifying barriers to recovery from a natural disaster1. J Conting Crisis Manag 14(1):12–26. doi:10.1111/j.1468-5973.2006.00477.x

Sattabururh A, Pongpao S (2012) Flood compo protesters threaten roadblock. Bangkok Post, June 12. http://www.bangkokpost.com/news/politics/297627/flood-compo-protesters-threaten-roadblock

Smith N (2006) There's no such thing as a natural disaster. Understanding Katrina: perspectives from the social sciences. June 11. http://understandingkatrina.ssrc.org/Smith/

Techawongtham W (2012) Car buyer scheme is shameful waste. Bangkok Post, December 21. http://www.bangkokpost.com/lite/news/327214/first-time-car-buyer-scheme-a-shameful-waste

The Nation (2011) Flooding in Bang Bua Thong, Pak Kret hits critical levels. October 20. http://www.nationmultimedia.com/news/national/aec/30168100

The Office of SMEs Promotion (2016) Gross domestic product of SMEs. SMEs White Paper 2015, Bangkok. http://www.sme.go.th/eng/images/data/SR/download/2016/report_year/ExecutiveSummary/Chapter%201.pdf

Viboonchart N (2011) Flooding affects 240000 small and medium-sized enterprises. The Nation, November 3

Wedawatta G, Ingirige B (2012) Resilience and adaptation of small and medium-sized enterprises to flood risk. Disaster Prev Manag Int J 21(4):474–488. doi:10.1108/09653561211256170

Wedawatta G, Ingirige B, Proverbs D (2014) Small businesses and flood impacts: the case of the 2009 flood event in cockermouth. J Flood Risk Manag 7(1):42–53. doi:10.1111/jfr3.12031

Wongpreedee W (2008) BMA orders probe into Japan graft claim. Bangkok Post, July 8
Acknowledgements
The authors would like to thank their research assistant Suttirak San-ngah, an undergraduate student at Thammasat University, for his help setting up meetings and translating the interviews. We also express our gratitude to Dton Siriwan, the deputy community leader of the BBT Market community, for helping arrange the interviews with members in her community. We would like to thank our funders, the Asia-Pacific Network for Global Environmental Change Research (APN) for supporting this research under their 2013 Focused Call for Proposals on Linking Climate Change Adaptation (CCA) with Disaster Risk Reduction (DRR) and Loss and Damage (L + D) under its Climate Adaptation Framework. The work presented in this article was part of the project "An analysis of longer-term (5–10 years) recovery following major disasters in the Asia-Pacific Region: Lessons for resilient development." Funding was provided by Asia-Pacific Network for Global Change Research (JP) (Grant No. CAF2014-RR04-NMY-Thomalla).
About this article
Cite this article
Marks, D., Thomalla, F. Responses to the 2011 floods in Central Thailand: Perpetuating the vulnerability of small and medium enterprises?. Nat Hazards 87, 1147–1165 (2017). https://doi.org/10.1007/s11069-017-2813-7
Received:

Accepted:

Published:

Issue Date:
Keywords
2011 Thailand flood

Post-disaster recovery

SME

Social vulnerability

Bang Bua Thong

Political economy