Abstract
Analysis of event-based soil erosion magnitude with special return periods is essential to appropriately design strategies and adopt soil conservation practices. However, the spatiotemporal variations of soil erosion with different return periods, especially at national level, have not been adequately considered. Therefore, the present study aimed to zone rainfall erosivity index (R factor) as the most dynamic factor affecting variability of soil erosion rate, with different return periods in monthly, seasonal and annual time scales in Iran. Toward this attempt, the kinetic energy and maximum 30-min intensity (I 30) over 12,000 available and accessible events of 70 stations were calculated during the common period of 1984–2004 and the corresponding R factor of the Universal Soil Loss Equation was then computed. Subsequently, the best-fitted frequency distributions were determined in all stations in three time scales using the EasyFit Software. The R factor was accordingly estimated for 2-, 5-, 10-, 25- and 50-year return periods. In addition, the inverse distance weighting technique was employed to determine and analyze the spatial variability patterns of R factor in different time scales using geographic information system. The results indicated that the frequency distributions fitted to study data were different in study time scales due to variability of spatiotemporal patterns of R factor. In addition, no specific spatial pattern of R factor could be recognized for different return periods and time scales. The average annual R factor was also found 1.41 MJ mm ha−1 h−1, whereas the respective R factor for different respective return periods of 2, 5, 10, 25 and 50 years was obtained 1.47, 2.62, 3.35, 4.48 and 5.54 MJ mm ha−1 h−1. These findings can be used for suitable decision making and effective environmental planning for land management Iran countrywide.
Access options
Buy single article
Instant access to the full article PDF.
USD 39.95
Price excludes VAT (USA)
Tax calculation will be finalised during checkout.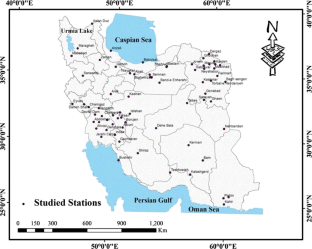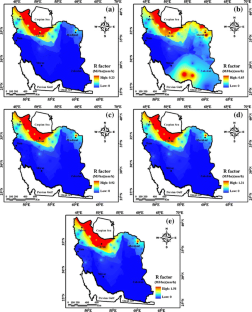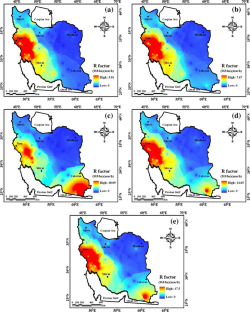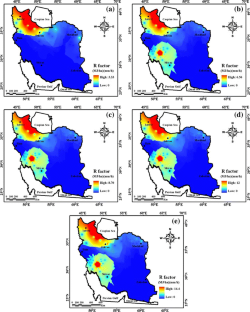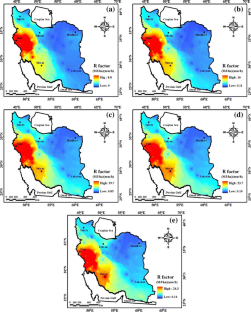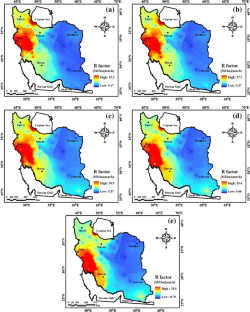 References
Angulo-Martínez M, Beguería S (2009) Estimating rainfall erosivity from daily precipitation records: a comparison among methods using data from the Ebro Basin (NE Spain). J Hydrol 379:111–121

Ballabio C, Borrelli P, Spinoni J, Meusburger K, Michaelides S, Beguería S, Klik A, Petan S, Janeček M, Olsen P, Aalto J, Lakatos M, Rymszewicz A, Dumitrescu A, Tadić MP, Diodato N, Kostalova J, Rousseva S, Banasik K, Alewell C, Panagos P (2017) Mapping monthly rainfall erosivity in Europe. Sci Total Environ 579:1298–1315

Banasik K, Gorski D (1993) Evaluation of rainfall erosivity for east Poland. In: Proceedings international symposium on runoff and sediment yield modelling, Eds.: Banasik K., Zbikowski A. Warsaw, Poland; Sep. 14-16, 1993, Warsaw Agr Univ, p:129-134

Borrelli P, Märker M, Schütt B (2015) Modelling post-tree-harvesting soil erosion and sediment deposition potential in the Turano River Basin (Italian Central Apennine). Land Degrad Dev 26(4):356–366

Borrough PA, McDonnell RA (1998) Principles of geographical information systems. Oxford University Press, Oxford

Cerda A (1998) Relationships between climate and soil hydrological and erosional characteristics along climatic gradients in Mediterranean limestone areas. Geomorphology 25(1):123–134

Davudirad AA, Sadeghi SHR, Sadoddin A (2016) The Impact of development plans on hydrological changes in the Shazand Watershed Iran. Land Degrad Dev 27:1236–1244

Diodato N, Verstraeten G, Bellocchi G (2014) Decadal modelling of rainfall erosivity in Belgium. Land Degrad Dev 25(6):511–519

Diodato N, Borrelli P, Fiener P, Bellocchi G, Romano N (2017) Discovering historical rainfall erosivity with a parsimonious approach: a case study in Western Germany. J Hydrol 544:1–9

Duan X, Gu Z, Li Y, Xu H (2016) The spatiotemporal patterns of rainfall erosivity in Yunnan Province, southwest China: an analysis of empirical orthogonal functions. Glob Planet Change 144:82–93

Eltaif NI, Gharaibeh MA, Al-Zaitawi F, Alhamad MN (2010) Approximation of rainfall erosivity factors in North Jordan. Pedosphere 20:711–717

Ferro V, Giordano G, Iovino M (1991) Isoerosivity and erosion risk map for Sicily. J Hydrol Sci 36(6):549–564

Fischer F, Hauck J, Brandhuber R, Weigl E, Maier H, Auerswald K (2016) Spatio-temporal variability of erosivity estimated from highly resolved and adjusted radar rain data (RADOLAN). Agric For Meteorol 223:72–80

Foster GR, McCool DK, Renard KG, Moldenhauer WC (1981) Conversion of the universal soil loss equation to SI metric units. J Soil Water Conserv 36(6):355–359

Gessesse B, Bewket W, Bräuning A (2015) Model-based characterization and monitoring of runoff and soil erosion in response to land use/land cover changes in the Modjo watershed Ethiopia. Land Degrad Dev 26(7):711–724

Gonzalez-Hidalgo JC, Batalla RJ, Cerda A, de Luis M (2012) A regional analysis of the effects of largest events on soil erosion. Catena 95:85–90

Hakimkhani Sh, Mahdian MH, Arabkhedri M, GhorbanPour D (2005) Evaluation of rain erosivity in the country. In: Third national conference on erosion and sedimentation, Tehran, pp 281–288

Hazbavi Z, Sadeghi SHR (2015) Potential effects of vinasse as a soil amendment to control runoff and soil loss. Soil 2:767–791

Hoyos N, Waylen PR, Jaramillo A (2005) Seasonal and spatial patterns of erosivity in a tropical watershed of the Colombian Andes. J Hydrol 314:177–191

Huang J, Zhang J, Zhang Z, Xu CY (2013) Spatial and temporal variations in rainfall erosivity during 1960–2005 in the Yangtze River basin. Stoch Environ Res Risk Assess 27(2):337–351

Kavian A, Fathollah Nejad Y, Habibnejad M, Soleimani K (2011) Modeling seasonal rainfall erosivity on a regional scale: a case study from Northeastern Iran. Int J Environ Res 5:939–950

Lai C, Chen X, Wang Z, Wu X, Zhao S, Wu X, Bai W (2016) Spatio-temporal variation in rainfall erosivity during 1960–2012 in the Pearl River Basin, China. Catena 137:382–391

Lee JH, Jung Y, Heo JH (2011) Spatial analysis of rainfall erosivity trends in South Korea. World Environmental and Water Resources Congress, Palm Springs, California, pp 4469–4476

Ligonja PJ, Shrestha RP (2015) Soil erosion assessment in Kondoa eroded area in Tanzania using Universal Soil Loss Equation, geographic information systems and socioeconomic approach. Land Degrad Dev 26(4):367–379

Ma L, Chi X, Zuo C (2012) Evaluation of interpolation models for rainfall erosivity on a large scale. In: First international conference on agro-geoinformatics, Shanghai, pp 1–5

Martins SG, Avanzi JC, Silva MLN, Curi N, Norton LD, Fonseca S (2010) Rainfall erosivity and rainfall return period in the experimental watershed of Aracruz, in the coastal plain of Espirito Santo, Brazil. Rev Bras Ciênc Solo 34:999–1004

Mello CR, Viola MR, Beskow S, Norton LD (2013) Multivariate models for annual rainfall erosivity in Brazil. Geoderma 202–203:88–102

Meusburger K, Steel A, Panagos P, Montanarella L, Alewell C (2012) Spatial and temporal variability of rainfall erosivity factor for Switzerland. Hydrol Earth Syst Sci 16:167–177

Mikos M, Jost D, Petkovsek G (2006) Rainfall and runoff erosivity in the alpine climate of north Slovenia: a comparison of different estimation methods. Hydrol Sci J 51:115–126

Millward AA, Mersey JE (1999) Adapting the RUSLE to model soil erosion potential in a mountainous tropical watershed. Catena 38:109–129

Modarres R, Silva VPR (2007) Rainfall trends in arid and semi-arid regions of Iran. J Arid Environ 70:344–355

Mokhtarzadeh M (1989) Determining Wischmeier and Smith Erosivity Index in Iran. M.Sc. Thesis, Tarbiat Modares University (TMU), Iran

Mondal A, Khare D, Kundu S (2016) Change in rainfall erosivity in the past and future due to climate change in the central part of India. Int Soil Water Conserv Res 4(3):186–194

Nanko K, Giambelluca TW, Sutherland RA, Mudd RG, Nullet MA, Ziegler AD (2015) Erosion potential under miconia calvescens stands on the Island of Hawaii. Land Degrad Dev 26(3):218–226

Nanko K, Moskalski SM, Torres R (2016) Rainfall erosivity–intensity relationships for normal rainfall events and a tropical cyclone on the US southeast coast. J Hydrol 534:440–450

Nikkami D, Mahdian MH (2015) Rainfall erosivity mapping in Iran. J Watershed Eng Manag 6(4):364–376 (In Persian)

Nourzadeh MH (2013) Investigating the rainfall erosivity index using geostatistics. Int J Agron Plant Prod 4(11):2816–2821

Nunes AN, Lourenço L, Vieira A, Bento Gonçalves A (2014) Precipitation and erosivity in southern Portugal: seasonal variability and trends (1950–2008). Land Degrad Dev 27:211–222

Oliveira PTS, Rodrigues DBB, Sobrinho TA, Carvalho DF, Panachuki EP (2012) Spatial variability of the rainfall erosive potential in the state of Mato Grosso do Sul, Brazil. Eng Agrícola 32:69–79

Panagos P, Ballabio C, Borrelli P, Meusburger K (2016a) Spatio-temporal analysis of rainfall erosivity and erosivity density in Greece. Catena 137:161–172

Panagos P, Borrelli P, Spinoni J, Ballabio C, Meusburger K, Begueria S, Klik A, Michaelides S, Petan S, Hrabalikova M, Olsen P, Aalto J, Lakatos M, Rymszewicz A, Dumitrescu A, Percec Tadic M, Diodato N, Kostalova Julia, Rousseva S, Banasik K, Alewell C (2016b) Monthly rainfall erosivity: conversion factors for different time resolutions and regional assessments. Water 8(119):1–18. doi:10.3390/w8040119

Qin W, Guo Q, Zuo C, Shan Z, Ma L, Sun G (2016) Spatial distribution and temporal trends of rainfall erosivity in mainland China for 1951–2010. Catena 147:177–186

Ramos MC, Durán B (2014) Assessment of rainfall erosivity and its spatial and temporal variabilities: case study of the Penedès area (NE Spain). Catena 123:135–147

Sadeghi, SHR (2000) Some aspects of spatial and temporal distribution and development of prediction models of watershed sediment yield. Ph.D. thesis, G.B. Pant University of Agriculture and Technology, India

Sadeghi SHR, Hazbavi Z (2015) Trend analysis of the rainfall erosivity index at different time scales in Iran. Nat Hazard 77:383–404

Sadeghi SHR, Tavangar S (2015) Development of stational models for estimation of rainfall erosivity factor in different timescales. Nat Hazard 77:429–443

Sadeghi SHR, Moatamednia M, Behzadfar M (2011) Spatial and temporal variations in the rainfall erosivity factor in Iran. J Agric Sci Tech 13:451–464

Sadeghi SHR, Hazbavi Z, Kiani Harchegani M (2016a) Controlling of runoff and soil loss from small plots treated by vinasse-produced biochar. Sci Total Environ 15:483–490

Sadeghi SHR, Hazbavi Z, Younesi H, Bahramifar N (2016b) Trade-off between runoff and sediments from treated erosion plots and polyacrylamide and acrylamide residues. Catena 142:213–220

Sadeghifard D, Jabbari E, Ghiasian H (2004) Zonation of rainfall erosivity index. In: First national congress on civil engineering (NCCE), Sharif University of Technology, pp 1–8. (in Persian)

Sanchez-Moreno JF, Mannaerts CM, Jetten V (2014) Rainfall erosivity mapping for Santiago Island, Cape Verde. Geoderma 217–218:74–82

Santosa PB, Mitani Y, Ikemi H (2010) Estimation of RUSLE EI 30 based on 10 min interval rainfall data and GIS-based development of rainfall erosivity maps for Hitotsuse basin in Kyushu Japan. In: 18th international conference on geoinformatics, Beijing, pp 1–6

Shamshad A, Azhari MN, Isa MH, Wan Hussin WMA, Parida BP (2008) Development of an appropriate procedure for estimation of RUSLE EI30 index and preparation of erosivity maps for Pulau Penang in Peninsular Malaysia. Catena 72:423–432

Taguas EV, Peña A, Ayuso JL, Pérez R, Yuan Y, Giráldez JV (2010) Rainfall variability and hydrological and erosive response of an olive tree microcatchment under no-tillage with a spontaneous grass cover in Spain. Earth Surf Proc Land 35(7):750–760

Wischmeier WH, Smith DD (1958) Rainfall energy and its relationship to soil loss. Trans Am Geophys Union 39:285–291

Wischmeier WH, Smith DD (1965) Predicting rainfall-erosion losses from cropland east of the rocky mountains: guide for selection of practices for soil and water conservation. Agricultural Handbooks, Washington

Wischmeier WH, Smith DD (1978) Predicting rainfall erosion losses: a guide to conservation planning. US Department of Agriculture, Washington

Xiao L, Yang X, Chen S, Cai H (2015) An assessment of erosivity distribution and its influence on the effectiveness of land use conversion for reducing soil erosion in Jiangxi, China. Catena 125:50–60

Xie Y, Yin S, Liu B, Nearing MA, Zhao Y (2016) Models for estimating daily rainfall erosivity in China. J Hydrol 535:547–558

Xin Z, Yu X, Li Q, Lu XX (2011) Spatiotemporal variation in rainfall erosivity on the Chinese Loess Plateau during the period 1956–2008. Reg Environ Change 11(1):149–159

Zhang P, Wang G, Tian L, Zhang YL (2014) Spatiotemporal distribution of rainfall erosivity in the Bailong River basin, Gansu Province. Adv Mater Res 936:2377–2382
About this article
Cite this article
Sadeghi, S.H., Zabihi, M., Vafakhah, M. et al. Spatiotemporal mapping of rainfall erosivity index for different return periods in Iran. Nat Hazards 87, 35–56 (2017). https://doi.org/10.1007/s11069-017-2752-3
Received:

Accepted:

Published:

Issue Date:

DOI: https://doi.org/10.1007/s11069-017-2752-3
Keywords
Design erosivity index

Occurrence probability

Soil erosion mapping

Spatial and temporal analysis

Wischmeier and Smith erosivity index