Abstract
Remote sensing images of AD 1991–2011 and field observations help evaluate shoreline changes (erosion and accretion) in Puducherry and Tamil Nadu states of southeastern India. A minor harbor was constructed during AD 1986–1989 in the coast of Puducherry, and it initiated the gradual process of shoreline modification. In the subsequent years, beaches located toward the north of the harbor suffered erosion (−0.12–−4.19 m/year) and there was accretion (0.27–7.25 m/year) in the southern beaches. However, the man-made structures (seawall and groin) have reduced the shoreline changes after AD 2004. In the last two decades, the rate of erosion area-wise gradually decreased (0.24–0.013 km2/year) and accretion remained constant (0.019 km2/year). Our results suggest that accretion happened in the southern side of the breakwaters and erosion occurred in the northern part. Presence of groins structures in the region in the northern part has also provoked accretion in the south and erosion in the northern side close to the State of Tamil Nadu.
Access options
Buy single article
Instant access to the full article PDF.
US$ 39.95
Tax calculation will be finalised during checkout.
Subscribe to journal
Immediate online access to all issues from 2019. Subscription will auto renew annually.
US$ 119
Tax calculation will be finalised during checkout.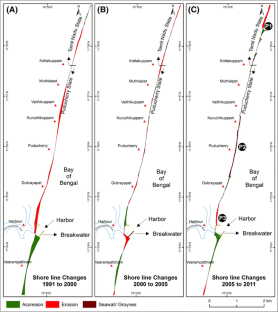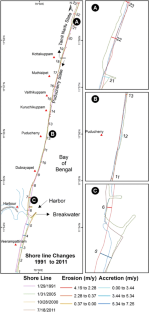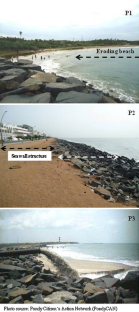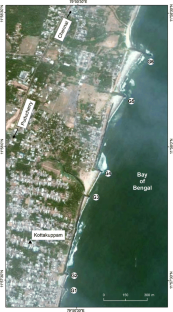 References
Aurofilio A (2002) The disappearing beach dilemma. In: Auroville today. www.auroville.org/journals&media/avtoday/2000-2003/nov_2002/beach.htm

Boak EH, Turner IL (2005) Shoreline definition and detection: a review. J Coast Res 2(4):688–703

De Solan B, Muthusankar G, Lo Seen D, Thierry B, Raman AV (2001) GIS, multidate and multisource data for determining shoreline changes: a case for Gautami Godavari delta, east coast of India. ISRS 2001 symposium, Ahmadabad, 11–13 Dec

Hong-Yeon CHO, Lakshumanan C, Usha-Natesan (2004) Coastal wetland and shoreline change mapping of Pichavaram, south east coast of India using Satellite data. http://www.gisdevelopment.net/application/nrm/coastal/mnm/ma04081pf.htm

Jiménez JA, Gracia V, Valdermoro HI, Mendoza ET, Sánchez-Arcilla A (2011) Managing erosion-induced problems in NW Mediterranean urban beaches. Ocean Coast Manag 54:907–918

Lakshmi A, Schiavina A, Banerjee P, Reddy A, Mandeen S, Rodriguez S, Apte D (2012) The challenged coast of India. A report. BNHS, NCPC, PondyCAN and TISS, p 233

Mitchell A (1999) The ESRI guide to GIS analysis, volume 1: geographic patterns and relationships. ESRI, Redlands

Nayak S, Bahuguna A, Shaikh MG, Rao RS (1991) Manual for mapping of coastal wetlands, landfonns and shoreline changes using satellite data. Technical Note. IRSUP/SAC/MCE/TN/32/91:63

Neelamani S, Sundaravadivelu R (2006) Erosion, protection of Pondicherry coast, southeast India. J Coast Res Spl Issue 39:880–883

Ramesh R, Nammalwar P, Gowri VS (2008) Data base on coastal information of Tamil Nadu. Environmental Information System (ENVIS) Centre, Department of Environment, Government of Tamil Nadu Report, Chennai

Ramesh R, Purvaja R, Senthilvel A (2011) National assessment of shoreline change: puducherry coast. NCSCM/MoEF Rep 01:57

Rao EP, Nair MM, Raju DV (1984) Assessment of the role of remote sensing techniques in monitoring shoreline changes: a case study of Kerala coast. Int J Remote Sens 6(34):549–558

Schoonees JS, Theron AK, Bevis D (2006) Shoreline accretion and sand transport at groynes inside the Port of Richard Bay. Coast Eng 53:1045–1058

Sreekala SE, Baba M, Muralikrishna M (1998) Shoreline changes of Kerala coast using IRS data and aerial photographs. Ind J Mar Sci 27:144–148

The Hindu (2002) Dredging in full swing to reclaim stretch of Pondy beach. http://www.thehindu.com/2002/09/12/stories/2002091202880300.htm

The Hindu (2004) Steps to protect coastal areas from sea erosion. http://www.thehindu.com/2004/04/09/stories/200404040904790300.htm

The Hindu (2009) Fishermen hit as coastal villages face sea erosion threat. http://www.thehindu.com/2009/12/15/stories/2009121553970300.htm

The Hindu (2010a) Coastal villages in Puducherry grapple with sea erosion. http://www.thehindu.com/todays-paper/tp-national/tp-tamilnadu/coastal-villages-in-puducherry-grapple-with-sea-erosion/article486929.ece

The Hindu (2010b) Puducherry residents concerned about sea erosion. http://www.thehindu.com/todays-paper/tp-national/tp-tamilnadu/puducherry-residents-concerned-about-sea-erosion/article938640.ece

The Hindu (2011) Coastal erosion tops list of environmental issues in Puducherry. http://www.thehindu.com/todays-paper/tp-national/tp-tamilnadu/coastal-erosion-tops-list-of-environment-issues-in-puducherry/article2078822.ece

The Hindu (2013a) Rubble mounds sea wall, groynes coming up. http://www.thehindu.com/todays-paper/tp-national/tp-tamilnadu/rubble-mounds-sea-wall-groynes-coming-up/article4388335.ece

The Hindu (2013b) Plea to stop building seawall, groynes. http://www.thehindu.com/todays-paper/tp-national/plea-to-stop-building-seawall-groynes/article4409800.ece

Thieler ER, Himmelstoss EA, Zichichi JL, Ergul A (2009) Digital shoreline analysis system (DSAS) version 4.3—an Arc GIS extension for calculating shoreline change: US geological survey open file report, 2008-1278

van Rijn LC (2011) Coastal erosion and control. Ocean Coast Manag 54:867–887
Acknowledgments
GM wishes to thank French Institute of Pondicherry for their help in diverse ways. MPJ wishes to express thanks SNI, CONACyT, EDI and COFAA (IPN Mexico). PDR acknowledges the support from CTIC-UNAM, Mexico. This article is the 83rd contribution from Earth System Science Group (ESSG), Chennai, India.
About this article
Cite this article
Muthusankar, G., Jonathan, M.P., Lakshumanan, C. et al. Coastal erosion vs man-made protective structures: evaluating a two-decade history from southeastern India. Nat Hazards 85, 637–647 (2017). https://doi.org/10.1007/s11069-016-2583-7
Received:

Accepted:

Published:

Issue Date:
Keywords
Erosion

Accretion

Shoreline changes

GIS

Seawall

Puducherry

Tamil Nadu

Southeast coast of India