Abstract
Fires are an important land use tool, a growing global hazard, and a factor involved in landscape processes with feedbacks on land degradation, especially in the Southwestern Mediterranean Europe, where the importance of fires in shaping ecological processes has long been recognized. As fires become recurrent, their intensity and dimension have increased and they have taken on catastrophic proportions, losing their role as catalysts of ecosystem renewal. Fires, and especially large forest fires (LFF), are the main drivers of land degradation in forest areas in Mediterranean sub-humid regions and are likely to increase as a result of climate and other global changes. The study area consists of the whole of mainland Portugal, which for the purpose of civil protection, is divided into 18 districts. The data used, including physical and demographic characteristics, change in land use and land cover, and economic structures are provided mainly by the Institute for the Conservation of Nature and Forests in statistical format and in shapefile format. Throughout the years, LFF in Portugal have become increasingly important. Although LFF in mainland Portugal represent a small fraction of the total occurrences (0.8 %), in accordance with the trends of the Mediterranean Basin, they are responsible for a large percentage of burned areas (>70 %). With the use of the GIS software, we were able to use the available information to generate a map of forest fire recurrences and, with the purpose of detecting homogeneous groups between the districts of mainland Portugal, a cluster analysis was applied. Using a multiple regression analysis, we present the LFF and their recurrence in mainland Portugal at the district level, demonstrating their regional incidence and the similarity between districts.
Access options
Buy single article
Instant access to the full article PDF.
US$ 39.95
Tax calculation will be finalised during checkout.
Subscribe to journal
Immediate online access to all issues from 2019. Subscription will auto renew annually.
US$ 119
Tax calculation will be finalised during checkout.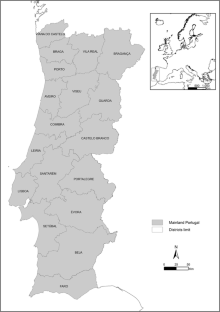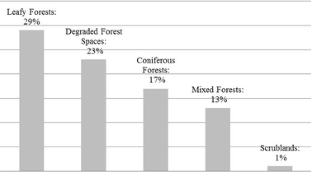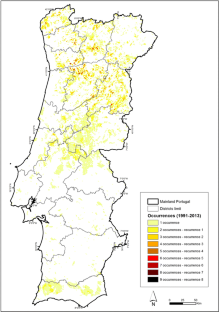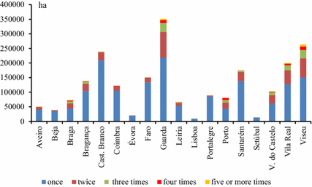 References
Andrada e Silva J (1815) Memoria sobre a Necessidade e Utilidades do Plantio de Novos Bosques em Portugal, particularmente de pinhaes nos areaes de beria-mar; seu methodo de sementeira, costeamento, e administração. Typografia da Academia Real das Sciencias, Lisboa

Bajocco S, Ricotta C (2008) Evidence of selective burning in Sardinia (Italy): which land cover classes do wildfires prefer? Landsc Ecol 23:241–248

Barbéro M, Loisel R, Quézel P, Richardson DM, Romane F (1998) Pines of the mediterranean basin. In: Richardson DM (ed) Ecology and biogeography of Pinus. Cambridge University Press, Cambridge, pp 153–170

Bento-Gonçalves AJ, Vieira A, Martins CP, Ferreira-Leite F, Costa F (2009) A criação de Garranos na serra da Cabreira (Vieira do Minho) e uso do fogo. In: GEO-Working Papers, Bento-Gonçalves AJ, Vieira A (eds) Núcleo de Investigação em Geografia e Planeamento. Universidade do Minho, Instituto de Ciências Sociais, pp 1645–9369

Bento-Gonçalves AJ, Vieira A, Martins CP, Ferreira-Leite F, Costa F (2010) A desestruturação do mundo rural e o uso do fogo–o caso da serra da Cabreira (Vieira do Minho). In Caminhos nas Ciências Sociais. Memória, Mudança Social e Razão – Estudos em Homenagem a Manuel da Silva Costa. Universidade do Minho, Braga, pp 87–104

Bento-Gonçalves AJ, Vieira A, Ferreira-Leite F, Martins J, Silva D, Soares V (2011) Adaptaclima: adaptação aos efeitos derivados das alterações climáticas. As Mudanças Climáticas e os Incêndios Florestais no Ave. AMAVE, Interreg Sudoe IV B, Guimarães, 103 pp

Bento-Gonçalves AJ, Vieira A, Úbeda X, Martin D (2012) Fire and soils: key concepts and recent advances. Geoderma 191:3–13

Bento-Gonçalves AJ, Vieira A, Ferreira-Leite F, Malta PA, da Vinha L (2013) Climate change and forest fires in the ave region (NW of Portugal). In: Manzanares L (ed) Woodlands: structure, species diversity and sustainable management. Nova Science Publishers, Hauppauge, pp 75–98

Beverly JL, Martell DL (2005) Characterizing extreme fire and weather events in the Boreal Shield ecozone of Ontario. Agric For Meteorol 133:5–16

Brown JK, Smith JK (2000) Wildland fire in ecosystems: effects of fire on flora. In: General Technical Report RMRS-GTR-42-vol 2. U.S. Department of Agriculture, Forest Service, Rocky Mountain Research Station, Ogden, UT, 257 pp

Cardille JA, Ventura SJ, Turner MG (2001) Environmental and social factors influencing wildfires in the upper Midwest, United States. Ecol Appl 11:111–127

Carmo M, Moreira F, Casimiro P, Vaz P (2011) Land use and topography influences on wildfire occurrence in northern Portugal. Landsc Urban Plan 100:169–176

Carvalho A, Flannigan MD, Logan K, Miranda AI, Borrego C (2008) Fire activity in Portugal and its relationship to weather and the Canadian fire weather index system. Int J Wildland Fire 17:328–338

Catry FX, Rego F, Bação F, Moreira F (2009) Modelling and mapping wildfire ignition risk in Portugal. Int J Wildland Fire 18:921–931

Catry FX, Silva JS, Fernandes P (2010) Efeitos do fogo na vegetação. In: Moreira FC, Catry FX, Silva JS, Rego F (eds) Ecologia do fogo e gestão das áreas ardidas. ISA Press, Lisboa, pp 49–86

Cerdà A (1998) Changes in overland flow and infiltration after a rangeland fire in a Mediterranean scrubland. Hydrol Process 12:1031–1042

Certini G (2005) Effects of fire on properties of forest soils: a review. Oecologia 143:1–10

Collins L, Penman TD, Price OF, Bradstock RA (2015) Adding fuel to the fire? Revegetation influences wildfire size and intensity. J Environ Manage 150:196–205

Costa L, Badeck F, Thonicke K (2007) Sensitivity of Portuguese forest fires to land use and climate factors. Wildfire Congress, Seville

De la Riva J, Pérez-Cabello F (2005) El factor humano en el riesgo de incendios forestales a escala municipal. Aplicación de técnicas SIG para su modelización. In: La ciencia forestal: respuestas para la sostenibilidad, 4 Congreso Forestal Español. Sociedad Española de Ciencias Forestales, Zaragoza

Debano LF, Neary DG, Ffolliott PF (1998) Fire's effects on ecosystems. Wiley, New York, p 333

Debano LF, Neary DG, Ffolliott PF (2005) Soil physical properties. In: Neary DG, Ryan KC, DeBano LF (eds) Wildland fire in ecosystems. Effects of fire on soil and water. General technical report RMRS-GTR-42-Vol 4: Rocky Mountain Research Station, 250. USDA Forest Service

Doerr SH, Shakesby RA (2009) Soil water repellency. Principles, causes and relevance in fire-affected environments. In Cerdà A, Mataix-Solera J (eds) Efectos de los Incendios Forestales Sobre los Suelos en España. Universitat de València, Cátedra Divulgación de la Ciencia, pp 59–76

Fernandes P, Rigolot E (2007) Fire ecology and management of maritime pine (Pinus pinaster Ait.). For Ecol Manag 241:1–13

Ferreira Borges J (1908) A silvicultura em Portugal. Imprensa Nacional, Notas Sobre Portugal, Lisboa

Ferreira AJD, Coelho COA, Ritsema CJ, Boulet AK, Keizer JJ (2008) Soil and water degradation processes in burned areas: lessons learned from a nested approach. Catena 74:273–285

Ferreira AJD, Prats SA, Ferreira CSS, Malvar MC, Coelho COA, Carreiras M, Esteves T (2009) Los incendios florestales como gestores de los procesos hidrológicos y erosivos. In: Cerdá A, Mataix-Solera J (eds) Dos ejemplos clave en el avance científico. Efectos de los incêndios flortestales sobre los suelos en España—El estado de la cuestión visto por los científicos españoles. Cátedra Divulgación de La Ciencia, Universitat de València, Valencia, pp 79–103

Ferreira AJD, Coelho C, Silva JS, Esteves T (2010) Efeitos do fogo no solo e no regime hidrológico. In: Moreira FC, Catry FX, Silva JS, Rego F (eds) Ecologia do fogo e gestão das áreas ardidas. ISA Press, Lisboa, pp 21–48

Ferreira-Leite F, Bento-Gonçalves AJ, Vieira A, Martins C (2010) A recorrência dos incêndios na serra da Cabreira como manifestação do risco de incêndio florestal. Territorium 17:93–98

Ferreira-Leite F, Bento-Gonçalves AJ, Vieira A (2011) The recurrence interval of forest fires in Cabeço da Vaca (Cabreira Mountain—Northwest of Portugal). Environ Res 111:215–221

Ferreira-Leite F, Bento-Gonçalves AJ, Lourenço L, Úbeda X (2012) Problemas metodológicos no estudo dos Incêndios Florestais em Portugal Continental. O caso dos grandes incêndios florestais. In: Atas do XIII Colóquio Ibérico de Geografia. Santiago de Compostela, Spain, pp 857–866

Ferreira-Leite F, Bento-Gonçalves AJ, Lourenço L, Úbeda X, Vieira A (2013a) Grandes Incêndios Florestais em Portugal Continental como Resultado das Perturbações nos Regimes de Fogo no Mundo Mediterrâneo. Silva Lusitana 21(nº. Especial):127–142

Ferreira-Leite F, Lourenço L, Bento-Gonçalves AJ (2013b) Large forest fires in mainland Portugal, brief characterization. Mediteranée 121:53–65

Ganteaume A, Jappiot M (2013) What causes large fires in Southern France. For Ecol Manag 294:76–85

García-Ruiz J, Lasanta T, Ruiz-Flaño P, Ortigosa L, White S, González C, Martí C (1996) Land-use changes and sustainable development in mountain areas: a case study in the Spanish Pyrenees. Landsc Ecol 11:267–277

Giovannini G (1994) The effect of fire on soil quality. In: Sala M, Rubio JL (eds) Soil erosion as a consequence of forest fires. Geoforma Ediciones, Logroño, pp 15–29

Goldammer JG, Hoffmann G, Bruce M, Kondrashov L, Verkhovets S, Kisilyakhov YK, Rydkvist T, Page H, Brunn E, Lovén L, Eerikäinen K, Nikolov N, Chuluunbaatar T (2007) The eurasian fire in nature conservation network (EFNCN): Advances in the use of prescribed fire in nature conservation, landscape management in temperate-boreal Europe and adjoining countries in Southeast Europe, Caucasus, Central Asia and Northeast Asia. In: 4th internacional wildland fire conference. Seville, Spain, pp 13–17

González-Pérez JA, González-Vila FJ, Almendros G, Knicker H (2004) The effect of fire on soil organic matter—a review. Environ Int 30:855870

Jimoh HL (2008) Approaches to studying soil erosion problems in a tropical environment: an overview. Pak J Soc Sci 5:142–146

Keeley JE, Rundel PH (2005) Fire and the miocene expansion of C4 grasslands. Ecol Lett 8:683–690

Lloret F, Piñol J, Castellnou M (2009) Wildfires. In: Woodward J (ed) The physical geography of the mediterranean. Oxford University Press, Oxford, pp 541–560

Lourenço L (1986) Consequências geográficas dos incêndios florestais nas serras de xisto do centro do país. In: Actas IV Colóquio Ibérico de Geografia. Coimbra, pp 943–957

Lourenço L (1988) Tipos de tempo correspondentes aos grandes incêndios florestais ocorridos em 1986 no Centro de Portugal. Finisterra 46:251–270

Mataix-Solera J, Cerdà A, Arcenegui V, Jordán A, Zavala LM (2011) Fire effects on soil aggregation: a review. Earth-Sci Rev 109:44–60

Mercer DE, Prestemon JP (2005) Comparing production function models for wildfire risk analysis in the wildland–urban interface. For Policy Econ 7:782–795

Moreira F, Vaz P, Catry F, Silva JS (2009) Regional variations in wildfire preference for land cover types in Portugal: implications for landscape management to minimise fire hazard. Int J Wildland Fire 18:563–574

Moreira F, Viedma O, Arianoutsou M, Curt T, Koutsias N, Rigolot E et al (2011) Landscape e wildfire interactions in southern Europe: implications for landscape management. J Environ Manag 92:2389–2402

Moreno JM, Vázquez A, Vélez R (1998) Recent history of forest fires in Spain. In: Moreno JM (ed) Large forest fires. Backhuys Publishers, Leiden, pp 159–185

Nunes A (2012) Regional variability and driving forces behind forest fires in Portugal an overview of the last three decades (1980–2009). Appl Geogr 34:576–586

Nunes A, Coelho C (2007) Land use change in inland of Portugal: Implications on overland flow and erosion rates. In: Proceedings of COST 634 international conference on off-site impacts of soil erosion and sediment transport. Prague, Czech Republic, pp 124–139

Nunes MCS, Vasconcelos MJ, Pereira JMC, Dasgupta N, Alldredge RJ, Rego FC (2005) Land cover type and fire in Portugal: do fires burn land cover selectively? Landsc Ecol 20:661–673

Oliveras I, Piñol J, Viegas DX (2005) Modelling the long term effect of changes in fire frequency on the total area burnt. Orsis 20:73–81

Pausas JG (2004) Changes in fire and climate in the Eastern Iberian Peninsula (Mediterranean Basin). Clim Change 63:337–350

Pausas J, Vallejo VR (1999) The role of fire in European Mediterranean ecosystems. In: Chuvieco E (ed) Remote sensing of large wildfires in the European Mediterranean basin. Springer, Berlin, pp 3–16

Pausas JG, Llovet J, Rodrigo A, Vallejo VR (2008) Are wildfires a disaster in the Mediterranean basin? A review. Int J Wildland Fire 17:713–723

Pereira JMC, Santos MT (2003) Cartografia das áreas queimadas e do risco de incêndio em Portugal Continental (1990–1999). Direcção-Geral das Florestas, 64 pp

Piñol J, Terradas J, Lloret F (1998) Climatic warming hazard, and wildfire occurrence in coastal eastern Spain. Clim Change 38:345–357

Rego FC (1992) Land use changes and wildfires. In: Teller A, Mathy P, Jeffers JNR (eds) Responses of forest ecosystems to environmental change. Elsevier Applied Science, London, pp 367–373

Rego FC (2001) Florestas Públicas. DGF e CNEFF, Lisboa; 105 pp

Ribeiro O (1955) Portugal. O Mediterrâneo e o Atlântico. Colecção Nova Universidade, Sá da Costa, Lisboa

Roxo MJ, Cortesão Casimiro P, Soeiro de Brito R (1996) Inner lower Alentejo field site: cereal cropping, soil degradation and desertification. In: Brandt J, Thornes J (eds) Mediterranean desertification and land use. Willey, London, pp 111–135

Santos FD, Forbes K, Moita R (2002) Climate change in Portugal. Scenarios, impacts and Adaptaion measures. Gradiva, Lisbon

Sebastián-López A, Salvador-Civil R, Gonzalo-Jiménez J, San Miguel-Ayanz J (2008) Integration of socio-economic and environmental variables for modelling long-term fire danger in Southern Europe. Eur J For Res 127:149–163

Shakesby RA (2011) Post-wildfire soil erosion in the Mediterranean: review and future research directions. Earth-Sci Rev 105:71–100

Shakesby RA, Boakes DJ, Coelho COA, Bento-Gonçalves AJ, Walsh RPD (1996) Limiting the soil degradational impacts of wildfire in pine and eucalyptus forests in Portugal. A comparison of alternative post fire management practices. Appl Geogr 16(4):337–355

Syphard AD, Radeloff VC, Keeley JE, Hawbaker TJ, Clayton MK, Stewart SI, Hammer RB (2007) Human influence on California fire regimes. Ecol Appl 17(1388–1402):2007

Trabaud L (2002) Post-fire vegetation recovery and dynamics in the Mediterranean area. In: Pardini G, Pinto J (eds) Fire, landscape and biodiversity: an appraisal of the effects and effectiveness. Diversitas, UdG, Girona, pp 39–55

Vélez R (1993) High intensity forest fires in the mediterranean basin: natural and socioeconomic causes. Disaster Manage 5:16–20

Vieira A, Bento-Gonçalves A, Lourenço L, Martins CO, Ferreira-Leite F (2009) Risco de incêndio florestal em áreas de Interface Urbano-Rural: o exemplo do AVE. Territorium 16:139–146

Xanthopoulos G, Caballero D, Galante M, Alexandrian D, Rigolot E, Marzano R (2006) Forest fuels management in Europe. In: Andrews PL, Butler BW (eds) Fuels management e How to measure success: conference proceedings. Portland, OR. Proceedings RMRS-P-41, U.S. Department of Agriculture, Forest Service, Rocky Mountain Research Station, Fort Collins
Acknowledgments
This work was financed by the POPH/FSE-Programa Operacional Potencial Humano/Fundo Social Europeu (Human Potential Operational Programme/European Social Fund) and by FCT-Fundação para a Ciência e a Tecnologia (Portuguese Foundation for Science and Technology) within the doctoral grant SFRH/BD/72030/2010. It was also supported by the Foundation for Science and Technology (FCT) through the scholarship SFRH/BSAB/113587/2015, co-financed by the European Social Fund and national funding by MEC.
About this article
Cite this article
Ferreira-Leite, F., Bento-Gonçalves, A., Vieira, A. et al. Incidence and recurrence of large forest fires in mainland Portugal. Nat Hazards 84, 1035–1053 (2016). https://doi.org/10.1007/s11069-016-2474-y
Received:

Accepted:

Published:

Issue Date:
Keywords
Large forest fires

Recurrence

Regional incidence

Cluster analysis

Multiple regression models