Abstract
The Makran subduction zone (MSZ), located along the southern coasts of Iran and Pakistan, has experienced some deadly earthquakes and tsunamis, including the destructive 1945 Makran tsunami that led to more than 4000 fatalities. In spite of past studies on 1945 Makran tsunami, there are still unresolved problems, particularly on mismatches between the tsunami wave heights and arrival times with reported observations at different locations. The significant disagreement between the results of numerical models and existing data supports the existence of another mechanism involved during the generation of the tsunami. In the present study, a submarine landslide, triggered by the 1945 Earthquake, is studied as the major source of 1945 Makran tsunami. The simulation of seismic 1945 Tsunami, using high-resolution bathymetry data with a fine nested grid to increase the accuracy of modeled tsunami wave heights, confirms the large discrepancies between the reported tsunami waves and simulated values. Assuming the location and dimensions of a probable landslide, the GEOWAVE model, a combination of TOPICS and FUNWAVE models, is applied to model the non-seismic 1945 Tsunami. The simulated landslide tsunami demonstrates a fair agreement with the reported tsunami wave heights at different locations in Pakistan, Iran and India. The arrival times of tsunami waves at Pasni and Karachi in Pakistan can also be interpreted if the occurrence time of the probable submarine landslide is assumed with 3.5 h delay after the quake. The study highlights the potential danger of a non-seismic landslide tsunami in unconsolidated sediments at the MSZ and the necessity of the development of suitable countermeasures against other potential Makran tsunamis in future.
Access options
Buy single article
Instant access to the full article PDF.
USD 39.95
Price excludes VAT (USA)
Tax calculation will be finalised during checkout.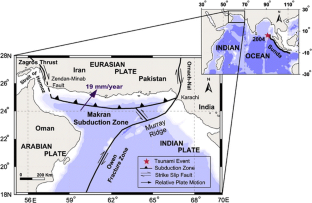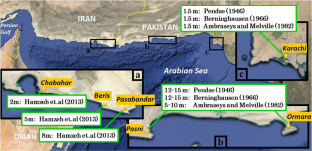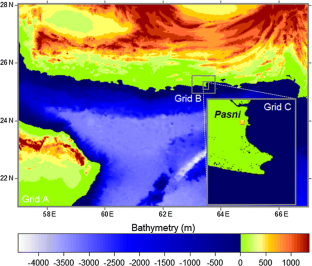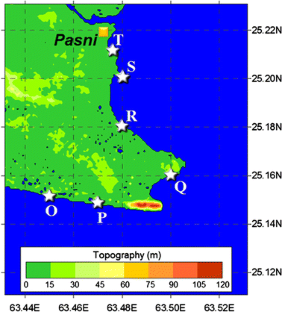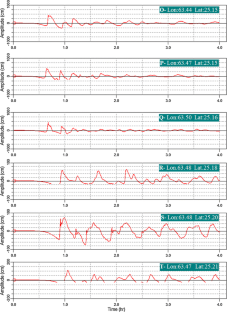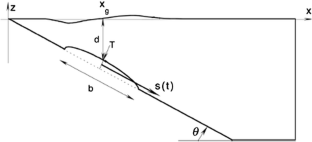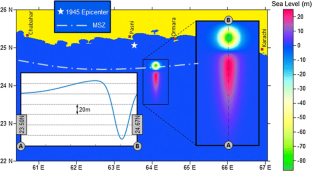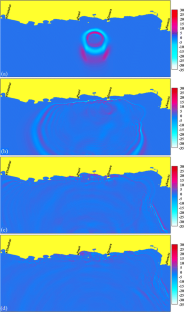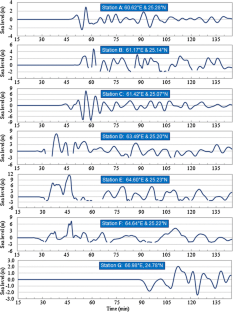 References
Ambraseys NN, Melville CP (1982) A history of Persian earthquakes. Cambridge University Press, Britain

Berninghausen WH (1966) Tsunamis and seismic seiches reported from regions adjacent to the Indian Ocean. Bull Seismol Soc Am 56(1):69–74

Bourget J, Zaragosi S, Ellouz-zimmermann N, Mouchot N, Garlan T, Schneider J, Lanfumay V, Lallemant S (2011) Turbidite system architecture and sedimentary processes along topographically complex slopes: the Makran convergent margin. Sedimentology 58:376–406

Byrne DE, Sykes LR, Davis DM (1992) Great thrust earthquakes and aseismic slip along the plate boundary of the Makran subduction zone. J Geophys Res 97:449–478

Chen Q, Kirby JT, Dalrymple RA, Kennedy AB, Chawla A (2000) Boussinesq modelling of wave transformation, breaking, and runup; II: 2D. J Waterw Port Coast Ocean Eng 126(1):48–56

Grilli ST, Watts P (2005) Tsunami generation by submarine mass failure; I: modeling, experimental validation, and sensitivity analyses. J Waterw Port Coast Ocean Eng 131:283–297

Hamzeh MA, Okal EA, Ghasemzadeh J, Baskaleh GR (2013) Investigation of 1945 Pakistan tsunami's effect on Iranian coasts of Makran. National Conference on Makran Coasts Development and Maritime Authority of Islamic Republic of Iran, Paper number 1123 (in Persian)

Heck NH (1947) List of seismic sea waves. Bull Seismol Soc Am 37(4):269–286

Heidarzadeh M, Pirooz MD, Zaker NH, Yalciner AC, Mokhtari M, Esmaeily A (2008) Historical tsunami in the Makran subduction zone off the southern coasts of Iran and Pakistan and results of numerical modeling. Ocean Eng 35(8&9):774–786

Heidarzadeh M, Pirooz MD, Zaker NH, Yalciner AC (2009) Preliminary estimation of the tsunami hazards associated with the Makran subduction zone at the northwestern Indian Ocean. Nat Hazards 48(2):229–243

Kennedy AB, Chen Q, Kirby JT, Dalrymple RA (2000) Boussinesq modeling of wave transformation, breaking, and runup; I: 1D. J Waterw Port Coast Ocean Eng 126(1):39–47

Lisitzin E (1974) Sea level changes. Elsevier, New York, p 273

Masson DG, Harbitz CB, Wynn RB, Goldsmith P, Pedersen G, Lovholt F (2006) Submarine landslides: processes, triggers, and hazard prediction. Philos Trans R Soc A 364:2009–2039

McSaveney MJ, Goff JR, Darby DJ, Goldsmith P, Barnett A, Elliot S, Nongkas M (2000) The 17 July 1998 tsunami, Papua New Guinea: evidence and initial interpretation. Mar Geol 170:81–89

Miller DJ (1960) The Alaska earthquake of 10 July 1958: giant wave in Lituya Bay. Bull Seismol Soc Am 50:253–266

Murty TS, Bapat A (1999) Tsunamis on the Coastlines of India. Sci Tsunami Hazards 17(3):167–172

Neetu S, Suresh I, Shankar R, Nagarajan B, Sharma R, Shenoi SSC, Unnikrishnan AS, Sundar D (2011) Trapped waves of the 27 November 1945 Makran tsunami: observations and numerical modeling. Nat Hazards 59(3):1609–1618

Okada Y (1985) Surface deformation due to shear and tensile faults in a half-space. Bull Seismol Soc Am 75(4):1135–1154

Okal EA, Fritz HM, Hamzeh MA, Ghasemzadeh J (2015) Field survey of the 1945 Makran and 2004 Indian Ocean tsunamis in Baluchistan, Iran. Pure appl Geophys. doi:10.1007/s00024-015-1157-z

Pendse CG (1946) The Mekran earthquake of the 28th November 1945. India Meteorol Depart Sci Notes 10(125):141–145

Pendse CG (1948) A short note on the Mekran earthquake of the 28 November 1945. J Sci Ind Res 5:106–108

Rajendran CP, Ramanamurthy MV, Reddy NT, Rajendran K (2008) Hazard implications of the late arrival of the 1945 Makran tsunami. Curr Sci 95:1739–1743

Salaree A, Okal EA (2015) Field survey and modeling of the Caspian Sea tsunami of 20 June 1990. Geophys J Int 201:621–639

Smith GL, McNeill LC, Wang K, He J, Henstock TJ (2013) Thermal structure and megathrust seismogenic potential of the Makran subduction zone. Geophys Res Lett. doi:10.1002/grl.50374

Synolakis CE, Bardet JP, Borrero JC, Davies HL, Okal EA, Silver EA, Sweet J, Tappin DR (2002) Slump origin of the 1998 Papua New Guinea tsunami. Proc Roy Soc (Lond) Ser A 458:763–789

Titov VV, Gonzales FI (1997) Implementation and testing of the method of splitting tsunami (MOST) model. NOAA Technical Memorandum ERL-PMEL-112, PB98-122773, Pacific Marine Environmental Laboratory, Seattle, p 11

UNESCO/IOC (2009) Tsunami risk assessment and mitigation for the Indian Ocean; knowing your tsunami risk—and what to do about it. IOC Manual and Guides 52, Paris

UNESCO/IOC (2015) Remembering the 1945 Makran Tsunami; Interviews with Survivors Beside the Arabian Sea. IOC Brochure 2015-1, Paris

Wei G, Kirby JT, Grilli ST, Subramanya R (1995) Fully nonlinear Boussinesq model for free surface waves; Part 1: highly nonlinear unsteady waves. J Fluid Mech 294:71–92
Additional information
Ehsan Rastgoftar was Formerly Graduate Student, K.N. Toosi University of Technology, Tehran, Iran.
About this article
Cite this article
Rastgoftar, E., Soltanpour, M. Study and numerical modeling of 1945 Makran tsunami due to a probable submarine landslide. Nat Hazards 83, 929–945 (2016). https://doi.org/10.1007/s11069-016-2356-3
Received:

Accepted:

Published:

Issue Date:

DOI: https://doi.org/10.1007/s11069-016-2356-3
Keywords
Tsunami simulation

Makran subduction zone (MSZ)

Submarine landslide

GEOWAVE model