Abstract
Surf zone injury and environmental condition data were collected concurrently during the summer of 2014 along the Delaware coast. Documented injury data included injury type, gender, age and activity, while measured environmental conditions included local wave height, wave period and foreshore slope. Daily water user counts were used to normalize injury rates relative to the number of beachgoers at risk. There were 280 injuries over 116 sample days along the entire Delaware coast and 169 injuries over 82 sample days within the 5-beach focused study area where water user count data were available. Injuries were not distributed randomly as tested against a Poisson distribution and occurred in clusters with up to 15 injuries occurring in a single day. There were 32 serious injuries (cervical fractures, spinal cord injuries) and 1 fatality. Water user counts throughout the course of a day exceeded 25,000 on busy weekends such that the mean injury rate was 0.02 %. Men were twice as likely to be injured relative to women, and the mean injury age was 32 years old. Tourists were six times more likely to be injured compared to local beachgoers. Wading (44 %) was the dominant injury activity followed by body surfing (20 %) and body boarding (17 %). Direct correlation between injury occurrence or injury rate and any environmental factors was weak (highest squared correlation coefficient <0.12), but the highest injury rates were associated with moderate wave height (0.6 m) with lower injury rates for both smaller and larger waves. Lack of direct correlation between injury occurrence or injury rate and environmental parameters suggests there was an important (and as yet undetermined) human element that also dictates the injury rate. Additionally, the high proportion of injuries to tourists may require alternate strategies in local beach safety and injury awareness campaigns.
This is a preview of subscription content, log in to check access.
Access options
Buy single article
Instant access to the full article PDF.
US$ 39.95
Price includes VAT for USA
Subscribe to journal
Immediate online access to all issues from 2019. Subscription will auto renew annually.
US$ 199
This is the net price. Taxes to be calculated in checkout.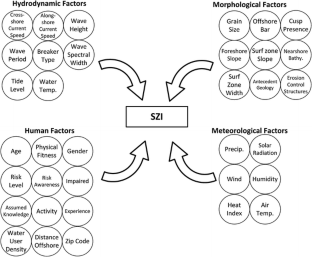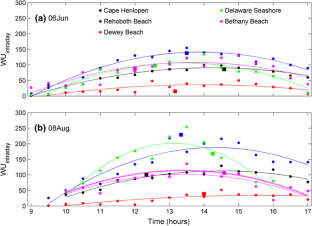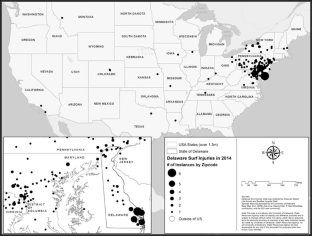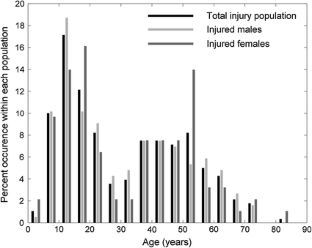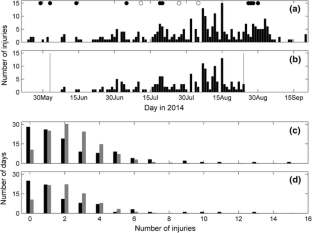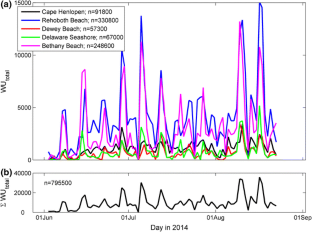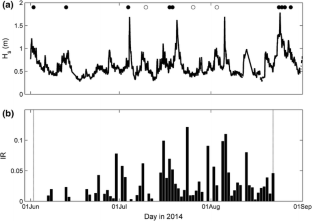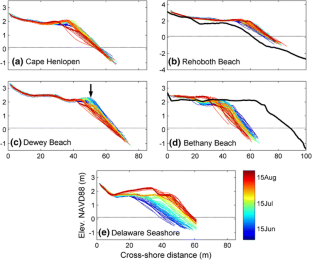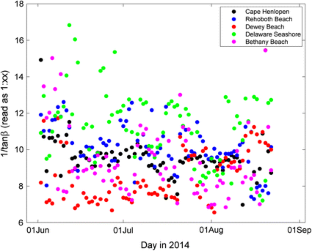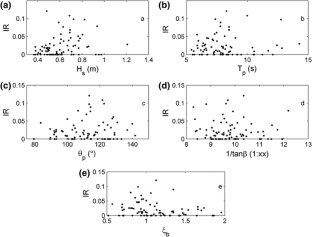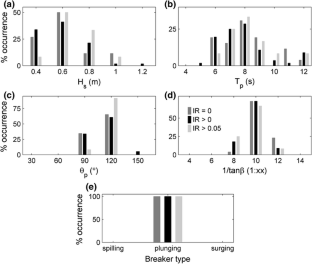 References
Aito S, D'Andrea M, Werhagen L (2005) Spinal cord injuries due to diving accidents. Spinal Cord 43:109–116

Ballantyne R, Carr N, Hughes K (2005) Between the flags: an assessment of domestic and international university students' knowledge of beach safety in Australia. Tour Manag 26:617–622

Barucq G, Jenkins O, Mokni T, Marce S, Campagne JM, Le Jeune D (2009) Surfing-related accidents: epidemiology and prevention. http://blog.surf-prevention.com/2009/01/21/surfing-related-accidents-epidemiology-and-prevention/

Beratan KK, Osborne RH (1987) Frequency and demographic aspects in shallow-water diving accidents in southern California. In: Osborne RH (ed) Shallow-water diving accidents at southern California ocean beaches: demographic, sedimentologic, medical, legal and management perspectives. University of Southern California, Los Angeles, CA

Brander R, MacMahan JH (2011) Future challenges for rip current research and community outreach. In: Leatherman S, Fletemeyer J (eds) Rip currents—beach safety, physical oceanography and wave modeling. CRC Press, Boca Raton, pp 1–29

Brander R, Bradstreet A, Sherker S, MacMahan JH (2011) Response of swimmers caught in rip currents: perspectives on mitigating the global rip current hazard. Int J Aquat Res Educ 5:476–482

Brighton B, Sherker S, Brander R, Thompson M, Bradstreet A (2013) Rip current related drowning deaths and rescues in Australia 2004–2011. Nat Hazards Earth Syst Sci 13:1069–1075

Cao Y, Chen Y, DeVivo MJ (2011) Lifetime direct costs after spinal cord injury. Top Spinal Cord Inj Rehabil 16:10–16

Chang SK, Tominaga GT, Wong JH, Weldon EJ, Kaan KT, Kenneth T (2006) Risk factors for water sports-related cervical spine injuries. J Trauma-Inj Infect Crit Care 60:1041–1046

da Klein AHF, Santana GG, Diehl FL, de Menezes JT (2003) Analysis of hazards associated with sea bathing: results of five years work in oceanic beaches of Santa Catarina State, Southern Brazil. J Coast Res SI 35:107–116

Falcon J (2013) Studying the world-wide problem of aquatic spinal injuries using Ocean City as a case study

Fletemeyer J, Leatherman S (2010) Rip current and beach safety education. J Coast Res 26:1–3

Gensini VA, Ashley WS (2009) An examination of rip current fatalities in the United States. Nat Hazards. doi:10.1007/s11069-009-9458-0

Hay CSM, Barton S, Sulkin T (2009) Recreational surfing injuries in Cornwall, United Kingdom. Wilderness Environ Med 20:335–338

Heron M (2013) Deaths: Leading Causes for 2010. Center for Disease Control, National Vital Statistics System, p 97

Iribarren CR, Nogales C (1949) Protection des ports. XVIIth Int Nav Congress, pp 31–80

Kalogeromitros A, Tsangaris H, Bilalis D, Karainis A (2002) Sever accidents due to windsurfing in the Aegean Sea. Eur J Emerg Med 9:149–154

Komar PD (1983) Beach processes and erosion; an introduction. In: Komar PD, Moore JR (eds) CRC handbook of coastal processes and erosion. CRC Press, Boca Raton, pp 1–20

McCaroll RJ, Brander RW, MacMahan JH, Turner IL, Reniers AJHM, Brown JA, Bradstreet A, Sherker A (2014) Evaluation of swimmer-based rip current escape strategies. Nat Hazards 71:1821–1846

Meir RA, Zhou A, Gilleard WL, Coutts RA (2011) An investigation of surf participation and injury prevalence in Australian surfers: a self-reported retrospective analysis. Gosford, New South Wales

Morgan D, Ozanne-Smith J, Triggs T (2008) Descriptive epidemiology of drowning deaths in a surf beach swimmer and surfer population. Inj Prev 14:62–65

Nathanson A, Haynes P, Galanis D (2002) Surfing injuries. Am J Emerg Med 20:155–160

Ramsey KW (1999) Beach sand textures from the atlantic coast of delaware. Delaware Geological Survey, Newark

RNLI (2014) Operational Statistics. http://rnli.org/aboutus/aboutthernli/Documents/ops-stats-report.pdf pp 46

Roberts TM, Wang P, Puleo JA (2013) driven cyclic beach morphodynamics of a mixed sand and gravel beach along the Mid-Atlantic Coast, USA. Mar Geol 346:403–421. doi:10.1016/j.margeo.2013.08.001

Robles LA (2006) Cervical spine injuries in ocean bathers: wave-related accidents. Neurosurgery 58:920–923

Short AD, Hogan CL (1994) Rip currents and beach hazards: their impact on public safety and implications for coastal management. J Coast Res SI 12:197–209

USLA (2015) 2010–2014 National Lifesaving Statistics. http://arc.usla.org/Statistics/current.asp?Statistics=5

Williams MR, Poulter RJ, Fern ED (2006) Skimboarding: a new danger in the surf? Emerg Med J 23:137

Williamson A, Hatfield J, Sherker S, Brander R, Hayen A (2012) A comparison of attitudes and knowledge of beach safety in Australia for beachgoers, rural residents and international tourists. Aust N Z J Public Health 36:385–391

Wright LD, Short AD (1984) Morphodynamic variability of surf zones and beaches: a synthesis. Mar Geol 56:93–118
Acknowledgments
This research was supported by the National Sea Grant College Program of the US Department of Commerce's National Oceanic and Atmospheric Administration under Grant #NA10OAR4170084, in coordination with the University of Delaware Sea Grant College Program. The statements, findings, conclusions and recommendations are those of the authors and do not necessarily reflect the views of those organizations. We thank Douglas Krafft, Ryan Mieras, Veronica Citerone, Anna Jane, Aline Pieterse, Nick DiCosmo, Jose Carlos Pintado-Patino, Liles Joia, Patricia Chardon-Maldonado, Anthony McIver, Carlos Rosario and Mohammad Keshtpoor for assisting with WU counts. Veronica Citerone also assisted with daily GPS surveys. Jeremiah Kogon and Hank Fulmer provided boating and diving expertise in sensor deployment. Town managers (Sharon Lynn, Cliff Graviet, Marc Appelbaum) and the DNREC park superintendent (Pat Cooper) provided access to the field sites and other necessary logistics. Beach patrol managers and captains (Bryan John, Joe Donnelly, Todd Fritchman, Kris Knutsen, Kent Buckson) also assisted in the study. Nicole Minni drafted Fig. 4. We thank the anonymous reviewers for providing detailed comments that improved the clarity and reduced the length of the paper.
About this article
Cite this article
Puleo, J.A., Hutschenreuter, K., Cowan, P. et al. Delaware surf zone injuries and associated environmental conditions. Nat Hazards 81, 845–867 (2016). https://doi.org/10.1007/s11069-015-2108-9
Received:

Accepted:

Published:

Issue Date:
Keywords
Injury rate

Beach slope

Wave height

Beach tourism