Abstract
Extreme weather events lead to significant physical, economic and social impacts with short- and long-term consequences for affected regions. The methodologies used to assess the impacts often focus on the insured losses associated with private capital and public infrastructure. However, these estimates do not reflect the losses, monetary and non-monetary, associated with damage to uninsured assets. In addition, in the absence of systematic methods for measuring and recording impacts experienced by the informal sector—both households and small businesses—losses experienced by these segments are not reported, particularly in the developing world. This paper uses primary data collected from a survey of households and small businesses to estimate the uninsured losses due to a major flood event in the city of Mumbai, India. A detailed characterization of the losses is attempted, by disaggregating losses into monetary damage to property, physical capital, assets, equipment and inventory as well as loss of income, investment and disruption of essential services. Aggregate estimates of losses at the city level are computed and compared with the insured private and public losses traditionally reported in the literature. Our results indicate that the uninsured private losses suffered by individuals and small businesses significantly exceed the damage to public infrastructure. In the absence of insurance or government assistance, these costs represent a significant out-of-pocket expenses for the households and businesses. These findings have significant policy implications in terms of highlighting the vulnerability of the informal sector to extreme weather events in cities of the developing world.
Access options
Buy single article
Instant access to the full article PDF.
US$ 39.95
Tax calculation will be finalised during checkout.
Subscribe to journal
Immediate online access to all issues from 2019. Subscription will auto renew annually.
US$ 119
Tax calculation will be finalised during checkout.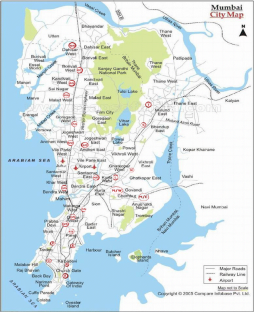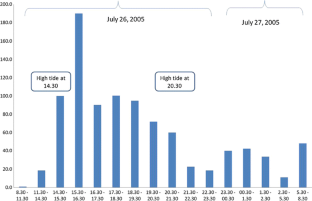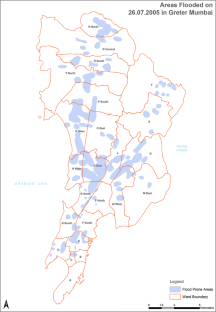 Notes
1.

Insurance density and penetration are the two indicators of the extent of insurance coverage in any country. Insurance density is the total premium income per person in a country's population (UNCTAD 2007), and insurance penetration is the ratio of premium underwritten a given year to the Gross Domestic Product (GDP) (IRDA 2013).

2.

Kutcha structure has walls and roof made of materials such as unburnt bricks, bamboo, mud and grass. A pucca structure has walls and roof made of concrete, cement, bricks, stone blocks, metal sheets, corrugated iron, poly vinyl chloride (PVC) material and so on. Semi-pucca structures are a combination of the two structures, kutcha and pucca (NSS 2010).

3.

Chawls are long (and mostly single-storey) buildings divided into many separate and often single-room rental tenements offering cheap and basic accommodation. Such buildings were constructed in Mumbai decades ago to provide housing to textile mill workers and other labourers who migrated into the city. Many of these buildings are in poor and dilapidated conditions now.
References
Adger W (1999) Social vulnerability to climate change and extremes in coastal Vietnam. World Dev 27(2):249–269

Annez P, Bertaud A, Patel B, Phatak V (2010) Working with the market: approach to reducing urban slums in India. Policy Research Working Paper No. 5475. The World Bank, Washington, DC

Blong R (2003) A new damage index. Nat Hazards 30(1):1–23

Brouwer R, Akter S, Brander L, Haque E (2007) Socioeconomic vulnerability and adaptation to environmental risk: a case study of climate change and flooding in Bangladesh. Risk Anal 27(2):313–326

Chatterton J, Viavattene C, Morris J, Penning-Rowell E, Tapsell S (2008) Delivering benefits through evidence: the costs of the summer 2007 floods in England. Environment Agency, Government of UK. https://www.gov.uk/government/uploads/…/scho1109brja-e-e.pdf. Accessed 4 April 2015

Dutta D, Herath S, Musiake K (2003) A mathematical model for flood loss estimation. J Hydrol 277:24–49

Government of India (2013a) Model state affordable housing policy for urban areas. Draft for Comments. Ministry of Housing and Urban Poverty Alleviation, Government of India

Government of India (2013b) Press note on poverty estimates 2011–2012. Planning Commission, Government of India. http://planningcommission.nic.in/news/pre_pov2307.pdf. Accessed 30 March 2015

Government of Maharashtra (2005) Maharashtra floods 2005. Relief and Rehabilitation Department

Government of Maharashtra (2007) Greater Mumbai disaster management action plan. Maharashtra Emergency Earthquake Management Programme

Grunthal G, Thieken A, Schwarz J, Radtke K, Smolka A, Merz B (2006) Comparative risk assessments for the city of Cologne: storms, floods, earthquakes. Nat Hazards 38(1–2):21–44

Hallegate S (2008) An adaptive regional input–output model and its application to the assessment of the economic cost of Katrina. Risk Anal 28(3):779–799

Hallegatte S, Ranger N, Mestre O, Dumas P, Corfee-Morlot J, Herweijer C, Wood R (2011) Assessing climate change impacts, sea level rise and storm surge risk in port cities: a case study on Copenhagen. Clim Change 104:113–137

Hammond M, Chen A (2014) Flood damage model guidelines. CORFU, FP7 Collaborative research on flood resilience in urban areas. http://www.corfu7.eu. Accessed 9 April 2015

Herweijer C, Ranger N, Ward R (2009) Adaptation to climate change: threats and opportunities for the insurance industry. The Geneva Papers 34:360-380. The International Association for the Study of Insurance Economics, Palgrave

IRDA (2013) Annual report 2012–2013. Insurance Regulatory and Development Authority India

Jha A, Lamond J, Bloch R, Bhattacharya N, Lopez A, Papachristodoulou N, Bird A, Proverbs D, Davies J, Barker R (2011) Five feet high and rising: cities and flooding in the 21st century. Policy Research Working Paper No. 5648. East Asia and Pacific Region. Transport, Energy and Urban Sustainable Development Unit, The World Bank

Khandlhela M, May J (2006) Poverty, vulnerability and the impact of flooding in the Limpopo Province, South Africa. Nat Hazards 39:275–287

Kreibich H, Seifert I, Merz B, Thieken A (2010) Development of FLEMOcs: a new model for the estimation of flood losses in the commercial sector. Hydrol Sci J 55(8):1302–1314. doi:10.1080/02626667.2010.529815

MCGM (2003) Environment status report 2002–2003. Municipal Corporation of Greater Mumbai

MCGM (2005) Report on relief measures and damage assessment due to heavy rains on 26th July 2005. Municipal Corporation of Greater Mumbai

MCGM (2006) Fact finding committee on Mumbai floods: final report volume I. Municipal Corporation of Greater Mumbai

MCGM (2009) Mumbai human development report 2009. Municipal Corporation of Greater Mumbai. Oxford University Press, Oxford

MCGM (2010) Flood preparedness guidelines 2010. Municipal Corporation of Greater Mumbai

MCGM (2013) Statistics on Mumbai. http://mcgm.gov.in. Accessed 20 July, 2013

Merz B, Kreibich H, Schwarze R, Thieken A (2010) Assessment of economic flood damage. Nat Hazards Earth Syst Sci 10:1697–1724

Messner F, Penning-Rowsell E, Green C, Meyer V, Tunstall S, van der Veen A (2007) Evaluating flood damages: guidance and recommendations on principles and methods. Report no. T09-06-01. FLOODsite. http://www.floodsite.net. Accessed 9 April 2015

Meyer V, Messner F (2005) National flood damage evaluation methods: a review of applied methods in England, the Netherlands, the Czech Republic and Germany. UFZ Discussion Papers 21

Monnereau I, Abraham S (2013) Limits to autonomous adaptation in response to coastal erosion in Kosrae, Micronesia. Int J Glob Warm 5(4):416–432

Munich Re (2011) Natural catastrophe know-how for risk management and research. NatCatSERVICE. Munich Reinsurance Group, Munich

Munich Re (2013) Topic natural hazards: NatCatSERVICE. Munich Reinsurance Group, Munich

Munich Re (2014) Loss events worldwide 1980–2013: NatCatSERVICE. Munich Reinsurance Group, Munich

Munji C, Bele M, Nkwatoh A, Idinoba M, Somorin O, Sonwa D (2013) Vulnerability to coastal flooding and response strategies: the case of settlements in Cameroon mangrove forests. Environ Dev 5:54–72

NSS (2010) Housing condition and amenities in India 2008–2009. NSS 65th Round. National Sample Survey Office. Ministry of Statistics and Programme Implementation, Government of India

NSS (2011) Key indicators of household consumption expenditure in India 2009–2010. NSS 66th Round. National Statistical Organisation. National Sample Survey Office. Ministry of Statistics and Programme Implementation, Government of India

NSS (2013) Key Indicators of drinking water, sanitation, hygiene and housing condition in India. NSS 69th Round. National Sample Survey Office. Ministry of Statistics and Programme Implementation, Government of India

Rabbani G, Rahman A, Mainuddin K (2013) Salinity-induced loss and damage to farming households in coastal Bangladesh. Int J Glob Warm 5(4):400–415

Ranger N, Hallegate S, Bhattacharya S, Bachu M, Priya S, Dhore K, Rafique F, Mathur P, Naville N, Henriet F, Herweijer C, Pohit S, Corfee-Morlot J (2011) An assessment of the potential impact of climate change on flood risk in Mumbai. Clim Change 104:139–167

Sales R (2009) Vulnerability and adaptation of coastal communities to climate variability and sea-level rise: their implications for integrated coastal management in Cavite City, Philippines. Ocean Coast Manag 52(7):395–404

Scawthorn C, Flores P, Blais N, Seligson H, Tate E, Chang S, Mifflin E, Thomas W, Murphy J, Jones C, Lawrence M (2006) HAZUS-MH Flood loss estimation methodology—II: damage and loss assessment. Nat Hazards Rev 7(2):72–81

Tierney K, Dahlhamer J (1997) Business disruption, preparedness and recovery: lessons from the Northridge earthquake. Preliminary paper 257. Disaster Research Centre, University of Delaware

UNCTAD (2007) Trade and development aspects of insurance services and regulatory frameworks. United Nations, New York and Geneva

Warner K, van der Geest K (2013) Loss and damage from climate change: local-level evidence from nine vulnerable countries. Int J Glob Warm 5(4):367–386

World Bank (2004) Understanding the economic and financial impacts of natural disasters. Disaster Risk Management Series No. 4. The World Bank, Washington, DC
Acknowledgments
This empirical study was part of the research project funded by the Asia Pacific Network for Global Change Research (APN) under the ARCP 2010. The project was funded for three cities—Mumbai, Bangkok and Manila. The authors acknowledge the support and funding received from the APN for this study and also appreciate the valuable inputs of the collaborators.
About this article
Cite this article
Patankar, A., Patwardhan, A. Estimating the uninsured losses due to extreme weather events and implications for informal sector vulnerability: a case study of Mumbai, India. Nat Hazards 80, 285–310 (2016). https://doi.org/10.1007/s11069-015-1968-3
Received:

Accepted:

Published:

Issue Date:
Keywords
Extreme weather event

Uninsured losses

Informal sector

Impact assessment