Abstract
To reduce earthquake casualties, it is important to understand how human behaviour, during and immediately following earthquake shaking, exposes the individual to increased risk of injury. Research on human behaviour during earthquake shaking has identified three main influences: the environment the individual is located in immediately before and during the earthquake, in terms of where the individual is and who the individual is with at the time of the earthquake; individual characteristics, such as age, gender, previous earthquake experience and earthquake attributes, including intensity and duration of earthquake shaking. However, little research has systematically analysed the immediate human responses to earthquake shaking, mostly due to data constraints and/or ethical considerations. Research on human behaviour during earthquakes has relied on simulations or post-event, reflective interviews and questionnaire studies. Such studies are subject to potential limitations such as the quality of the participant's memory, recall bias or (perceived) realism of a simulation. Thus, to better understand the relationship between human behaviour and injury, researchers need a robust and repeatable methodology. This paper discusses the development of a systematic process and coding scheme to analyse earthquake video footage of human behaviour during strong earthquake shaking. The coding scheme was developed in a two-part process, combining a deductive and inductive approach. Previous research studies of human behavioural response during earthquake shaking provided the basis for the coding scheme. This was then iteratively refined by applying the coding scheme to a broad range of video footage of people exposed to strong shaking during the Canterbury 2010–2011 earthquake sequence.
This is a preview of subscription content, log in to check access.
Access options
Buy single article
Instant access to the full article PDF.
US$ 39.95
Price includes VAT for USA
Subscribe to journal
Immediate online access to all issues from 2019. Subscription will auto renew annually.
US$ 199
This is the net price. Taxes to be calculated in checkout.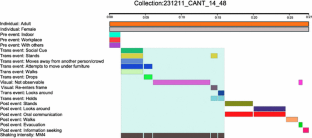 References
Alexander D (1990) Behaviour during earthquakes: a southern Italian example. Int J Mass Emerg Disasters 8:5–29

Altman J (1974) Observational study of behavior: sampling methods. Behaviour 49(3):227–266

Archea J, Kobayashi M (1984) The behaviour of people in dwellings during the Off-Urakawa earthquake of March 21, 1982. In: Proceedings of the eighth world conference in earthquake engineering V5. Prentice-Hall, Upper Saddle River, pp 1101–1107

Aroni S, Durkin M (1985) Injuries and occupant behavior in earthquakes. In: Joint US–Romanian seminar on earthquakes and energy, Bucharest, Romania, vol 2. Architectural Research Centers Consortium, Washington, DC, pp 3–40

Bödvarsdóttir I, Elklit A (2004) Psychological reactions in Icelandic earthquake survivors. Scand J Psychol 45:3–13

Bourque L, Russell L, Goltz J (1993) Human behaviour during and immediately after the earthquake. In: Bolton P (ed) The loma priets, California earthquake of october 17, 1989—Public Response. U.S. Geological Survey, Washington DC

Canter D, Breaux J, Sime J (1980) Domestic, multiple occupancy and hospital fires. In: Canter D (ed) Fires and human behavior. Wiley, New York, pp 117–136

Cardeña E, Spiegel D (1993) Dissociative reactions to the San Francisco Bay area earthquake of 1989. Am J Psychiatry 150:474–478

Cohen L, Manion L, Morrison K (2007) Research methods in education, 6th edn. Routledge, New York

Corbin J, Strauss A (2008) Basics of qualitative research, 3rd edn. Sage, Thousand Oaks

Coughlin SS (1990) Recall bias in epidemiologic studies. J Clin Epidemiol 43(1):87–91

Craggs R, Wood M (2005) Evaluating discourse and dialogue coding schemes. Comput Linguis 31(3):289–296

De Bruycker M, Greco D, Lechat MF et al (1985) The 1980 earthquake in Southern Italy—morbidity and mortality. Int J Epidemiol 14:113–117

Dowrick DJ (1996) The modified Mercalli earthquake intensity scale: revisions arising from recent studies of New Zealand earthquakes. Bull NZ Nat Soc Earthq Eng 29(2):92–106

Glass RI, Urrutia JJ, Sibony S et al (1977) Earthquake injuries related to housing in a Guatemalan village. Science 197:638–643

Goltz JD, Mileti DS (2011) Public response to a catastrophic Southern California earthquake: a sociological perspective. Earthq Spectra 27:487–504. doi:10.1193/1.3575728

Goltz JD, Russell LA, Bourque LB (1992) Initial behavioural response to a rapid onset disaster: a case study of the October 1, Whittier Narrows earthquake. Int J Mass Emerg Disasters 10:43–69

Halle JW, Sindelar PT (1982) Behavioral observation methodologies for early childhood education. Top Early Child Spec Educ 2(1):43–54. doi:10.1177/027112148200200109

Johnston D, Standring S, Ronan K et al (2014) The 2010/2011 Canterbury earthquakes: context and cause of injury. Nat Hazards. doi:10.1007/s11069-014-1094-7

Kanter RK (2010) Child mortality after Hurricane Katrina. Disaster Med Public Health Prep 4:62–65. doi:10.1017/S1935789300002433

Koyama M, Okada S, Ohta Y (2011) Major factors controlling earthquake casualties as revealed via a diversified questionnaire survey in Ojiya City for the 2004 Mid-Niigata earthquake. In: Spence R, So E, Scawthorn C (eds) Hum. casualties earthquakes. Springer, Dordrecht, pp 199–217

Lindell MK, Perry RW (2004) Communicating environmental risk in multiethnic communities. Sage, Thousand Oaks

Lindell MK, Perry RW (2012) The protective action decision model: theoretical modifications and additional evidence. Risk Anal 32:616–632. doi:10.1111/j.1539-6924.2011.01647.x

Lindell M, Prater C, Wu H et al (2015) Immediate behavioural responses to earthquakes in Christchurch New Zealand and Hitachi Japan. Disasters. doi:10.1111/disa.12133

Mahue-Giangreco M, Mack W, Seligson H, Bourque LB (2001) Risk factors associated with moderate and serious injuries attributable to the 1994 Northridge Earthquake, Los Angeles, California. Ann Epidemiol 11:347–357

MCDEM (2015) Drop cover hold advice. Published in New Zealand by the Ministry of Civil Defence & Emergency Management, with advice from GNS Science. http://www.civildefence.govt.nz/get-ready/at-home-get-ready-get-thru/drop-cover-and-hold-is-still-the-right-action-to-take/. Accessed 22 September 2015

Norris C, Mccahill M, Wood D (2004) Editorial. The growth of CCTV: a global perspective on the international diffusion of video surveillance in publicly accessible space. Surveill Soc 2:110–135

Ohta Y, Ohashi H (1985) Field survey on occupant behaviour in an earthquake. Int J Mass Emerg Disasters 3:147–160

Peek-Asa C, Ramirez M, Seligson H, Shoaf K (2003) Seismic, structural, and individual factors associated with earthquake related injury. Inj Prev 9:62–66

Petal M (2009) Evidence-based public education for disaster prevention: causes of deaths and injuries in the 1999 Kocaeli earthquake. VDM Verlag Dr. Müller, Saarbrücken

Petal M (2011) Earthquake casualties research and public education. In: Spence R, So E, Scawthorn C (eds) Hum. casualties earthquakes. Springer, Dordrecht, pp 25–50

Pomonis A, Coburn AW et al. (1992) Part three: casualty estimation in the collapse of reinforced concrete buildings, human casualties in building collapse—second year report, Cambridge, UK, pp 33–45

Porter K, Shoaf K, Seligson H (2006) Value of injuries in the Northridge earthquake. Earthq Spectra 22:555–563. doi:10.1193/1.2194529

Prati G, Catufi V, Pietrantoni L (2012) Emotional and behavioural reactions to tremors of the Umbria–Marche earthquake. Disasters 36:439–451. doi:10.1111/j.1467-7717.2011.01264.x

Prati G, Saccinto E, Pietrantoni L, Pérez-Testor C (2013) The 2012 Northern Italy earthquakes: modelling human behaviour. Nat Hazards 69:99–113. doi:10.1007/s11069-013-0688-9

Rahimi M (1993) An examination of behavior and hazards faced by physically disabled people during the Loma Prieta earthquake. Nat Hazards 7:59–82

Ramirez M, Peek-Asa C (2005) Epidemiology of traumatic injuries from earthquakes. Epidemiol Rev 27:47–55. doi:10.1093/epirev/mxi005

Ramirez M, Kano M, Bourque LB, Shoaf KI (2005) Child and household factors associated with fatal and non-fatal pediatric injury during the 1999 Kocaeli earthquake. Int J Mass Emerg Disasters 23:129

Robson C (1993) Real world research. Blackwell, Oxford, pp 221–222

Roces MC, White ME, Dayrit MM, Durkin ME (1992) Risk factors for injuries due to the 1990 earthquake in Luzon, Philippines. Bull World Health Organ 70:509–514

Rosoff H, John R, Burns WJ, Maya I (2011) Scenario simulation group reactions to the aftermath of the Great ShakeOut magnitude 7.8 earthquake. Earthq Spectra 27:597–614. doi:10.1193/1.3574450

Shoaf KI, Sareen HR, Nguyen LH, Bourque LB (1998) Injuries as a result of California earthquakes in the past decade. Disasters 22:218–235. doi:10.1111/1467-7717.00088
Acknowledgments
We are grateful to Dr. Valerie Sotardi who performed inter-reliability testing for this research group and would like to acknowledge the help of her discussion and perspective which improved the content of this manuscript. We thank the two anonymous reviewers for excellent comments and reviews that have improved the manuscript. We greatly acknowledge funding support from GNS Science core funding as part of SIH project, the University of Canterbury Natural Hazard Research Platform contract C05X0804 and the University of Canterbury Mason Trust.
Appendix
Appendix
See Table 6.
About this article
Cite this article
Lambie, E., Wilson, T.M., Johnston, D.M. et al. Human behaviour during and immediately following earthquake shaking: developing a methodological approach for analysing video footage. Nat Hazards 80, 249–283 (2016). https://doi.org/10.1007/s11069-015-1967-4
Received:

Accepted:

Published:

Issue Date:
Keywords
Earthquake

Behavioural response

Casualties

Observational data