Abstract
A quantitative assessment of storm surge damage is used to analyze structural vulnerability and evaluate the performance of flood risk mapping by the Federal Emergency Management Agency (FEMA). Using a survey of about 380 structures in heavily impacted Ortley Beach, New Jersey, following Hurricane Sandy (2012), we first assess component-level damage to each side and story of a structure based on a percentage scale. For each structure, these physical damage percentages are then integrated into a single indicator of overall damage—the economic loss ratio. These performance assessments are combined with building information to develop an integrated Geographic Information System database. This detailed database allows for a quantitative analysis of damage features and causes. Damage at the overall, story, side, and component levels all decrease as the distance to the coast increases, with most severely damaged houses concentrated in a near-shore region. Despite being heavily damaged however, this region was assessed as a low-risk zone according to FEMA's current flood risk map. In contrast, a neighboring inland region which experienced significantly less damage was assigned as a high-risk zone. The preliminary new FEMA flood map for the area is improved by increasing the risk category for the near-shore region, but the fundamental problem, likely induced by insufficient wave modeling, needs to be addressed further. This study demonstrates a method of quantitatively assessing and documenting storm surge damage and applying the damage information to evaluate flood risk maps.
Access options
Buy single article
Instant access to the full article PDF.
USD 39.95
Price includes VAT (USA)
Tax calculation will be finalised during checkout.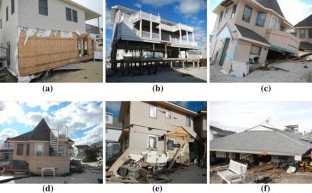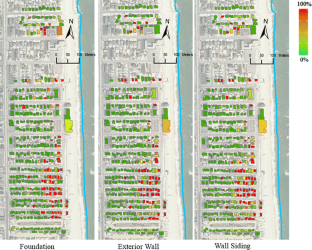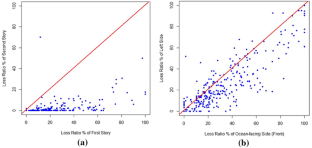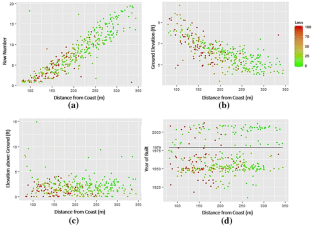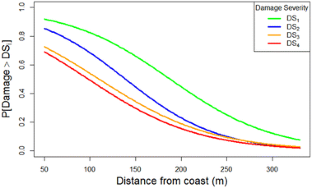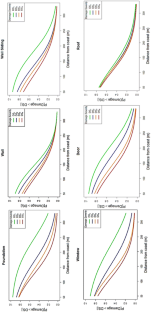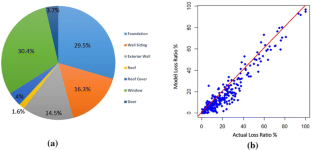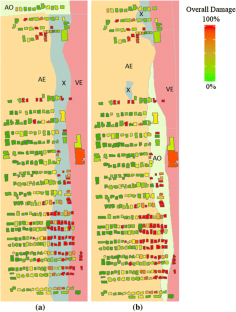 References
Aerts JCJH, Botzen WJW, Emanuel K, Lin N, de Moel H, Michel-Kerjan EO (2014) Evaluating flood resilience strategies for coastal megacities. Science 344(6183):472–474

Algeo L, Mahoney T (2011) FEMA's update process for coastal surge and wave analysis for flood insurance rate maps. Solut Coast Disasters 2011:569–580. doi:10.1061/41185(417)49

ATC (2004) ATC-45 Field manual: safety evaluation of buildings after windstorms and floods. Applied Technology Council, Redwood City

Bellomo D, Pajak MJ, Sparks J (1999) Coastal flood hazards and the national flood insurance program. J Coastal Res 28:21–26

Blake ES, Kimberlain TB, Berg RJ, Cangialosi JP, Beven JL II (2013) Tropical cyclone report: Hurricane Sandy (AL 182012), 22–29 October 2012. National Hurricane Center, pp 1–157

Crandell JH (1996) Assessment of damage to homes caused by Hurricane Opal. NAHB Research Center, Upper Marlboro

Crandell JH (1998) Statistical assessment of construction characteristics and performance of homes in Hurricanes Andrew and Opal. J Wind Eng Ind Aerodyn 77:695–701

Crandell J, Nowak M, Laatsch E, van Overeem A, Barbour C, Dewey R, Reigel H, Angleton H (1993) Assessment of damage to single-family homes caused by Hurricanes Andrew and Iniki. US Department of Housing and Urban Development, Washington DC

Crowell M, Hirsch E, Hayes TL (2007) Improving FEMA's coastal risk assessment through the National Flood Insurance Program: an historical overview. Mar Technol Soc J 41(1):18–27

Dalrymple RA, Kriebel DL (2005) Lessons in engineering from the tsunami in Thailand. Bridge Natl Acad Eng 35(2):4–13

Dhakal RP (2010) Damage to non-structural components and contents in 2010 Darfield earthquake. Bull N Z Soc Earthq Eng 43(4):404–411

Douglass SL, Sanchez TA, Jenkins S (1999) Mapping erosion hazard areas in Baldwin County, Alabama and the use of confidence intervals in shoreline change analysis. J Coastal Res 28:95–105

Eamon CD, Fitzpatrick P, Truax DD (2007) Observations of structural damage caused by Hurricane Katrina on the Mississippi Gulf coast. J Perform Constr Facil 21(2):117–127

Farrell S, Lepp T, Speer B, Mauriello M (1999) Mapping erosion hazard areas in Ocean County, New Jersey. J Coastal Res 28:50–57

FEMA (2006) Mitigation assessment team report: Hurricane Katrina in the Gulf coast: building performance observations, recommendations, and technical guidance. FEMA, Washington DC

FEMA (2009) Mitigation assessment team report Hurricane Ike in Texas and Louisiana building performance observations: recommendations, and technical guidance. FEMA, Washington DC

FEMA (2011) Coastal construction manual: principles and practices of planning, siting, designing, constructing, and maintaining residential buildings in coastal areas. FEMA P-55, Washington DC

FEMA (2013a) Hurricane Sandy in New Jersey and New York: building performance observations, recommendations, and technical guidance. FEMA, New York

FEMA (2013b) Preliminary flood maps and data. FEMA Region II Coastal Analysis and Mapping, Washington, DC. http://www.region2coastal.com/

FEMA (2014) Flood insurance study: ocean county. New Jersey. FEMA, Washington, DC

Friedland CJ (2009) Residential building damage from hurricane storm surge: proposed methodologies to describe, assess and model building damage. Ph.D. Dissertation, Louisiana State University

Hatzikyriakou A, Lin N, Gong J, Xian S, Hu X, Kennedy A (2015) Component-based vulnerability analysis of storm surge damage to residential structures from Hurricane Sandy using manual and mobile LiDAR surveys. Nat Hazards Rev (ASCE)

Kennedy A, Rogers S, Sallenger A, Gravois U, Zachry B, Dosa M, Zarama F (2011) Building destruction from waves and surge on the Bolivar Peninsula during Hurricane Ike. J Waterw Port Coast Ocean Eng 137(3):132–141

Klima K, Lin N, Emanuel K, Morgan MG, Grossmann I (2011) Hurricane modification and adaptation in Miami-Dade county, Florida. Environ Sci Technol 46(2):636–642

Kunreuther H, Michel-Kerjan EO (2009) At war with the weather. The MIT Press, Cambridge

Maidment D (2009) FEMA flood map accuracy. World Environmental and Water Resources Congress 2009, Kansas, Missouri, pp. 4875–4884. doi:10.1061/41036(342)492

Mullens M, Hoekstra B, Nahmens I, Martinez F (2006) Water intrusion in central Florida homes during Hurricane Jeanne in September 2004. UCF Housing Constructability Lab, Orlando

NOAA (National Oceanic and Atmospheric Administration) (2013) Hurricane/post-tropical cyclone Sandy October 22–29, 2012. NOAA, Silver Spring

Norman C (2009) Distinguishing between storm surge and wind damages to buildings and structures. Forensic Eng 2009:729–738. doi:10.1061/41082(362)74

Robertson I, Riggs H, Yim S, Young Y (2007) Lessons from Hurricane Katrina storm surge on bridges and buildings. J Waterw Port Coast Ocean Eng 133:463–483

RS Means (2013) Estimate with accuracy. RS Means Online Database: http://www.rsmeansonline.com/

Shan J, Hussain E, Kim K, Biehl L (2009) Geospatial technology for earth observations. Springer, New York, pp 473–495

Tezak E, Rogers S (2005) FEMA sponsored coastal structures damage assessment in North Carolina for Hurricane Isabel (HMTAP Task Order 274 Sep 2003). Solut Coast Disasters 2005:524–537. doi:10.1061/40774(176)53

Tomiczek T, Kennedy A, Rogers S (2014) Collapse limit state fragilities of wood-framed residences from storm surge and waves during Hurricane Ike. J Waterw Port Coast Ocean Eng 140(1):43–55

Tomiczek T, Kennedy A, Zhang Y, Owensby M, Hope ME, Lin N, Flores A (2015) Hurricane damage classification methodology and fragility functions derived from Hurricane Sandy's effects in Coastal New Jersey. J Waterw Port Coast Ocean Eng

U.S. Department of Homeland Security (2014) FEMA's progress in clarifying its "50 percent rule" for the public assistance grant program. US Department of Homeland Security, Washington DC

USGS (2012) Barnegat bay at seaside heights NJ. United States Geological Survey. http://waterdata.usgs.gov/nj/nwis/dv/?site_no=01408750&agency_cd=USGS&referredmodule=sw

USGS (2013) Historic digital elevation models (DEMs). http://ned.usgs.gov/historic.html

van de Lindt JW, Graettinger A, Gupta R, Skaggs T, Pryor S, Fridley KJ (2007) Performance of wood-frame structures during Hurricane Katrina. J Perform Constr Facil 21(2):108–116
Acknowledgments
This research was supported by NSF Grant CMMI-1314649 and the Project X Fund of Princeton University's School of Engineering and Applied Science. The damage survey team included Ning Lin, Margaret Owensby, Emmi Yonekura, Luca Nagy, and Jonathan Glassman from Princeton University and Andrew Kennedy, Richard Estes, Tori Tomiczek, and Trenton Jackson from University of Notre Dame.
About this article
Cite this article
Xian, S., Lin, N. & Hatzikyriakou, A. Storm surge damage to residential areas: a quantitative analysis for Hurricane Sandy in comparison with FEMA flood map. Nat Hazards 79, 1867–1888 (2015). https://doi.org/10.1007/s11069-015-1937-x
Received:

Accepted:

Published:

Issue Date:
Keywords
Storm surge damage

Structural vulnerability

Hurricane Sandy

FEMA flood map