Abstract
The potential for rescues and drownings is dependent on the spatial and temporal correspondence of an active rip current with the distribution of vulnerable beach users. This short communication examines the alongshore correspondence among the (1) exit locations of the walkovers, (2) the spatial and temporal distribution of beachgoers, and (3) the position of semipermanent accretion rips at Pensacola Beach, Florida. Results suggest that the alongshore distribution of beach users on the beach and in the water corresponds to the location of beach access points, which during this period of time sit directly landward of the three rip channels visible in the camera frame during the busy summer season of 2010. Assuming that the majority of beach users are unable to identify a rip current and avoid the hazard, the selection of swimming locations based on convenience suggests that beach safety efforts need to focus on guiding beach users to relatively safe locations away from rip current activity.
Access options
Buy single article
Instant access to the full article PDF.
USD 39.95
Price excludes VAT (USA)
Tax calculation will be finalised during checkout.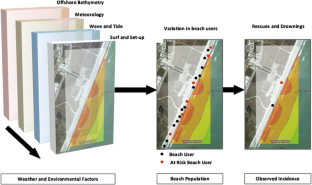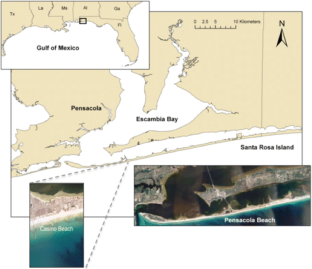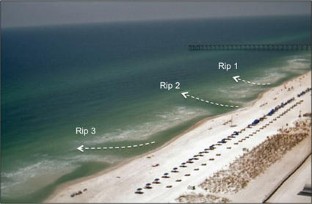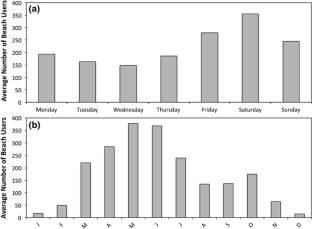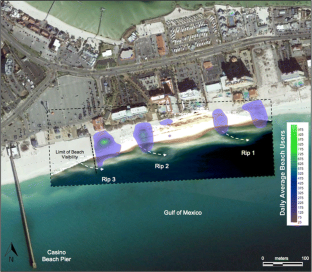 References
Aagaard T, Greenwood B, Nielsen J (1997) Mean currents and sediment transport in a rip channel. Mar Geol 140:25–45

Barrett G, Houser C (2012) Identifying hot spots of rip current activity using wavelet analysis at Pensacola Beach, Florida. Phys Geogr 33:32–49

Bowen AJ (1969) Rip currents 1: theoretical investigations. J Geophys Res 74:5467–5478

Bowman D, Arad D, Rosen DS, Kit E, Goldbery R, Slavicz A (1988a) Flow characteristics along the rip current system under low-energy conditions. Mar Geol 82:149–167

Bowman D, Rosen DS, Kit E, Arad D, Slavicz A (1988b) Flow characteristics at the rip current neck under low energy conditions. Mar Geol 79:41–54

Brander RW (1999) Field observations on the morphodynamic evolution of a low-energy rip current system. Mar Geol 157:199–217

Brander RW, Short AD (2000) Morphodynamics of a large-scale rip current system at Muriwai Beach, New Zealand. Mar Geol 165:27–39

Brannstrom C, Trimble S, Santos A, Lee H, Houser C (2014) Beach user ability to identify a rip current and hazardous surf conditions. Nat Hazards 72:1123–1138

Brannstrom C, Houser C, Lee H, Trimble S, Santos A (2015) "You can't see them from sitting here:" Evaluating beach user understanding of a rip current warning sign. Appl Geogr 56:61–70

Caldwell N, Houser C, Meyer-Arendt K (2013) Ability of beach users to identify rip currents at Pensacola Beach, Florida. Nat Hazards 68:1041–1056

da Silva CP (2002) Beach carrying capacity assessment: How important is it? J Coast Res SI36:190–197

da Silva JS, Leal MMV, Araújo MCB, Barbosa SCT, Costa MF (2008) Spatial and temporal patterns of use of Boa Viagem Beach, Northeast Brazil. J Coast Res 24(1A):79–86

de Sousa RC, Pereira LCC, Silva NIS, Oliveira SMO, Pinto KST, da Costa RM (2008) Recreational carrying capacity of three Amazon macrotidal beaches during the peak vacation season. J Coast Res SI 64:1292–1296

Holland KT, Holman RA, Lippmann TC, Stanley J, Plant N (1997) Practical use of video imagery in nearshore oceanographic field studies. IEEE J Ocean Eng 22:81–92

Holman RA, Symonds G, Thornton EB, Ranasinghe R (2006) Rip spacing and persistence on an embayed beach. J Geophys Res C Ocean 111:C01006. doi:10.1029/2005JC002965

Houser C (2012) Feedback between ridge and swale bathymetry and barrier island storm response and transgression. Geomorphology 173(174):1–16

Houser C, Barrett G, Labude D (2011) Alongshore variation in the rip current hazard at Pensacola Beach, Florida. Nat Hazards 57:501–523

Houser C, Arnott R, Ulzhöfer S, Barrett G (2013) Nearshore circulation over transverse bar and rip morphology with oblique wave forcing. Earth Surf Proc Land 38:1269–1279

Labude DR (2012). Rip Channel Morphodynamics at Pensacola Beach, Florida, MSc thesis, Texas A&M University

MacMahan JH, Thornton EB, Stanton TP, Reniers AJHM (2005) RIPEX: observations of a rip current system. Mar Geol 218:113–134

McKenzie P (1958) Rip current syst J Geol 66:103–113

Morgan D, Ozanne-Smith J, Triggs T (2009) Self-reported water and drowning risk exposure at surf beaches. Risk Prev 33:180–188

Shepard FP, Inman DL (1950) Nearshore water circulation related to bottom topography and wave refraction. EOS Trans AGU 31:196–212

Sherker S, Williamson A, Hatfield J, Brander R, Hayen A (2010) Beachgoers' beliefs and behaviours in relation to beach flags and rip currents. Accid Anal Prev 42(6):1785–1804

Sherman DJ, Short AD, Takeda I (1993) Sediment mixing depth and bedform migration in rip channels. J Coast Res 15:39–48

Short AD, Hogan CL (1994). Rip currents and beach hazards: their impact on public safety and implications for coastal management. J Coast Res 12:197–209

Smallwood CB, Beckley LE, Moore SA, Kobryn HT (2011) Assessing patterns of recreational use in large marine parks: a case study from Ningaloo Marine Park, Australia. Ocean Coast Manag 54:330–340

Smit MWJ, Aarninkhof SGJ, Wijnberg KM, González M, Kingston KS, Southgate HN, Ruessink BG, Holman RA, Siegle E, Davidson M, Medina R (2007) The role of video imagery in predicting daily to monthly coastal evolution. Coast Eng 54:539–553

Smith JA, Largier JL (1995) Observations of nearshore circulation: rip currents. J Geophys Res 100:10967–10975

Sonu CJ (1972) Field observations of nearshore circulation and meandering currents. J Geophys Res 77:3232–3247

Wright LD, Short AD (1984) Morphodynamic variability of surf zones and beaches: a synthesis. Mar Geol 56:93–118
About this article
Cite this article
Houser, C., Murphy, T. & Labude, D. Alongshore correspondence of beach users and rip channels at Pensacola Beach, Florida. Nat Hazards 78, 2175–2183 (2015). https://doi.org/10.1007/s11069-015-1804-9
Received:

Accepted:

Published:

Issue Date:

DOI: https://doi.org/10.1007/s11069-015-1804-9
Keywords
Rip current

Beach user

Drowning