Abstract
Tropical cyclone (TC) activity in the Mozambique Channel from January to March 2012 resulted in five landfalls that affected Madagascar and southeastern Africa. The rainfall, circulation, and temperature fields surrounding the TCs were studied for anomalous characteristics. Case studies were considered for two TCs, which brought flooding to southern Mozambique and adjacent areas: Dando 17 January and Irina 3 March. Weather forecasts underestimated rainfall from Dando and poorly resolved the looping track of Irina. An anomalous easterly circulation associated with Pacific La Niña and warm SST in the SW Indian Ocean are indicated as mechanisms supporting repeated tropical cyclogenesis in the Mozambique Channel. The downstream shedding of a vortex from Madagascar contributed to the variable nature of TC tracks and forecast errors in January–March 2012.
Access options
Buy single article
Instant access to the full article PDF.
USD 39.95
Price includes VAT (USA)
Tax calculation will be finalised during checkout.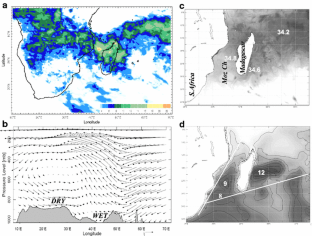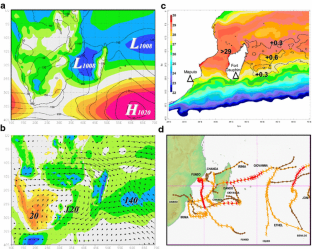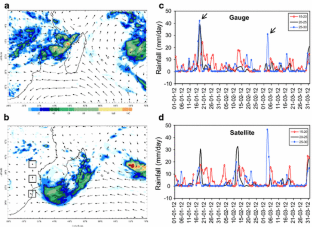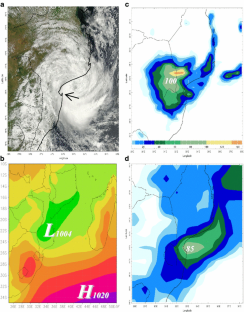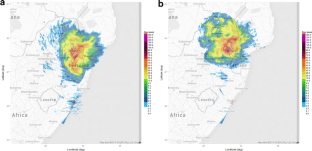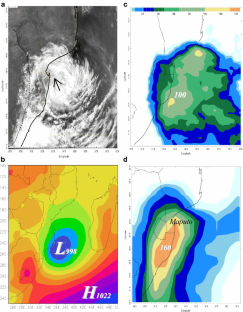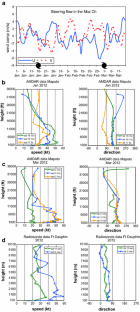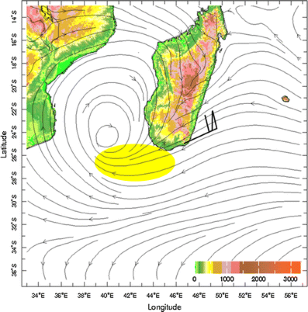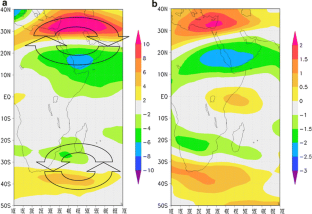 References
Behera SK, Luo JJ, Masson S, Delecluse P, Gualdi S, Navarra A, Yamagata T (2005) Paramount impact of the Indian Ocean dipole on the East African short rains: a CGCM study. J Clim 18:4514–4530

Benhan L, Chester WK, Eisberg A et al (2009) Integrating data from NASA missions into NOAAs Pacific Regional Integrated Climatology Information Products (PRICIP). Paper presented at the ASPRS 2009 annual conference, Baltimore, Maryland, 9–13 March 2009

Chang-Seng D, Jury MR (2010a) Tropical cyclones in the SW Indian Ocean. Part 1: inter-annual variability and statistical prediction. Meteorol Atmos Phys 106:149–162

Chang-Seng D, Jury MR (2010b) Tropical cyclones in the SW Indian Ocean. Part 2: structure and impacts at the event scale. Meteorol Atmos Phys 106:163–178

Chen M, Shi W, Xie P, Silva VBS, Kousky VE, Wayne Higgins R, Janowiak JE (2008) Assessing objective techniques for gauge-based analyses of global daily precipitation. J Geophys Res 113:D04110. doi:10.1029/2007JD009132

Coiffier J, Chen P (2008) Severe weather forecasting demonstration project RA1—Southeast Africa. Final Report, WMO Secretariat

Crimp SJ, Mason SJ (1999) The extreme precipitation event of 11 to 16 February 1996 over South Africa. Meteorol Atmos Phys 70:29–42

Crowe PR (1971) Concepts in climatology. Longman Group Limited, United Kingdom, pp 386–390

Dee DP et al (2011) The ERA-interim reanalysis: configuration and performance of the data assimilation system. Q J R Meteorol Soc 137:553–597

Dyson LL, van Heerden J (2001) The heavy rainfall and floods over the northeastern interior of South Africa during February 2000. S Afr J Sci 97:80–86

Emanuel KA, Nolan DS (2004) Tropical cyclone activity and global climate. Preprints 26th Conf Hurr Tropical Meteorol, Miami, FL, Am Meteorol Soc 240–241

Fitchett JM, Grab SW (2014) A 66-year tropical cyclone record for south-east Africa: temporal trends in a global context. Int J Climatol 34:3604–3615. doi:10.1002/joc.3932

Gray WM (1998) The formation of tropical cyclones. Meteorol Atmos Phys 67:37–69

Hurlburt HE et al (2009) High resolution global and basin-scale ocean analyses and forecasts. Oceanography 22:110–127

Izumo T, Vialard J, Lengaigne M, de Boyer Montégut C, Behera SK, Luo JJ, Cravatte S, Masson S, Yamagata T (2010) Influence of the state of the Indian Ocean Dipole on following year's El Niño. Nat Geosci 3:168–172

Joyce RJ, Janowiak JE, Arkin PA, Xie PP (2004) CMORPH: a method that produces global precipitation estimates from passive microwave and infrared data at high spatial and temporal resolution. J Hydrometeorol 5:487–503

Jury MR (1993) A preliminary study of climatological associations and characteristics of tropical cyclones in the SW Indian Ocean. Meteorol Atmos Phys 51:101–115

Jury MR (2013) Variability in the tropical southwest Indian Ocean and influence on southern Africa climate. Int J Mar Sci 3:46–64

Jury MR, Pathack B (1991) A study of weather and climate variability over the tropical S.W. Indian Ocean. Meteorol Atmos Phys 47:37–48

Jury MR, Pathack B, Wang B, Powell M, Raholijao N (1993) A destructive tropical cyclone season in the SW Indian Ocean: January–February 1984. S Afr Geogr J 75:53–59

Jury MR, McQueen C, Levey K (1994) SOI and QBO signals in the African region. Theor Appl Climatol 50:103–115

Jury MR, Pathack B, Parker B (1998) Climatic determinants and statistical prediction of tropical cyclone days in the Southwest Indian Ocean. J Clim 12:1738–1746

Kanamitsu M, Ebisuzaki W, Woollen J, Yang SK, Hnilo JJ, Fiorino M, Potter GL (2002) NCEP-DOE AMIP-2 reanalysis. Bull Am Meteorol Soc 83:1631–1643

Landman WA, Botes S, Goddard L, Shongwe M (2005) Assessing the predictability of extreme rainfall seasons over southern Africa. Geophys Res Lett 32:L23818

Landsea CW (2000) El Niño/southern oscillation and the seasonal predictability of tropical cyclones. In: Diaz HF, Markgraf V (eds) El Niño and the global oscillation: multiscale variability and global and regional impacts. Cambridge University Press, Cambridge, pp 149–181

Lindesay JA (1988) South African rainfall, the southern oscillation and a southern hemisphere semi-annual cycle. J Climatol 8:17–30

Luo J-J, Zhang R, Behera SK, Masumoto Y, Jin F-F, Lukas R, Yamagata T (2010) Interaction between El Niño and extreme Indian Ocean dipole. J Clim 23:726–742

Madden RA, Julian PR (1994) Observations of the 40–50 day tropical oscillation—a review. Mon Weather Rev 122:814–837

Malherbe J, Engelbrecht FA, Landman WA, Engelbrecht CJ (2011) Tropical systems from the southwest Indian Ocean making landfall over the Limpopo River Basin, southern Africa: a historical perspective. Int J Climatol. doi: 10.1002/joc.2320

Malherbe J, Engelbrecht FA, Landman WA (2012) Projected changes in tropical cyclone climatology and landfall in the southwest Indian Ocean under enhanced anthropogenic forcing. Clim Dyn. DOI:10.1007/s00382-012-1635-2

Malherbe J, Landman WA, Engelbrecht FA (2013) The decadal-scale rainfall cycle, Southern Annular Mode and tropical cyclones over the Limpopo River Basin, southern Africa. Clim Dyn 42:3121–3138

Mason SJ, Jury MR (1997) Climatic variability and change over southern Africa: a reflection on underlying processes. Prog Phys Geogr 21:23–50

Matyas CJ, Silva JA (2011) Extreme weather and economic well-being in rural Mozambique. Hazards, Nat. doi:10.1007/s11069-011-0064-6

Mavume AF, Rydberg L, Rouault M, Lutjeharms JRE (2009) Climatology and landfall of tropical cyclones in the south-west Indian Ocean. West Indian Ocean J Mar Sci 8:15–36

Mudenda OS, Mumba ZLS (2004) The unusual storm of January 1996. Proceedings of the EUMETSAT meteorological satellite conference, Prague, Czech Republic, 31 May–4 June 2004

Pielke RA, Landsea CW (1999) La Niña, El Niño, and Atlantic hurricane damages in the United States. Bull Am Meteorol Soc 80:2027–2033

Poolman E, Terblanche D (1984) Tropical cyclones Domoina and Imboa. S Afr Weather Bur Newsl 420:37–45

Poolman E, Chikoore H, Lucio F (2008) Public benefits of the Severe Weather Forecasting Demonstration Project in south-eastern Africa. WMO Newsletter MeteoWorld, December 2008, Geneva

Reason CJC (2007) Tropical cyclone Dera, the unusual 2000/01 tropical cyclone season in the southwest Indian Ocean and associated rainfall anomalies over southern Africa. Meteorol Atmos Phys 97:181–188

Reason CJC, Kiebel A (2004) Tropical cyclone eline and its unusual penetration and impacts over the southern African mainland. Weather Forecast 19:789–805

Reason CJC, Allan RJ, Lindesay JA, Ansell TJ (2000) ENSO and climate signals across the Indian Ocean basin in the global context: part 1: interannual composite patterns. Int J Climatol 20:1285–1327

Saha S et al (2010) The NCEP climate forecast system reanalysis. Bull Am Meteorol Soc 91:1015–1057

Saji NH, Goswami BN, Vinayachandran PN, Yamagata T (1999) A dipole mode in the tropical Indian Ocean. Nature 401:360–363

Seager R, Harnik N, Kushnir Y, Robinson W, Miller J (2003) Mechanisms of hemispherically symmetric climate variability. J Clim 16:2960–2978

Singh P, Chowdary JS, Gnanaseelan C (2013) Impact of prolonged La Niña events on the Indian Ocean with a special emphasis on southwest Tropical Indian Ocean SST. Glob Planet Change 100:28–37

Tolman HL, Balasubramaniyan B, Burroughs LD, Chalikov DV, Chao YY, Chen HS, Gerald VM (2002) Development and implementation of wind generated ocean surface wave models at NCEP. Weather Forecast 17:311–333

Trenberth KE, Shea DJ (2005) Relationships between precipitation and surface temperature. Geophys Res Lett 32:L14703. doi:10.1029/2005GL022760

Vermeulen JH (1995) Tropical cyclones in the southwest Indian Ocean: track prediction and verification 1991–1992. Meteorol Appl 2:217–220

Vermeulen JH, Jury MR (1992) Tropical cyclones in the southwest Indian Ocean: track prediction and verification 1989–1991. Meteorol Mag 121:186–192

Vitart F, Anderson D, Stockdale T (2003) Seasonal forecasting of tropical cyclone landfall over Mozambique. J Clim 16:3932–3945

Wang B, Elsberry RL, Wang Y, Wu L (1998) Dynamics in tropical cyclone motion: a review. Chin J Atmos Sci 22:416–434

Webster PJ, Moore AM, Loschingg JP, Leben RR (1999) Coupled ocean-atmosphere dynamics in the Indian Ocean during 1997–98. Nature 401:356–360

WMO (2012) Review of the 2010/2011 and 2011/2012 cyclone seasons. Report from the Republic of Mozambique, RA1/TCC-20/Doc. 4.2(3)

Xie SP, Annamalai H, Schott FA, McCreary JP (2001) Structure and mechanism of south Indian Ocean climate variability. J Clim 15:864–878

Yeshanew A, Jury MR (2007) North African climate variability, part 1: tropical thermocline coupling, Theor Appl Climatol. doi:10.1007/s00704-006-0242-8
Acknowledgments
Forecast model guidance and TC forecasts were provided by CFS, ECMWF, JTWC, and Meteo-France Reunion (P. Caroff). K. Rae, P. Tharaga, and E. Becker of the South African Weather Service assisted with model forecasts, observed rainfalls, and radar data processing, respectively.
About this article
Cite this article
Chikoore, H., Vermeulen, J.H. & Jury, M.R. Tropical cyclones in the Mozambique Channel: January–March 2012. Nat Hazards 77, 2081–2095 (2015). https://doi.org/10.1007/s11069-015-1691-0
Received:

Accepted:

Published:

Issue Date:
Keywords
Tropical cyclones

Mozambique Channel

Coastal flooding