Abstract
Rainfall variability and related hydrological disasters are serious threats to agricultural production in developing countries. Since projections of climate change indicate an increase in the frequency and intensity of climatic hazards such as flooding and droughts, it is important to understand communities' adaptive capacity to extreme hydrological events. This research uses a case study approach to characterize the current vulnerability and adaptive capacity of the food system to hydrological hazards in Panaillo, a flood-prone indigenous community in the Peruvian Amazon. Participatory methods were utilized to examine how biophysical and socioeconomic factors constrain or enable local adaptive capacity to climatic hazards over time. Seasonal flooding was shown to strongly influence agriculture and fishing cycles. Panaillo residents have developed several adaptive strategies to adjust to hydrological extremes, such as food-sharing and the cultivation of fast-growing crops on riverbeds. However, Panaillo residents generally lack the necessary human, physical, social, and natural resources to effectively employ their adaptive mechanisms as a result of major social and environmental changes in the area. Economic development, low institutional capacity, climate variability, and the assimilation social model in Peru all have profound effects on the food system and health by affecting the ways in which adaptive strategies and traditional livelihoods are practiced. Climate change has the potential to exacerbate these socioeconomic and biophysical drivers and further compromise community food systems in the Peruvian Amazon in the future.
We're sorry, something doesn't seem to be working properly.
Please try refreshing the page. If that doesn't work, please contact support so we can address the problem.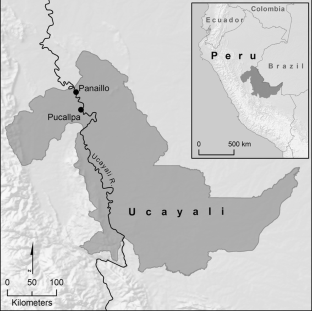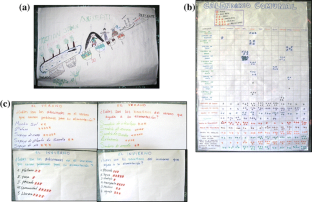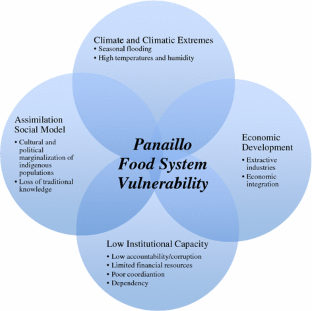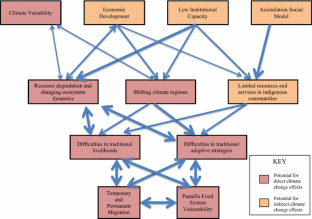 Notes
1.

For example, the scores for the category regarding prices for buying food in the market were highest in the rainy season (November to January) and lowest at the end of the harvest season (August to October). Since the markets in this area are driven by supply and demand, the community perceptions of price fluctuations, in this case, are coherent with what would be expected for markets in the area.

2.

Official documentation is currently unavailable.
References
Acosta AM (2011) Analysing success in the fight against malnutrition in Peru. In: IDS working papers no. 367, pp 2–49

Adger WN (1999) Social vulnerability to climate change and extremes in coastal Vietnam. World Dev 27(2):249–269

Afifi T, Liwenga E, Kwezi L (2014) Rainfall-induced crop failure, food insecurity and out-migration in Same-Kilimanjaro, Tanzania. Clim Dev 6(1):53–60

Aguiar C, Rosenfeld J, Stevens B, Thanasombat S, Masud H (2007) An analysis of malnutrition programming and policies in Peru. Document prepared for the International Economic Development Program, University of Michigan

Aikman S (2012) Interrogating discourses of intercultural education: from indigenous Amazon community to global policy forum. Compare J Comp Int Educ 42(2):235–257

Behrens CA (1986) Shipibo food categorization and preference: relationships between indigenous and Western dietary concepts. Am Anthropol 88(3):647–658

Behrens CA (1989) The scientific basis for Shipibo-Konibo soil classification and land use: changes in soil-plant associations with cash cropping. Am Anthropol 91(1):83–100

Behrens CA (1992) Labor specialization and the formation of markets for food in a Shipibo-Konibo subsistence economy. Human Ecol 20(4):435–462

Bergman RW (1980) Amazon economics: the simplicity of Shipibo-Konibo indian wealth. University Microfilms, Ann Arbor

Black R, Adger WN, Arnell NW et al (2011) The effect of environmental change on human migration. Glob Environ Change 21(S1):S3–S11

Bohle HG, Downing TE, Watts MJ (1994) Climate change and social vulnerability: toward a sociology and geography of food insecurity. Glob Environ Change 4(1):37–48

Brondizio ES, Moran EF (2008) Human dimensions of climate change: the vulnerability of small farmers in the Amazon. Philos Trans R Soc B Biol Sci 363(1498):1803–1809

Cai W, Borlace S, Lengaigne M et al (2014) Increasing frequency of extreme El Nino events due to greenhouse warming. Nat Clim Change 4:111–116

Campbell D, Beckford C (2009) Negotiating uncertainty: Jamaican small farmers' adaptation and coping strategies, before and after hurricanes: a case study of hurricane dean. Sustainability 1(4):1366–1387

Carmona C, Cristóbal G (2009) Pueblos indígenas y la tolerancia occidental: Los derechos humanos como forma sublimada de asimilación. Polis 8(23):301–321

Carranza J (2013). Boletin extraordinario de la evaluación hidrológica y pluviométrica en la Cuenca amazónica peruana. (Hydrological Bulletins-August 2013). Senamhi, Lima. Retrieved on November 11, 2013 from http://www.senamhi.gob.pe/?p=0701

Chambers R (1994) The origins and practice of participatory rural appraisal. World Dev 22:953–969

Cochrane MA, Barber CP (2009) Climate change, human land use and future fires in the Amazon. Glob Change Biol 15(3):601–612

Comisión de alto nivel anticorrupción (2013) Estudios a nivel nacional. Estadísticas de la corrupción. Plan Nacional de Lucha Contra la Corupción 2012–2016. http://can.pcm.gob.pe/category/estadisticas-de-la-corrupcion/. Accessed 3 Nov 2013

Cook B, Zeng N, Yoon JH (2012) Will Amazonia dry out? Magnitude and causes of change from IPCC climate model projections. Earth Interact 16(3):1–27

Coronel Cáceres JC, Zavala Soto JL, Estrada Vitorino MA (2008, June, 3) Educación intercultural bilingüe: Meta para el desarrollo [Powerpoint slides]. Universidad Peruana Cayetano Heredia. Fundamentos y enfoques de la educación y de la apredizaje course lecture. http://www.slideshare.net/guest176cf5/interculturalidad-467930. Accessed 3 Dec 2013

Cossío R, Menton M, Cronkleton P et al (2014) Community forest management in the Peruvian Amazon: a literature review. In: Center for International Forestry Research, Working Paper 136. http://www.cifor.org/publications/pdf_files/WPapers/WP136Menton.pdf. Accessed 27 Mar 2014

Cueto, S, Escobal, J, Penny, M et al (2011) ¿Quién se queda atrás?: resultados iniciales del estudio Niños del Milenio. Tercera ronda de encuestas en el Perú. Niños del Milenio: Información para el desarrollo, Young Lives, Instituto de Invesetigación Nutricional, Grupo de analisis para el desarrollo (GRADE). http://dide.minedu.gob.pe/xmlui/handle/123456789/82. Accessed 18 Nov 2013

Cueto S, Guerrero G, León J et al (2012) Explaining and overcoming marginalization in education: Ethnic and language minorities in Peru. In: Boyden J, Bourdillon M (eds) Childhood poverty: multidisciplinary approaches. Macmillan Publishers, London, pp 261–282

Davidson EA, de Araújo AC, Artaxo P et al (2012) The Amazon basin in transition. Nature 481(7381):321–328

Davis SC (2001) La evaluación rural participativa. Base de conocimientos de transporte rural. Transport Research Laboratory Limited. http://www.transport-links.org/rtkb/Spanish/Module%205%5C56a%20PRA%20-%20Spanish.pdf. Accessed 15 May 2011

Defensoría del Pueblo (2008) Salud de las comunidades nativas: un reto para el estado. In: Serie informe defensoriales, vol 134, Lima, pp 251

Ellis F (2000) Rural livelihoods and diversity in developing countries. Oxford University Press, Oxford

Eriksen S (2008) What is the vulnerability of a food system to global environmental change? Ecol Soc 13(2):14

Eriksen S, Silva JA (2009) The vulnerability context of a savanna area in Mozambique: household drought coping strategies and responses to economic change. Environ Sci Policy 12(1):33–52

Eriksen SH, Brown K, Kelly PM (2005) The dynamics of vulnerability: locating coping strategies in Kenya and Tanzania. Geogr J 171(4):287–305

Espinoza JC, Guyot JL, Ronchail J et al (2009) Contrasting regional discharge evolutions in the Amazon basin (1974–2004). J Hydrol 375(3):297–311

Espinoza JC, Ronchail J, Frappart F et al (2012) The major floods in the Amazonas River and Tributaries (Western Amazon Basin) during the 1970–2012 period: a focus on the 2012 flood. J Hydrometeorol 14(3):1000–1008

Etzold B, Ahmed AU, Hassan SR, Neelormi S (2014) Clouds gather in the sky, but no rain falls. Vulnerability to rainfall variability and food insecurity in Northern Bangladesh and its effects on migration. Clim Dev 6(1):18–27

FAO (2008) Climate change and food security: a framework document. FAO Corporate Document Repository. FAO, Rome. http://www.fao.org/docrep/010/k2595e/k2595e00.htm. Accessed 13 Mar 2013

FAO (2011) Training guide: gender and climate change research in agriculture and food security for development. FAO, Rome. http://www.fao.org/docrep/015/md280e/md280e00.htm. Accessed 10 Jan 2013

Finer M, Jenkins CN, Pimm SL et al (2008) Oil and gas projects in the western Amazon: threats to wilderness, biodiversity, and indigenous peoples. PloSone 3(8):e2932.

Finer M, Orta-Martínez M (2010) A second hydrocarbon boom threatens the Peruvian Amazon: trends, projections, and policy implications. Environ Res Lett 5(1):014012

Ford JD (2012) Indigenous health and climate change. Am J Public Health 102(7):1260-1266.

Ford JD, Smit B (2004) A framework for assessing the vulnerability of communities in the Canadian Arctic to risks associated with climate change. Arctic 57(4):389–400

Ford JD, Smit B, Wandel J et al (2006) Vulnerability to climate change in Igloolik, Nunavut: what we can learn from the past and present. Polar Record 42(02):127–138

Ford JD, Berrang-Ford L, King M et al (2010) Vulnerability of Aboriginal health systems in Canada to climate change. Glob Environ Change 20(4):668–680

Francke P (2013) UNICO series 11 Peru's comprehensive health insurance and new challenges for universal coverage. World Bank, Washington

Futemma C, Brondízio ES (2003) Land reform and land-use changes in the lower Amazon: implications for agricultural intensification. Hum Ecol 31(3):369–402

Goulding M (1980) The fishes and the forest: explorations in Amazonian natural history. University of California Press, Berkley

Goy J, Waltner-Toews D (2005) Improving health in Ucayali, Peru: a multisector and multilevel analysis. EcoHealth 2(1):47–57

Gray CL, Bilsborrow RE, Bremner JL et al (2008) Indigenous land use in the Ecuadorian Amazon: a cross-cultural and multilevel analysis. Hum Ecol 36(1):97–109

Green D, King U, Morrison J (2009) Disproportionate burdens: the multidimensional impacts of climate change on the health of Indigenous Australians. Med J Aust 190(1):4

Heise M (1999) Relaciones de género en la amazonia peruana. Centro Amazónica de Antropología y Aplicación, Lima

Hofmeijer I, Ford JD, Berrang-Ford L et al (2013) Community vulnerability to the health effects of climate change among indigenous populations in the Peruvian Amazon: a case study from Panaillo and Nuevo Progreso. Mitig Adapt Strat Glob Change 18(7):957–978

Ingram JSI, Ericksen PJ, Liverman DM (2010) Food security and global environmental change. Earthscan, London

Junk WJ, Bayley PB, Sparks RE (1989) The flood pulse concept in river-floodplain systems. Can Spec Publ Fish Aquat Sci 106(1):110–127

Kelly PM, Adger WN (2000) Theory and practice in assessing vulnerability to climate change and Facilitating adaptation. Clim Change 47(4):325–352

Kesby M (2000) Participatory diagramming: deploying qualitative methods through an action research epistemology. Area 32(4):423–435

Kronik J, Verner D (2010) Indigenous peoples and climate change in Latin America and the Caribbean. World Bank, Washington

Kvist LP, Nebel G (2001) A review of Peruvian flood plain forests: ecosystems, inhabitants and resource use. For Ecol Manage 150(1):3–26

Langerwisch F, Rost S, Gerten D et al (2013) Potential effects of climate change on inundation patterns in the Amazon Basin. Hydrol Earth Syst Sci 17(6):2247–2262

Ley que establece medidas tributarias, simplificación de procedimientos y permisos para la promoción y dinamización de la inversión en el país (President of the Republic) Law 30230 (Peru, July 2014)

Lilleør HB, Van den Broeck K (2011) Economic drivers of migration and climate change in LDCs. Glob Environ Change 21(S1):S70–S81

Magrin GO, Marengo JA, Boulanger J-P et al (2014) Central and South America. In: Barros VR, Field CB, Dokken DJ et al (eds) Climate change 2014: impacts, adaptation, and vulnerability. Part B: regional aspects. Contribution of working group II to the fifth assessment report of the intergovernmental panel on climate change. Cambridge University Press, Cambridge, pp 1499–1566

Malhi Y, Roberts JT, Betts RA et al (2008) Climate change, deforestation, and the fate of the Amazon. Science 319(5860):169–172

Marengo JA, Tomasella J, Soares WR et al (2012) Extreme climatic events in the Amazon basin. Theoret Appl Climatol 107(1–2):73–85

Marengo JA, Borma LS, Rodriguez DA et al (2013) Recent extremes of drought and flooding in Amazonia: vulnerabilities and human adaptation. Am J Clim Change 2(2):87–96

Maurial M, Suxo M (2011) Does intercultural bilingual education open spaces for inclusion at higher education? In: Hawkins MR (ed) Social justice language teacher education. Multilingual Matters, Bristol, pp 23–48

Mayoux L (2005) PALS enterprise training, trickle-up. Participatory action learning system network. Kabarole Research and Resource Centre, Uganda

Mayring P (2004) Qualitative content analysis. In: A companion to qualitative research, SAGE publications, Glasgow UK, pp 266–269

McLeman RA, Hunter LM (2010) Migration in the context of vulnerability and adaptation to climate change: insights from analogues. Wiley Interdiscip Rev Clim Change 1(3):450–461

McLeman R, Smit B (2006) Migration as an adaptation to climate change. Clim Change 76(1–2):31–53

Milan A, Ho R (2014) Livelihood and migration patterns at different altitudes in the Central Highlands of Peru. Clim Dev 6(1):69–76

Milan A, Ruano S (2014) Rainfall variability, food insecurity and migration in Cabricán, Guatemala. Clim Dev 6(1):61–68

Nebel G (2001) Sustainable land-use in Peruvian flood plain forests: options, planning and implementation. For Ecol Manage 150(1):187–198

O'Brien K, Eriksen S, Nygaard LP et al (2007) Why different interpretations of vulnerability matter in climate change discourses. Clim Policy 7(1):73–88

Padoch C, Brondizio E, Costa S et al (2008) Urban forest and rural cities: multi-sited households, consumption patterns, and forest resources in Amazonia. Ecol Soc 13(2):2

Padoch C, Steward A, Pinedo-Vasquez M et al (2014) Urban residence, rural employment, and the future of Amazonian forests. In: Hecht SB, Morrison KD, Padoch C (eds) The social lives of forests: past, present, and future of woodland resurgence. University of Chicago Press, Chicago, pp 322–335

Pantigoso P (2014) Peru's mining and metals investment 2014–2015. Ministry of Foreign Affairs Peru, Lima. http://www.ey.com/Publication/vwLUAssets/EY-Peru-mining-metals-investment-guide-14-15/$FILE/EY-Peru-mining-and-metals-investment-guide-2014-2015.pdf. Accessed 11 Mar 2014

Pérez-Escamilla R, Melgar-Quiñonez H, Nord M et al (2007) Escala latinoamericana y caribeña de seguridad alimentaria (ELCSA). In: Memorias de la 1ª Conferencia en América Latina y el Caribe sobre la medición de la seguridad alimentaria en el hogar. Perspectivas en Nutrición Humana, pp 117–134

Perreault T (2005) Why chacras (swidden gardens) persist: agrobiodiversity, food security, and cultural identity in the Ecuadorian Amazon. Hum Organ 64(4):327–339

Pinho PF, Marengo JA, Smith MS (2014) Complex socio-ecological dynamics driven by extreme events in the Amazon. Reg Environ Change. doi:10.1007/s10113-014-0659-z

Renaud FG, Dun O, Warner K et al (2011) A decision framework for environmentally induced migration. Int Migr 49(S1):E5–E29

Ribot JC, Magalhães AR, Panagides S (eds) (2005) Climate variability, climate change and social vulnerability in the semi-arid tropics. Cambridge University Press, Cambridge

Santa Cruz F, Mujica ME, Álvarez J, et al (2013) Informe sobre Desarrollo Humano Perú 2013. Cambio climático y territorio: Desafíos y respuestas para un futuro sostenible. UNDP, Lima http://www.undp.org/content/peru/es/home/library/poverty/Informesobredesarrollohumano2013/IDHPeru2013/. Accessed 2 Jan 2014

Scheffran J, Marmer E, Sow P (2012) Migration as a contribution to resilience and innovation in climate adaptation: social networks and co-development in Northwest Africa. Appl Geogr 33:119–127

Servicio Nacional de Meteorología e Hidrología del Peru (SENAMHI) (2014). Avisos Meteorológicos. Ministry of Environment. http://www.senamhi.gob.pe/?p=0140. Accessed 15 Nov 2014

Sherman, M (2014) Vulnerability and adaptive capacity of community food systems in the Peruvian Amazon: A case study from Panaillo. Master's thesis, McGill University

Sherman M, Ford JD (2013) Market engagement and food insecurity after a climatic hazard. Global Food Security 2(3):144–155

Sherman M, Berrang-Ford L, Ford JD et al (2012) Balancing indigenous principles and institutional research guidelines for informed consent: a case study from the Peruvian Amazon. AJOB Prim Res 3(4):53–68

Sirén AH (2006) Natural resources in indigenous peoples' land in Amazonia: a tragedy of the commons? Int J Sustain Dev World Ecol 13(5):363–374

Smit B, Wandel J (2006) Adaptation, adaptive capacity and vulnerability. Glob Environ Change 16(3):282–292

Smit B, Burton I, Klein RJ et al (2000) An anatomy of adaptation to climate change and variability. Clim Change 45(1):223–251

Smith N (2001) Are indigenous people conservationists? Preliminary results from the Machiguenga of the Peruvian Amazon. Ration Soc 13(4):429–461

Stifel D, Alderman H (2006) The "glass of milk" subsidy program and malnutrition in Peru. World Bank Econ Rev 20(3):421–448

Sumida Huaman E (2014) "You're trying hard, but it's still going to die": indigenous youth and language tensions in Peru and the United States. Anthropol Educ Quart 45(1):71–86

Takasaki Y, Barham BL, Coomes OT (2010) Smoothing income against crop flood losses in Amazonia: rain forest or rivers as a safety net? Rev Dev Econ 14(1):48–63

Tomasella J, Pinho PF, Borma LS et al (2013) The droughts of 1997 and 2005 in Amazonia: floodplain hydrology and its potential ecological and human impacts. Clim Change 116(3–4):723–746

Tournon J (2002) La merma mágica: Vida e historia de los Shipibo-Konibo-Conibo del Ucayali. Centro Amazónica de Antropología y Aplicación, Lima

Tschakert P, Sagoe R, Ofori-Darko G, Codjoe SN (2010) Floods in the Sahel: an analysis of anomalies, memory, and anticipatory learning. Clim Change 103(3–4):471–502

United Nations (2014) World economic situation and prospects. UN, New York. http://www.un.org/en/development/desa/policy/wesp/wesp_current/wesp2014.pdf. Accessed 5 Jan 2014

United Nations Development Programme (UNDP), Bureau for Crisis Prevention and Recovery (BCPR) (2013) Climate Risk Management for Agriculture in Peru: focus on the regions of Junín and Piura. UNDP BCPR, New York

Urke HB, Mittelmark MB, Valdivia M (2014) Trends in stunting and overweight in Peruvian pre-schoolers from 1991 to 2011: findings from the Demographic and Health Surveys. Public Health Nutr 17(11):2407–2418

Valdivia N, Benavides M, Torero M (2007) Exclusión, identidad étnica y políticas de inclusion social en el Perú: El caso de la población indígena y la población afrodescendiente. In: Investigación, políticas y desarrollo en el Perú. (Edition 1). Grupo de Análisis para el Desarrollo (GRADE), Capitulos de Libros, Lima, pp 603–655

Vásquez J, Mori R, Zucchelli M et al (2012) Emergency support to the communities most affected by the flood in Ucayali – 2011. INDECI, Ucayali Regional Government, ECHO, OCHA, FAO, UNICEF, COOPI, German Red Cross (Peru), Lima http://bvpad.indeci.gob.pe/doc/pdf/esp/doc2222/doc2222-2.pdf. Accessed 15 June 2013

Vegas de Cáceres I (2010) Cambio climático en el Perú. Amazonía. Fundación M.J. Bustamente de la Fuente, Lima

Warner K (2010) Global environmental change and migration: governance challenges. Glob Environ Change 20(3):402–413

Warner K, Afifi T (2014) Where the rain falls: evidence from 8 countries on how vulnerable households use migration to manage the risk of rainfall variability and food insecurity. Clim Dev 6(1):1–17

Warner K, Ehrhart C, de Sherbinin A et al (2009) In search of shelter: Mapping the effects of climate change on human migration and displacement. In: In search of shelter: mapping the effects of climate change on human migration and displacement. CARE; United Nations University; Columbia University. CIESIN; The World Bank. Social Dimensions of Climate Change; UN. High Commisiones for Refugees

Watts MJ, Bohle HG (1993) The space of vulnerability: the causal structure of hunger and famine. Prog Hum Geogr 17(1):43–67

World Bank Peru (2013) How corruption affects the development of Peru [Video]. World Bank Peru, Peru. http://www.worldbank.org/en/news/video/2013/04/30/how-corruption-affects-the-development-of-Peru. Accessed 3 Nov 2013

Yamada G, Castro J (2007) Poverty, inequality, and social policies in Peru: as poor as it gets (No. 07-06). Universidad del Pacífico Research Center, Lima, Peru

Ziervogel G, Bharwani S, Downing TE (2006) Adapting to climate variability: pumpkins, people and policy. In: Natural Resources Forum, vol 30, no 4. Blackwell Publishing Ltd, UK, pp 294–305
Acknowledgments
We would like to express our sincere gratitude to the community of Panaillo for their hospitality and participation in this research. In particular, we would like to thank those community members who participated in focus groups and interviews, as well as the local institutions that participated in interviews. Additionally, we would like to thank the IHACC team in Lima and Pucallpa and the three Shipibo-Konibo research assistants who supported this work. This work was funded by the International Development Research Centre (IDRC) of Canada's International Research Initiative on Adaptation to Climate Change, the Social Sciences and Humanities Research Council, Canadian Institutes of Health Research, Natural Sciences and Engineering Research Council, McGill University, and a National Geographic Young Explorer Grant. This research was approved by the Institutional Ethics Committee at the Universidad Peruana Cayetano Heredia in Lima, Peru and the McGill University Research Ethics Board in Montreal, Canada. We would also like to thank the two anonymous reviewers for their contributions to improve this paper.
Additional information
Indigenous Health Adaptation to Climate Change Research Group: Dr. Lea Berrang-Ford, Dr. Cesar Carcamo, Dr. Shuaib Lwasa, Didacus Bambaiha Namaya, Dr. Victoria Edge, and Dr. Sherilee Harper.
Electronic supplementary material
Below is the link to the electronic supplementary material.
About this article
Cite this article
Sherman, M., Ford, J., Llanos-Cuentas, A. et al. Vulnerability and adaptive capacity of community food systems in the Peruvian Amazon: a case study from Panaillo. Nat Hazards 77, 2049–2079 (2015). https://doi.org/10.1007/s11069-015-1690-1
Received:

Accepted:

Published:

Issue Date:
Keywords
Climate change

Adaptation

Vulnerability, flood

Food security

Peru

Amazon

Food system

Indigenous